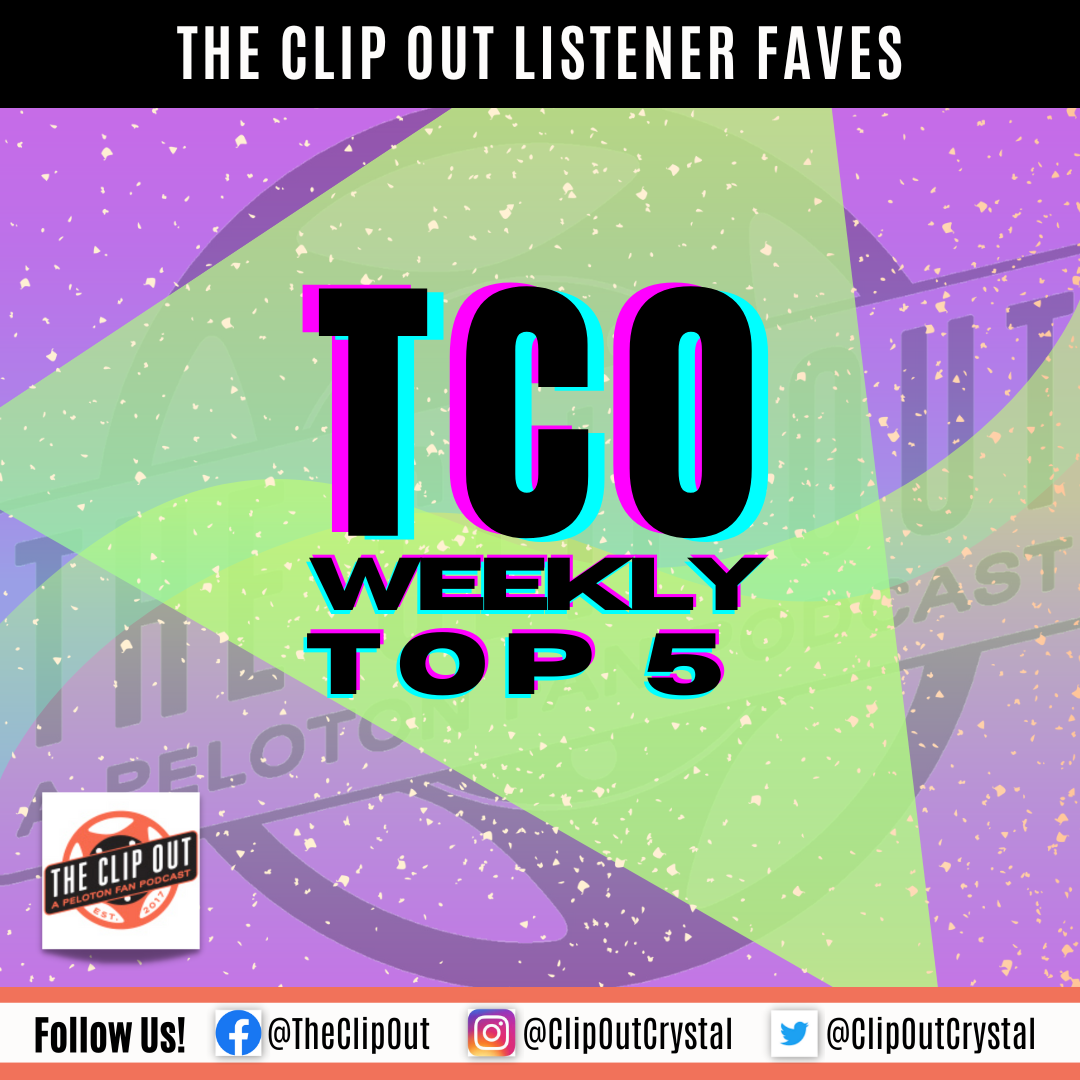 TCO Top 5 Favorite Peloton classes: Stay motivated with this week's picks (8/28/23)
The Clip Out Facebook Group's favorite Peloton classes from the last week are all about the music plus some serious post-injury-comeback inspiration. We're sharing our community's five most enthusiastic recommendations (in no particular order), along with a quick summary of each class. Read on for our weekly dose of motivation!
This week's favorite Peloton classes:
Why you loved them!
Sometimes it's hard to pick just one favorite, but these reviews make it seem easy! Here's what the TCO Group had to say about their favorite classes from the last week.
1. Favorite Peloton Walk + Run
8/24/23 30 min Max Martin Walk + Run with Becs Gentry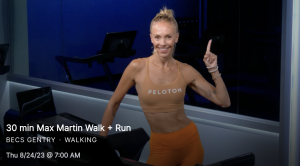 This ride celebrates the music of prolific hit producer Max Martin. Erica Griffin gave us two Max Martin series recommendations, but we could only pick one!
Erica said, "Loved the Max Martin Ride with Cody and the Max Martin Run/Walk with Becs!! The Run/walk was chef's kiss perfection! Perfect combo of running and walking made it available to all levels, and again the playlist was hit after hit. I had no idea I was such a fan of [Max Martin's] 'til these classes!"
Following a five-minute warmup, the class is made up of evenly split intervals of running and walking. The runs are at your choice of speed for increasing intervals from 2 minutes up to 4 minutes (2 2s, 2 3s, and then one 4 to cross the finish line).
The music includes The Weeknd's Can't Feel My Face, *NSYNC's I Want You Back, Justin Bieber's Beauty And A Beat, Celine Dion's That's The Way It Is, and Britney Spears' Oops!…I Did It Again, just to name a few.
2. Favorite Peloton German Ride
8/24/23 30 min Metal Ride (German) with Charlotte Weidenbach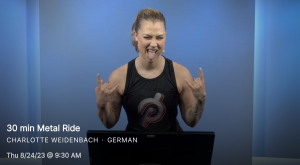 This class almost made the cut as our Unstackable pick this week, so if you're looking to almost die, this might be the class for you!
Billy Lenoir II says, "For me [this class is] the hardest Metal ride to date. It comes out of the gate slapping your legs and lungs all over and really pushes you to be ready to unleash a brutal assault from head to toe. I had nothing left after this except a cool down ride and it took all 10 mins of that to find my life again. It was AMAZING!!!"
While the class is in German and does not have subtitles as of the time of this posting, target metrics on the Bike/+ will help keep you on the path of destruction. And even if you don't have the metrics visible, Charlotte's energy and music selection will still drive you to the brink!
The class plan includes lots of intervals and climbs and is set to a purely metal soundtrack by Wage War, Kingdom of Giants, Spiritbox, As I Lay Dying, and more.
If you take this class, be prepared to have just enough energy left to tell us how it went!
3. Favorite Peloton Live DJ Ride
8/25/23 30 min Live DJ Ride with Emma Lovewell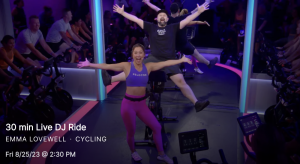 This week, we have a bonus guest on our weekly Top 5 list—DJ John Michael! Jennifer Johnson Robison recommended this Live DJ Ride, and we're here for this energy! She said:
"Emma's DJ class on Friday night was OUTSTANDING!!! … Outstanding playlist. Class structure was a great workout with a mix of intervals and climbs. And Emma and DJMJ were having so much fun. Made the class fly by!!"
The class playlist includes Padam Padam (Jax Jones Remix) by Kylie Minogue, Break Free (feat. Zedd) by Ariana Grande, Total Eclipse of the Heart by Bonnie Tyler, and That's The Way Love Goes by Janet Jackson.
A Live DJ Class is always a good time, but that doesn't mean this class isn't some hard work too! The class plan includes three extended blocks of climbing. But what better way to climb a mountain than with an amazing playlist and the chemistry of two lovely friends to entertain you along the way?
4. Favorite Peloton Yoga
8/26/23 30 min Tropical House Yoga Flow with Anna Greenberg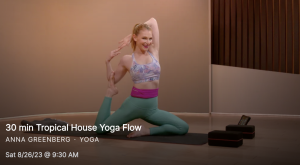 While DJ John Michael isn't physically in this class, he did custom-mix and curated the playlist! The setlist is meant to evoke tropical summertime vibes with artists including Mat Kearny, A R I Z O N A, Funky Fruit, and Nicholas Gunn.
Grace West shares, "The playlist was all good vibes and I finished the class feeling energized and stretched. There was a mermaid/ocean theme to the class where several of the poses were compared to sea creatures. I thought it was a lot of fun!
The class is all about having fun. Anna encourages you to let go of expectations and dive into the feeling of summertime joy. It's also perfect for all levels, with Anna offering supportive modifications throughout, and is sure to leave you feeling light and breezy for wherever your day might take you.
5. Favorite Peloton Unstackable Class
8/27/23 45 min New Wave Ride with Christine D'Ercole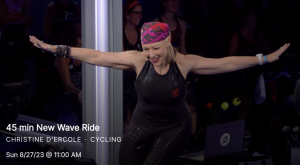 Sometimes we want a class that leaves us in a puddle and washes all hope of a stack of extra classes away with it. We call those classes that really empty our tanks Unstackable, and we love hearing about our listeners' Unstackable experiences.
For this week's "Unstackable" recommendation, we heard from Betsy Arndt (FueledByChocol8):
"This ride is 'celebrating' CDE's "crashiversary". It's been exactly a year since she crashed on the track breaking multiple bones. You get to see a different side of CDE as her friend Mallory Raymond is in the studio and Mallory was also severely injured in the crash. The ride has 6 moderate efforts but ends with a race modeled after a real velodrome race. For possibly the first time ever, CDE instructs you to chase someone ahead of you on the leaderboard. The race lasts 5-7 minutes with random 15 second sprints. It is a big challenge but something you will be so proud of completing. Go try it!!" She continues, "It took me another 45 minutes to actually get off my bike and walk away- I wasn't sure my legs would support me!"
On the anniversary of her very serious crash and injuries, Christine encourages others to overcome fears and embrace their post-injury abilities. She starts the class by saying, "Often when we are injured, we fear we will never get back to where we were. We fear that the change will stop us from being what we thought we were gonna be. What if…instead of getting back to what we were, we move forward into something even better? What if we come back stronger? Not just in our body, but in our head and our heart."
The setlist is inspired by Christine's accident and recovery. It includes Head Over Heels by The Go-Go's, Catch My Fall by Billy Idol, Running Up That Hill by Kim Petras, Always Something There to Remind Me by Naked Eyes, and Mad World by Tears For Fears.
Add this class to your stack for the next time you want to overcome your fears and leave everything you've got on the Bike.
Thank you!
Thank you to all of our listeners for sharing your recommendations and enthusiasm. To see the full list of this week's classes and add your own to the conversation, check out the post from August 28, 2023, here. To see past weeks' Top 5 classes, visit TheClipOut.com and search TCO Top 5! If you try any of the recommendations and find a new favorite, we'd love to hear from you!
---
Tune in to The Clip Out every Friday to hear Tom and Crystal's take on this and other hot Pelotopics. We're available on Apple Podcasts, Spotify, Google Podcasts, iHeart, TuneIn. Be sure and follow us so you never miss an episode. You can also find the show online on Facebook.com/TheClipOut. While you're there, like the page and join the group. Lastly, find us on our YouTube channel, YouTube.com/TheClipOut, where you can watch all of our shows.
See something in the Peloton Universe that you think we should know? Visit TheClipOut.com and click on Submit a Tip!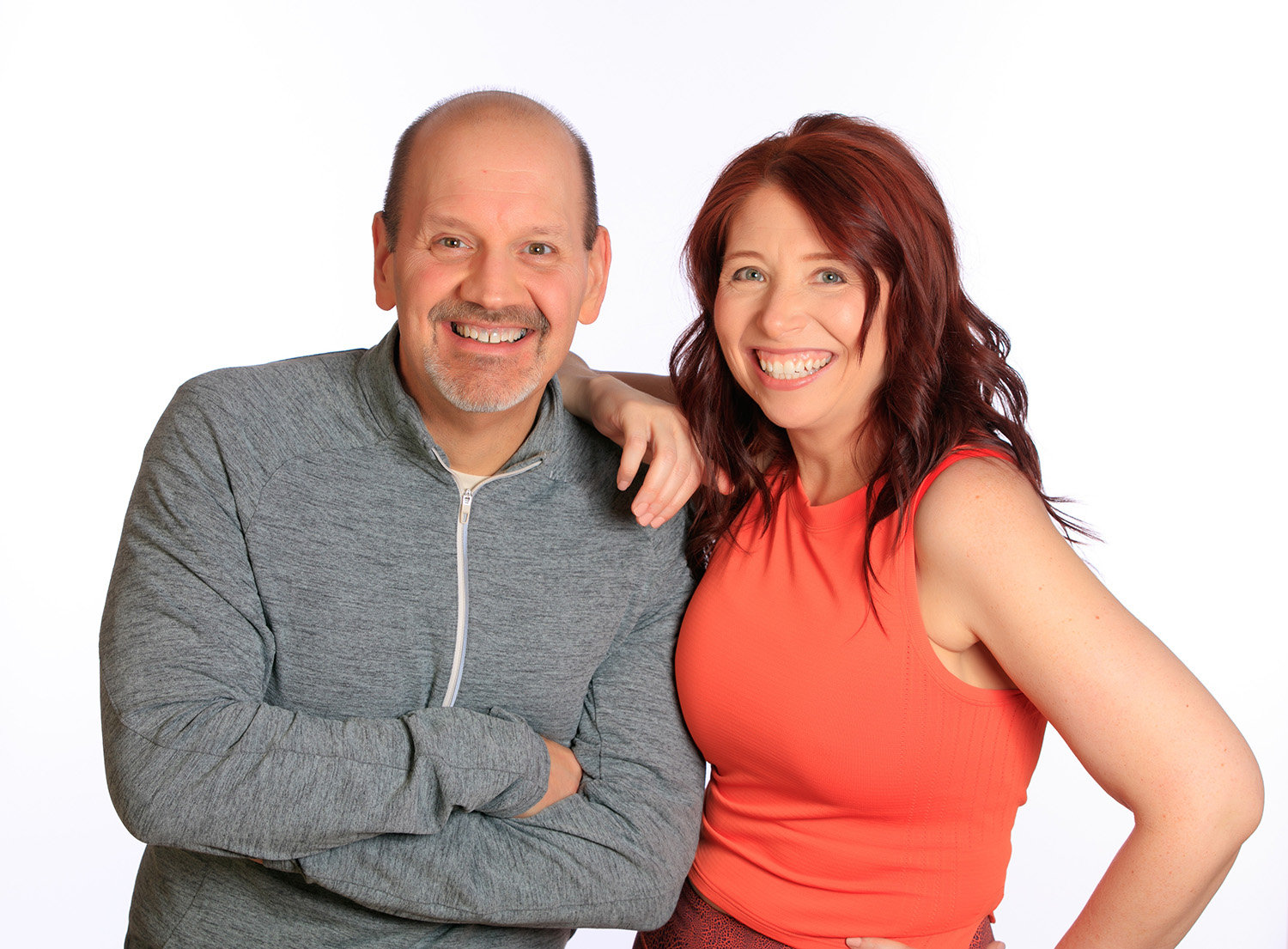 Subscribe
Keep up with all the Peloton news!