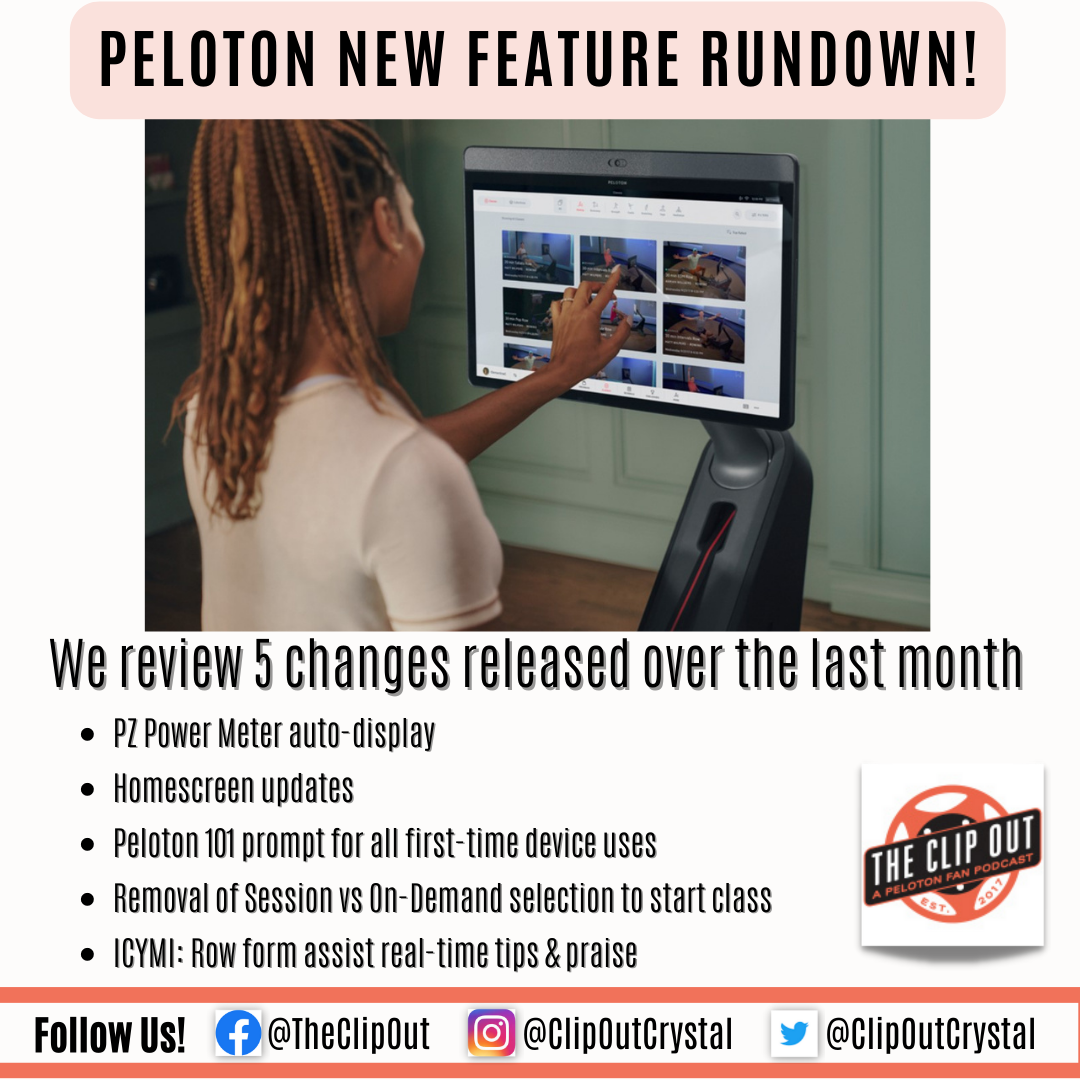 Recent Peloton Updates Aim For Ease of Use and Member Success
Peloton has come a long way since a dry-erase board functioned as the in-studio leaderboard (we're talking a very long way—check out this interactive timeline to see just how far!). We love that while we're out here improving our wellness one pedal stroke, step, row, lift, or flow at a time, Peloton is just as hard at work behind the scenes delivering updates and improvements for ease of use, one keystroke at a time. In case you missed any of the updates over the last month, here's a quick recap.
TL;DR:
Power Zone classes will automatically display the Power Meter
Homescreen updates reduce clicking—and thinking—to find your next class
Peloton 101 presented on all new device log-ins
Removal of Session vs On-Demand option makes starting a class easier (not to worry—sessions are still available!)
In case you missed it: Row Form Assist offers real-time tips and praise
The details:
Power Zone Meter auto-display and first-time experience
To the uninitiated, Power Zone classes can feel pretty unfamiliar—like you need a magic decoder ring to understand the instructor's queues. Suddenly even Members who have been riding with Robin, Cody, and Leanne for so long they could hop onto the stage and teach the class for them will feel… lost. Power Zone instructors rarely queue specific cadence and resistance combos. For them, it's all about the Zones.
What the heck is a Zone and how do I know if I'm in it? Well, now your Bike or Bike+ will tell you. As of Feb 22, for all Power Zone classes, Peloton is automatically displaying the Power Meter on the device screen. This Meter will approximate which Zone you are in and highlight the Target Zone indicated by the instructor (Target Zones may be unavailable in Power Zone classes prior to mid-Jan 2022, since that feature is fairly new).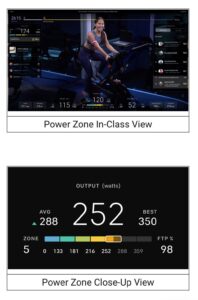 Following a Member's first Power Zone class, Peloton will also display additional details about Power Zone classes, setting your FTP, and joining the Discover Your Power Zones program. (For instance, for a truly personalized Power Meter calibrated to your own strength, Members should take one of Peloton's Functional Threshold Power (FTP) Tests. For all the details, check out Peloton's Power Zone FAQs here.)
Longtime Power Zone practitioners probably know their Power Meter even better than their favorite instructor's face—instead of a smile, Denis has a rainbow bar, and instead of eyes, Olivia has a Target Zone indicator (if you know, you know). But having the Meter display automatically allows everyone to feel as capable in a Power Zone class as the seasoned pros. Peloton's preference for accessibility and inclusivity is showing up strong with this update.
Homescreen Updates
As of March 6, all Bikes and Treads have a new homescreen layout. The changes seem designed to reduce the thinking and clicking required to take your next class. One notable change makes better use of the space by replacing the larger instructor tiles with smaller thumbnails.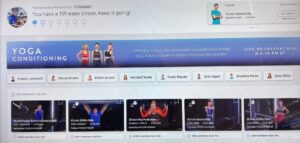 Not only is the new layout making better use of the space, it's also doing a lot of your thinking for you. Do you like Cody and want something similar? There's a row for that!



Love Music-themed rides? They get a front row seat on your screen.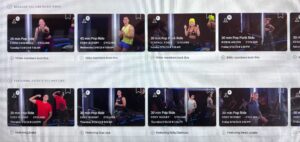 Want to compete with a group all starting at the same time? Perfect! An entire row of Sessions is locked and ready to race.



It seems Peloton is always tweaking our homescreens just a touch, but with an aim for efficiency. What other changes have you noticed that make your workout easier (or harder) to start?
Peloton 101 Onboarding
With the increasing presence of Peloton equipment in hotel gyms and the always-active secondhand market, the odds of a new rider hopping on a not-new Bike, Tread, or Row are on the rise. Peloton wants to make sure that these new riders (and runners and rowers) are set up for success just as well as anyone setting up a brand-new piece of equipment. To help with this, as of March 8, Peloton devices now prompt every first-time user to view Peloton 101, a video library that outlines how to use the equipment.
Previously, devices only presented this content to Members who activated the hardware. This meant that a new Member on a friend's Row, a secondhand Tread, or a hotel Bike would not see the tips and how-to's that are key to a good experience. They'd have the option to navigate to Peloton 101 via Settings, but that probably isn't something they'd think to do.
This user experience adjustment will help ensure a successful onboarding to all new Members, regardless of how they came to their equipment. Again, Peloton is investing in the success of every Member by ensuring that no matter how you find Peloton, you are set up for success.
Reduced Taps to Workout
You know the feeling of whiplash that happens after the thrill of finally picking your class, clipping in, and hitting start, just to get stopped by yet another click to indicate whether you want to start now or join a Session? Yeah, us too. But as of March 1, Peloton has reduced the process of starting a class by one click—one very annoying click.
Now from Class Details, Start means start an on-demand class. But not to worry—Sessions are still running and available to browse and select from your homescreen. With this update, Peloton is aiming to make sure the platform is efficient and easy to use—because they know we all love maximizing our time for wellness.
Row Form Assist Tips and Praise
In case you missed our update on March 10, the Row Form Assist will now cue form corrections in real time, and praise you when you're crushing it. The new Tips and Praise feature is completely optional–Members can disable the feature in Settings. While Peloton is still in the process of rolling this feature out, it is yet another way they are working to ensure we are set up for success in our wellness commitments.
---
See something in the Peloton Universe that you think we should know? Visit theclipout.com and click on Submit a Tip!
Tune in to The Clip Out on every Friday to hear Tom and Crystal's take on this and other hot Pelotopics. We're available on Apple Podcasts, Spotify, Google Podcasts, iHeart, TuneIn. Be sure and follow us so you never miss an episode. You can also find the show online on Facebook.com/TheClipOut. While you're there, like the page and join the group. Lastly, find us on our YouTube channel, YouTube.com/TheClipOut, where you can watch all of our shows.