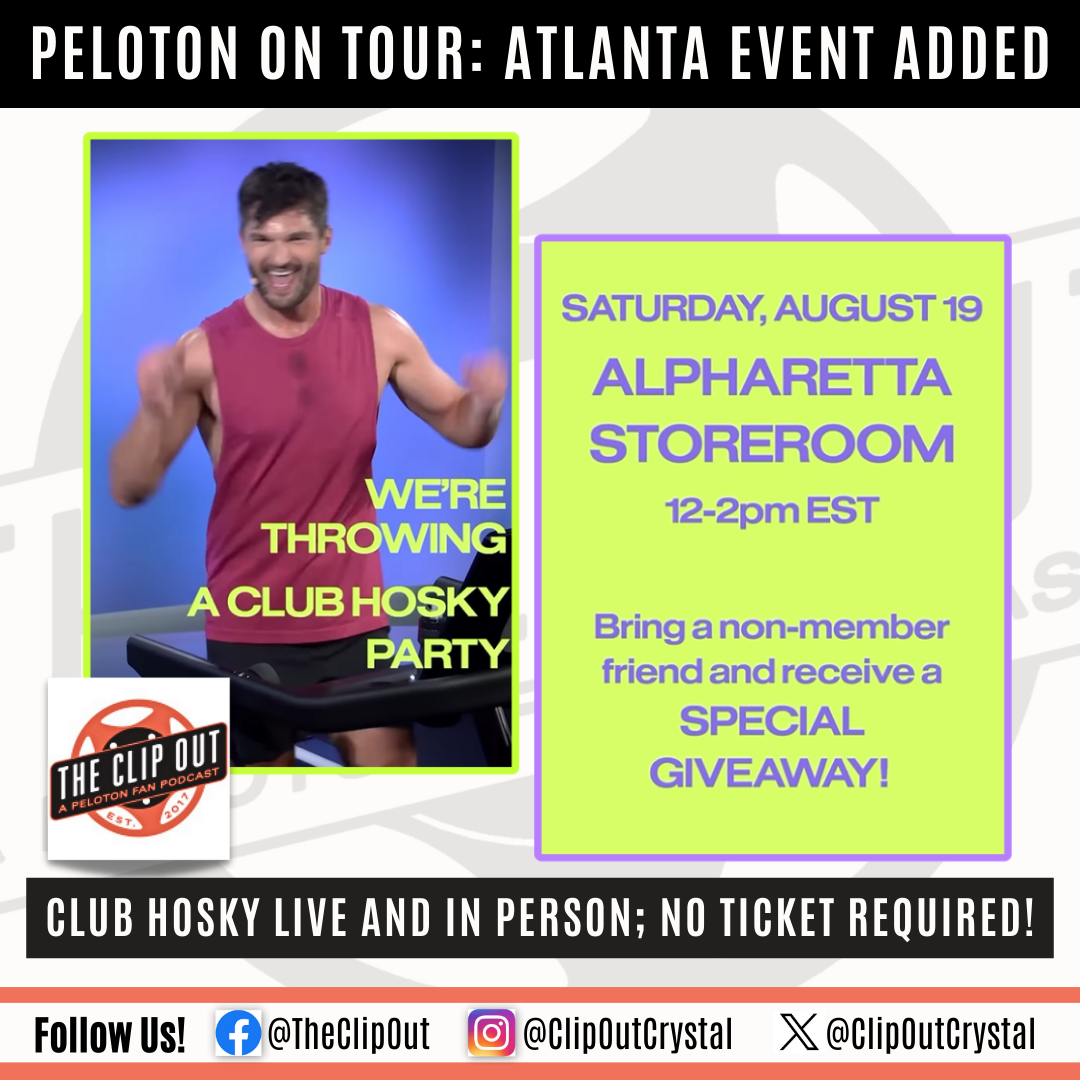 PELOTON ON TOUR: LIVE FROM ATLANTA ANNOUNCES CLUB HOSKY PARTY
PELOTON ON TOUR: LIVE FROM ATLANTA ANNOUNCES CLUB HOSKY PARTY
Peloton is bringing more hype to the city of Atlanta with a Club Hosky Party hosted by Jon Hosking, the UK Tread hype man. This is going to be an epic event that you wouldn't dare to miss!
A special treat awaits those who bring along a non-member friend; you get to go home with a Special Giveaway! This is not only a great opportunity to experience the Peloton On Tour Party buzz you've heard so much about, but also to share it with your friends.  And, we all know, sharing is caring!
DETAILS OF THE EVENT
The Club Hosky Party is scheduled for Saturday, August 19 from noon to 2pm Eastern Time. Here's a little secret, you don't even need a ticket to join the party. Easy, right? The event will take place at the Alpharetta showroom, a state-of-the-art Peloton showroom with a friendly and welcoming atmosphere.
You can expect an event filled with adrenaline-fueled cheering, pumping beats, and an energetic vibe that's hard to come by. It's not every day that you get to experience a Peloton Party in person, so you'd better bring your A-game!
THE MAIN HIGHLIGHT: CLUB HOSKY
The addition of a Club Hosky Party is one of the many highlights of the Peloton On Tour: Live From Atlanta; the opportunity to get up close and personal with Jon and the other Peloton instructors is something special.
We all know Hosky knows how to bring the energy, making working out more enjoyable than you thought possible. Get ready to ''wooohoo'' and ''yessss'' like it's an Olympic sport! Take a chance, you've got nothing to lose, except a couple of calories.
A FINAL WORD
Peloton is not just about getting you fit; it's about fostering a friendly and supportive community. It's an experience that you will not regret. So, mark your calendars for August 19th and don't forget to bring your non-member friend for your chance to win a special giveaway.