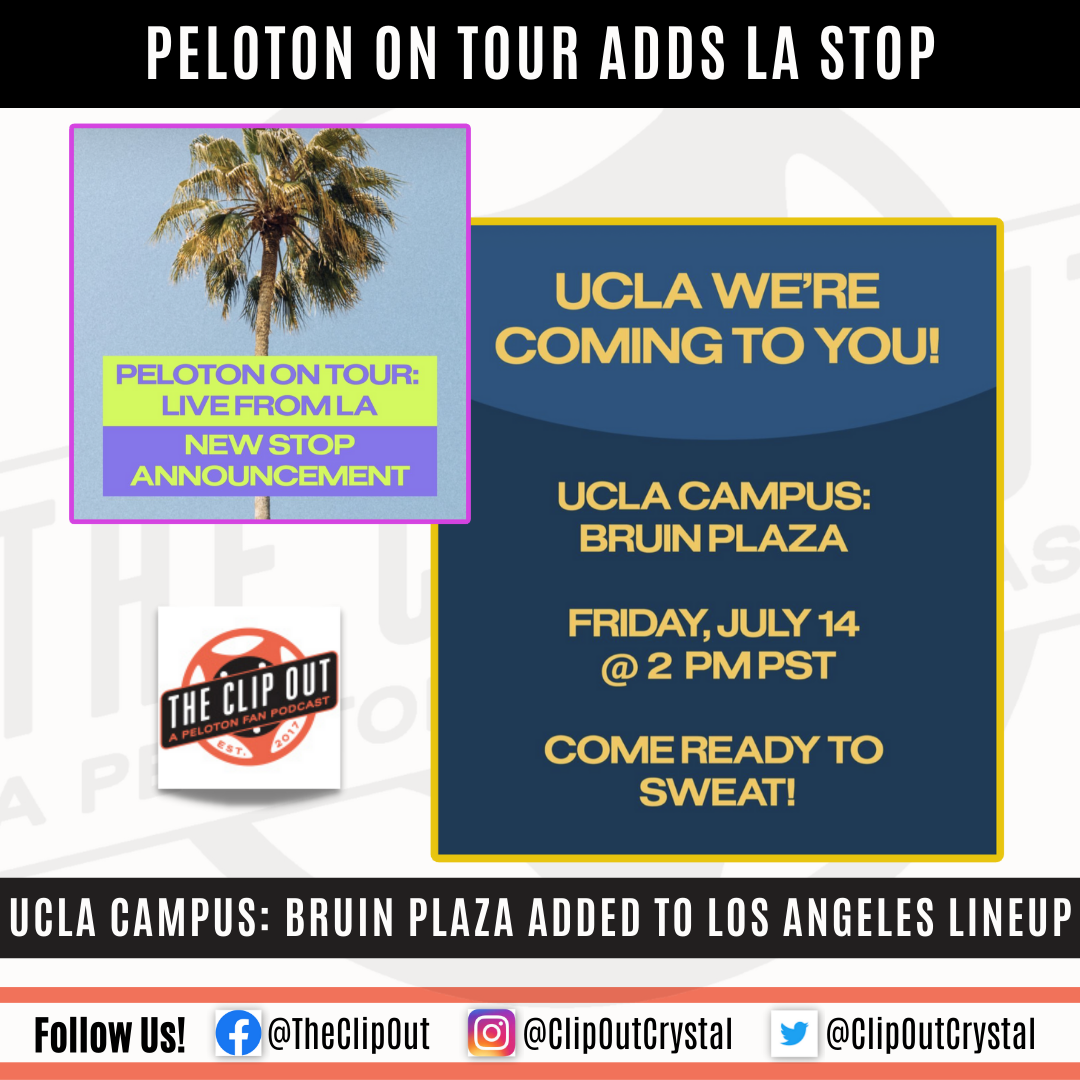 PELOTON HOMECOMING TOUR ANNOUNCES UCLA VISIT
"Peloton on Tour", this year's version of Peloton homecoming, was officially announced on June 6th with the first stop being in Los Angeles (specifically, Peloton's Santa Monica Store) July 13 – 15.  Peloton surprised the community today by announcing that it is adding a new stop on Friday July 14th – the tour will be at UCLA campus that day at 2:00 pm pst – and the announcement also tells members to "Come Ready to Sweat!"
We previously reviewed the details of the tour as of June 14th, and we also knew that tickets would sell out fast – this additional stop (and hopefully others like it)  will allow more Peloton community members to enjoy meeting their favorite instructors in their home town!    
It will be exciting to see what other surprise stops Peloton on Tour makes as our favorite instructors come to us.  Where do you hope Peloton stops next?  
See something in the Peloton Universe that you think we should know? Visit theclipout.com and click on Submit a Tip!
Tune in to The Clip Out every Friday to hear Tom and Crystal's take on this and other hot Pelotopics. We're available on Apple Podcasts, Spotify, Google Podcasts, iHeart, TuneIn. Be sure and follow us so you never miss an episode. You can also find the show online on Facebook.com/TheClipOut. While you're there, like the page and join the group. Lastly, find us on our YouTube channel, YouTube.com/TheClipOut, where you can watch all of our shows.