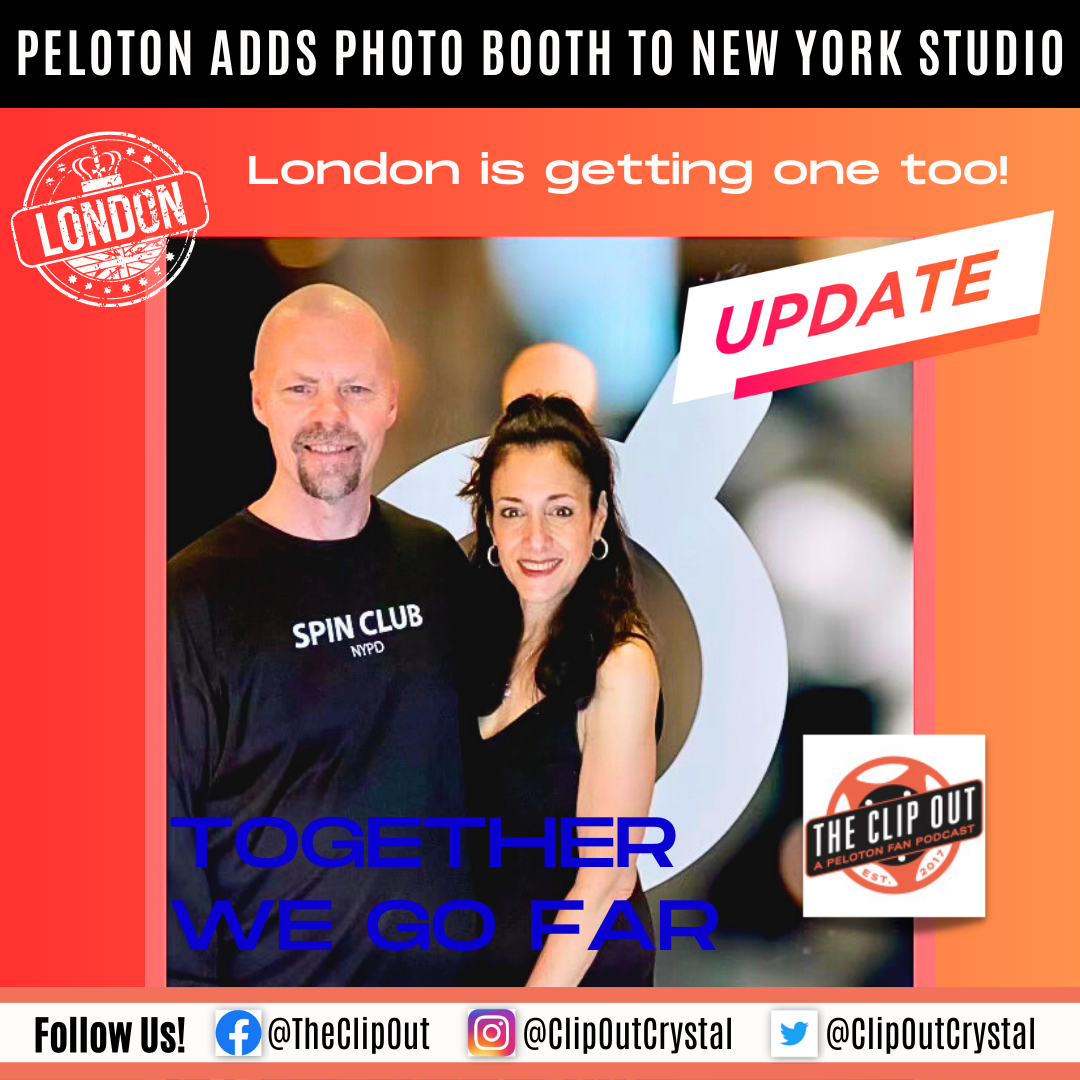 PSNY Photo Booth – London is getting one too!
Are you planning a trip to Peloton Studios New York (#PSNY)? If so, make sure to visit their new photo booth to capture a lasting memory of your visit. Unlike typical photo booths, this one is completely free of charge! Not only will you get a great workout with your favorite instructor, but you'll also have the opportunity to take home a great memento from your visit.
Peloton members Mary Siconolfi (#Mair_Moves) and Mike Kiefner (#Godfather 17) have already experienced the new photo booth and are raving about it. The booth is located upstairs in the studio, conveniently located across from the Peloton store. You won't have to search far to find it!  We hear the photo booth is brand new and was just put in on Thursday, July 27th, 2023.
Once inside the photo booth, the user receives instructions on where to look when the photo is being taken. You'll also have the option to choose your favorite phrase to appear on the photo, making the experience even more personalized and fun. And the best part? Peloton will print a physical copy and email you a digital copy of the photo, so you won't have to worry about carrying around a physical copy.
If you're a Peloton fan, visiting the PSNY studio is a must-do. With the addition of the new photo booth, your visit will be even more memorable and exciting. Don't forget to strike your best pose and have a blast in the photo booth!
7/28/2023 update: We just found out that Peloton Studio London is getting their own photo booth next week.  But please do remember that PSL is closed from 8/7 to 9/22 for a studio refresh.  We ALSO just found out that Peloton will continue to add backgrounds to the photo booth including those that match artist series – so members can customize their experience accordingly.  SWOON!
Will you be posing at the photo booth during your next visit to PSNY? We'd love to see your photos!
See something in the Peloton Universe that you think we should know? Visit theclipout.com and click on Submit a Tip!
Tune in to The Clip Out every Friday to hear Tom and Crystal's take on this and other hot Pelotopics. We're available on Apple Podcasts, Spotify, Google Podcasts, iHeart, TuneIn. Be sure and follow us so you never miss an episode. You can also find the show online on Facebook.com/TheClipOut. While you're there, like the page and join the group. Lastly, find us on our YouTube channel, YouTube.com/TheClipOut, where you can watch all of our shows.