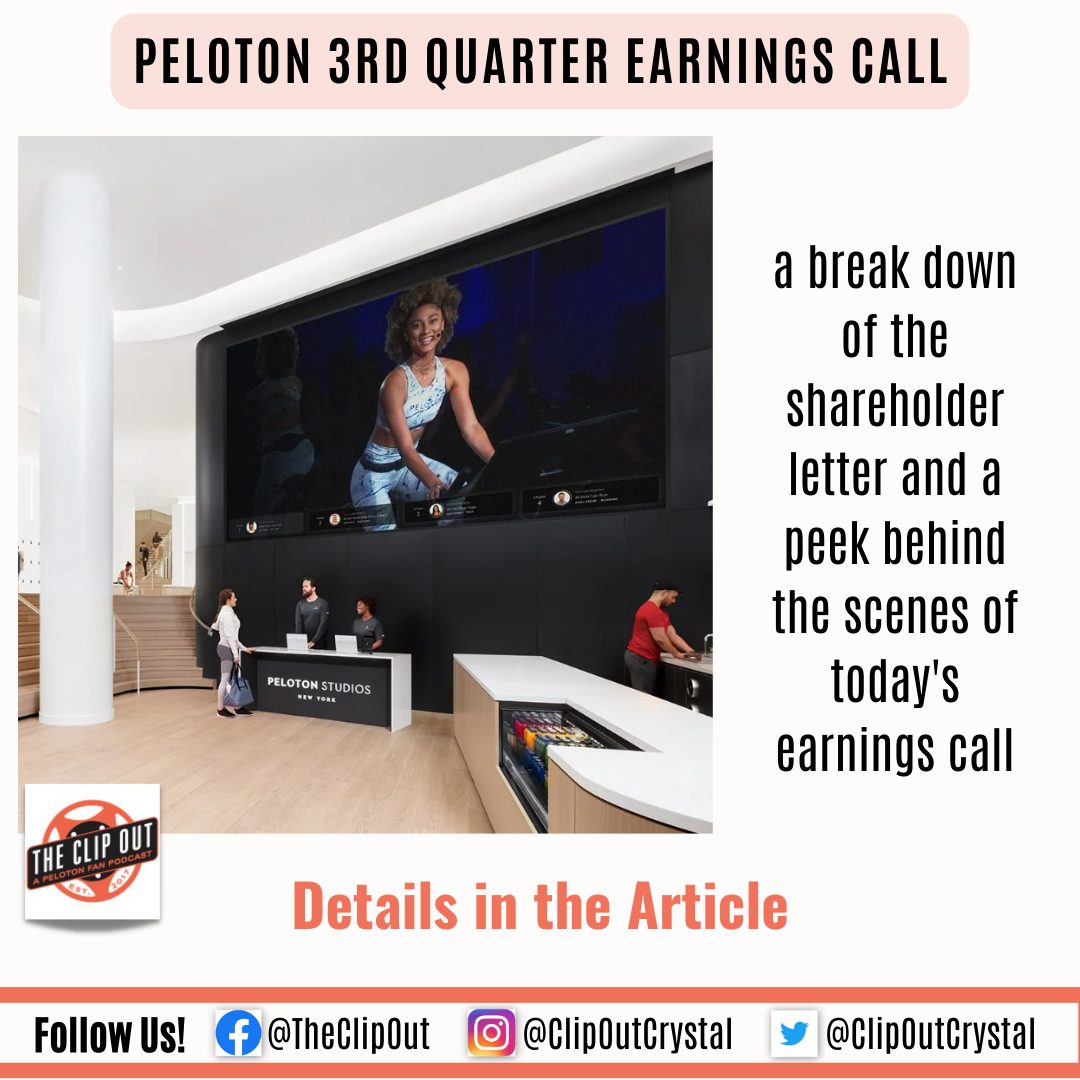 Peloton 3rd Quarter Earnings Call, FISCAL YEAR 2023
Despite reporting a wider-than-expected loss in the fiscal 3rd quarter, ending March 31, Peloton (PTON) underscored overall signs of progress in its efforts to turn the company around with an increase in connected fitness subscriptions and a reduction of free cash flow losses.
Shareholder Letter Points to Milestones Reached
In a letter released to shareholders ahead of the scheduled third quarter earnings call on Thursday, May 4th, 2023, Peloton CEO Barry McCarthy noted that, in the last quarter, the company "outgrew our connected fitness subs by 5%" as compared to the year prior.  Additionally, the company "grew gross profit by 47%, decreased our Adjusted EBITDA* loss Y/Y by 175$M, reduced our FCF** loss Y/Y by $691M, and increased our ending cash balance Q/Q."  He also made mention that Peloton's performance this quarter was even better than last, which he had previously described as his best to date. 
Additionally, Peloton has reached a settlement and licensing agreement with DISH Technologies over a patent infringement resulting in an import ban from the International Trade Commission.  Hoping for a different outcome, McCarthy acknowledged that the $75M settlement, along with other related expenses, will create additional pressure on the free cash flow (FCF) for the current quarter. Still, McCarthy believes that the settlement is ultimately a good thing for the company as "it eliminates a cloud of uncertainty and enormous distraction to the day-to-day operation of our business."
Peloton continues to lean into its subscriber numbers, and the move appears to be working, as, despite still-lagging hardware sales, subscription revenue continues to trend upward, albeit a bit more slowly than previous quarters.  This comes as no surprise, however, as Peloton expected a decline in revenue after the holiday season and into the historically sluggish last two quarters of the year.  The company continues to look for ways to increase hardware sales by offering more frequent promotions, expanding its rental program, offering financing on its refurbished Bike and Bike+ equipment, and expanding partnerships with Amazon, Dick's and Hilton.  
McCarthy notes the disconnect between the perception of Peloton and the reality of Peloton as the company is no longer a hardware-centric entity.  Mentioning specifically that Members are now experiencing Peloton in a different way than when it first began, "by way of example, 57% of all workouts were not cycling related. 62% of active Members participated in non-cycling activities – strength training, yoga, meditation and other modalities – and 38% of all workouts involved no Peloton hardware of any kind. We empower people on their fitness journeys – from beginners to enthusiasts – at home, outdoors, or at the gym, morning, noon, and night."  As such, a rebrand is in the works for later this month to help bridge the gap between Peloton of old and its current iteration, as well as a relaunch of the Peloton App.  While no specifics were detailed in the shareholder call, expect the new app to offer various tier and pricing options.
Wall Street Expectations
News of the third quarter revenue failed to meet Wall Street expectations, and Peloton shares were down 13% in pre-market trading on Wednesday morning and at the posting of this article.  Overall, Peloton's stock has risen roughly 11% since the beginning of the year. 
By the Numbers:  
(source: CNBC)
Losses per share: $.79 vs $.46, as predicted by Wall Street

Revenue: $749 million vs $708 million, as predicted by Wall Street

Revenue dropped 22% compared to a year ago

Peloton ended the quarter with 3.1M connected fitness subscribers (hardware owners), up 5% from last year

4Q forecast: revenue of up to $650M, exceeding expectation of $615.2M

7,000 PCR Bikes (including Bike+) were sold in 3Q
Challenges ahead 
In the shareholder letter, McCarthy made it a point to mention that he is aware that both the relaunch and the current quarter will be unique challenges, noting that, "the brand relaunch and the re-introduction of our Peloton App are two of our most important growth initiatives. Historically, we have experienced a seasonal decline in subscriber growth in Q4 FY. We're expecting a decline this year as well. Notwithstanding the relaunch, Q4 will be among our most challenging from a growth perspective."
A Peek Behind the Curtain
During an investors' conference call shortly after the earnings report was released, McCarthy and other Peloton executives fielded questions related to the report.  Highlights include:
Fitness As a Service (FAAS) continues to be a solid strategy

PCR (Peloton Certified Refurbished) program is a success and they are considering an expansion to other hardware

FAAS and PCR account for ¾ of new subscriptions

New marketing strategy hopes to pull in a younger demographic of Members

Company is nearing the end of supplier settlements

3

rd

party retail remains a learning curve for leveraging success

Lanebreak has been incredible success, particularly among the male and younger demographics

McCarthy reiterated, again, that restructuring is complete

Row demand is on par with Bike and Tread

Row continues to be critically well-received in the market

Business will continue to shift from hardware to app subscription

Expect growth to be slowest in the historically sluggish 4th quarter

At some point, a "second treadmill product" is expected
Ahead of the 3Q news, the Wall Street Journal released an early morning article pointing to the narrowing of losses and the stabilization of business via subscriptions. All of Peloton's quarterly reports can be read here.  Tune in to this week's episode of The Clip Out, as Crystal and Tom dig a little deeper into this latest earnings call, as well as other topics from the Peloton community.
*EBITDA: earnings before interest, taxes, depreciation and amortization
**FCF: free cash flow
See something in the Peloton Universe that you think we should know? Visit theclipout.com and click on Submit a Tip!
Tune in to The Clip Out on every Friday to hear Tom and Crystal's take on this and other hot Pelotopics.
We're available on Apple Podcasts, Spotify, Google Podcasts, iHeart, TuneIn. Be sure and follow us so you never miss an episode.
You can also find the show online on Facebook.com/TheClipOut. While you're there, like the page and join the group.
Lastly, find us on our YouTube channel, YouTube.com/TheClipOut, where you can watch all of our shows.