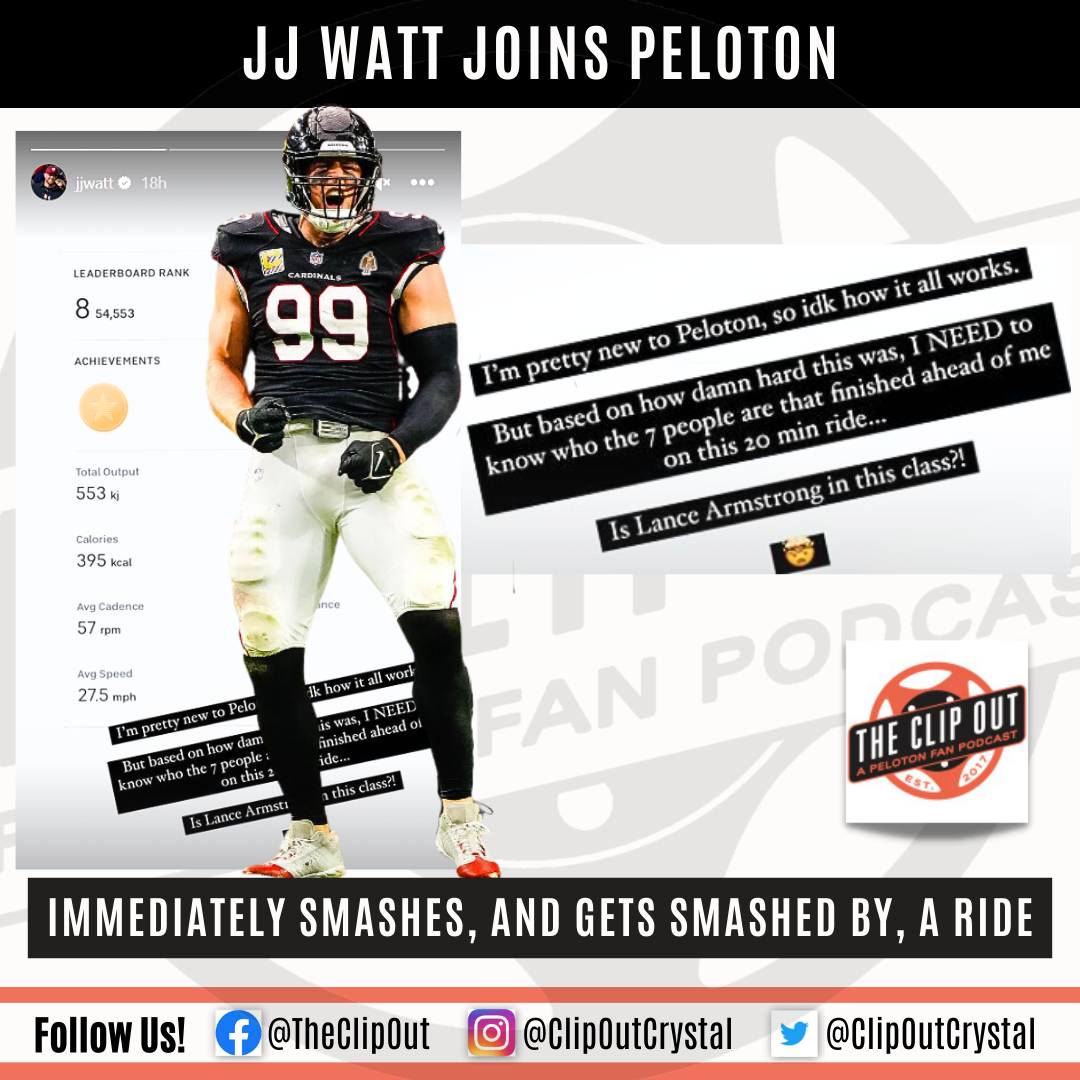 JJ Watt Joins Peloton
Athletes…they're just like us and also, not like us at all.  Not even a little bit – including Peloton newcomer JJ Watt.
So Relatable….Except Not
In a recent story uploaded to his Instagram account, retired legendary NFL defensive end and current CBS studio analyst JJ Watt revealed a number of things, in a single post, that caught our eye.  One: he's a Peloton newcomer (hi JJ!!).  Two: coming in (sweaty) hot with a 91% average resistance on a 20 minute ride, this man is a marvel on the field and on the bike (91% you guys!!!).  Three:  it's possible that there are 7 other people who are stronger than this beast of a human (poorly calibrated bikes notwithstanding).
The future NFL Hall of Famer, who turned sacking QBs into an art form during his time with the Houston Texans and Arizona Cardinals, announced his retirement from the NFL in December of 2022.  During his time with Houston and Arizona, Watt racked up 114.5 sacks (24th all time), made five Pro Bowls, led the NFL in sacks twice, won Walter Peyton Man of the Year in 2017, was named All-Pro seven times and won Defensive Player of the Year three times.
Since hanging up his cleats (and allowing opposing quarterbacks to breathe a sigh of relief), he has devoted his time to the Justin J. Watt Foundation, which provides funding for middle schools with under-funded, or non-existent, after-school athletic programs.  And, according to his Instagram page, he's also been spending his retirement playing golf, enjoying a nice bowl of Wheaties (understandable since he is on the box), working out, traveling with his beautiful family and, in addition to his analyst job with CBS Sports, can now be found crushing all of our souls on the Peloton leaderboard.  
Burning Questions
Of course, we don't know for sure which ride he took, but we do have some questions. For instance: What's the over/under on this being a Kendall Metal Ride?  And, who's going to tell him about the juiced bikes? And, can we set up a competition between JJ Watt and other noted Pelo-Pro-Athlete Beasts Booger McFarland and Rory McIlroy, so we can watch them all go head-to-head in a Peloton superstar fever dream of a class? An Alex Toussaint All-Star Ride to Greatness, maybe??  AND!! Is Lance Armstrong on the leaderboard??  We would love to know the answers to any, or all, of these questions!
Either way, welcome to Peloton, JJ!  We're excited to sweat a lot, and die a little, alongside you.  Please don't obliterate us on the leaderboard too badly, but, even if you do, we'll still send high fives your way, because this community loves high fives. Also, this new tutorial from Camila Ramon may be helpful for you.  And, yes, your butt will stop hurting.  We promise.  Oh, and, maybe steer clear of the OPP.  Just trust us on that one; you can thank us later.
Seasoned TCO listeners, what tips would you pass on to a new rider, like JJ, to help them make the most of their Peloton experience?
Oh, and, PS. For those of you who have been following the leaderboard name KJWatt thinking it was JJ all these years, sorry to say, but that definitely wasn't him!