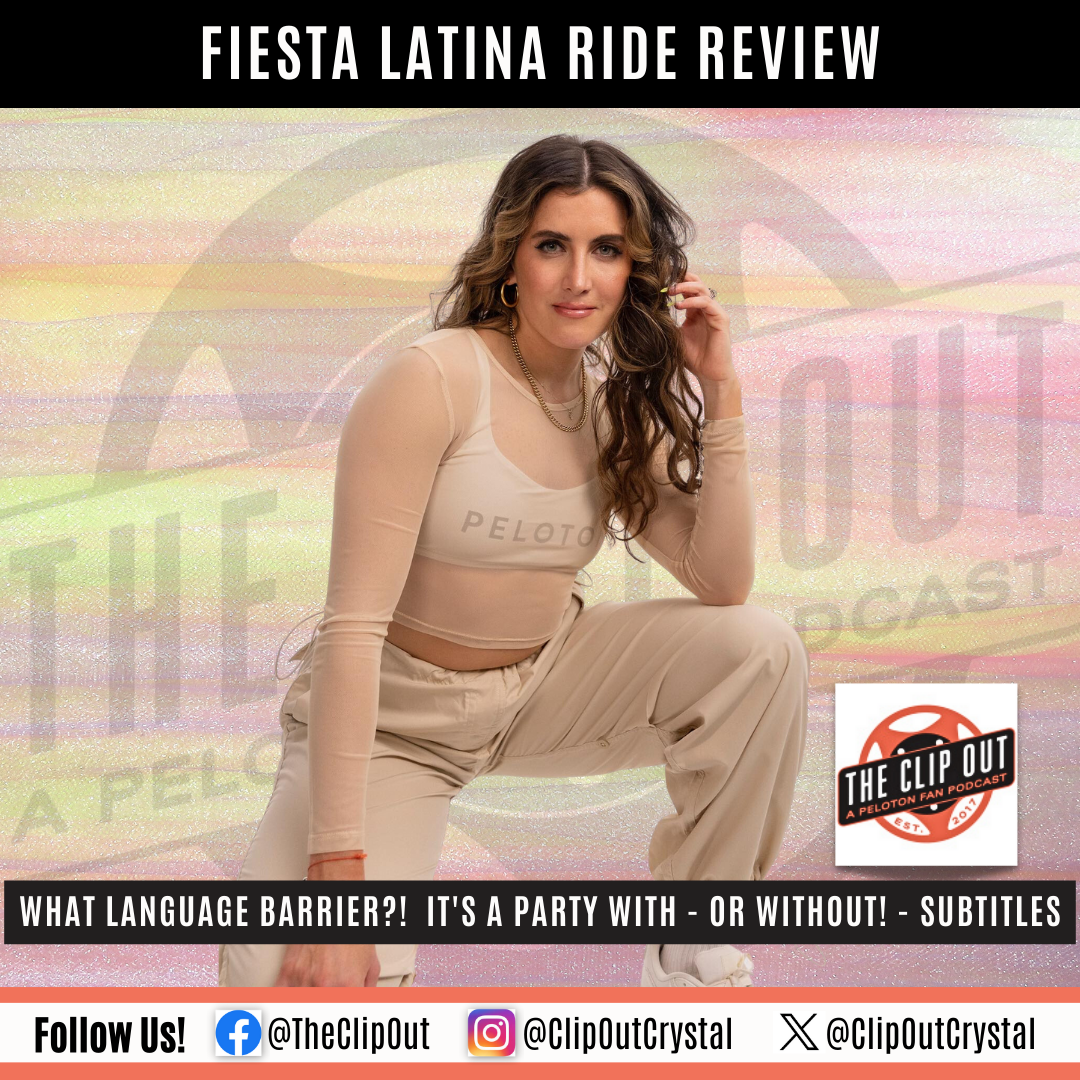 Fiesta Latina 2023: Look, Camila, No Subtitles! (A Review)
So, I've been looking forward to Fiesta Latina 2023, because I love Camila Ramon and I love Latin music rides. I have to admit, though, that I don't know any Spanish beyond the parts that are common knowledge if you have kids who loved "Dora the Explorer" when they were that age. (I've also visited a couple Spanish-speaking countries, but to be very honest, I mostly learned how to order food and drinks there.)
Here's a list of the verbal notes I took on my phone while doing this ride (slightly edited to make sense, because they sort of didn't, but I know what I meant):
Okay, let's do this. Subtitles.
Um. There are no subtitles available. Maybe too soon after it dropped on demand? Okay, will follow the metrics.
There are no metrics either.
Uh oh. My Spanish is limited to being able to sort of sing along to "Gasolina," by Daddy Yankee, and that's just because I'm a huge Camila fan, and also some Pitbull stuff because he's Mr. Worldwide.
I lied in my preview article when I said subtitles would be available on demand- apparently, they aren't right away. I'm sorry, me!
Oh no…. Metrics aren't showing up on my screen yet either. Guess we're going to do this ride by guessing and watching Camila's level of energy.
"Tres, dos, uno," okay. That I got.
My Spanish is slim to none, leaning toward none. But Camila's so expressive. I can figure this out.
Okay, I know what "nada" means, but I don't know why she's saying it.
Have never ridden a class by guessing before. At least my heart rate monitor is working. Can I track my cadence by timing my legs with hers?
Oooh, someone has a Brittany Allen bra on! Shiny blue, one shoulder. Super pretty.
Maybe I can ride this by power zones, kind of? Yeah. Rank Camila 1-7 per her tone of voice and do that. That's how I'm going to do this.
[At this point I called for my 15-year-old Rachel, who's had one semester of Spanish in high school, to see what she could understand for me. Rachel listened for a solid 60 seconds, and her verdict was, "She talks really fast."]
Okay, this is a shout-out. "Felici-" means something with congratulations! Amigos! I know that word too!
Hanging in zone 2. We're at 17:15 time stamp, and Camila's clapping her hands, which means time to crank back up to zone 4. Oh wait, now I'm in zone 5.
I can't stand on the pedals because of squats during total strength last night. Thanks, Andy Speer.
I keep saying I'm going to pull back to zone 1 when she's clearly doing recovery and keep winding up in zone 2 anyway because the music is fun.
Great outfit: tomato red bra that matches her nails, Tiffany blue pants, lime green mic belt, two necklaces- one dainty and one big. Every so often I think I'd like to try pulling off a bigger gold chain like that. Those two little face-framing braids… could I pull those off? [Noted later: I am not that cool.]
She's listing Latin and South American countries. Got it. Not sure why. People who love this music? Places the artists are from? One of the ones she's listing is Brazil, and they speak Portuguese there.
Forget not standing. About eight minutes left and I'm just CRANKING it while standing, seeing zone 7, seeing some pretty bright orange on my heart rate. Because seriously, the beat is perfect to ride to. [Noted later- this was "Con el Pompi Pa' Rriba," by Mala Fe.] Don't think I've ever gone this fast while standing.
Recovery. Or not, because I'm really digging this song. [Noted later- "Lento (Mix)," by Nfasis and DJ Tao, which samples a few other songs. Fun!] This one's a blast.
HEY, PITBULLLLLLLLL! My bald buddy!
Okay. Survived. Camila's like the coolest girl that I pretend to know.
Overall?
So, this was a great time. Understood almost nothing, but I got in a really awesome workout and worked hard- harder than I do following the metrics and instructions usually, I think, because I was so into the music. The ride also absolutely flew by, likely because I was busy trying to guess what Camila was saying and decide how hard to go. 
Lesson learned, though- time to actually learn a little Spanish. I can still rely on subtitles, but I love this music and these instructors enough that I feel I owe it to them, and it would probably serve me well generally. Duolinguo… I'm coming.
For now, Google translate: ¡Gracias por el viaje, Camila! Me encantaron tus cadenas de oro y tus elecciones musicales y estoy deseando volver a hacerlo.