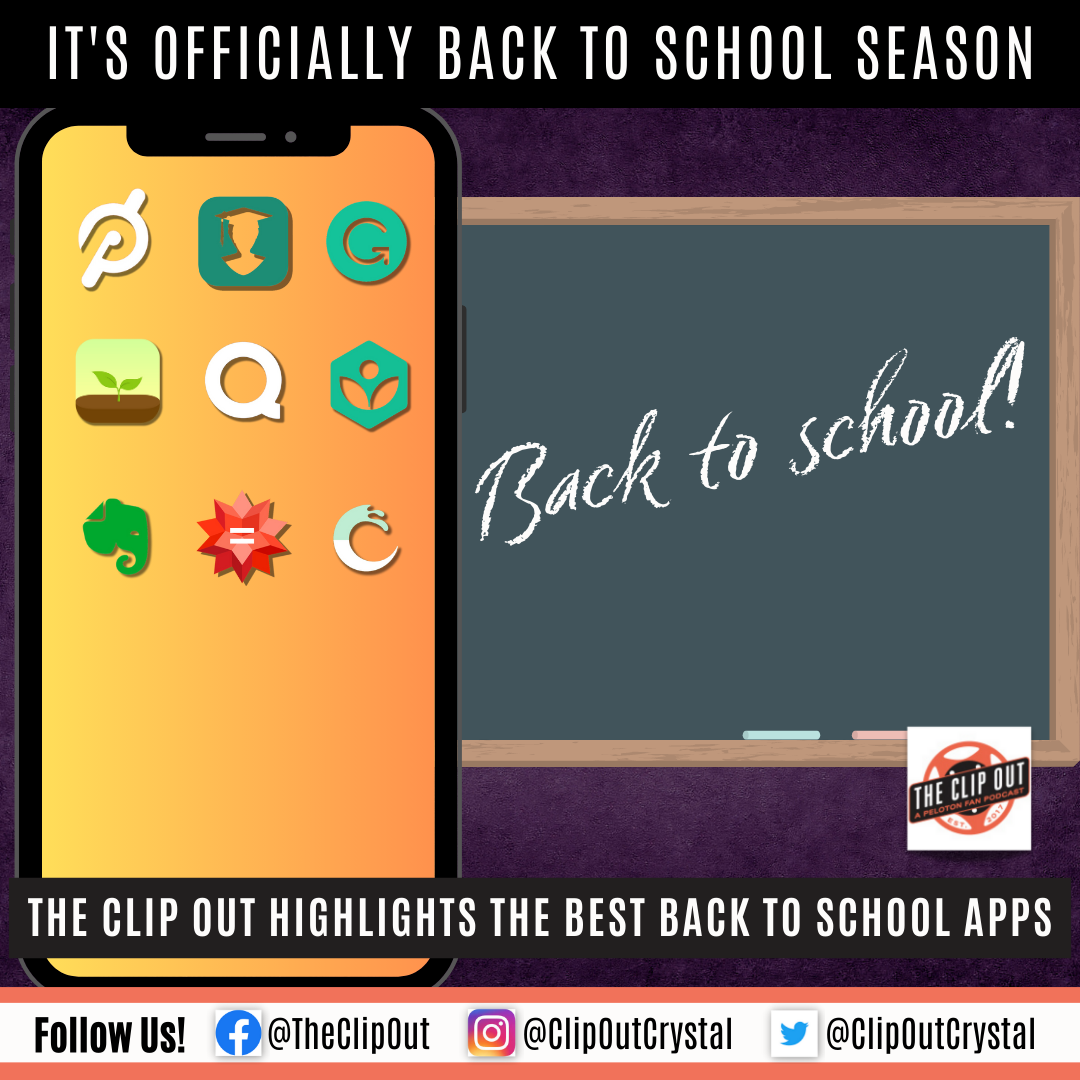 Best Apps for Back to School
As the back-to-school season approaches, stressed-out students (and parents!!) are looking for ways to stay organized, motivated, and on top of their game, helping the new school year get off to a great start. Luckily, there are many apps out there that can help students achieve their goals, ranging from academics to organization to physical health to mental health. In this blog post, The Clip Out takes a look at some of the best apps for heading back to school, including the Peloton app, which may not be the first one that comes to mind but is a valuable tool for any student looking to add a little movement into their day.
Evernote: Your Personal Digital Assistant
Evernote is a must-have app for students who want to keep their notes, research, and study materials organized. With Evernote, you can create notes, attach photos and files, and access information across multiple devices. The app has a powerful search feature that allows you to find what you're looking for quickly. Plus, you can set reminders and flag notes that need your attention. Evernote is like having a personal digital assistant to help you stay on top of things.
Quizlet: Master Key Concepts
Quizlet is a popular app among students for creating and studying flashcards. With Quizlet, you can create custom quizzes and study sets to help you memorize key concepts, terms, and vocabulary words. The app also includes interactive games and tools to help you learn in fun and engaging ways. You can even join study groups and compete with your classmates to see who scores the highest.
Peloton: Take a Break and Get Your Blood Pumping
While it may not be the first app that comes to mind when you think of heading back to school, the Peloton app can be a great way to take a break and get your blood pumping. With Peloton, you can access thousands of on-demand fitness classes taught by world-class instructors. Whether you're into cycling, running, strength training, yoga, or meditation, Peloton has a class for you. And with the app, you can work out from the comfort of your own home or dorm room.  The newly redesigned Peloton App offers three tiers, ranging from free, designed to introduce Peloton newcomers to the app, up to $24/month for the premium version.  However, students (as well as military, healthcare workers, and teachers) are eligible for special pricing on the mid-tier app, bringing the price down to $6.99/month.  A steal, considering all of the content it gives you access to!
Grammarly: Polish Your Writing Skills
If you need to write essays and research papers for school, Grammarly is a must-have app. Grammarly analyzes your written content for grammar errors, spelling mistakes, and writing style. It can help you catch mistakes before submitting your work and improve your overall writing skills. Grammarly also provides suggestions for alternative word choices, sentence structures, tone, and more.
MyStudyLife: All-in-One Student Planner
MyStudyLife is a comprehensive planner and scheduling app designed specifically for students. With this app, you can organize your class schedules, exams, assignments, and deadlines in one place. The app also includes a to-do list and notification reminders to help you stay on track. MyStudyLife syncs across all your devices, so you can access your schedule and tasks wherever you are.
Wolfram Alpha: Math and Science Problem Solver
Wolfram Alpha is a powerful computational engine that can help you with math, science, and engineering problems. The app can solve complex equations, plot graphs, and provide detailed explanations of mathematical concepts. With Wolfram Alpha, you can go beyond simple calculations and explore more advanced topics.
Khan Academy: Free Learning Platform
Khan Academy is a free online learning platform that offers comprehensive courses in a variety of subjects. With the Khan Academy app, you can access video lectures, practice exercises, and interactive tools to help you learn more effectively. The app covers subjects ranging from math and science to history and economics. Khan Academy is a great way to supplement your classroom learning and improve your understanding of key concepts.
Forest: Stay Focused and Avoid Distractions
The Forest app provides a unique solution to the problem of smartphone distractions. The app encourages users to plant a virtual tree and set a timer for a specific period of time. During this time, the user cannot access any other apps on their phone. As the timer counts down, the virtual tree grows. If the user leaves the app, the tree dies. This simple but effective tool can help you stay focused and avoid distractions while studying.
Pacifica: Mental Health Awareness
Heading back to school can be stressful, and Pacifica is an app that can help with that stress. Pacifica is an app designed to help you break the cycle of ongoing negative thoughts by using tools that target stress, anxiety, and depression. The app consists of psychologist-designed tools based on Cognitive Behavioral Therapy, mindfulness meditation, relaxation, and mood/health tracking. You can even work with a mental health professional through the app with Pacifica's paid option.
Whether you're a student or a parent of a student, heading back to school can be a stressful time. However, with the right apps, students can stay organized, motivated, and on top of their game. From note-taking and studying to fitness and mental health awareness, these apps are here to help. From high school students to college students to lifelong learners, there's an app out there for you.