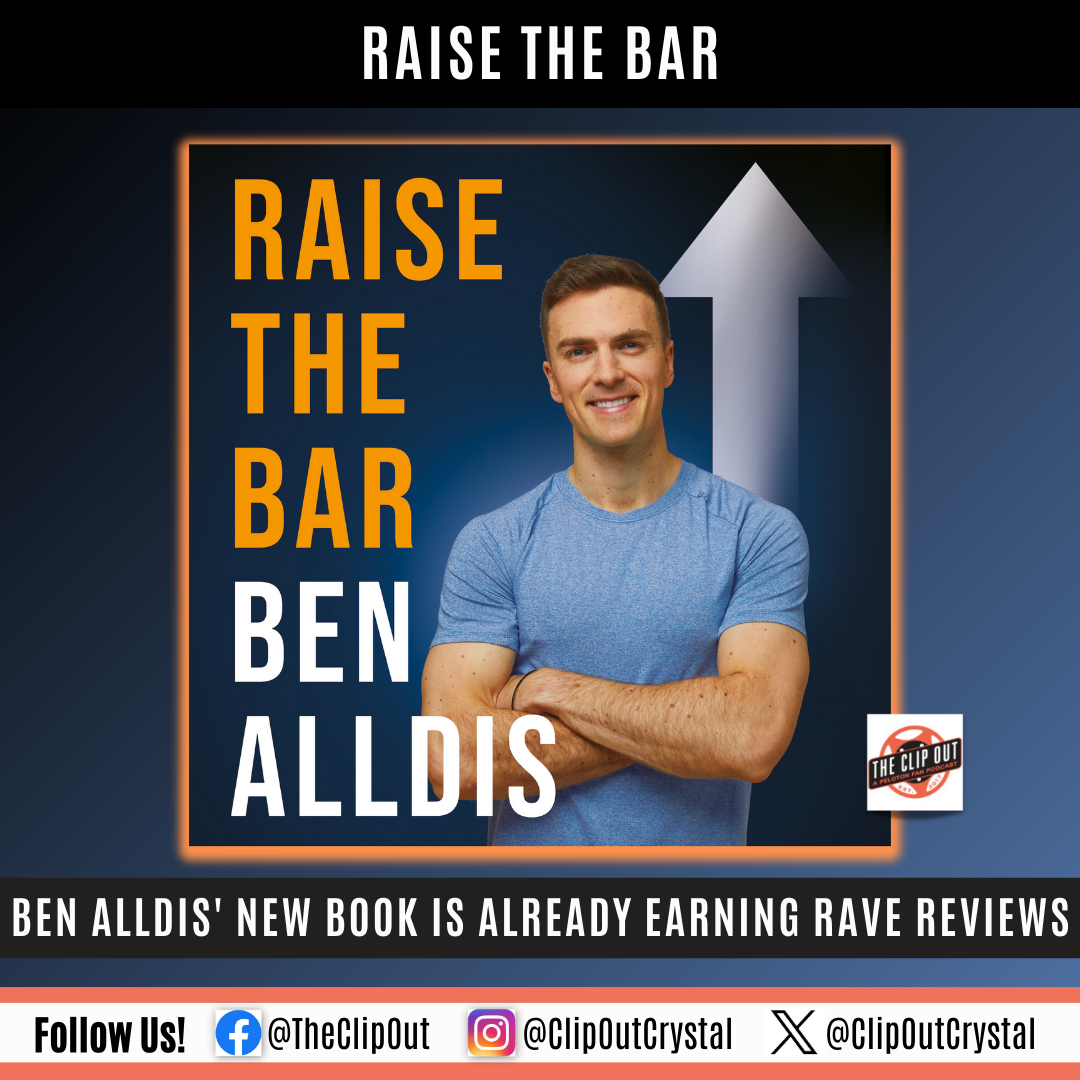 Ben Alldis' "Raise the Bar" Already Earning Rave Reviews
It's been a busy 2023 for Peloton cycling and strength instructor Ben Alldis.  At the beginning of the year, Peloton released Ben's outstanding 4-week strength program, "The Stronger You." In May, Peloton and Ben created and released two classes with singer Lewis Capaldi.  In July, Ben, who typically teaches from Peloton's London Studio, made his Peloton Studio New York (PSNY) debut. The following month, Peloton released Ben's new 3-day split training Program that The Clip Out recently reviewed.  
Ben's New Book Drops
And just a few days ago, Ben celebrated the U.K. release of his new book, "Raise the Bar," which has earned wonderful reviews so far on Amazon. The hardcover comes out in the U.S. later this year, but the Kindle version is available now. Writer Liz Hoggard of Britain's Daily Telegraph just wrote a glowing piece (behind a paywall) on how Ben and his partner (and fellow Peloton instructor) Leanne Hainsby have become "sporting royalty" in the U.K. Their fans include actor Phoebe Waller-Bridge and British Prime Minister Rishi Sunak, who is also a big Cody Rigsby fan.
Ben's Tips to Help You Raise Your Own Bar
Ms. Hoggard shared some of her own fitness regimen and how both Ben and Leanne help her stay motivated throughout the year. She appreciates their focus on using fitness to build a body to "serve them for life, rather than on a short-term summer body fix." Ms. Hoggard shared Ben's ten "forever exercise" tips that appear in the new book, which we'll briefly summarize.
Start your exercise journey in small steps and keep measuring your progress. Even going for a nature walk can be beneficial for physical and mental health.

Mix up your training and include other activities such as walking to work or gardening. 

Be smart with your time and try to include "energy givers" (such as doing a 30-minute workout) rather than "energy takers" such as binge-watching your favorite show. 

Get a workout buddy for accountability.

Don't punish yourself if you have a bad day (with eating) or anything else. 

Track and prioritize sleep in your life.

Understand your body clock – know your own best time to workout (early am or later in the day.)  Keeping a schedule also makes it easier to maintain your fitness regimen.

Like investing money, you're never too old to start your fitness journey. Small investments of workout time help lead to long-term health.

Working out today helps you get through the tough times tomorrow. Ben shares how Leanne's doctors were confident she would get through chemotherapy and back to her strong self because she was already at a high fitness level when she was diagnosed with cancer. 

Have fun while working out. Don't look at exercise as a punishment, but rather as a reward, and never take your ability to workout for granted. 
Look for The Clip Out's Review of Raise the Bar
Have you had the chance to read Ben's new book? We're certainly excited about it, so keep your eyes open for The Clip Out's own review – coming soon!