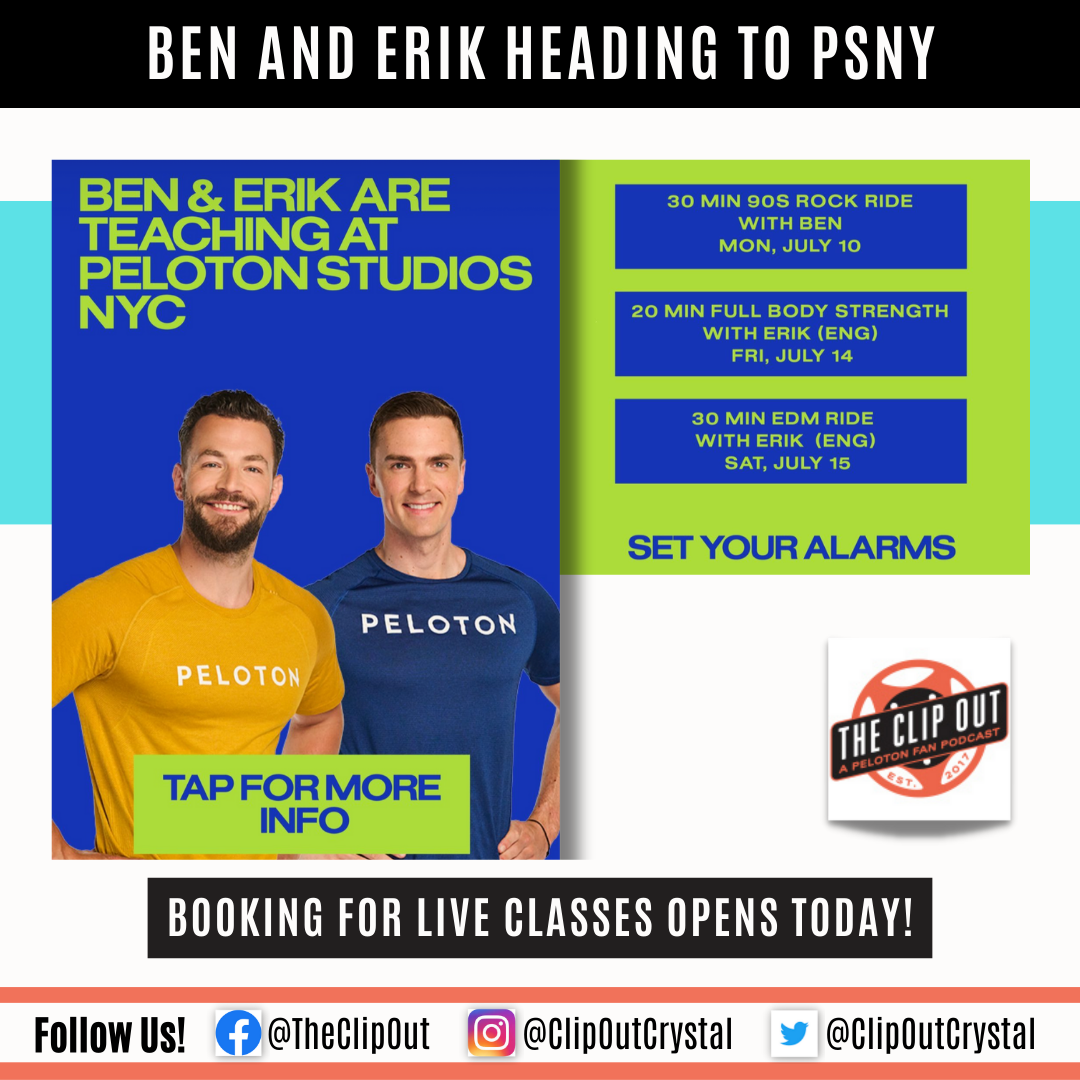 Ben Alldis and Erik Jager: Teaching from the Big Apple! Book classes today!
Great news, Peloton lovers! Ben Alldis and Erik Jager, two of Peloton's most beloved instructors, are headed to the NYC studio. Starting July 10th, Peloton members can join Ben for a 30-minute rock ride, and on July 14th and 15th, Erik will be teaching two classes– a 20-minute full-body strength in English and a 30-minute EDM ride in English, respectively. And the cherry on top? Classes open today at Noon ET! You can book at the NYC studio site. 
Ben Alldis and Erik Jager both teach live from Peloton Studios Lond. So, its a special treat to have both Ben and Erik live in NYC. With Ben Alldis leading his 30-minute rock ride, be prepared to take on the music head-on and power through the 30 minutes of sweaty goodness. Erik Jager's 20-minute full-body strength in English will challenge fitness enthusiasts of all levels, while his 30-minute EDM ride in English will give you all the feels of a club even though you're still pedaling your way to a healthier you!
Not only will Ben Alldis and Erik Jager be at the NYC studio, but they'll also be bringing the Peloton community together for a shared class experience if you are in the NYC area. Being in the same class as your instructors can mean so much for your fitness journey and camaraderie. But, if you're not in the Big Apple, don't worry, you can still stream the classes live OR take them on demand.
As of today at Noon ET, you can sign up for a spot in these classes. These classes will be in high demand and filling quickly, so don't wait to make your selection. Lock in your spot to these classes and don't forget to subscribe to Ben and Erik's Peloton profiles to stay up to date on everything about their classes and programs.
Peloton enthusiasts, don't miss out on Peloton's world-class fitness experience. The NYC studio is another great opportunity for the Peloton community to come together, and with Ben Alldis and Erik Jager, it's going to be nothing short of phenomenal. With classes opening up today, take it as a sign and opt-in – it's time to show up and show out. Let's ride!
See something in the Peloton Universe that you think we should know? Visit theclipout.com and click on Submit a Tip!
Tune in to The Clip Out every Friday to hear Tom and Crystal's take on this and other hot Pelotopics. We're available on Apple Podcasts, Spotify, Google Podcasts, iHeart, TuneIn. Be sure and follow us so you never miss an episode. You can also find the show online on Facebook.com/TheClipOut. While you're there, like the page and join the group. Lastly, find us on our YouTube channel, YouTube.com/TheClipOut, where you can watch all of our shows.