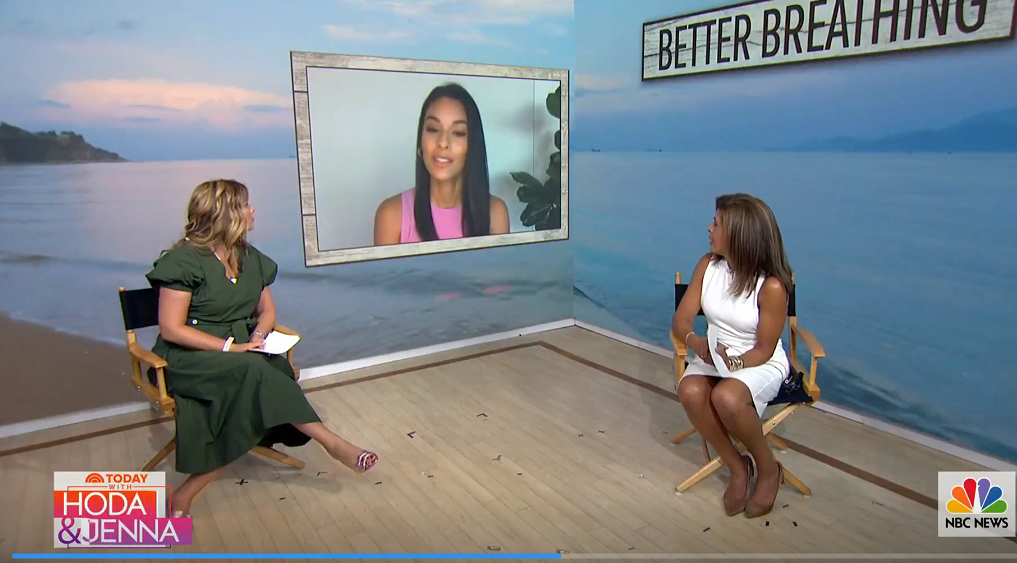 Aditi Shah represented Peloton on the Today Show
Aditi Shah represented Peloton on the Today Show
With all that is going on right now, there is a lot of stress!  The Today Show had a segment that discussed how improving your breathing can reduce your stress and anxiety.  Aditi Shah represented Peloton by teaching different breathing techniques that can help.
Background
Jenna and Hoda introduced the segment with some details about how when we are stressed, we breathe quickly and shallowly.  This breathing pattern makes it more likely we will feel stressed. They then discussed the benefits of good breathing patterns and why it can be so helpful to reduce stress.
Aditi joined via video feed
Aditi joined to talk through two different breathing patterns:
belly breath
box breathing
It was so wonderful to see Aditi up on the big screen! I love it when the Peloton instructors are featured!  The Today Show has been a vocal supporter of Peloton for a long time. It's just as exciting to see instructors on the show now as it was the first time.  And I love that its different instructors for different subjects. I always wonder how they decide who gets to go on the show… is it like – let's draw straws? I'm sure there is some type of method to it, but I'd love to know what it is!
More on Aditi
If you can't get enough Aditi, make sure to check out our post about Aditi's career before Peloton!  She's had some fun acting roles.  Make sure you check out episode  173 of The Clip Out podcast on 9/11 for more thoughts on the video!
Details on The Today Show
Today with Hoda & Jenna (also known as the fourth hour of Today or simply Hoda & Jenna or H&J ) is an American daytime talk show on NBC, hosted by Hoda Kotb and Jenna Bush Hager. The program airs as the fourth hour of NBC's Today at 10:00 a.m. in all time zones (subject to local delay) as a "show-within-a-show" with its own hosts, opening sequence, theme music, and website. The Monday through Thursday editions of this portion of the program air live in the Eastern Time Zone and on tape delay elsewhere; the Friday edition is pre-recorded.