325. Cody Rigsby's Brush With Barbie Plus Our Interview With Jim Feeney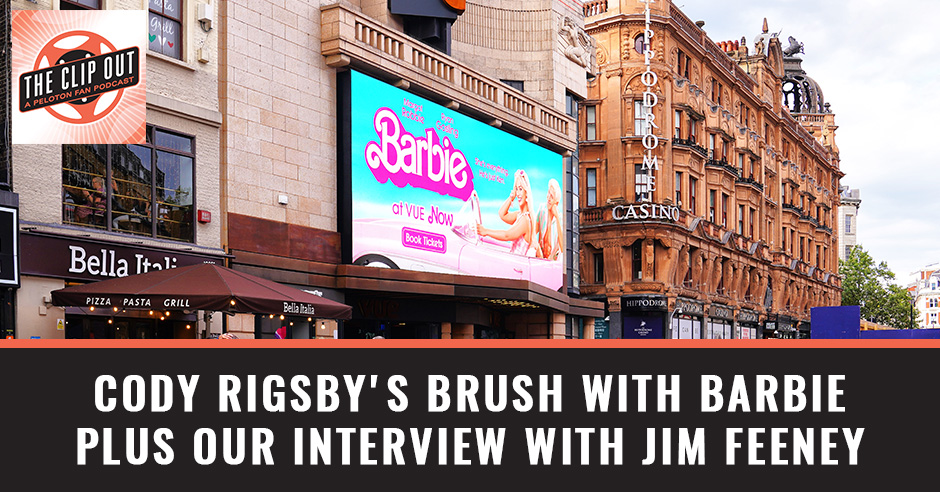 All For One class schedule released.
Rowing classes with members to debut during All For One.
Peloton sent invites to row with Ash Pryor.
Peloton On Tour – Chicago ticket info.
Peloton Australia partners with Accor Hotels.
Peloton to participate in Goldman Sachs Communacopia & Technology Conference.
AdAge spotlights Peloton's brand engagement.
Greta Gerwig asked Cody Rigsby to audition for Barbie.
PSNY hosting Cody's book launch.
Cody adds a new book event in NYC.
Jenn Sherman goes viral on TikTok.
Helper Bee Lindsey compiled Rebecca Kennedy and Andy Speer's best outfits.
Kristen Ferguson celebrates 2 years with Peloton.
Angelo/MetPro – How to tell magic bullets from magic bullsh*t
Metallica are fans of Peloton.
The Unstackables – classes to hard to stack.
Helper Bee Tina reviews Matty Maggiacomo's stretch classes.
Lindsey again with a review of Fiesta Latina.
TCO Top Five.
This week at Peloton.
Birthdays – Mila Lazar (9/7)
All this plus our interview with Jim Feeney!
—
Watch the episode here
Listen to the podcast here
Cody Rigsby's Brush With Barbie Plus Our Interview With Jim Feeney
People who are watching on YouTube can see that we are matching or something because we are recording this immediately prior to going to, what's the one where there's the bat?
It's some kind of sports ball game. Things are thrown and they have bases.
It's the ball base. We're going to a ball base game.
Our team has the bird, and it's a red bird.
It's the red shirt. I don't have an actual Cardinal shirt in my possession.
I had to buy one. I had to have it instacarted.
I used to have Cardinal shirts but it's been so long since I've been to a baseball game that none of them fit me.
That would have been ginormous on you. It would have looked like a blanket.
Instead, I'm wearing my super Harlem Globetrotters t-shirt.
It's still sportsy.
It's still sportsy. There's a ball involved and it's red, so it counts. We fell into good seats where we were sitting immediately behind the home plate. We're in the second row behind the home plate.
Tell them how those those came to be. Why do we get lucky enough to do that?
It's because our team is so bad right now, nobody else wants to go. I was like, "I will take the ones behind the home plate. Crystal has never gone, and there's free food."
It's fun to go to the baseball game once in a while. I think the last time we went was eight years ago.
It was probably with one of the kids.
No, it wasn't. The last time we went was when the company I was working with had free tickets. The company paid for the ticket and we had the buffet and everything. I think you had another buffet one, but it wasn't the ones behind home plate, but it still was like eight years ago.
It's been a bit.
Every decade or so, we will watch some sports ball.
It was so long ago that Keith Hernandez was still on the team.
I know Yadi was.
Keith Hernandez from the '80s? You don't know the name because he was on Seinfeld.
I remember that.
What pray tell do you have in store for people?
We are going to talk about the All For One class schedule, the brand new rowing classes, the way that Peloton invited people to those row classes, and all the details that we know about the Chicago Peloton on Tour event. Peloton Australia has been busy. We're going to tell you all about that. Also, there are several big items that the instructors are involved in. We're going to tell you about those as well. Not to mention celebrity update, some fun content, and past guests. Wait, we don't have a past guest update. My bad.
Three hundred- plus interviews and not one did anything interesting.
To be fair, I do not check all 300 people. If it doesn't show up in my face, I have no idea. I'm sure somebody did something interesting.
Most likely. Before we get to all that, shameless plugs. Don't forget, we're available on Apple Podcasts, Spotify, Google, iHeart, TuneIn, and all the places. Wherever you find a podcast, you can find us. While you're there, be sure and follow us so you never miss an episode. Maybe leave us a review. It's super helpful. We greatly appreciate it. You can also find us on Facebook at Facebook.com/TheClipOut. While you're there, like the page, join the group. It's a little bit easier to get involved in the conversation in the group than it is on the page. Plus, the group will push into your feet a little bit more frequently so you never miss an update if that's important to you.
You can also find us on Patreon at Patreon.com/TheClipOut, where you can get these episodes ad-free. If we get them early, you get them early. You can also get bonus episodes like The Clip Out, which is stuff we didn't have time to get to. The weekly episode, we've been doing those every week, companion episodes of overflow content.
I was also thinking that if any of you have been on the fence about joining the Patreon and you are joining the Patreon where you get the bonus episodes, that's the higher tier. You also could join our very cool Patreon Zoom, happening on September 16th. We'd love to see you there.
We've been doing Zoom hangouts with Patreon members. The next one of those is coming up on September 16th. We have a YouTube channel, YouTube.com/TheClipOut, where you can watch all these episodes. Finally, don't forget our newsletter where you get the links and all the things sent to you as a friendly reminder that we put out an episode. You can sign up for that at TheClipOut.com. That's it for that. Let's dig in. Shall we?
We shall.
—
Peloton has announced their All For One schedule, the complete schedule. I keep thinking like they've announced the classes and I see that they announced their full schedule and you're like, "No."
Last week, they announced the lineup and the artist. This week, they announced when those classes would exist. They are two different things, Tom. The big highlight of the lineup is that there are going to be several UK instructors who are going to be teaching live classes in the US. There's Ben Alldis, Leanne Hainsby, and Hannah Frankson. All three will be present and they will be in PSNY. The other thing was that these went on sale yesterday so you could go in and schedule it. It was chaotic over there. If you were lucky enough to be in, you also had your very first opportunity to be in a row class live while it happened. That's super exciting as well.
That's going to be a fun weekend because there's going to be a lot going on. That's going to be next weekend already. I've been so focused on this weekend. I'm not even thinking ahead to the next weekend. It's going to be a lot. Also, to remind the reason that there are so many bands you've never heard of is because whatever you listen to, they're trying to appeal to everyone.
It's the whole thing. It says right here, "Build your own festival." If you're a middle-aged white guy, go ahead and pick the Eagles and ZZ Top, and you're good. If you're not and you feel the country, you can do Chris Stapleton and Maren Morris. If you like Rima, whatever that is, you can pick the other artists that like Rima.
If you like that piece of crap, Dave Matthews Band. It's all good.
The whole point is not supposed to favor just one genre. If you're upset, you're missing the point.
If you're wondering why we're harping on this, it's because there are people who do nothing but complain about this stuff all day. We need to spread the word. It's not all about you.
It's a mix-and-match scenario. You're not supposed to like all of it. If you like all of it, great. You have a very wide-ranging taste in music.
I always thought I had a collective taste, and then I saw this list. I am suddenly very aware that I am 45 years old.
They're trying to make something that you can assemble. It's not designed for you to take every single class.
It's not. That's not the point.
You're missing the point.
Spread the word.
As you mentioned previously, rowing classes with members will be debuting during All For One.
It was pretty cool. I might be getting ahead of you again.
Do you ever wonder if the band All For One is upset that they're not included in All For One? I mean it's their name. They were using it first.
Peloton is not using it as a band. Also, All For One started off at Peloton as a very different thing. It has morphed like so many things, but it wasn't about music at the beginning. That is literally my point. It is now but we will let them work that out. I'm sure they are not shy about making some kind of lawsuit, and Peloton is no stranger to getting sued.
All For One spells with a number four, and there are hyphens. It's rowing classes with members.
I think I'm about to get ahead of you again. Peloton sent out invites to members. They had different classes to which they were sending out invites. One of the ones that we saw the actual invite for was for Ash Pryor. It was to people all over the United States to be able to come in and take the first classes live. This is pretty special. This is historic to be able to be involved in that. If you didn't get invited, you could still go online yesterday because Peloton announced the whole All For One schedule online.
It was pretty messy, but that was your opportunity to get in. You only had about a second and a half, and you can't think. Here's the deal. Everybody asks, "How do I get in?" Don't think and stop looking. The first thing that opens, click on it. Do not hesitate. Don't browse. Just click on it. Stop worrying about it. If there's a waitlist, click on that too. It's possible. I know. Just know that it's possible.
It's like online dating. Don't be so picky.
Lower your standard, people.
The first thing you get, it will be fine.
What do they say in preschool? "Take what you get and don't throw a fit."
It's like online dating. Just pick the first thing that you get and if you don't like it, it's only twenty minutes. If All For One ticket drama was not enough for you, Peloton on Tour, Chicago has released their ticket information.
We talked about this in the last episode. It was going to fall over Labor Day. I was like, "How are they going to do that?" Here's how. They are going to drop the information on 9/6. You're going to find out all the instructors that are going to be there. You're going to find out all of the different events that are going to be there.
On 9/7 at noon Eastern, you can go in and get your ticket. The events are October 5th through 7th in Chicago, specifically, the Skokie Illinois location. Make sure that you have your alarm set. Make sure you are ready to go. Have multiple devices on the ready. Hit refresh. Get in there an hour early. You can do this, people. I know it. I believe in you.
Don't browse. Take the first thing you get. All that stuff applies here as well.
I know that it's not official at all. I have no official knowledge of this, but I am guessing we're going to see Logan, Selena, and Mariana.
We are going to see all the people in the Chicago marathon. That seems like a safe bet.
I think so. It will be fun.
Peloton Australia has partnered with Accor Hotels.
This is going to be similar to Westin, where they are going to have at least one Peloton in every hotel.
They will have at least one Peloton not functioning in every hotel.
Most of the hotels are back in business. They're good. The other thing that Accor is doing is also similar to Westin. Some of their hotels will have special rooms that you can rent that have Peloton's in them. I also wanted to point out with this Australian update that the delivery area has been expanded in Queensland. They added a whole bunch more ZIP codes or whatever the equivalent is in Australia.
With that delivery area, there are more people who can now get Peloton. There was also another thing that happened. Peloton in Australia is also looking for members to talk about their experiences. They have a Google doc linked to in this article. When you sign up for it, you have the opportunity to have your story highlighted by Peloton Australia. There's a lot going on in the Australia area. Get on it.
Peloton announced that they will be participating in the Goldman Sachs Communacopia and Technology Conference.
I'm pretty sure they do this every year, and they've done it for the last three years.,
I also don't remember it being called communacopia.
It is because I always go, "Why?" I always want it to be cornucopia, which clearly is what they're going for. I don't understand what that has to do with anything. A cornucopia is a collection of corn that you do on Thanksgiving displays.
It's like a horn o plenty.
Why is it communicopia?
I think it's a collection of all these things together.
You all need a new marketing team.
They let the internet nerds. That's what happens when you let coders come up with things like that.
The worst of times bring out the best in people.
Click To Tweet
That's fair. Not my strong point either. Anyway, Liz Coddington, the CFO of Peloton will be there. It takes place on September 6th at 8:10 AM, Pacific time.
AdAge, which is a very prestigious publication and the advertising industry, had an article about how brands are evolving to engage with anyone anywhere. Peloton played a very large role in this article.
That makes sense because their whole new thing is fitness to anyone anywhere. It's pretty much custom-made for them. It's nice to see that Peloton's new marketing strategy is getting some positive buzz. This is not the first article about it. AdAge is probably more well-known and more well-read even outside of people in the industry.
This is like Billboard Magazine. There are other publications about the music industry, but Billboard is the one that everybody recognizes, even the ones who aren't in the music industry.
This digs into a little bit of how they decided on certain things, like how people are converting or what they are using to convert to sales, including Amazon ads and things like that. It gives a little bit of background into why they made the decisions that they have made. I think that is very smart. Not only are they meeting people with the app anywhere, but they are also meeting people to buy it anywhere, it depends on how you look at it. It actually applies in several ways.
It works on both levels.
It does.
Coming up after this, we're going to dig into instructors in the news. We're going to let you know all about Cody and how he was almost Kenough. Stick around.
—
Cody Rigsby revealed on the Barstool Sports podcast that he auditioned for Ken in the movie Barbie and that he was asked by director Greta Gerwig.
Before we get into that, can I say how much I love this artwork that he made? Every time I see it, I smile. It's brilliant and perfect.
We should probably put a little asterisk on him auditioning for the role of Ken. For people who haven't seen the movie, judging by the box office, there are about three of you left.
Don't forget to wear pink when you go. It's the law.
There are like 100 Kens in the movie. He was not auditioning for the role that went to Ryan Gosling.
The way he says it, he sure wants you to believe that it was for Ryan Gosling's role. Maybe he didn't do it intentionally.
Hang on. Let me put on my Reel Spoilers hat and get a movie nerd on you. The timeline wouldn't work. He says that he was asked to audition in February 2022, but there are reports in industry magazines like Variety that Dead Spin, which I think he was referencing. Ryan Gosling's casting was announced in October 2021. Ryan Gosling was cast in that role for quite a period of time. There are lots of Kens in the movie as there are lots of Barbies, who are all credited as either Ken or Barbie. They don't always specify that they're a specific Ken or Barbie because that's the point of the film. John Cena was also credited as Ken. There are lots of different celebrities playing different incarnations of Ken.
I want to Mojo Dojo Barbie doll house.
You're not supposed to want that as a woman. You're missing the point.
I'm not missing the point. I love it though. I love his stupid little coat. I love everything about that movie. I loved it so much.
Putting that aside, it's cool that Greta Gerwig reached out to ask him to audition for this movie. I think it's smart.
We didn't say that part. She specifically was like, "I want him to do it," and he ended up doing his interview over Zoom.
It's very common for auditions for films.
Why wouldn't you go if you happen to be there?
For a lot of people, it used to be like you would pre-tape an audition and you would just send it in. It makes total sense that they would do something like this over Zoom, especially if it's not necessarily for the lead in a film.
I guess she takes his classes and she likes his classes, and so she wanted him to be in the movie. I am surprised though that they did not find a way to make him Ken. That would have been smart marketing-wise.
He would bring so much free publicity to the role. He's pushing it out on his social media channels. He's talking about it on his rides. He has a fan base and he can tell his fan base about the movie. I'm surprised they didn't find a way to shoehorn him in there, especially as many extra Kens as they had.
I definitely agree. I want to go back to the beginning and say that he referred to it as the role of Ken. As you mentioned, Tom, that was the whole point of the movie. They referred to all of the Ken's as a Ken. In keeping with that, maybe that's why he chose to use that verbiage. To me, it was a little confusing for people because when you hear Ken you think of Ryan Gosling.
Speaking of Cody, PSNY is hosting his book launch party.
This is another one that sold out in about ten seconds. This is going to be a live Q&A. Jenn Sherman is going to be the one moderating. This is going to take place on Monday, September 11th at 4 PM Eastern. That will be fun. They've all had their little book launches because Ben did his with Leanne and London. Alex did it in Atlanta, and I think Marcel was the moderator. Now we have Cody and Jenn Sherman. We're almost done with the books. Until the next batch.
This is apropos to nothing but it's on September 11th. I'm glad that we're far enough removed from September 11th that people can feel like they can host events on September 11th.
I am too but I still get a little weird when I have to fly on September 11th. I don't like it. It feels wrong. It feels like we should have a flight pause. I know that's not reasonable. I understand why we don't. I'm not asking anyone to. I'm just saying, it feels weird.
It does feel like tempting fate even though I logically know that hopefully, nothing like that will ever happen again.
Hopefully, we have better things in place but people still hate us, just to be clear.
Speaking of Cody still, he will be doing a photo-op event to promote his book at Barnes & Noble in Union Square. If you live in New York and you have plenty of opportunities, these things probably aren't even a big deal to you.
Probably, they are if they've never gotten to go into the studio because this is the second one.
I just meant that for people in New York, there are many opportunities to do things like this than living in a flyover country.
That's true.
Jenn Sherman went viral on the TikTok.
To be fair, we've talked about this before. We are repeating this story, but I wanted to talk about it for a couple of reasons. One, I'm going to be honest, I was a little confused and I still am why this went.
Why it took off?
Yeah, because the original thing that went viral was Jenn and her friend, Pam, were on the street. They got stopped by one of those like, "Tell us about what you're wearing." Apparently, that got posted on TikTok and the little Gen-Z'ers went ape shit. They love these two. I love Jenn. I don't know her friend Pam, but knowing how Jen is with her friends and seeing the videos I've seen, I get why I would enjoy it. I don't understand why people my daughter's age would enjoy it. That is not to say, "Why are they listening?" That is to say, "I do not understand the way children's minds work."
Regardless, they decided they were going to start a TikTok and they're going to be having content all the time. If you want to follow what is going on with Jenn Sherman and Pam, it is called Sunny and Jenn. They are the self-proclaimed old bitches that are just having fun. Regardless of why they went viral, you will enjoy it. I also want to say that Jenn Sherman was tickled that we shared her article and she sent me the sweetest note. It's nice to know that these instructors are still paying attention to what goes on in the community. Whenever people put stuff out there and we highlight them. They hear it. They're listening, and that's nice.
Helper Bee Lindsay put together an article for The Clip Out, "Spotlighting the best of Rebecca and Andy's couple outfits."
Astonishingly, there are a lot of you who were not aware that they were a couple. I'm shocked that any of you did not know that.
After getting into a bicycle accident, you become hyper-aware of your surroundings.
Click To Tweet
It's not remotely a secret.
They announced it back in 2021. It's been a long time.
They post together all the time. Even I know that.
I have no idea how anyone missed this, but if you don't follow obsessively as I do, you brought a very different view of it. Anyway, Lindsay put together this great overview of all of their outfits. There are so many here. They're jungle outfits. There are on-the-beach outfits. They got all dressed up to go to the TONY Award outfits, Freaky Friday, where they switched for their classes, and then, of course, steampunk. There's everything. They are constantly on it and it's great. If you haven't seen these and like us, you get a kick out of seeing what's going on with the instructors. This is a delightful article and it's a great retrospect of what they've been up to.
I look forward to Lindsay putting together an article spotlighting my best graphic tees.
You know what? She will do it. She loves the fashion. I know that's not really fashion. All I'm saying is don't put it past her. She will do it.
Kirsten Ferguson is celebrating two years with Peloton.
How did that happen? All these instructors that have been around two years this year? It's like time just flew. I did not realize this as I was researching the information from the article. She worked in the NFL industry for seven years. People started telling her that she should be a spin instructor when she started taking spin classes. She did and she started teaching them. When the pandemic happened, she started teaching them online. Peloton reached into her DMs and asked her to audition. She did and they were like, "How about for the tread?"She was like, "I am not a runner," but then she started to do it anyway
They're like, "Do you want to work here or not?"
She said, "Yes, I do." She said she was going to bet on herself. That bet turned out okay. Congrats to Kirsten. We are happy to have you here.
Coming up after this, we are going to talk to Angelo from MetPro. He's going to help you decide the difference between a magic bullet and a magic bullshit. Stick around.
—
Joining us once again from MetPro, it's Angelo here to answer all of your fitness and nutrition questions or at least the ones we pick.
There's always a catch.
Thank you for being here, Angelo. We have a question from Susan Dunton Burton. She has brought in some questions before you might remember her. Her leaderboard is Susan ATX. She says that Eastern Medicine says that all of her foot issues can be addressed by cleaning up her liver health. Can this be true? She's had multiple repeat injuries on her foot throughout the years. She's had sprained ankles, stress fractures, plantar fasciitis, and soft tissue tendinitis. She's chalked it after years of triathlon training and racing menopause and osteopenia. She does not drink at all, and she never has. Is her liver in need of something that could help her foot issues?
I'll honestly say, Susan, I don't know. However, what I can tell you is basically like our colon and our entire digestive system, our liver is fundamental to whole body health. If there is something fundamentally wrong with your liver, foot problems are not the first thing that comes to my mind. The body requires that the filtration system to be working at top notch. It's never not a good time to be taking care of your liver and eating in such a way that's going to treat it right.
What I will do is to spin this into something. Hopefully, I can add some value here while staying in my lane. I get asked questions like this, but then they divulge into, "I saw this infomercial about this pill with this device or this item or this new modality. Is it good? Should I try it?" So I get asked that question so often in the first week of working with a coach with new clients that I actually have saved a pre-recorded message and email response to it. I wish I could find it because I felt I was pretty clever in writing it. I will just give you the synopsis.
You are going to hear a lot about these vitamins, "You take this and you take that, and the supplements, the procedure, and you can do this." Will they work for you? You will always find raving reviews from people who have changed their lives. Are those all made up? No, they're not all made up. I'm going to give you an illustration. I get asked this a lot. Guys asked a lot about testosterone. They said, "Do you think it will help?" My answer is not as a doctor but as a personal trainer. I can tell you that if you are low, it will probably help you. If you are not low, you will probably struggle to notice the difference
That same principle applies most of the time to a host of different modalities and strategies. Should I take a colon cleanse? Will it help you? Is your colon sick? Should I take a liver cleanse? Will it help you? Is your liver function declining? If it is not, mega-dosing something for that umpteenth optimal degree is where I get feedback from thousands of clients, where it's usually "I did this or I took this supplements." I asked them because I'm always interested in the latest and greatest for my client, "How much do you think it's helping?" Usually, I will get the answer, "I'm not sure. I think it's helping." That is the average experience.
When I have someone that's like, "I had blood work done and I was way deficient in this. I then started taking vitamin D," "How did you feel?" "It's night and day. I felt so much better. Typically, the thematic narrative that will run along the lines of people who get dramatic benefits out of some modality, supplement, or cause are individuals who are personally deficient in what that supplement modality is addressing.
If it is inexpensive and safe, take it and try it. See if it affects you and if it's safe. Vitamin D for a lot of people is not going to cause harm. It's a safe thing. It's also not expensive, but there are things that are very involved before you commit to, "I'm going to do this two-week liver detox that's very expensive and alter my lifestyle." Go have your liver check and see what the blood test shows. If there's a delta there where there's a benefit to it, then you're not. If there's not much of a delta, you could still do it. It probably won't hurt you, but there's less odds that you're going to see that dramatic upside.
Connecting it to your foot, you're going to have to talk to someone who's one pay grade above me. I can tell you that when it comes to general health and well-being, that's one of the first things, I mean athletes were not drinking this. They're not drinking during the season. That has a lot to do with the effects alcohol has on the body and liver function. This is a real thing. It's not made up, but how much it's going to impact you, as we say so often, it depends.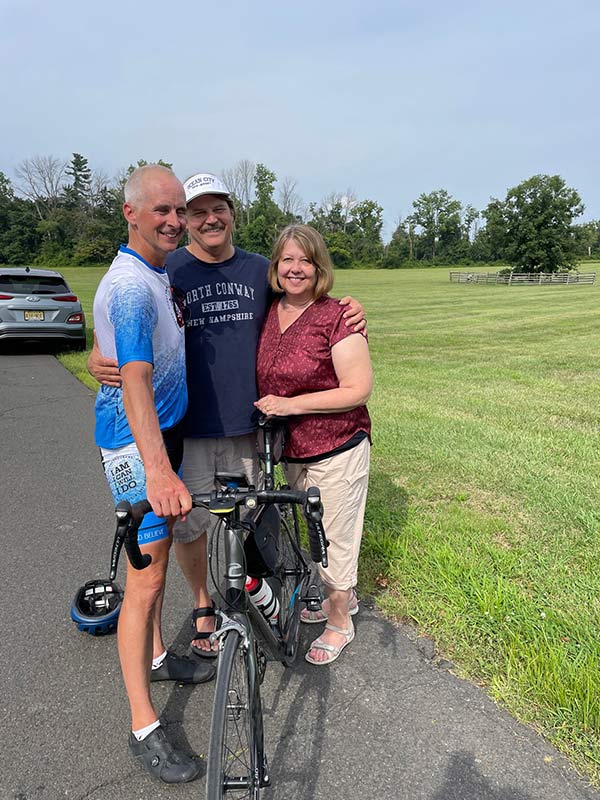 That was a good answer.
Thank you so much for all that and if people would like more detailed information about their own personal fitness journey, where can they find you?
Wonderfu. Thank you.
—
There was an interesting article about Metallica. It was in The Daily Mail. I believe it's also in The Wall Street Journal. You're seeing the Daily Mail because I don't have a subscription to the Wall Street Journal and I love intrusive banner ads.
I love when people are like, "I don't have ads," then you go to their website and it looks like trash because there's all this crap stacked everywhere. Who are you talking to?
This is what not having a subscription-based web model looks like. They were talking about Metallica. They're going out on the road on their No Repeat Weekends Tour, and they have swapped alcohol for Peloton and tofu.
That's amazing. We are all getting old.
Drummer Lars Ulrich is a huge Peloton fan.
Tom, get some Lars on here,
I will do my best.
When he's in town in St. Louis, put your little Press credentials on and hop on down there on the Enterprise Center or whatever they're calling themselves.
It's not at the Enterprise Center. It's at the Dome. It's a stadium.
It's at the Dome. All the more reason not to go. That's too big.
The way they're structuring the tour this time is it's called No Repeat Weekend. I think they're doing a Thursday and a Saturday, or maybe a Friday and a Sunday. The set list is totally different each night and the opening acts are totally different each night.
I like metallic. I don't know that I need to see them for two nights.
I was thinking that too. I like Metallica but especially two nights of dealing with that level of concertness is a lot with the traffic and the crowd.
It's not like you're going to a chill concert. This is the concert that you have to put your patience on and walk very slowly as everyone is yelling, screaming, and singing at the top of their lungs. You can't move because you're crushed up against the building. That stuff stresses me out.
I don't know that I want to do that twice in 48 hours. I'm in my 50s.
In my 20s, hell yeah, but then I couldn't have afforded it so it wouldn't matter.
In your 20s, bands like this were cheaper.
Going on a bicycle trip with some old friends gives you an opportunity to catch up and find out how each other's lives are going.
Click To Tweet
Not this band.
They were still cheaper than they are now.
Everything was cheaper in my 20s than it is now. That is true.
—
In the last episode, we introduced the unstackable, which are classes so difficult that you would be foolish to attempt to stack them. You will be taking your life into your own hands. We have a list of the most recent unstackable classes.
Helper Bee Kelly put this together. She talks about how you can find the classes. She gave a couple of examples, but she also told you how to find them. Some of the ones that come up all the time are Adrian Williams's Advanced Thunder 45. Jess Sims and Tunde are always showing up in the hardest classes. Jess's was her Saturday 60. Tunde, when she does a full body bootcamp, watch out. Katie Wang has her 60-minute full body bootcamp from 11/10/22 that apparently, is still making waves. There is Kendall's Metallica. Andy Spears got one of the hardest classes. We've got Selena's 20-minute upper-body class from 5/22. One of the hardest Becs Gentry makes the list several times. Matt Wilpers has a HIIT and Hills run from April 5th, 2023. Selena got another mention for her 20-minute HIIT cardio from September 2020.
Take that class while you can.
You better get in there because it's going to be purged. For all of you saying, "The hardest classes are all gone. Nothing else there," people would beg to differ with you. Make sure that you are branching out and trying new things. Don't be stuck in your little bubble. Get outside and try some new things. You might find some hard classes that challenge you
Helper Bee Tina wrote a review of Matty Maggiacomo's evening stretch classes.
Doesn't he look peaceful in this picture? I love the artwork on this. We've got some talented folks over at The Clip Out. Matty has these evening stretches. Every single thing that I have heard, not only from Tina but across the board, everybody loves these things. You can do these stretches even in bed. Tom, this might be up for you. Maybe you could try Peloton. You can lay there and do it. You just gently move your legs and things like that.
That sounds like a lot.
I tried Matty but people swear by these and how easily they drift off to sleep after these classes. if you haven't had a chance to try it, this is a great example of what I'm talking about. Don't stay in your bubble. Try new things. You might find that you have a new favorite.
There's so much content. Helper Bee Lindsay had a review of Fiesta Latina rides.
She took one and she realized very quickly that she knew less Spanish than she thought she did. She had her daughter who was taking high school Spanish come in and listen, and see if she could help her.
Did she get extra credit?
No. Also, she did confirm that Camila Ramon speaks very quickly when she speaks Spanish.
Anybody who is speaking their native tongue and you don't speak it, it feels like they're talking a million miles an hour.
Your brain is still three words back trying to figure out that word and they've moved on. Even if they were speaking slowly, it would be difficult. Despite that, he had so much fun in this class. She loved the music. She loved Camila's energy. She was like, "It doesn't matter. Her energy transcends." This particular class did not have any subtitles when Lindsay took it. They don't always have them right away. It does take some time for those to get programmed. Don't worry. They will show up for most classes, not all. If you haven't gotten a chance to try it, definitely take it. It's a party. By the way, I had so many people reach out to me and explain Fiesta Latina.
That's nice.
There are classes that Peloton celebrates in September through October, and that is Latin Heritage Month. That's the one that's halfway through September and halfway through October.
It's not like one calendar month. It spreads across two months.
That is to celebrate the independence of several Latin American countries. Fiesta Latina is more about when you used to go to parties, and there's that Latin feel to it like quinceañera and the music you would hear. In White people's terms, you have the weddings we went to in the '80s where they played all the same music at all the different weddings. It's like that celebration. It's all your favorite hits and it brings you back to that nostalgic place. It didn't have to be the '80s but you get the gist.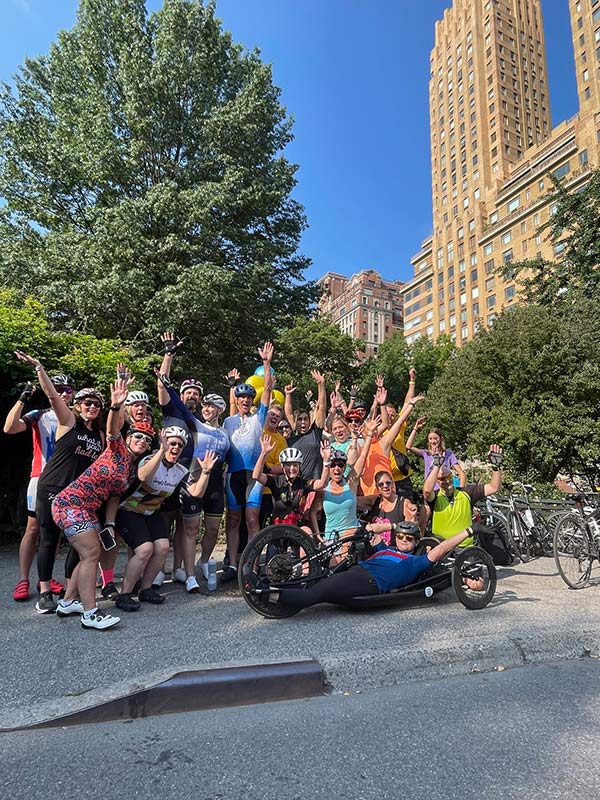 Maybe this was a Midwest thing, but when I was a child, I always heard Rolling On The River by Tina Turner at every wedding.
You also heard Old Time Rock and Roll. You had to play it. It's like a law in Missouri. This usually took place in a church basement. There would be those paper decorations with wedding bells made out of paper and dark wood paneling. I'm there. That's what this was. That playlist, the one that's nostalgic from your childhood and being able to enjoy your home and you're with your family. That's what this is. Thank you to all of those who reached out to me and explained that. I appreciated it.
I know it's called Fiesta Latina. Every time I see the headline, I want to say feisty Latina.
She is feisty.
—
Every week, we put out the eagle call and then you guys respond with your favorite classes of the week. We call it the TCO top five and here they are.
Erica Griffin gave us two, Max Martin series recommendations. We just stuck with the one, the ride with Cody, and the Max Martin run and walk with Becs. The run walk was just perfection. It's a perfect combo of running and walking made available to all levels. The playlist was hit after hit. I will be putting this on my list because I told you that I wanted to hear some of these Max Martin classes because I had no idea that he was involved in so many things.
We don't typically pay attention to producers as listeners. We focus on the artists. Maybe if you really like a song, you start to pay attention to who wrote it. Most people don't get into the producers. That's pretty in the weeds for the average consumer.
We have the Metal Ride. That was in German from Charlotte. Weidenbach. This was also on 8/24. That was a big day for taking classes, apparently. Billy Lenore says.
What? Billy Lenore like the metal ride?
I know. That's shocking. You're so outside your comfort zone. He said that this was the hardest metal ride to date. It comes out of the gate, slapping your legs and lungs all over, and pushes you to be ready to unleash a brutal assault from head to toe. I had nothing left except to cool down. I took all ten minutes of that to find my life again. It was amazing. I loved it.
I bet he's going to see both nights of Metallica.
He is going to have his Rock horns on. Tell us all about it, Billy. We have the favorite Peloton live, DJ ride. That was with Emma Lovewell on 8/25. This comes from Jennifer Johnson Robinson. She recommended it. She says that Emma's DJ-class ride was outstanding, outstanding playlist, class structure, and a great workout with a mix of intervals and climbs, and Emma and DJ John Michael were having so much fun. It made the class go by. DJ John Michael's little intros and the way he shows up give every class new energy. I love when he shows up.
We have a Peloton yoga. This one is from 8/26 30-minute tropical house yoga with Anna Greenberg. Grace West says that the playlist was all good vibes. She finished the class feeling energized and stretch. There was a mermaid ocean-themed to the class where several of the poses were compared to sea creatures. I thought it was a lot of fun. That is fun and different.
We can't forget the unstackable. This week's is from Christine D'Ercole, 8/27. It was a 45-minute New Wave. This was celebrating CD's crashiversary. Betsy submitted this. It had been exactly a year since Christine crashed on the track, breaking multiple bones. You get to see a different side of Christine as her friend. Mallory is in the studio, and she was also severely injured in the crash. The ride has six moderate efforts but ends with a race modeled after a real velodrome race. For possibly the first time ever, Christine instructs you to chase someone ahead of you on the leaderboard. The race lasts 5 to 7 minutes with random 15-second sprints. It's a big challenge, but something you were going to be so proud of completing. That is a good one. I love that.
If you want to participate and give us your class for the weekly TCO top five, you should join The Cclip Out group over on Facebook. It's where we post these every week.
We also have started adding it to the Instagram feed. If you have something and you're not on Facebook, join us over on Instagram, watch for it on Mondays,
You can find that on Instagram @ClipOutCrystal. We also have This Week at Peloton, which is what's coming up. I guess this is In Case You Missed it but it's so you don't.
That's exactly right. Denis Morton did perhaps the first ever Mötley Crüe yoga flow. That was on August 28th. I haven't gotten to take it but yoga Mötley Crüe. What can we possibly be sad about that?
Thinking lots of home sweet home?
I was thinking that too, like more of the ballad side, On the 29th, Matty Maggiacomo had a tropical core strength class. That is going to be a lot of fun. Not to mention on the 31st, they're going to be releasing. A whole bunch of outdoor reloaded classes. This is going to be reimagining artist series now outdoor content. The instructors that are going to be participating are Camila Ramon, and this is her first outdoor content. Everyone needs to put a little asterisk by that Selena. Samuela, Matt Wilpers, Andy Speer, and Jess Sims. Lots of fun. Don't forget, there is less live content right now because we've got the closures over at PSL and PSNY this week. There are fewer classes but more drops.
—
Finally, we only have one birthday for this week. It's on September 7th, and it is Mila Lazar.
There is still a lot of kindness in the world that people don't talk about, but it is out there.
Click To Tweet
Happy birthday.
Coming up after this, we're going to talk to Jim Feeney. He is riding his bike around the entire perimeter of the United States while raising money for charity, and he's going to take a brief break from his ride to talk to us about it. Stick around.
—
Joining us is Jim Feeney. Jim, how's it going?
I'm good. How are you guys doing?
We are so glad to have you here. We have to start by telling people what it is you are doing right now besides the show.
Besides the show, I'm on a bicycle ride around the perimeter of the United States. I started in April and I hope to finish in September. Right now, I am approximately 90% done with the trip. I have gone clockwise. I started in New Orleans, Louisiana, and then went clockwise over to San Diego, then up to Seattle, and then across the Midwest. The perimeter states up there. Montana and North Dakota, and then followed the Great Lakes, and then went up and going to New England. Now I am going down the eastern seaboard. We are south of Charleston, South Carolina.
I'm tired just thinking about it.
Is there one road that rings all that? It's not like Route 66 or anything. There's nothing like that.
There are some roads. For example, on the West Coast, you have Route 1 that runs from San Diego up to Seattle. Sections of that were closed because of the rain they had last winter, so we had to divert from that. Generally, we do have secondary roads that go in long distances, but not necessarily across many states.
What you are doing sounds so awful.
Why do you think it's awful, Tom?
He hates cardio and you are doing nothing but cardio for four months.
One, it's exercise, and two, you are in Florida but not going to Disney World.
Also, it's August.
Although the way this is shaping up, at least you are not having storms headed towards you. They are on the other side of the country. That was nice of you to dial in the weather that way.
I have been super blessed with the weather. I know there have been extreme heat situations throughout the country, but I missed it when Texas had that superheat and was getting up past 100. Now they are there. I was there in early April and missed it. I have been lucky with the weather, so it's going to be good.
Was there any thought given as to whether you would go clockwise or counterclockwise? Does it matter?
It's a very good question and there is credence to that. The reason why I'm doing it clockwise is because the prevailing winds are west to east, so better to start when you are at full strength and in a better position to start to go against the headwinds. Hopefully, by the time you get up to the northwest and you start coming back east, you have the winds behind you, and it has worked out generally that way. The winds have been coming from the west to east or from north to the south. The first half of the ride was a lot of headwinds. The second half has been less. Sometimes, but not as much as the first half.
There are hills no matter which direction you are going to head, but in the aggregate, is there one direction that has more uphill than the other?
Probably there is. I'm not aware of that, but what's surprising is that the highest elevations I went through were in New Mexico, which people would probably think would be in Montana or the northern states. Going over the Continental Divide in New Mexico was at 7,600 feet. That was the highest point I went through on the ride.
I'm curious why you decided to go around the perimeter of the United States as opposed to straight across or some other especially since you have done this right before.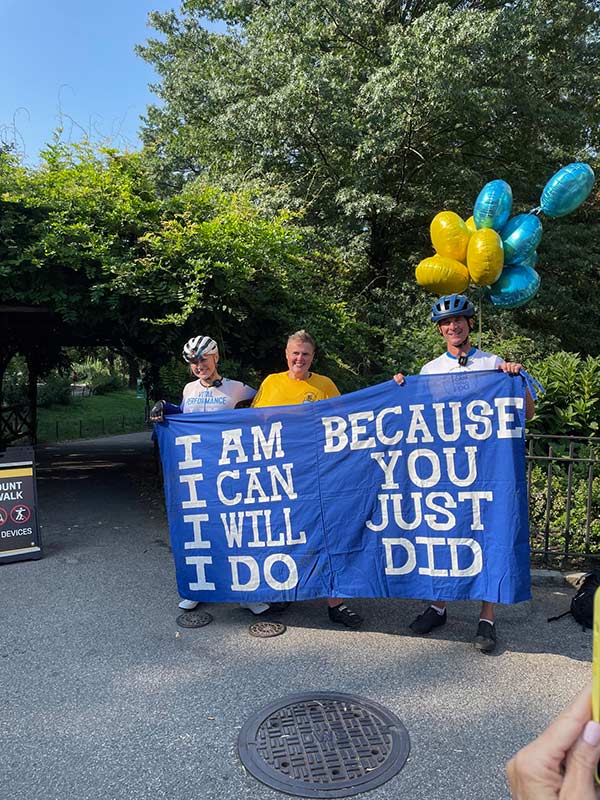 As someone who lives in the middle of the country, you made the right call.
Back in the dinosaur age of 1991, I did a cross-country trip from Seattle to New Jersey. I liked doing that trip, but I wanted to do it more on my own and more as a fundraising endeavor. That '91 trip was a fundraising endeavor, but I wanted to try to raise a little more money and pay all my expenses, and all the money goes towards charity.
I decided I'd try to do a perimeter one, and so in 1996, I did a perimeter ride around the United States and mostly camping. I was 33 years old. I was pretty much single. I had a very supportive girlfriend at the time who's now my wife. I had people follow me around in my little pickup truck throughout the ride and did that in 1996.
At the time qualifier, did that refer to the fact that she's now your wife or that she's no longer supportive? I'm trying to start some trouble.
She's been very supportive and the trip went very well back in 1996. The reason why I'm doing it again is that this year 2023 I turned 60, so this was a bookend to the last ride. I thought I'd do it one more time while I had the opportunity and still had health. I thought I'd try to do it here one more time.
I thought the first one was your FTP test. You are like, "I finally completed all the powers. It's going to see where I'm at.
In some respect, you are right. This is my second FTP test to see if I'm doing better or worse than the first one.
In all seriousness, how does it feel comparatively?
What I would tell you is since 1996 the country has grown a lot more hills than I remember as far as I could tell. There are certainly a lot more hills than I remember in 1996. Generally, it's been good. I'm at a different pace. I don't know what my pace was in 1996. I was younger. It was probably faster, but it's one day at a time at this point. I'm trying to do it one day at a time and it's going fine. My body is still holding up, so that's the best I can hope for.
It's like when you are younger, the pace is faster, but the refractory period is shorter. He has the energy to pedal again.
I also am curious about what the logistics are for this. You said you were camping last time. What does it look like this time? How is that different?
The difference is 1996 the technology didn't exist. It was pretty much a paper maps campaign. We had a big campground booked. We figured out every night where we were going to sleep or stay. Logistics, if the roads were closed, we had to pull out the maps and figure out where I was going to ride next. Now the technology is I have handheld, a phone that's mounted on the bike. It has GPS. It has mapped-out routes.
There's still construction and things that happen so you have to reroute and things like that. The difference is at 33, I could sleep on the ground. At 60, I'm not going to sleep on the ground. I had a whole bunch of Hilton points. I lucked out about a month and a half ago. Hilton Social reached out to me and donated a whole bunch more points. It was very cool. I was very impressed. Hilton said, "We love what you are doing." The Hilton Foundation, one of their tenants is disaster recovery and that's what I'm doing here.
Tell us about what exactly you are raising money for. We got sidetracked into the awesomeness of what you are doing.
What I'm doing is I'm raising money and this is all for charity. It's for an organization in New Orleans that was founded in 2006 called the St. Bernard Project, now called the SBP. It was originally called the St. Bernard Project they were working in the St. Bernard Parish of New Orleans. It was founded by a young couple. They came down to New Orleans and started rebuilding homes after Katrina.
They were called to ask for help in other locations for disasters, the tornado in Joplin in 2013. They went there and they started helping Joplin, and now they have worked in Houston, Joplin, Puerto Rico, and South Carolina. They are doing work all over the country. Now they have rebranded to be SBP because people here at St. Bernard Project, don't know what to identify with that.
I have been volunteering with them since 2009. What's interesting about the organization is this young couple that started it was a lawyer and a teacher who lived in Washington, DC. Six months after Katrina, they went down to New Orleans, saw what was happening, and moved down to New Orleans to start a nonprofit to start building homes. That's why I'm doing it for them because they changed the course of their lives to rebuild homes, and now they do it all over the country.
I was looking at the website and I was surprised that they worked with AmeriCorps to build these houses. You can be part of AmeriCorps. I was fascinated by that because I don't know that much about any individual organization, but I always find it fascinating when organizations are like, "We should work together. We should find a way to do something." That's cool.
A lot of times, they go into a small community. It's a weird thing to say but I say, "They are like a vampire. They have to be invited into the community." They don't just come in and think, "We know how to do it. We are going to do it." They ask the community, "Are you prepared? Is there anything we can do to help you recover?"
If there is a nonprofit locally that's handling it, they will work with them to try to recover the area. They won't try to overstep. They will work behind the scenes and help them. They even help them get funding to clean up the local community because they think at the local level, that's where it all happens.
You think about it. If we have a storm or some disaster, what happens is you have people that you have never met who are your neighbors who come out of the woodwork. Suddenly, they are asking you, "What can I do? Do you need food? Do you need someplace to stay?" Things like that. The interesting side effect is sometimes the worst of times in terms of disasters bring out the best in people. That's what this organization is all about. It's pretty cool.
Is that why you chose your starting and ending point where you did?
Yes. I'm starting and ending at the national headquarters of this organization that's located in New Orleans.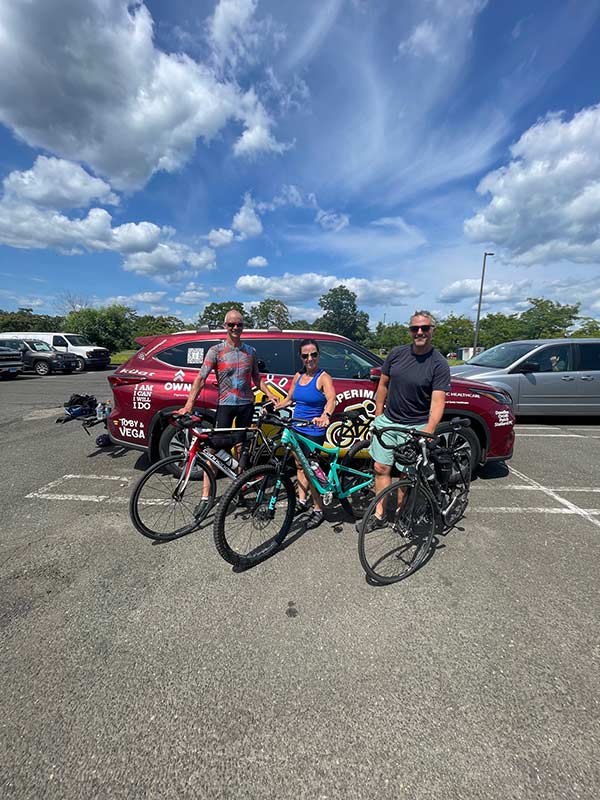 What are your fundraising goals?
I had a conservative fundraising goal by my standards of I wanted to raise about $100,000. I teamed up with an SBP board member, Lisa Eisenstein, who was fantastic and she's a spark plug and she said, "Let's try to raise $300,000, and here's why. It takes on average about $30,000 to bring a family home. Let's try to bring ten families home with this trip." I said, "That's a fantastic idea." To date, we are at $214,000.
We got to get you there. How exciting.
We are getting there and I have confidence that through you guys and everybody else we have been talking to, we will get there by the time I finish the ride.
What can the Peloton community do to step up? Where do we sign up?
There's a website, SBPerimeter.org, that tells you all about the ride. You can donate on that site. You can also follow me on Instagram @SBPerimeter, and I have links on there in my bio that would allow you to also donate to the ride. There's plenty of opportunity. As far as the Peloton community, they have been amazing.
You know the story that Christine D'Ercole mentioned me on a ride that she did in March 2023. I did a live ride with her, which I had no idea was coming. It blossomed into meeting a number of Peloton people who have stopped and come out and cheered me on throughout the country. It's been an amazing community. I knew that Peloton had a community. I have always known that, but I never realized how intense of a community it was, and how much people loved helping others and love reaching out to each other. It's been amazing to see the Peloton folks coming out. It's been incredible.
Did I see correctly that some people have ridden with you in little chunks along the way as well? I say little because any of your chunks are ginormous.
I have had a couple of Peloton folks join me for a day of riding or a couple of hours of riding throughout the trip. It's been a lot of fun because you get to meet people. There are a lot of Peloton riders who are comfortable on Peloton but not outdoor riding. That's a qualifier right there, but that's fine as well. Some people just come out and say hello or a greeting, or I have had dinner with folks.
It's been amazing the support from the Peloton community. It's been unbelievable. There's been a group of pelotoners in groups of 8 or 9 who have tried to match my mileage virtually every day. There's a group of about 200 Pelotoners in total who are Christine D'Ercole's supporters, so CDE supporters are riding as much as I'm riding as well. They are groups of 8 or 9 and there are 200 of them. It was put together by a good friend of Christine's named Angela, who has done an amazing job of getting these folks together. It's been amazing the outpouring of support from the Peloton community. I have been blown away.
Are they adjusting the resistance when you hit a hill? When you have a headwind, their spouses are in front of them.
They get a big fan in front of them.
Does your wind smell like coffee?
I also saw that Christine came out and rode with you for a portion of your ride. How was that? Tell us all about it.
In live studio appearance in March with Christine, I had no idea that she was going to call me out and talk about the ride and everything. It was pretty amazing. She's such a warm and caring person. After that, she kept in contact. She's IM'd me on Instagram a number of times, and then she asked, "When I came to New York, would it be okay if we got together?" We did a ride to New York together.
When I got to New York City, I came to Manhattan. We rode, both Christina and I, and then 24 other Pelotoners who showed up. We rode on a Saturday morning down to Battery Park. About 6.5 miles on the bike path altogether. I'm blown away by all the folks in Peloton and all the support. It's so good to see. It's amazing what people do in this community.
You were featured on the Peloton Instagram. I saw it as well. That's cool.
The way I describe it is that I'm a 60-year-old average in a gym. Christine D'Ercole mentions me and all of a sudden my Instagram blows up like I'm a celebrity. I don't even know how to handle it. This is crazy. She's been so supportive and so warm and just an outpouring of community. She reinforced it and a number of people have donated from CDE supporters and Peloton supporters in general. It's been an amazing thing.
I wanted to circle back around and ask you how Peloton came into your life. You have been an avid cyclist for quite some time.
It's interesting because people ask me that all the time. They say, "Are you an avid cyclist?" I would say I have been off and on throughout my life. As fatherhood came on you get busy like everybody else. Things happen to come off and on. Peloton came into my life in 2021 because both my daughters had purchased it. I have a daughter who lives in New York City. She had purchased a Peloton and she loved it. I had a local daughter who lived in the next town over from me and she purchased one. In the fall of 2021, I purchased one. As you said, I thought, "It's a bike. I will get on," but once you started seeing the instructors, it was cool because you'll find the instructor you like.
I have a number of instructors I will use, but there's one person I always go to and it's Christine. It's a comfort level. I love her classes. I love her music. I love her outlook and I love her story. A single mom. She came challenged in early adulthood, didn't know what she wanted to do, and then found her passion in cycling. It's a pretty cool story. I did a lot of her classes. When I thought about doing this trip, I knew in New England it was going to be hard to train in the winter. That's what I did to supplement my training by doing Peloton training during the winter months. It was cool.
Has it changed your outlook on outdoor riding versus indoor riding at all?
Indoor riding is very difficult. It can be a lot. It's just as challenging as outdoor riding. It's a different type of challenge, but also Pelotons opened my eyes to a community because I have done indoor cycling before on a simple stationary bike, but when you introduced Christine and then I got introduced to this amazing Peloton community throughout the country, we all agreed it is a cult, to be honest here.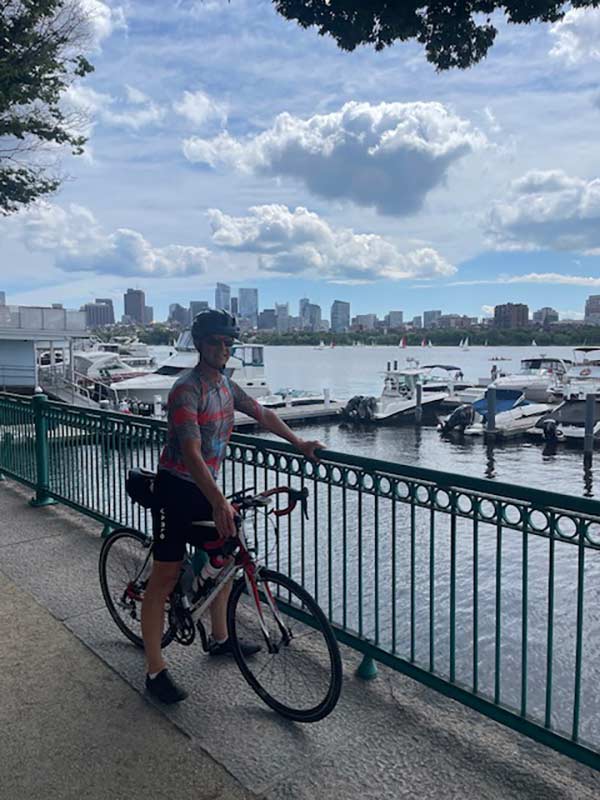 I like to say it's a healthy cult. We are all doing good stuff. Not like drinking weird Kool-Aid.
It's like the Dutch, but that's okay. What's interesting was the side effect of this ride. I have met some amazing people and then as I explained before, these groups of people that are virtually riding with me on this ride, I met two of them at Newbury, Mass just north of Boston. We went out to dinner and they only knew each other virtually, and then they met each other. One was a nurse practitioner and one was a pediatrician. and they hit it off immediately. There's a friendship that developed from this virtual meeting, and that's what Peloton does. I have met a number of people who have now got together and met each other because of Peloton. It forms a lot of friendships because they have something very much in common.
Did you know that there are several couples who have gotten together because of Peloton. They have gotten married because of Peloton. There are even proposals that have taken place in the studio. At least two that I know of. There are a couple of people who did not know each other at all except through Peloton, and now they are married.
I know Christine and Brian because she tells the story. I didn't realize there were others, but it makes sense because it's a commonality and you find your passion, and people are very passionate about Peloton. You don't have to ride every day, but people find their groove, and then you find somebody who's in that groove. I can see where that would be a great match.
One of the reasons I wanted to ask you about outdoor riding versus indoor riding is I am hypersensitive about the safety of riding. I don't know if you know about my accident. I was not riding. I was running in February and I got hit by a car. I know that there have been people who have been hit on bikes forever. I know that's not a new thing, but I feel like it changes your awareness whenever you are in something like that. When I think about riding around the entire United States and how many hours and days you are out there, how are you staying safe? What precautions do you take?
The software I'm using is primarily set up as cycling software. It is routing on roads that are using heat mapping, meaning most riders are using this road. If I go from A to B, which would be a straight line and maybe there's a major road that is the A to B straight line. The software will probably route me back and forth diagonally or on an alternate road based on cyclists use of that road more often.
The software is pretty intelligent about keeping me away from busy roads. They can't do it 100% because sometimes you have to go on busy roads, but it does a fair job of that. That's one thing. The second thing is I'm always wearing a helmet on when I ride. I also got lights on the bike and I'm also riding only during the daytime. I'm not writing any darkness because I'm taking some of those things off the table that are definite no-nos or going to potentially raise the possibility of an accident.
Because of what happened to you, you are hyper-aware of your surroundings. You can be lulled into a sense of security if you have done it for a long time. I take each day as it's a new day and these are new drivers and they don't know me. Thankfully, I have had no major accidents or incidents so far. I have only had 2 or 3 minor falls, but that's sealed. You clipped in and you can't clip out fast enough and you fall over. Even as a veteran, it happens all the time.
I'm glad it happens even to veterans.
It's not a rookie thing. It happens because it's just the way you are clipped in sometimes and you have to stop or something and you fall over. You resign yourself that we are all in this together. It's just the way it is.
Do you have hotel reservations and then you have to make it to that reservation or do you go and then you choose to stop and hope that there's a room?
Normally what I do is I will go about a day ahead. For example, I know where I'm at tonight. I will look at the ride tomorrow, and then I will see where the hotels are around the area. If I can, I will ride right to the hotel. If there's no hotel in the area, the SUV will pick me up at the endpoint. We will drive to the hotel with the bike and then the next morning we will come back to that end spot and start that spot the next day. If I can, I only plan it about a day in advance, partly because of whether I ride longer or shorter.
That's why I was wondering how you do that. Have you ever run into where they are like, "Springsteen is in town and there are no hotels?"
What's interesting about that statement is I didn't realize it, and one of the Pelotoners let me know. I'm going through Titusville, Florida next week. She said, "You know there's a rocket launch the following day, right? You should make sure you can get a hotel room because you may not be able to if that rocket launch proceeds." I looked and I'm going to book it tonight. I'm okay because it looks like I can still make a reservation. There are things like that or if Taylor Swift showed up, forget it. I'd probably have to skip the state.
He'd have to spend all $300,000 on a ticket.
I bought one Taylor Swift ticket. That's it.
Sorry. No homes for you, but I did see Taylor Swift. I hope that makes you feel better as you are sleeping in a puddle.
You said you had a special bond with Christine. It sounds like you do ride with other instructors. Do you do some of the other content or are you pretty much a bike-only guy?
One of the things I learned that's different from the last ride to this ride is that, given my age, the Peloton has been big on pre and post-ride stretching. I have done a better job, not necessarily pre. I do a warm-up as I get out onto this ride in the morning, but I do stretch post-ride and I use a lot of the stretches that I learned from the Peloton.
I do some of the stretch classes. I have done some of the yoga classes. I have done a handful of the strength classes, but that's what I like about Peloton as well. It's the opportunity. There are a whole bunch of other things I haven't gotten deeply into and it's an opportunity to check those out, but stretching has made a huge difference this time around.
He can keep his blue check mark because he's not going to do any rides. I will tell you that.
Can't you just click your Just Ride on your phone and get all those minutes?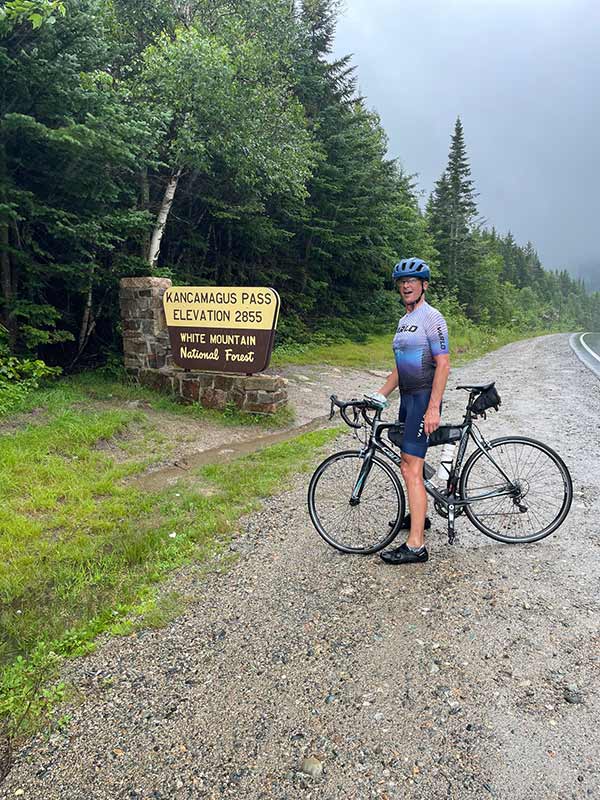 I could if I wanted to.
It might mess with all your other things.
I never thought about it, but I could do the Just Ride and do that.
You would have a gazillion minutes.
On an average day, it looks like I go on average about 75 miles a day, 6 days a week, and have Sundays off. Usually Sundays or when there are driver swap-outs. The way it's working is all these weeks, I'm riding and then I have got somebody driving my SUV who's got what I call a nanny app that can track where I am and vice versa. I can track where they are.
We meet up maybe 2 or 3 times during the day, but if they are looking for me or I'm looking for them, we can both find each other on the app, but they carry another bike and spare equipment. Those people are my SUV drivers. This couldn't have happened without them. This is my friend's family and other folks who have donated their time to come out for a week or two and drive the vehicle. On Sundays, I usually swap out drivers as well. For example, my sister who's been doing it for the last two weeks will go home, and then a friend of mine will pick up and do the next two weeks.
Do you know what's been an interesting side effect of that? Imagine that you did this ride and you had twenty different friends who were going to drive the SUV. Now you had an opportunity to spend a week with that friend. Some quiet downtime. You don't have appointments. You don't have anywhere to go. The two of you are together for the week. You are not seeing each other every minute, but you are having breakfast together and a day together. It's been a great opportunity to have some old friends that I wanted to catch up with that they spent a week with me, and I can find out how their life has been going. The details and things like that. It's been a cool side effect of doing this trip as well.
What a cool bonus. That's neat.
It's been pretty fun.
What is your leaderboard name?
My leaderboard name is SBPerimeter. The same as the ride itself. I thought it was easier for people to remember. I changed it to that. Everything SBPerimeter, whether it's Instagram, Twitter, Threads, or the website. It's all SBPerimeter so it makes it easy to find.
One other thing I want to make sure we ask is if you had anybody out there thinking, "I want to do something like this," what's one thing that you learned that you would recommend they do?
Planning is important. I had a framework. I had daily routes that I was going to do, but the most important thing I would tell anybody like a lot of other things is flexibility. As Tom alluded to earlier, things change all the time. There's weather, road conditions, and other things. Whether you are planning something small, medium, or large, you have to be flexible. Let it happen. Don't worry about it.
For example, this ride. Even though I have daily milestones, I set them up like, "By the end of the week, I need to be here." If on a good day, I can go a little bit further, then I will go further. If on a bad day, I need to go a little bit shorter, then I will go shorter. Be flexible in terms of your planning. You can plan for something big. You can plan for something you have wanted to do, but be flexible and allow it to happen.
Don't be so stringent on it has to be a certain way, and that's how this ride has happened. I have had several times when construction has closed a road or sections of a road. I had a 40-mile section on the West Coast of Route 1 that was closed. I had to reroute inland and go on the 101, and then catch the road up on the other side. Everybody stresses, but as much as you can, you say, "We will work through this and it will be fine." That's what I would say. Anybody planning something, just be flexible.
Do you have tons of PTO? You are retired. You are a secret billionaire and your social media platform wasn't available for purchase. How do you find the time to do all this?
My background is I'm a software guy. I'm a programmer and I work in clinical laboratory space. I write software for clinical laboratories. As you can imagine when COVID hit from 2020 to 2021, I was pretty busy. I was pretty much heads down working. I work at the lab. My work is only about 2.5 miles from my house. I went in every day and helped out with all the things they were doing for about two years.
When I approached my boss and my company, they were very amenable to me doing this. They said, "Do what you can on the road," which I do. I have a laptop and I still do work on the road. They said, "Don't worry about it but do what you can and it will be here when you get back." They were a big supporter in that regard and they made a nice donation to the ride as well. Good company.
You don't hear a lot of companies treating their employees like that anymore. That's nice to know.
I was going to say one thing that I wanted to say. A lot of people have asked, "What about the drivers on the road?" People are probably nasty and hard and I'm sure you have had a lot of people. The truth is I have had the opposite. I have had a lot of nice people. I have met a lot of nice people along the way. I will tell you two quick little stories. I was in Texas and I broke down on the side of the road. I had a flat. I pulled over and I was fixing a flat. You can imagine in Texas you have pickup trucks, cowboys, and everybody else.
Within five minutes of me starting to fix that flat, I had two big pickup trucks which are Duallys with dual wheels in the back pullover. The guys both rolled down their windows in five-minute integrals and asked, "Are you okay? I want to make sure you are all set. If you need a lift, we have the tools you need." I was blown away by the fact that these guys would stop and make sure I was okay on the side. It was in the middle of nowhere.
When I was in Mexico, I was climbing up towards the continental divide. It's very sparse towns that are about 30 or 40 miles apart. I was riding in the middle of this area and a car came up behind me with flashes on, slowly pulled out and passed me, and then pulled over about a quarter mile up the road. A Spanish-speaking couple came out. They couldn't speak English that well, but he grabbed a water bottle and came over to me and said, "Do you have enough water?"
They're just making sure because I was in the middle of nowhere and he wanted to make sure that I had enough water for my trip. I was touched by that. That happened not only in those two instances but probably at least half a dozen instances of people making sure that I was okay. There's still a lot of kindness out there that people don't talk about and don't see, but it is out there.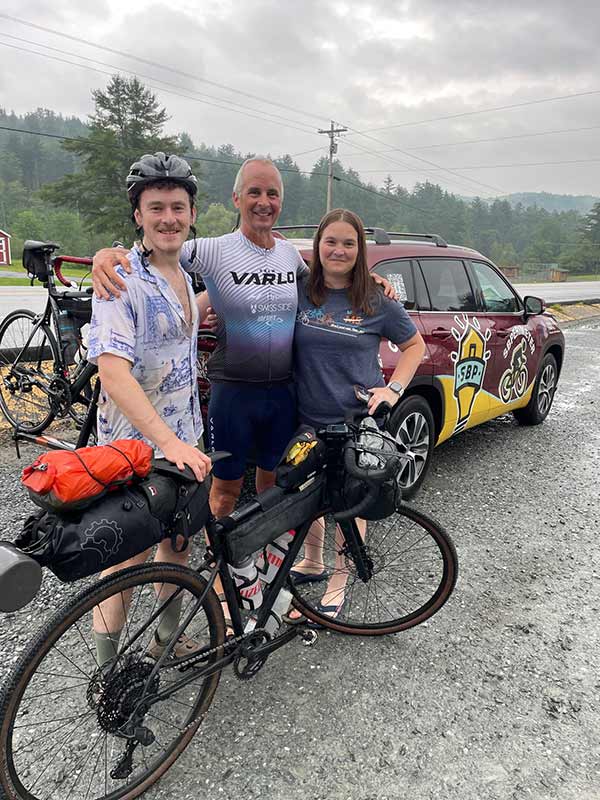 That's nice to know because there's a lot of not nice. It's refreshing to hear the nice.
A little counterbalance. That's great. Jim, thank you so much for taking time out of your day and your journey. You share your day and your journey with us. Before we let you go, remind everybody where they could find all the things. Your website if they want to chip in. Your social media if they want to follow along. All the stuff.
The website is SBPerimeter.org. That website will tell you all the information about the ride. It has a page you can donate to as well. The best place to find me on social media is on Instagram. That is also @SBPerimeter. I post daily updates on that on the ride including a top map of where I rode for the day with pictures if I have them. It's cool. This neat software I found online does that. We have raised $214,000 out of our $300,000 goal and so we are almost at the end. I'm hoping with the help of everybody out there we can reach our goal. I appreciate it. Thank you, guys. Thank you both Crystal and Tom for having me on. This has been a lot of fun. It was a lot more fun than I imagined.
We try to set the bar as low as possible.
I tripped over it. It was good. This has been a lot of fun. I never expected a show. I thought it would be more of an interview. This has been like hanging out with two friends and we are having fun together. It's been a lot of fun and I appreciate you having me on.
It means a lot to us to be able to bring all the cool stuff that so many amazing community members are doing. You are doing an amazing thing. We will be watching your Instagram and we will be updating our audience so they will hear your interview. We will keep them updated as to when you cross your finish line and we will keep them updated on your fundraising goals as well.
I appreciate it. I appreciate all the Peloton supporters who have been using this expression, "Hands on my back," I feel them when I'm out there riding every day. It's been a great mental boost whenever all those hands on my back from the Peloton community help me out. I appreciate them as well.
Thank you so much, Jim.
Thank you, guys.
—
I guess that brings this episode to a close. Until next time, where can people find you?
People can find me on Facebook at Facebook.com/crystaldokeefe. They can find me on all of social media and the Peloton leaderboard @ClipOutCrystal.
You can find me on Twitter @RogerQBert or on Facebook at Facebook.com/tomokeefe. You can find the show online on Facebook.com/TheClipOut. While you're there, like the page and join the group. Don't forget our Patreon, where you can get all of these episodes add-free. You get all sorts of bonus content with some of the overflow content that we didn't have time for in the regular weekly episode. That's it for this one. Thanks for tuning in and until next time, keep pedaling and running and rowing.
Important Links
Love the show? Subscribe, rate, review, and share! https://www.theclipout.com/