286. Peloton Black Friday Deals Are Here! Plus Our Interview With Danielle Pretsfelder Demchick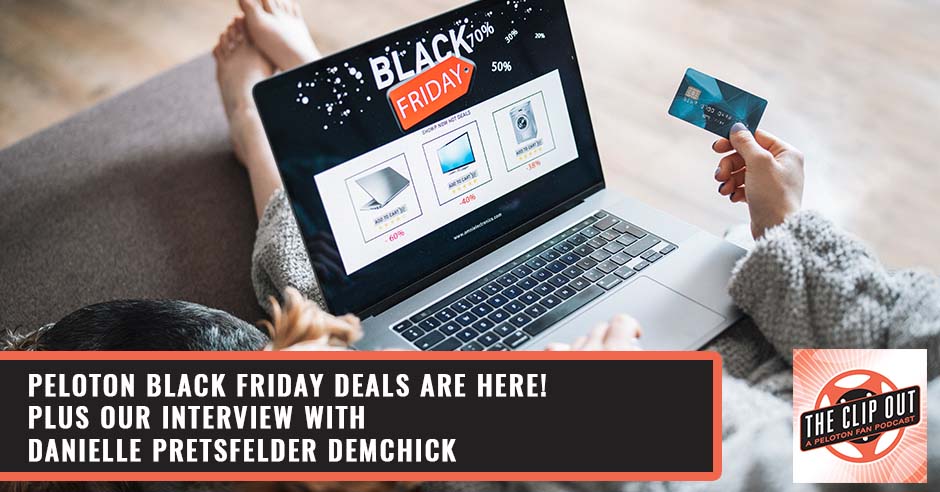 Peloton adds a financing option for the Row.
The Black Friday apparel sale has started.
Dick's has Black Friday deals on Peloton equipment.
Amazon Bike self-assembly has arrived.
Peloton has announced some upcoming dates when the studio will be closed.
The latest Celebrity cruise ship will have Pelotons.
Sports Illustrated reviewed the Tread.
There's an update on the Dish Network lawsuit.
Jess King had her baby.
Jess shared a post-pregnancy update on IG.
Tunde's "Speak" makes Amazon's Best Books of 2022.
Matt Wilpers filmed some scenic rows.
Self.com talked to Ash Pryor.
Chelsea Jackson Roberts has partnered with All Of Us Research.
Logan Aldridge's event with The Reeve Foundation is coming up.
Hannah Frankson "reintroduces" herself.
Matty Maggiacomo has a 30-second review of Broadway's "& Juliet."
Kirra Michel talks to Nine.com.au about striking a workout/live balance.
The Advocate spotlights Cody Rigsby.
Cody made CNN's Best Red Carpet list for the American Music Awards.
Christine D'Ercole has a Broadway-themed Power Zone class.
Tobias Heinze finished Manaslu Trail.
Ebony featured 5 Black Male Fitness Trainers and Chase Tucker made the list.
Angelo has tips for adding fiber to your diet.
Birthdays – Jenn Sherman (12/1)
All this, plus our interview with Danielle Pretsfelder Demchick!
—
Watch the episode here
Listen to the podcast here
Peloton Black Friday Deals Are Here! Plus Our Interview With Danielle Pretsfelder Demchick
Happy Black Friday for people that are tuning in on day one.
Happy Black Friday. I hope you get all the sales you want.
If you're probably like, "Is there an episode?" Surprise. There is. Here we are.
Happy Thanksgiving.
We are nothing if not reliable.
We like to be there for you.
That's what we do. Our interview for this episode is with Danielle from Runway Of Dreams.
It's a fun interview. Most of our interviews are fun, but she's very silly like us in a good way. We got some good stories and lots of fun stuff about things that you may or may not know about casting. It's fascinating.
For people that might not remember, Runway Of Dreams was the fashion event we went to that was hosted by Logan Aldridge. It was adaptive fashions.
That's exactly right. It's a cool organization.
We will talk to her more about that and her Peloton journey because she is a Peloton aficionado as well.
She's a huge Peloton fan.
Besides that, what pray tell do you have in store for people?
There are a couple of things that are about Peloton going on.
That would be on-brand.
In all seriousness, we're going to talk about the financing option, Black Friday, and new changes with Amazon. We do not have a visit from Dr. Jenn. Think of it as a Thanksgiving holiday.
She took a Thanksgiving off four weeks ago when we recorded.
We got instructor baby news and regular instructor news.
I was like, "They got baby instructors?"
Not yet. Give them time. We do have a visit from Angelo and we talk about adding fiber to your diet, which may or may not be helpful for Thanksgiving week.
I was thinking about baby instructors like Muppet Babies.
I used to love that show. When I was a kid, I watched all the Muppet Babies. You were probably a teenager.
I think I was about 30 when the Muppet Babies came out. I guess we should segue into shameless plugs. Don't forget, we're available on Apple Podcasts, Spotify, Google Podcasts. Wherever you find a podcast, you can find us. While you're there, be sure and follow us so you never miss an episode. You can also leave us a review if you would be so kind. We have a new review. This is from Berta H and she says, "Best Peloton podcast. I joined the cult back in April. I've been using another company for workouts and stumbled on Peloton. No turning back now. I found your podcast about a month ago. You two are hilarious and have such great content. Crystal, you're awesome, but Tom, OMG, team Tom for me."
Berta, it's okay because I'm team Tom too.
"You make me laugh all the time. Keep up the great work and pedal on." Thank you, Berta. That was very kind of you.
He's not pedaling though, Berta. I'm just saying.
I'm not pedaling. You don't want me to. You'd be disappointed if I did. Also, we have a YouTube channel, YouTube.com/TheClipOut, where you can watch this. While you're there, maybe click subscribe as well. You can find us on Patreon. For a little bit extra, you can get ad-free episodes delivered straight to your inbox, and sometimes they come out early, depending on how early the production team gets them completed. If we get them early, you get them early.
We owe you a bonus episode. We meant to do it but I wasn't feeling up to it.
With your grandfather and all that. I know we throw a lot of links at you in the show. You can get those sent to you in a handy dandy newsletter that comes out once a week. We don't sell your email address, not because we're above it, but because we don't know how and we're not going to learn. That adds an extra layer of protection for you the consumer. You can sign up for that at our website, theclipout.com. There's all of that. Let's dig in. Shall we?
We shall.
—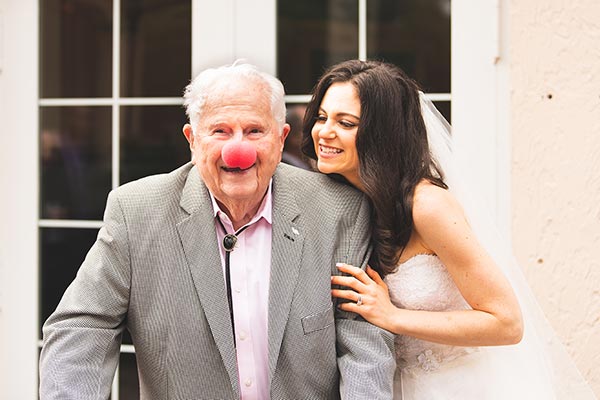 Peloton has added financing for the Row. I can't get the hang of what I'm supposed to call the thing.
It's Peloton Row.
I don't put Peloton in front of anything else. I don't say Peloton Bike.
That's why I think it should be the Row because it sounds weird to Row. You could say the rower. We all know what you're talking about.
They always say Row, and that seems weird to me.
When was the last time we listened to what they say? We still call it the OPP. We still call it Home Rider Invasion.
Jayvee tried to get people to switch to OPMP. That didn't catch on.
It didn't because OPP is easier.
She's like, "That's what we call it in-house." I'm like, "We don't work there."
You can get 0% financing for up to 13 months and then you can get 4% financing for multiple years up to 43 months. They have different tiers. I think it was 13 months, 26 months, and the last one I saw was 43 months. That one was at 4% financing. For anyone out there that the price wasn't the issue, it's having the 0% financing. Now is your chance.
This is your time to shine. Just in time for the holidays.
I have been hearing more reports of incredibly smooth deliveries. I have not heard of a negative review. Peloton and XPO/RXO, whatever it was, made some new deals because they have been hitting those reviews hard. They email you, they text you, and they're like, "Tell us how good we did." They're pushing it. People have been happy so far. Let's hope it stays that way.
That's great. Do you think it's something about the Row that it's easier to deliver?
It is definitely easier to deliver.
By and large, as many bikes that they pumped into the marketplace, I know it's very frustrating if your delivery got screwed up. I'm not trying to discount anyone's experience, but you're wrong.
At the same time, there have been thousands of bikes delivered compared to hundreds of rowers
It's interesting that we haven't seen complaints in the same way. Did changing their name help XPO or did Peloton give them a stern talking-to?
Maybe they put a new agreement in place. I can't remember what those are called in a contract. It's something like making dues. There's this thing in there that if you don't hit certain benchmarks, then we get to have a right of remedy.
I believe the contract is like, "Get your sh*t together," but in Latin.
Maybe the last time they did a round of negotiations and outsourced more of it, that was part of the negotiation. "We'll let you do more, but you got to get it right.
I love when people aren't complaining. I know Peloton does too.
It has actually been quiet.
I thought it was interesting. I felt like a lot of people were super excited about the 0%. Granted, it's not like I live over in the OPP, but I didn't see anything where people were like, "This is bullcrap. I just bought mine."
I didn't see any of that. I did still see people going, "It's still too expensive. I'm going to use my C2, whatever." I don't care. Have fun with that. In good news, I also felt it's because it is easier. There are three boxes. They put it together. They're in and out. It also seems like the whole calibration system works very well. I feel like the pieces are made such that it is easy for the assembly person to put them together. Some of those things help as well.
The other things I wanted to say about the Row. I've had a lot of questions about it. There are a few things I wanted to say. People have been asking how I like it. Let me say I love it. I love adding the classes as add-on content to my run. I feel like they are great little bites for warming up. Also, you can change the drag, which is set to medium when you get it. You can change your personal pace preferences during each class.
Both of those things at the beginning of each class and both of those things can be changed during each class. I haven't played with the drag setting on mine, but I have played with the personal pace settings. I found that 2 was way too easy. I moved it to 3. That felt pretty good for a while, but now I've started to feel like it's too slow. Now I've moved over into 4.
You're already making progress.
I am, and for my form correction, I got 94%. It's still increasing. It's amazing how much I keep getting better, and I'm seeing that with other people too. The only negative I've heard is some people don't feel like it's challenging compared to a bike. I will say give yourself some time to continue to work on form and continue to work on pushing with your feet. It does make a big difference. As you get better and you get stronger and you can increase those pace preferences, you're going to see yourself getting better too. I'm still loving where I am on the leaderboard. I came in 80 out of 2,000 the other day. That has never been a thing.
You were very excited. I was going to point that out. Now is the time to get the Row if you want to see yourself soar on the leaderboard because there are not very many people there yet.
I love it. Plus you get little PRs because you've never done a class. That was fun too.
Disability is the most underrepresented community of all.
Click To Tweet
It's like when you first start dating someone.  Everything is new and you're like, "That's the best ever."
"Look, it makes that sound."
Black Friday is upon us. If you're tuning in on day one, then this is Black Friday for you. Thanks for putting down your phone long enough from the shopping. We won't. We'll be somewhere.
Cuddled up next to a fire with some drinks in our hands if we're lucky.
The kids get good Christmas presents when we drink and shop on Black Friday.
They do. It's like, "What the hell. They could use two of those." Peloton has 70% off select apparel through the boutique. It lasts until November 27th. If you haven't shopped yet, it's probably already gone. Get out there and see if you can get anything still.
It might not be already gone because they've been making larger runs of stuff. It's not like it was two years ago when things would sell out instantly.
It also feels like they've been adding more to the sale as it goes on. On day one, maybe some stuff will sell out, but then they'll refresh it on day two.
They're recycling through other things and moving stuff in and out. While we're talking about Black Friday, let's talk about Dick's.
Dick's Sporting Goods. We wanted to point out that the gift guide on DicksSportingGood.com has Peloton listed as one of the sales that they're going to have. Scorecard members can get a $100 Dick's gift card and $40 in rewards when purchasing the original Peloton bike in-store or online with in-store pickup. That will be your deal there. They also still have the Bike+, the Tread, and the Guide available for purchase in-store at more than 100 locations. Make sure you check it out.
Amazon now has self-assembly.
They had said they were going to do it from the beginning.
It had said it in the fine print, but it wasn't an option.
I thought it was funny that it came out as an article because I said this at the beginning. I said, "You can do self-assembly." We even talked about the fact that it's not cheaper. I don't know why this is now. I guess these people finally in The Verge are now catching up.
You can also do it in the UK if that's your jam, except it's all metric. I don't know. Probably not. Don't for our UK followers don't believe anything I say. The article though says, "We had people expressing interest in wanting to assemble it themselves." I was like, "Those people are sociopaths."
They want to be involved in the delivery process. That's what it says. Who are these people?
Why would they want to do that?
I don't know. If you are a mechanical person, maybe it becomes super easy for you and it's not even a thing.
I don't know why you'd want to do more if you don't have to. That's my default setting.
I know it is. I am very well aware. Your hands don't open.
Should we explain that to people?
We probably should.
It's a story about me when I was a child, I was like 6 or 7. My mother was telling me I needed to clean my room. I said, "I can't." She said, "Why can't you?" I said, "Because my hands won't open so I can't pick anything up."
They fell for that.
I still hear about it 48 years later.
You still hear about it because you still do stuff like that. My favorite story is still the barbecue girl. I love that one. That one cracks me up. You don't know which one. Are you getting embarrassed? You always tease me all the time.
No, go ahead. Tell the barbecue story.
This is from Tom's brother-in-law, Steve. Karen and Steve have been married or together for a long time now.
They've been married for 28 years or something at this point.
They've known Tom for a long time. I guess Steve was cooking one time. He was like, "Tom, why don't you go out there and check on those burgers." Tom was like, "I just took my shoes off."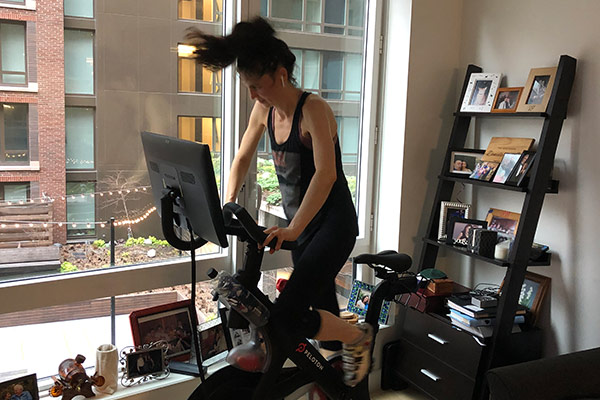 I don't understand why this is.
Because he's cooking you a meal. The least you could do is go check on the food.
Would you trust me to check on the food? I was like seventeen. I wouldn't know what I'm looking at.
It's definitely where Brian gets it from. That's all I'm saying.
It's like when they wanted me to work on something when I was a kid. This was another one when I was eight. I said, "I'm not mechanically inclined." Again, I still hear that to this day. I'm still not mechanically inclined, but I still take heat for saying, "I'm not mechanically inclined."
You figure things out more than you let on.
I don't know who would want to set up the Peloton bike if you can have someone do it on your behalf.
I do agree with that. I want to make sure it's done right so I'd rather have somebody else do it. Some people only believe in their own abilities. They're very confident of them.
It's nice if you don't have to be there for the delivery. If you don't mind doing that, you don't have to be there for the delivery.
What if you get it as a surprise for somebody? Now you have to wait for the delivery person and then you got to hide it from them.
It's like the Peloton husband who was to surprise his soon-to-be fat wife. He's got to get out in front of it all before it all goes off the rails.
This way, he can put it together himself, but he's not going to save any money. That's the important takeaway here. We got off on some tangents.
We did. If you like cruising, the Celebrity Cruise got Pelotons now there. It's on their Celebrity Beyond.
They brought in design star power, serious food and fitness. They have a whole thing happening. They've got Gwyneth Paltrow's Wellness brand Goop. They've got French chef Daniel Boulud. I'm sure that means something to somebody. They have Simone Biles, and Peloton. She's an Olympian. She's amazing. I know that much but I don't know how to say her name. They've got tons of stuff on the ship.
What is she doing? I can do gymnastics on the boat now?
It's a celebrity cruise. They had Tunde on there too. They are bringing celebrities on to show off their stuff.
Good for them. They owned up to the truth in advertising. You get to meet somebody. We got Beach Boys on our cruise, and Micky Dolenz. This is fascinating though. I'm surprised it has taken this long. I think it must be the change in leadership. I think that in five years, you will be hard-pressed to not find Peloton in workout rooms at hotels and cruise ships, and things like that.
They have been on other cruise ships.
I know, but I think it's going to reach a tipping point where it's going to be more common than it is less common to come across Pelotons when you're in places like this.
I hope so, especially for cruise ships. They need to get that on the Disney Cruise stat. I do feel like the one potential downside of these kinds of things is that you have to have internet to do Peloton workouts. That can be very expensive on a cruise ship. It makes you wonder how they do that. Although if it's that high-end, it might be baked into the price. Also, they spelled Peloton wrong. I thought I'd throw that out there.
I don't think it is expensive on a cruise ship. They make it expensive for you because they know you're trapped. For them, I don't think it's expensive at all anymore.
They just buy that one big thing that goes on the front of it and then that's it.
That's my theory anyway.
You could be right.
We should also add that Carnival Cruises will be adding Peloton Rows, but it's actually paddling. You got to do the rowing yourself. It's like when you don't get the veranda. It's the inside cabin and you have to row. We're going to call it Peloton and now it's an upcharge.
It's a good workout while you relax.
You're welcome. Sports Illustrated has a review of the Tread.
I thought this was great because it was still featured as one of the best workouts that you can get and it should be. It is an amazing machine. I love the Peloton Tread, but I love the Tread+ more.
That's why it got the plus.
—
We have an update on the lawsuit involving Dish Network, Peloton, and Lululemon.
People with disabilities are usually the most adaptive and innovative because they have to be every day.
Click To Tweet
There's not a lot here but we felt that you should know that Peloton, iFIT and Lululemon are able to persuade the US International Trade Commission to review a part of the judge's findings and a patent dispute with Dish Network. There had been a thing saying, "Dish is going to win this." They were like, "You need to review this again." That's why this is happening.
They get to all back up and get a second swing.
There should be. We'll see because this is the one that Dish was trying to block Peloton.
They were trying to import them. They were like, "You can't bring them into the States anymore."
They didn't win that but it could still get pretty crazy. They've been knocking these lawsuits out. Let's see what they got for this one.
They've been on a tear. I don't know if that's just a coincidence or if that has been a concerted effort behind the scenes.
There is no way that has been a coincidence. That is somebody saying, "Get that sh*t off our books." That is a fact. Somebody went in there and said, "Clean it up. I'm tired of looking at it."
Speaking of lawsuits, we could get sued for not having commercials so here are some.
—
Jess King had her baby.
She did. Lucien Urista King, AKA Luz. He was born November 16th at 4:23 AM, 7 pounds, 9 ounces. Congrats to Jess King and family.
She had a post-pregnancy update for the Gram with the babies. The only one in diapers. Those were her words.
She said she took a shower, washed her hair, and had a dance party in her diaper, and then Sophia got in a ride. They got the baby all dressed up and they went on their first adventure outside, five days in. That's doing great. That's excellent. Looks like a happy baby.
It does. Tunde's book is starting to make the year-end best-of list.
It was announced as one of Amazon's best books of 2022 in Business and Leadership, and Audible's best of '22 in the well-being category. That's pretty cool. Those are not small lists.
Those are big-deal lists to be on. Congrats to her.
Congrats, Tunde.
Matt Wilpers posted about doing some scenic rows.
I've been saying to people that this was a thing. People keep saying that this isn't like Hydrow. It's not, it's Peloton, but they do have scenic content. They are doing some guided scenic content right now out in San Diego. It looks like Ash Pryor and Matt Wilpers were out there. That's pretty cool.
How cool it would have been if they had the Peloton Row when Jungle Cruise came out. That would've been good scenic content. Save it for Jungle Cruise 2.
That's right. They like Disney. Make it happen, people.
Self.com's Michelle K, I feel like it's been a little bit since we heard from Michelle K, has an article about Ash Pryor, Why Peloton's Ash Pryor is not going to play small anymore.
It is fabulous because I love her the way she is. She's so fun. I've taken several of her classes at this point and I really enjoyed her. I don't know how to explain it. She has this way of being self-deprecating but she knows her worth at the same time. It's an interesting and good mixture. I love it. Her Tanya the Tummy thing is hilarious. If you haven't seen it, you need to take one of her classes.
Not everybody can if you don't have the rower.
I don't want to spoil it for people though.
I'm not saying you should. I'm just saying not everyone has that luxury.
That is true. She's pretty amazing. I'm glad that Michelle K got to talk to her, and that Ash got to talk about things that are important to her, and how she's going to approach the haters because they keep coming.
They always do. Chelsea Jackson Roberts is partnering up with All Of Us Research.
All Of Us Research is gathering health data from one million or more people.
It's part of the National Institute of Health. It's a government program. It's designed to get more diverse people participating in data collection for health purposes because historically, health data collection has been very white. They're trying to broaden that reach so they can have more accurate and inclusive information for the safety of all Americans.
That's wonderful. I'm glad that she is doing that. That's a good partnership right there.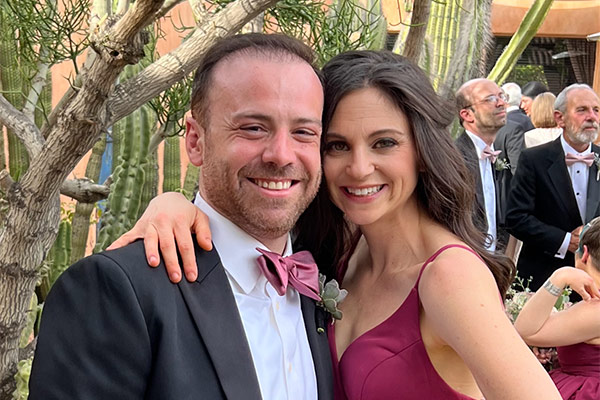 I remember when I did that weight-loss study a million years ago, the doctor who was in charge of it was super excited when I was qualified to be in it, which was a little weird because you had to be pre-diabetic. He was like, "Hooray, you're pre-diabetic." I was like, "Do you want to walk that back a bit there, Doc?
Maybe not so excited.
He's like, "The problem is for a weight-loss study, the people that self-select to participate are 80% women. We have a hard time finding men to participate in weight-loss studies. The fact that you qualify, I'm excited that you get to participate because we need more men." I'm sure it's even harder as you start going down to the different ethnicity and cultural backgrounds.
When we were doing our Moderna study for the COVID vaccine, they were always asking, "Do you know anybody? We need to diversify."
They wanted to diversify, but they also needed bodies because it's Missouri. There was a lot that wasn't going to get the shot. You're making faces over there. It's a statement of fact. The anti-vaxxers can't get mad that Missouri had trouble finding people that are going to take vaccines.
Did you really say they can't get mad? Have you not met the internet?
Clearly, I've run them off by now.
I don't know. Let's see.
We'll find out. Happy Thanksgiving. I've been vaccinated and boosted. I take boosters like free samples at Costco. I'll take as many until they shoot me away. It's like, "Sure, I'll take one more. Is he going to finish that booster? I'll take it if he's not."
You take the recommended boosters. Don't get people all riled up.
I'm so much about it when I go to Applebee's booster seat.
That reminds me of that one time we went to dinner. That server was 6 foot 7. We felt like toddlers at the table.
We were at his knees. We were like, "I know you get this a lot and you're 6' 7". I feel bad even asking because I know."
It's like this weird optical illusion. I felt like I was losing my mind.
It was like the forced perspective between Gandalf and Frodo. It was like, "What is happening here, sir?" Hannah Frankson hopped on the Gram to formally reintroduce herself.
She is officially teaching on the Tread and we are happy to see it. I haven't gotten to take one of her classes yet, but I am super excited to do so. Hannah, you got to get some longer classes on there. I need longer than 20 minutes. I need longer than 30 minutes. I got to go 45 or 60 right now. I'm very excited to take those classes though. I love the Tread UK instructors. I'm hearing lots of good things. People have been very happy with it. Congrats to Hannah.
Coming up after this quick break, we will tell you which Peloton instructor made CNN's best red carpet list for the American Music Awards. Logan's event with The Reeve Foundation is coming up soon.
November 29th, 3:30 PM Eastern. Advance registration is required. You can get it through OnePeloton.com. He is going to be talking to The Reeve Foundation. It's going to be a conversation with Logan and learning about the partnership and adaptive fitness in general. You also have a Q&A opportunity.
You might get to ask him a question. That's fun.
Logan is a delight. Do yourself a favor and make sure you attend this. He is amazing. He's the real deal.
He seems super nice. Matty Maggiacomo has a 30-second review of Broadway's newest show & Juliet.
He is going to start doing Theater In 30 over on TikTok. I'm hoping he always shares it on Instagram.
I find it hard to believe Matty can condense his discussion of Broadway to 30 seconds.
You can tell there are a lot of quick edits here. He's very excited.
I have not heard of the show yet.
I haven't either. That's why I'm excited about watching these because he gets to see a lot of Broadway. I'm very jealous of that. Someday. I don't know why I'm saying someday. We're probably never going to live in New York.
It seems unlikely. Nine.com.au has an article about workout-life balance.
The whole reason this is on here is that one of the instructors was mentioned.
Kirra Michel gets mentioned here and has some quotes and stuff talking about don't beat yourself up if the holidays get out of control for you, and you don't get your summer body. It's weird because in Australia it's almost summer. Their summer starts on December 1st.
Recent research from Peloton said that almost half of the nation, 47% admitted they prioritized social events in the summer over exercise. That's easy to do. A lot of socializing happens. It happens the same in December in America but that's because of the holidays.
People make mistakes. Brands make mistakes. Things go wrong. But if you make an effort, people are usually a little more forgiving.
Click To Tweet
They got Christmas down there too.
I meant it's cold, those holidays.
It is weird though. I was reading this and I was like, "When is summer in Australia? December 1st."
I started reading it and I was like, "Is this from August? Did they redo this?" That is literally on the other side of the world. Got it.
Meanwhile, our Australian audience is like, "That's how we feel about your stuff. You expect us all to know it." The Advocate talked to Cody about his new show, LOL Cody.
I don't like this title. It needs to be reworked. It bothers me.
It's a little clunky. They refer to it as the first-ever queer workout class because they've had drag artists and stuff like that on there but it's not just that. It almost feels limiting to what it is. Not that he shouldn't have a diverse group of people there, but it makes it sound like that's all it is. It's more than that.
That's why it bothers me. It's not because they're highlighting that but because it sounds like that's all it is. It's limiting to it. We wanted to mention it because it's cool that he got covered in that. It's cool that Peloton was mentioned, and it's cool that they're seeing that it's a talk show because it's what this is. It's a talk show. It's not an exercise class. They just happen to be exercising while they do it. I think that format is great. I love the Ashton Kutcher series.
To be honest, I haven't done the LOL Cody thing, but I did see pictures of it. I liked how they made a point to change up all the lighting in the room and make it fun and bright. It's totally different from how you normally take a class. They're making sure to differentiate that. As we've talked about before, there will be more of these types of things coming. There is no doubt about it. It's going to be lots of this stuff. Buckle up. Hope you guys like it.
While we're speaking of Cody, he made CNN's best-dressed list for the American Music Awards.
He sure did. It's pretty cool that he got to go and it's pretty cool that he got noticed that he was there. It wasn't just CNN. I saw tons of people covering this because they all cover the AMA. I thought that was neat.
Speaking of Cody, I saw also the lady who was his dance partner, Cheryl Burke, is retiring from Dancing With the Stars. She's hoping that they'll let her pivot and be a judge.
Cody says that she should be. That was in the article. Cody is pushing for that and also he hopes that Shangela wins. If Cody has anything to do with the future of Dancing With the Stars, those things will happen.
Christine D'Ercole has an upcoming Broadway-themed Power Zone class.
This is the first of its kind.
We don't get themed Power Zone classes, right?
That it's not exactly true. There has been music-themed once but we've never had a Broadway-themed one. This is the very first one and she was very excited about it as she should be. It took place a couple of days ago. In case you didn't hear about it, this is probably one to not miss, given that it is Broadway. I saw the set list and she had a bunch of different musicals on there including Jagged Little Pill and stuff that you don't think like musical theater.
It's not all sunrise-sunset.
It was a huge diverse different list of all kinds of fun music. Definitely check it out.
Tobias completed his Manaslu Trail Circuit Trek. He did all the things and live.
12,000 vertical meters. That's all. No big deal.
That's a lot.
He showed himself going through the finish. It's going awful slow there, Tobias. You act like you worked hard or something there. It's incredible. What an absolutely amazing journey. I am so in awe of this whole thing.
As we watch this, to see a finish line like this, it's like there's nobody there.
It's in the middle of nowhere.
I'm so used to the Ironmans and the New York City Marathons where there are all these people at the end. I would think it would almost feel anti-climactic to be like, "We're done. I guess we stop walking now."
Part of it is because it's such a personal journey that you're out there for so long. It's not like you clump together.
It's also not like a regular marathon that it's easy to get to for spectators. I understand it.
It's in Nepal
It's just weird to see that it has finished and it didn't even look like there was anyone from the race there.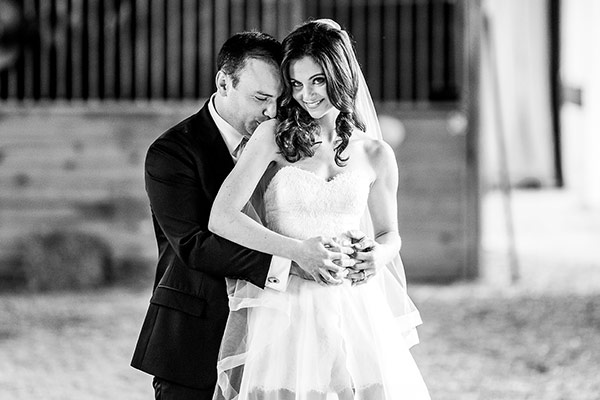 He just looked up and filmed himself walking to the finish line.
I feel like there's just a sign-out sheet, "You're free to go. You get it." There's probably some sort of tracker on them and they know. If not, then I did it. I completed the mix.
I feel like I would need to have a little hoopla because you did all that work. You need to see it, but you do it for yourself at the end of the day. That is the whole point. That's the reason you do it.
Absolutely not. If I do anything like that, it's for the hoopla. I'm knee-deep in the hoopla.
I hear you. The hoopla is what keeps you going. I will never forget whenever I was at Atlantic City and Krissy Blackwood came running around the side. She was like, "Go, Crystal." I could see the finish line and I started running as hard as I could. I felt like I was running so fast and then I see the footage of it and I'm slow motion. I was very tired. It's the hoopla that gets you there.
It is the hoopla. I guess if you're a fitness instructor, you don't need all the hoopla.
That's right. He's above the hoopla.
He's self-motivated. No hoopla was necessary. Ebony Magazine had a list of five Black male fitness instructors that you should be following. Making the list is Peloton's former Chase Tucker.
I thought this was first of all cool that he got a mention here. I wonder how he feels about it because it talks about him being a fitness instructor, and then he used to work with Peloton. It doesn't give him a lot of focus other than that.
He's still very defined as once with Peloton, not for what he's doing on his own.
There are four lines about Peloton, and then one sentence about what he is doing now. If I were him, that would make me feel a little bit sad. I wondered if it affected him the same way.
I get that. That's a fair point. Although I'm sure it's also still great to be mentioned.
I was in Ebony Magazine. That's pretty cool. I don't mean to take away from that at all. I think that's really cool.
It's also nice to see that he's still out, getting attention at this level. Even though they said Peloton, he's still getting this even though he is not at Peloton. Good for him.
We're happy to see it.
—
Joining us once again here to answer all of your fitness and nutrition questions is Angelo.
Thanks for having me back.
We are glad you are here, and so is Ronnie Joy Parker. Ronnie would like to know some suggestions about how to bring more fiber into her life.
That's a good question, Ronnie. It's actually pretty easy. There are a lot of foods that most people don't realize how much fiber they can get from them. Here's the obvious. You start with fruits and vegetables. You should be trying to get plenty of fruits and vegetables. Just a little behind-the-scenes secret sauce. When we work with our clients, we build that into everyone's meal plan so they can't accidentally not get enough fiber or fruits and vegetables. It's part of the structure. That way, even if somebody is selecting their preference of carbs and proteins that don't have as much fiber, they're still forced to get it.
I encourage you to think in those terms where meal times, at least with lunch and dinner, try and include some vegetables. Snack times, try and at least frequently include some fruits. That will work well. Within those categories, you have certain fruits and vegetables that are particularly high in fiber. Generally speaking, fruits that you eat the outside of. If it has an outside that you peel or discard, it's not always as high in fiber. You get some, but fruits that you eat whole like Berries such as raspberries are very high in fiber. You can increase fiber intake fast by doing it that way.
Other areas to get fiber, with your carbohydrates, it can be hit and miss depending on what you're selecting. Whole grain options are always going to have higher fiber in them. That most people know. You go with whole grain options, not so much the processed crackers, cookies, cakes, and things out of a box. Those have been refined down and a lot of the fibers taken out. With whole grain options, typically, you're going to have more fiber. Did you know you can even get fiber in some of your fats? For example, seeds and things like ground flax seed meal. It's like a powder you can get at the store. It's a great source of both healthy omega and also fiber.
One of my favorite fat sources is avocados. It's one of the few ways you get great fat and you get fiber at the same time. It tends to be very satiating. Finally, if you're doing all those things but you still need a little bit more fiber, you can always supplement. There are great over-the-counter fiber supplements. There are psyllium husks, Metamucil, and Benefiber, we can go on and on. Talk with your doctor about that sort of thing. If you are electing to add supplementary fiber, ramp up gradually. Not like, "I'll have half the pot today and the other half of the bottle tomorrow." That's not going to turn out so well.
That will not be comfortable for Ronnie.
Start slow and assess toleration. The key though is when you have more fiber, you also need more fluids to push that fiber through your body.
There are also some good books about fiber and I would suggest eating one of them. That will help. Right?
That reminds me of the old Sesame Street. I'm dating myself now. My favorite episode was Cookie Monster and the librarian. The librarian was like, "Cookie Monster, we don't have cookies here. Only books." "No cookies, only books?" Finally, he kept asking for cookies and it came full circle. He says, "All right, get me a book about cookies and a glass of milk."
I finally see why you like Tom now. That humor is very similar.
Should I be concerned that it took you like two years to try and figure out why someone would like me as the man you married?
I know why I like you.
You just don't know why anyone else does.
The thing is with any underrepresented community, especially with disability, a lot of people think disability is a bad word.
Click To Tweet
That's what I usually say.
This went awry.
If people would like this sort of information tailor-made for them, but without the poop jokes, where can they find you?
They can come to MetPro.co/tco
Depending on who your coach is, you still might get a poop joke.
Thank you, guys.
—
In Case You Missed It is an aptly named segment because we forgot to talk about this in Instructors in the News. We did miss it or I guess it would have been a celebrity. I don't know, but we forgot to talk about it so it's going here. It's a famous guy.
Aaron Judge, is that his name?
I thought that's what it said, but I don't know anything about sports.
My understanding is he won MVP for whatever football team he plays on, and then was in the studio the next week in Tunde's class. That's the way I understood it went down.
This is sports and neither of us knows the sports stuff. Somewhere out there, lots of people are cringing as we stumble through this.
That's how you feel whenever we talk about The Monkees or something like that.
I'll be like, "You listen here.  This is how that works." Peloton has announced upcoming closure dates for the studio. Everything is okay. Don't think that they've suddenly gone out of business. That's what the OPP will be like that day. I knew it. I knew what they were going to go on there.
"Why are there no live classes?"
"It's because they're out of business. I'm selling my bike."
That does sound like the OPP.
"I'm subleasing my app membership."
If you want to know those dates, that's from December 23rd through the 25th, and then December 30th through January 1st. No in-studio classes for Peloton Studio, New York and London. You can take scheduled encore and on-demand classes during this time. There you go. Spread the word.
Make a mental note and try not to freak out.
Don't let others freak out. If you see it, write up a little thing, and copy-paste it everywhere. Put it out there.
—
We only have one birthday. It is Jenn Sherman's.
That's a special one.
She was born on December 1st.
Happy birthday to Jenn Sherman. I hope she gets this. I hope she still listens from time to time.
She's very busy, I'm sure. Do you know what Jenn Sherman wants for her birthday?
What's that?
Us talking about products. Happy birthday, Jenn Sherman.
—
Joining us via the magic of ZoomTube is Danielle Pretsfelder Demchick.
I'm excited to be here.
I have been looking forward to this for so long.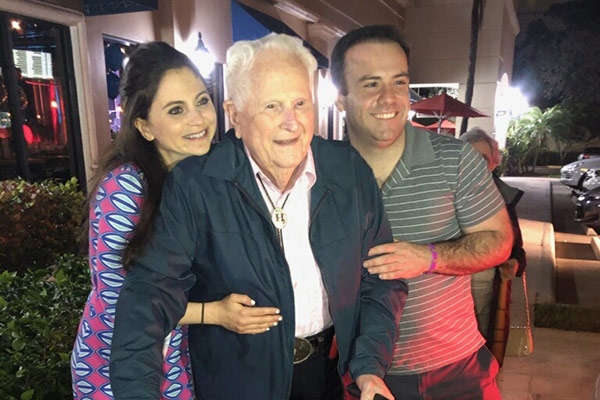 Me too. I was telling my husband. I do a lot of podcasts but I never put them on my social media or advertise them in any way. I was like, "It's the Peloton podcast." He was like, "Okay." I was like, "I'm going to be shouting from the rooftops about it." I'm so excited.
When did you first come across Peloton? I feel like it's been a while.
My husband had been telling me to get on the Peloton train for a long time because I was a gym person since 2010. I started working out seven days a week. We had a gym in our apartment building at the time, and we have one in our apartment building now too. He was like, "I think you'd like the Peloton." I was like, "Don't tell me what to do."
The pandemic happened and I was like, "What am I going to do?" They closed the gym in our building before they closed any other gyms in New York City. I was going to these other gyms for a few days. I had advanced notice of what was happening. At the moment, I was furious because no other gyms were closed yet, but it was a good thing because I was able to get my Peloton when nobody else could. I was days ahead. I only went without workout equipment where I was doing the Peloton app doing cardio and stuff at home for a few days like five days, and then we had a Peloton delivered. Now I have two.
You went from, "Leave me alone. Don't bother me with this Peloton thing," to you have two.
My mom let me know that my one in Florida is on the frets right now. I was like, "I'm not getting to Florida anytime soon. Why are you telling me this?" I was like, "I own it. I guess you should tell me."
On behalf of husbands, I have to ask. Did you go back to your husband and say, "You were right. I was wrong. My apologies." Can we get a recap of that conversation?
I did. It's a huge issue. He's so smart and writes so much. He's the best about everything, but he does call it now my Peloton like it's mine. It's not his. He's like, "Can I use your Peloton?" I'm like, "It's ours." He's like, "No. This is your Peloton. I wouldn't touch it without asking you."
That's a very smart man. Here's the real test. Does he put the settings back when he's done?
He does.
This man needs to be cloned. Every woman now is very jealous.
Maybe that'll be the next Bike+. It'll have presets like your car and it all goes back.
That would be amazing. My mom leaves this little note for her husband that's like, "Don't forget to put the seat back." I was like, "Is this a toilet? What are we doing here?"
He is like, "You either get the toilet or the Peloton. You ain't getting both."
She has like, "Remember this and this. The handlebar and everything has to be fixed," but he doesn't remember. My husband is good like that.
Tell us what you do for a living because I remember having this conversation with you and it's fascinating.
I am a casting director and I do a lot of consulting work as well. My focus is on underrepresented communities. What I always tell people is that given that disability is the most underrepresented community of all, most of my work ends up being in the disability space, which I love because that's what drew me into the work initially.
It's that and working with performers of trans experience, which is my second most touched space, and then a lot with Native American performers. There's a lot of other work that I do too, but disability is my all-day everyday world pretty much. I do work on mainstream projects as well, but a lot of people bring me into a project because they want to have a disability lens. They want the lens of inclusion when they are casting all roles so that it's not like we are only looking for a disability-specific role.
When they do something like that, does it tend to be, "We have a character who has a disability, we need someone that matches it?" Is it, "We have a character and it doesn't matter if they are disabled or not. If you bring someone in that we like that's disabled, that's cool." How does that normally shake out?
In my world or what I orbit around is the latter. There's not much that people with disabilities cannot do, which is misunderstood. There's someone that I work with from a consulting standpoint who was born without limbs, without arms or legs who played college sports. He was a football player and a baseball player. I'm not saying that's typical or what you think when you think of a football player or a baseball player or that I'm going to try to sell a producer on that. When someone says, "Really? Someone with a disability could be a fill in the blank?" It's like, "What do you think they do? Do they not tie their shoes? Do they not brush their teeth? Do they not have kids?"
I'm always like, "They could be good or bad boyfriends." People with disabilities are like any other person you are going to meet and cast. I look for the best performer. Someone that brings something different to the project. It is typically what my approach is, and sometimes that is a lived experience, whether that's a disability, being a veteran, or something that maybe makes you have a little bit of a different point of view when you are performing. People with disabilities are usually the most adaptive and innovative because they have to be every day. That's what I do and that's why people bring me onto projects, but I worked in mainstream media solely until six months ago.
Do you end up finding people with disabilities that maybe haven't acted before? There are so many places for people to go get experience acting. I would think if you have a disability, those are a lot more limiting. What is the background like the farm leagues for acting if you will for people with disabilities?
I'm casting a project right now that's about sledge hockey and they do have farm leagues. It is funny, I never call that acting program. They are from grassroots organizations.
I didn't mean to hurt anybody's feelings. I will be like what you hear from people who don't think they are racist all the time, "My son is an actor. I can't say something bad."
I follow. A lot of it is through grassroots outreach to people that have maybe not had an opportunity. There are agents and managers that represent performers with disabilities, but a lot of the people that are amazing are working, which is great. A lot of the projects that I'm working on are more so that we are looking for people that maybe you haven't discovered before. I have a project coming up that has one of the biggest deaf actors in it, but that actor is coming attached to the project, and then I need to cast their ex-husband who happens to be deaf and their love interest. They might be people that you've seen in a commercial or you might know a little bit and they do have an agent. When you think of for example a deaf actor, how many deaf actors can you name on one hand?
We got one. That's the only one I can think of. I bet we are thinking of the same person, the same woman.
I think things are changing with movies like CODA. Even beyond that, there's a Disney+ series that someone from CODA had announced, and then Daniel Durant who's on Dancing with the Stars right now. There's been some movement there, but it's still only one actor that most people could name.
I'm curious about how you got into casting in general. How that became your life? It sounds like it's very intense work that you do. I'm curious why you decided that underrepresented communities are the way you wanted to go.
I was an actor as a kid but only for a few years. I didn't realize it was weird that I had kids with disabilities in my classroom or that my mom had a good friend who was deaf. My mom is a speech pathologist who works with people with disabilities. My uncle was a very high-up person at the National Center for Learning Disabilities. I had a lot of disabilities around me and I never realized it was unusual. When I got into casting and I was like, "Why are we only seeing people that look the same way? Why are we assuming everyone that comes into the world is a cis-gendered able-bodied White person?" I would ask those sorts of questions and people would be like, "That's a great question. Let's cast this person."
Thanks for asking but we are not going to spend any time on it.
Don't do things you don't like.
Click To Tweet
They are like, "Do you know somebody that would be a better fit?" A lot of times what happens is not to say that these people aren't great fits, but the more trained actors are those people that are the default or the people that have more experience or the default that we all see.
It's a little bit more of a known quantity. You know a little bit more about what you are getting from an efficiency standpoint. I'm thinking as a project manager. I'm sure there's some tendency like, "Let's do this the way we have always done it because we don't want to have surprises."
Nobody wants to be the person that goes out on a limb, and then if it all crashes down, it's going to be, "Why did you hire the deaf guy?"
Not that Tom is picking on deaf people.
No. It's like with anything. It's like hiring anyone that doesn't have the same level of experience that you are like, "There's a star quality there." It's like, "What is it going to cost me if they fall flat on their face?"
There's also the classic paradox you see all the time with people starting off in any field. They don't want you because you don't have experience and you can't get the experience because they don't want you, and how do you break out of that cycle?
People are afraid to do the wrong thing. They are like, "I hired this person but I didn't know what the accommodations needed to be. I didn't realize that." People make mistakes. Brands make mistakes. It's about asking what somebody needs. Things go wrong. I see that all the time, but if you made the effort, usually people are a little bit more forgiving about it.
It's just knowing that you can ask somebody, "What would make this a better and more accessible set for you?" It could be something so stupid like if it's a performer who might need a straw as opposed to drinking from a bottle because they wouldn't be able to hold it in their hands. People think accommodations cost a lot of money, but what does a straw cost, $0.10? It's things like that, that people don't even think they can ask.
You are right about accommodations. We had a babysitter that didn't have any arms. She would drive the kids around which my ex-wife thought was going to be her path to getting the kids back from me. It's like, "The state of Missouri gave her a driver's license. What are you going to do?" She was great. I had the same initial reaction. We don't have little kids. Not that means she couldn't have done it, but that takes some of the pressure off.
We were very confident of that. I can understand if somebody was not. Somebody asked us, "What would you do if she had to chase?" We had three kids she was watching. If three kids were running around going in different directions and she took them on an outing, because she did this all the time, and they ran. You know how little kids will run from you. What do you do because she couldn't grab them?
Here's what we did, which I would recommend. We secretly let her know in order who were our favorites. We were like, "If they are all running towards a cliff, save them in this order."
That is such a Tom comment. Your comment about Beck's baby shower and it was a surprise, then you were like, "I think she knew that she was pregnant." That's exactly what my husband would say. Crystal and I are living with the same people.
He uses your bike.
No, because your husband puts the bikes back.
I have never changed them.
If you did, you would never put it back.
That's on-brand. We should probably talk about all the stuff that you do and this is how we have interacted with you in Runway Of Dreams.
One of the people I worked for when I first started or the person that hired me when I started at Nickelodeon over fourteen years ago was the head of casting at Peloton. She was there. I don't know how the conversation came up but I was like, "What are you guys doing in the adaptive space? It's a huge market." She was like, "You should meet with some people on my team."
I'm trying to remember how it all came up, but they wanted to pick my brain a little bit about it. I was like, "There are people I would suggest that I have been tracking or casting things that you should meet." They had already brought Logan on but were not able to tell people yet. They were excited to hear my other suggestions. I guess now I know. We're very much in the mix. I'm trying to remember when Logan was announced.
That's a great question because he was announced long before he became an instructor.
It might have been that I met with him in January 2022, and he was announced in March and I met with him again. I'm trying to remember, but I have had a few meetings with Peloton about different ideas I have in terms of underrepresented communities that should be represented in the instructor teams. There is a whole cast of instructors. Why are they not doing certain things?
I think those are great questions.
When I left Nickelodeon, I started consulting for Gamut Management which Runway Of Dreams is there as a nonprofit arm. I have been working with Gamut and Runway Of Dreams since 2016. Mindy Scheier who founded the company had said to me, "If you ever leave Nickelodeon, promise me you will come here." I said, "I don't want to be a talent manager. I want to be a casting director. I believe in what I do. I will consult for you and I will make your brand the absolute best entertainment business it could be to represent, manage, and do different producing projects. Anything to do with talent in the disability space." When Runway Of Dreams came up with the idea of Logan, I was like, "What?" I was so excited.
Were you like, "All of my favorite things are coming together in one place?"
Yeah, and I love Logan. Watching him at Runway Of Dreams and the way the kids were gravitating to him too. To see someone with that level of charisma and success. Most of these kids are the only kid with a limb difference at their school or the only kid that has low vision at their school, fill in the blank. Logan brought them all together in a way and corralled these kids, and he was this human jungle gym that day. They were bringing so much joy. It was great. I have had a few fun things at my work and Peloton has interacted. I have been able to work on projects with different people from the Peloton community which is cool, but Logan is the one that I'm getting to do a lot more with. He's got an exciting week. I heard something he was doing that I was like, "Can I hear more?" He's on fire.
Is there anything we can say about that?
I can't. I know what I was told, but I don't know what he's doing with this. The one hint I can give you is that another instructor did the same something. That's all I can tell you. I don't know if that's the most coded thing to say.
Back to Peloton. You jumped in. You got all in. Do you have a favorite instructor now that you've come into the world?
I'm a huge Cody fan. I'm so basic with that.
There's nothing basic about Cody fans.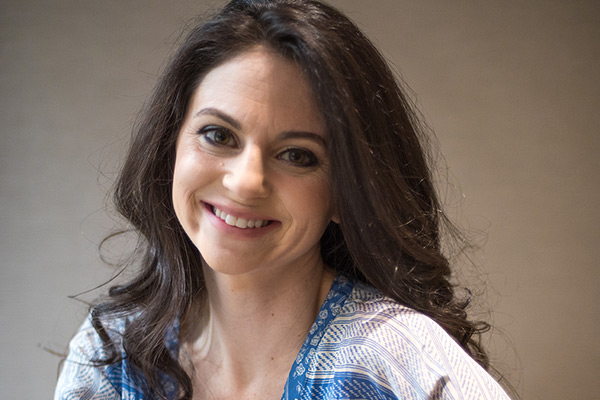 It's like 50 million Elvis fans can't be wrong.
That's true.
For sure it was going to be Logan.
I love Logan but there's nothing like Cody.
In fairness, they teach different things. There's room for both. Do you do any of the other content? I know that right now that might be difficult to do other content.
I do meditation almost every night. My husband calls it listening to your stories. It's like, "Are you going to listen to your stories now?" I love that. I do a lot of strength training. I love Selena Samuela. I love Callie, which was so fun to have at Runway Of Dreams. She was so much fun. When I can be jumping around, I am doing a lot of cardio as well. I like the cardio classes. I like everything. I haven't tried the rower yet.
In theory, you shouldn't be able to because it's not out yet.
It's in the showroom I guess.
They do. They have them in the showrooms.
I saw your video. That I need to try but I haven't yet. I'm not the biggest rower person, but were you into it before you tried it?
Not at all. I have ridden maybe 3 or 4 times in my entire life. I did it at a gym where I had no idea what I was doing. I wouldn't even call it rowing. I got so much feedback after I tried talking about the Regatta and I know no sailing terms. Everyone corrected everything I said. All I know is that you get on the rower and row. I'm not going to talk about boats anymore.
The only thing about sailing, I learned in Christopher Cross's songs. That's where I'm at.
My mom likes to talk about her ex-boyfriend who had a sailboat. That's what I hear about. That's all I got, but I have not tried that. I want a tread but my husband says we have to leave this area if we had a tread. He's like, "You want to move to the suburbs?" I'm like, "No." He's like, "Then you don't get a tread." I said okay. We don't have space.
That's fair. If you don't have space, you don't have space. I get that. As we have said before, that's the one thing the Midwest has in spades is we have space.
Where do you have all of your equipment? Do you have a room?
Yeah. Our basement is ginormous. It's the whole length of the house. We have a room for where the show is, which is this room, and then we have a guest bedroom down here. It's a whole other area.
I have like 75 long boxes of comic books in there.
If we ever wanted to move to the East Coast or some city, I don't even know.
It would be a culture shock in terms of space, but you get Broadway.
This is true, you get Broadway. You get to go to Peloton whenever you want. These are things that are trade-offs. Do you get starstruck around people when you meet them like instructors or other people that are famous?
I have been doing this for so long but if I met Cody, I would be excited.
I meet a lot of famous people because of what I do. What I've found out the longer I do it is it's not about how famous they are anymore. It's about how much it matters to me. I met Bruce Willis and I'm like, "It's Bruce Willis. Can we get a picture?" I met Peter Tork and I can't get a word out. I know on paper it's quantifiable that Bruce Willis is more famous than Peter Tork. That's not even a question. Peter Tork will tell you he won't anymore, but he would have told you that. I guess Bruce Willis won't anymore either, but that was my jam. That's what got me all tongue-tied. I'm sure it's probably like that for you.
It totally is. There are a few people that I haven't met that I'm shocked to haven't met that were like childhood crushes. My big crush growing up was Seth Green. It's like I have never met him but we have been in the same orbit because he does a lot of voice-overs. I have done a lot of voice-over casting. His wife, I feel like I have a friend in common with her, which is also weird. It's like him and Cody. There are a few people whom I would have a hard time keeping it together.
One of the first movies I ever worked on was with Robert De Niro. My first boss ever in casting passed away a few months ago, and Robert De Niro spoke at the funeral, which was amazing. There were a few big-name people that we had worked with and it was virtual. They did do an in-person thing, but I was a part of the virtual one. I was watching a funeral. It's so weird, but I tell my husband, "Come in and watch this. Robert De Niro is talking." He was talking about the project we worked on together, but I saw him every day. Even the first few times, to me he wasn't someone I was excited about.
It's interesting. It's so subjective. I only know this because I have watched Tom. He does not get rattled, but whenever it is somebody that he is taken off guard, it's funny because his little ears get all pink and the left side of his face gets pink and he gets very quiet and Tom is never quiet.
There's something with the Peloton people that when you do get starstruck because you see them in your house every day.
It's a very intimate relationship. Podcasts are the same way. You experience it one-on-one in a way that you don't even with maybe a TV show or a movie because you consume it by yourself. It's in your head in a very different way. They call those parasocial relationships. They feel like a friend to you but they don't have any idea who you are.
This is part of what you are saying, but TV is they are talking to each other whereas the instructors are talking directly to you. I mean they are not, but that feels like they are.
It's designed to be. It's like Marshall McLuhan used to talk about hot mediums and cold mediums, and TV was a cold medium. Radio was considered a hot medium because your brain had to fill in things. You would think TV would be the hot medium because you have a picture, but it's the other way around. Your brain has to work to fill those things in a way that you don't when you are watching TV. I feel podcasts and Peloton are similar. Even though Peloton has visual elements, you are engaging with it physically in a way that you don't with any other medium. There's my Mass Communication degree.
They've done such a good job of breaking down barriers. You feel when Robin announced that she was pregnant or brought out her family on the first day when she was back on the bike or anything like that. That's so personal. Especially because Robin was so open about her infertility and then to tell you that, you felt like, "Oh my God." There are those moments. I remember when Cody first called Andrés his boyfriend. I was like, "We have not said this yet." That's so intimate.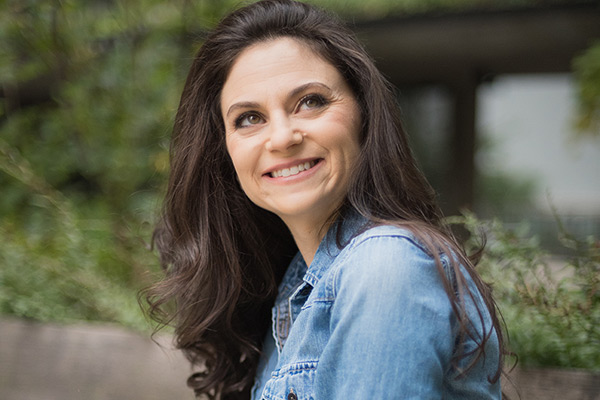 You don't have that scripted on TV. Even with reality TV, it's so delayed by the time you see it and it is scripted. I have a person I went to high school with who's a comedian. I went to Performing Arts in high school, so I have a lot of performers that I grew up with. She posted something about people that write for Peloton for the jokes for some of the instructors. I was like, "I don't want to read it."
It's always been like that. You know me and my old-timey references, but Groucho Marx used to host You Bet Your Life. It was a quiz show and it was an excuse for him to interview people and make jokes about them. People think he was making all those things up on the spot. Some of it he would, but in a lot of it, there were pre-interviews. They had jokes that are ready for him and they would re-tape those shows for 60 minutes, and then edit them down to 30 minutes. Take out commercials. It was probably more than 25 back then. Now it would be 22. Some of those were pre-written and then you were seeing the best 25 minutes of a 60-minute recording session. It's smoke and mirrors.
It doesn't mean we want to know.
Most things I don't care but I'm like, "This I don't want to know." It brings me such joy for the time when I'm on the bike or doing whatever. I'm like, "I don't want to hear bad."
I don't blame you. I feel like there are some things that need to keep the magic. It's like in Disney World when they are little kids and can't come back in the tunnel if you know. That's right. You should keep it that way. That's the right call.
This is probably a good time, just letting our guard down. Patton Oswalt has been writing my jokes. You could probably tell because of the quality of them, but it's all been Patton Oswalt.
I worked on something else where it was very important to the creators that the furthest brand that the kids did not see certain things when they were on site. It wasn't Disney but it's another iconic kids' brand that involves puppets. It was so interesting because I was like, "We are ready for you." Sometimes I'm on set as well with kids, especially if there is a disability to make sure that everybody has their accommodations and all of that. I was like, "We are ready for this kid," and they are like, "No we are not." I was like, "I thought we were. The shot looks ready." They are like, "No. We have to put a bag over this person's head so that the kid doesn't see that there's a man behind it."
As if they have been abducted by Isis. You are trading one set of problems for another for this poor kid.
It was very funny. If they didn't have a puppeteer that represented the background of the puppet, let's say it was a puppet that was in a wheelchair, if there hadn't been a wheelchair-user puppeteer, they don't want the kid to see it. If it is a wheelchair-user puppeteer, they would allow the kid to see it.
That's interesting and very thoughtful. It's nice to know that people making these amazing things put that much thought into things. It really is.
Sometimes they do. Sometimes they don't.
They do appear though.
They do. I will hear about it from someone and then I will have to call them and figure out how to make the optics of it go away for them so that there's no bad press. That's my favorite role on people of like, "It wasn't my project but thanks for calling."
Give us the right word so we don't dig a deeper hole.
The thing is with any underrepresented community, especially with disability, a lot of people think disability is a bad word.
I struggle with saying it, and also because it evolves over time. Now you are like, "Is this still the appropriate nomenclature or am I accidentally saying something offensive?"
The fact that you don't know it can be seen as offensive. It's tough to always know the right words to use for all different communities. You want to be inclusive and you want to make sure that you are saying all the right things, but it is tough.
Logan has done a good job with that. I love that he gives descriptions of what he's wearing. He does an image description. That's a huge game-changer. I don't have as many friends that are low-vision that have expressed interest in Peloton to me, but I do have a lot of friends that are of small stature and then I have friends that are deaf who've talked to me about it.
This is not an ad but if there are people who have small stature that needs help with their Peloton, I have the perfect person for them that can help with their bike. It's specific to making your bike adaptable to different kinds of people. Alana is great too. She is awesome and has wonderful ideas, but we also worked with a fitter for my bike and he has all kinds of ideas for people to help them do things that are aftermarket items or items that he can make specific for them. He had a lot of cool ideas for people.
That's good to know because it has come up a few times with people, and it depends on your height. It can be a thing for sure.
Alana is awesome and she's amazing. She's such a badass. All the running and stuff that she's doing right now. She's cool.
How did you connect with her?
A lot of times, I will be like, "Does anybody have any ideas for people that I can interview?" Somebody recommended her to me because she posts all the time and they had seen her post and they recommended it. I just asked and she said, "Yes." I was lucky.
Do you have any advice for people who are just now entering the world of Peloton?
I feel like people are like, "Try every instructor." Maybe because I'm a casting director so I have a very definitive taste. I don't like all of the instructors. Find what you like and do that.
How did you know who you like without trying?
Maybe do the All for One. Is that what it was called? Do that but don't try all their classes. After a minute of, I'm not going to say some people's names, I was like, "I have no interest." It's so funny because my stepdad's ex-wife has very strong opinions about instructors and would tell my mom things. I would tell my mom, "Try this instructor." My mom's like, "Suzanne says." I was like, "I do not like that instructor." She would ask other people and she'd be like, "Some people say." I'm like, "You can try it. I'm just telling you I don't like that person."
"I pick people for a living. I'm putting that out there but mom, you pick the class you want."
You listen to Suzanne.
My advice is not to do things you don't like.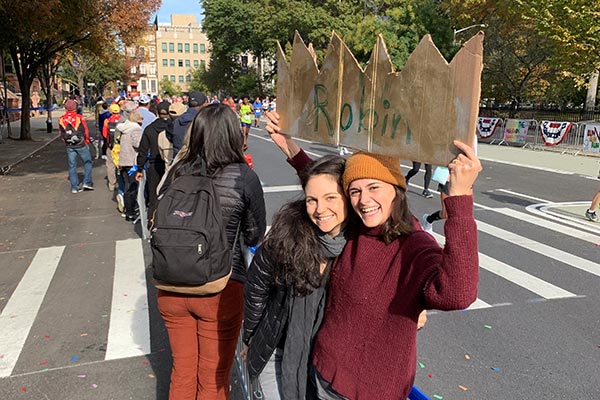 I do agree with that. I do think everybody should try out all the instructors. I'm good with the All for One sampler.
Sampler platter like a little whipping sampler and you are like, "A nougat."
If you don't like the jelly, spit it out. I agree. Don't suffer through those classes. Who are you doing this for? You are doing it for yourself. The only exception to that is if your best friend has a milestone and they want to take it with somebody that you don't like. You suck it up because that's the etiquette. That's what we do.
That I agree with but if it's about you, I don't have a lot of time in my day. Sometimes that's my only 30 or 45 minutes. I want to spend it with someone I want to spend it with. My husband only does Lanebreak. He used to do instructors but he likes the music and the game. I'm like, "Go for it. That's fine. You do what works for you, Just Ride or whatever." My stepdad was doing Just Ride for a long time now. I don't know how we got him into instructors, but he's funny. He only likes pretty girls. He was like, "The blonde one." I'm like, "Kendall?" He's like, "We like her."
She had leggings on. That one. She's nice.
He's like, "I don't even listen to her music because I don't her music. I put her on the screen and I put my podcast on."
He's like, "I don't even get on the bike anymore."
That too. Doing what you enjoy and what you find fun. It's the same with meditation. For some people I'm like, "I feel I should do that meditation. They seem like they are good and they know what they are doing," but if it doesn't put me to sleep, what am I doing it for?
What is your leaderboard name?
I can't believe I'm having a moment like this. It's one of those things where I'm like, "Is it Pretzel143?"
I think this might be a first. Someone had to look up their own leaderboard name.
This is the story of my life. I will forget anything about myself.
You might be getting shout-outs all the time and not knowing it.
You don't even know you have a shout-out.
Pretzel143. I was right. I can't remember these. That's why I will ask people things. I forgot that I was nominated for an award and my mom came over. She was like, "Those flowers are beautiful. What are they for?" I was like, "I was nominated for a casting society award." She was like, "Why didn't you tell me?" I was like, "I forgot." I forgot when the flowers showed up. I was like, "My husband is not getting any flowers for nothing. What is this for?" It's funny. I don't remember those sorts of things. I remember the actors. I can remember a kid's birthday.
I can't do that, but I can do the pop culture stuff.
I'm can be Rain Man, but with my own things where I should be remembering them, no. Pretzel143. My Instagram is @DPDCasting. That I remember.
That's an important one. You better remember.
It's my signature. My Peloton name is not in my signature. I probably should put it there.
Maybe you should add it.
Thank you so much for taking time out of your day to join us. We appreciate it. This has been a lot of fun and very informative.
Thank you. I'm excited to keep the conversation going and see you at the next Runway Of Dreams, I hope.
I hope so too. That would be amazing.
That will be fun. We had a blast.
—
I guess that brings this episode to a close. Until next time, where can people find you?
People can find me on Facebook at Facebook.com/crystaldokeefe. They can find me on Instagram, Twitter, and the Peloton leaderboard @ClipOutCrystal.
You can find me on Twitter @RogerQBert or on Facebook at Facebook.com/tomokeefe. You can find the show online on Facebook.com/TheClipOut. While you're there, like the page and join the group. Of course, don't forget our newsletter. You can sign in for that at theclipout.com. That's it for this one. Thanks for tuning in. Until next time, keep pedaling and running and rowing.
Important Links
About Danielle Pretsfelder Demchick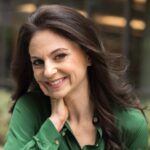 Danielle is an advocate manifesting change in how the real world is reflected in today's media.
She has been an active member of the New York casting community since 2004. Nickelodeon was her casting home for over 14 years, where she tapped into her love of developing young talent. From live action and animation, scripted and unscripted, long form and short form, and even podcasts, she has and loves to cast it all!
The co-VP of Advocacy for the Casting Society of America, her work elevating underrepresented communities has been barrier breaking and continues to motivate her to manifest change in how the real world is seen on screen.
A leader in the organization's Equity in Entertainment committee, she serves on the board of both the Casting Society of America and Casting Society Cares, where her focus is on Training & Education. She prides herself on being an ally to artists and aspiring talent of all abilities.
She serves as a faculty advisor for Respectability and she is on the Actor's Fund's Looking Ahead Advisory Board. In addition to her work in casting, she is currently pursuing a master's degree in Disabilities Studies at the City University of New York. She is also a trained childhood bereavement group facilitator and serves as a member of the Caring Committee for the Wechsler Center for Modern Aging.
When she is not working, you can find her on her Peloton, cooking while enjoying one of her many favorite podcasts, or taking her vitamins.
Love the show? Subscribe, rate, review, and share! https://theclipout.com/