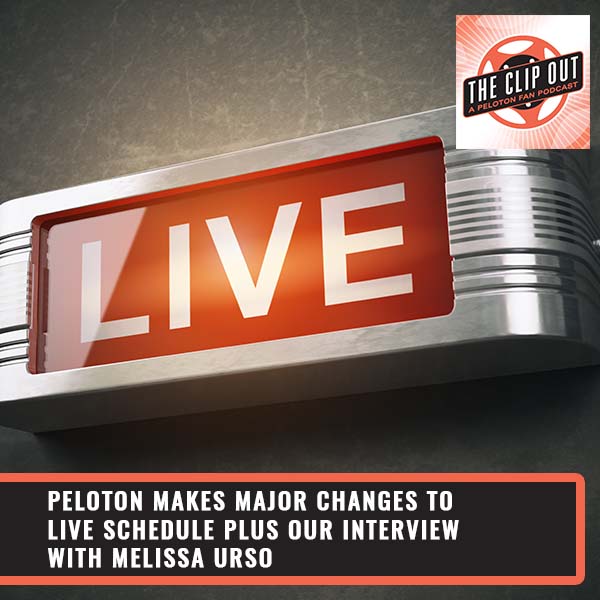 271: Peloton Makes Major Changes To Live Schedule Plus Our Interview With Melissa Urso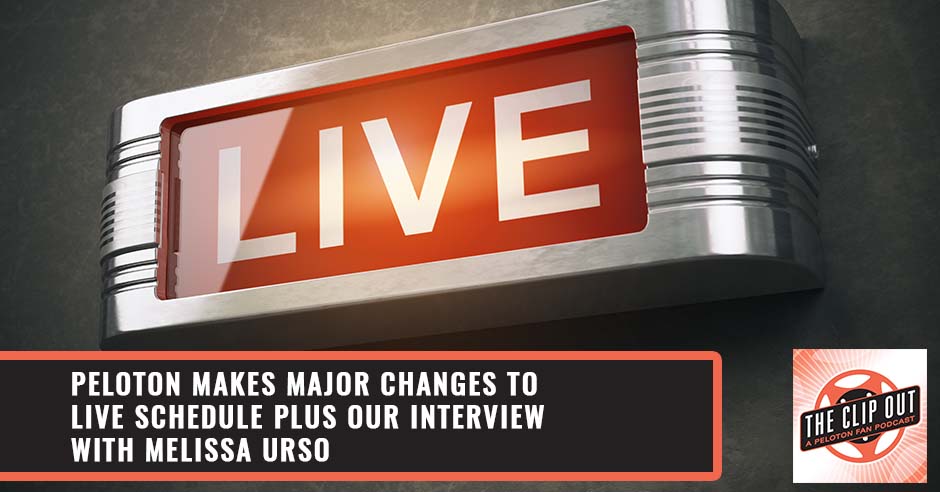 Crystal plans her 800th ride.
John Mills joins us to discuss the Alex Toussaint party.
Connected fitness is growing at a slower rate than pre-pandemic.
Rogue Fitness shows off the beta testing of its AI rep-counting.
Dr. Jenn: Letting go of old goals now that you have new goals.
New Instructor – Assal Arian
Jess Sims joins ESPN's College GameDay.
Matty Maggiacomo makes a special video for Jess Sims' birthday.
Tunde gets a billboard in Midtown.
Aditi Shah got a sneak peek of Netflix's Never Have I Ever.
Hannah Frankson is hosting a singles event at 180 House.
Ally Love to speak at the Kroger Wellness Festival.
Logan Aldridge hosting New York Fashion Week Fashion Revolution.
Cody Rigsby to speak at Alta One: New Horizons.
All-For-One will take place August 19-21.
Peloton debuts a new live schedule.
People are having difficulty booking classes.
Capital One will now have Peloton Bikes in some of their airport lounges.
Peloton finds that Australians didn't skip their exercise during the winter.
You can now get PR's on Lanebreak.
Angelo talks about when you rock at exercise but struggle with nutrition.
Britney Spears shows off her Peloton on IG.
Sebastian Maniscalco has a Peloton.
Crystal was on the Strong By Design podcast.
All this plus our interview with Melissa Urso!
—
Watch the episode here
Listen to the podcast here
Peloton Makes Major Changes To Live Schedule Plus Our Interview With Melissa Urso
We are back from our cruise where I discovered that I still can't use a gym.
It's not that you can't use a gym. You just don't like the weight room.
Yeah, so I can't. We did all the math or I read the numbers and you did the math. It's like how we do the podcast. I calculated what free weights would be compared to what I'm doing on Tonal.
By he, he means I did.
You're a personal trainer and MetPro coach. You can help with that stuff. It's one of the perks of being married to Clip Out Crystal. I walked into that gym all with the best of intentions. There were all sorts of people there. I was like, "Hard pass."
That is exactly what you said. You left me hanging.
I turned around and walked right back out while you were on a tread looking at the ocean.
It was beautiful.
I was surrounded by people that knew what they were doing, unlike me. I was like, "I want no part of this." I feel like an idiot and I left.
You went back to the room and you did a bodyweight workout. I think that's awesome.
I did a little something, but I didn't do the lifting like I was planning on. Gyms are creepy places. Why does anybody ever go there? Thank God for connected fitness.
Now you can do it at home.
Speaking of connected fitness and doing things at home, your 800th ride is coming up. For anyone that's like, "I would have thought Clip Out Crystal."
I literally got a message like that, "I thought you would be on 8,000."
I get it but then you have to think about the fact that you do a lot of running on your tread and you've got the Tonal. You were training for the half marathon.
I didn't have a tread so I did all of it outside.
You've done a lot of other things that weren't rides. There have been lots of things that have taken place. They just haven't all been rides. That's just to preemptively shut people up.
I do appreciate that. If anybody wants to join me, my 800th ride is coming in hot on Sunday at 8:30 AM Central time on Jenn Sherman's Yacht Rock.
Speaking of Yacht Rock, talk about a segue.
It's also the last Yacht Rock of the season. The last Jenn Sherman Yacht Rock.
If you can't get enough and you want to see some Yacht Rock live and you want to do it with us and you want to come to St. Louis, we would love to see you. We have a little get-together going on where I work at the family arena. There's a concert coming through called Ceylon and it features Orleans, Firefall, the Babys, John Ford Coley, Walter Egan and Peter Beckett from Player. It's an evening of Yacht Rock classics. These shows are great because they pound through hits. You're probably like, "Walter Egan has probably got two songs I know."
That's all he's going to play. He's going to come in and he's going to play those two. The best part is the band stuff is already out there, then just the new singer comes out.
There's no waiting for set changes for the most part. There will be an intermission because we got to sell some beer.
It's not in between each one because that would take forever.
It's constantly throwing hits songs at you. We would love to see you.
It's all Peloton people coming so far. It's going to be a lot of fun.
We got a suite where we all hang out together. If you want information on that, check out our Facebook group. There's also information included every week in the newsletter that we send out at theclipout.com which I sent out every week. I couldn't when we were on the boat because it wouldn't let me. We're fighting the internet on the boat. We paid for the internet package.
They know because we told them in the last episode. It was a battle. Now, you can tell it's not a battle because we're at home and I don't have my rum and diet Coke.
Everyone will be back. You'll have John Mills, Dr. Jenn, and Angelo. Everyone will be here. We're getting the band back together. What pray tell do you have in store for people?
We have our interview with Melissa Urso. That's big news. That's coming at the end of the episode. We also have John Mills. We're going to give John Mills some crap about his recent party going. We're also going to have a discussion with him about connected fitness, growing the growth rates, rogue fitness, and showing off its AI rep counting. We have a visit from Dr. Jenn. We are going to be talking about letting go of old goals now that you have new goals. Don't just add them on but change them out.
We have all kinds of news coming in from Peloton. There's stuff that you want to hear. We have a visit also from Angelo from MetPro. You get all your exercise done but then you struggle with the nutrition. We talk through that. We have celebrity appearances and we're going to hit more birthdays because it's August so it's the big Peloton birthday month.
Before we get to all that, shameless plugs, don't forget where available on Apple Podcasts, Spotify, Google Podcasts. Wherever you find podcasts, you can find us. While you're there, be sure and follow us so you never miss an episode. Maybe leave us a review. That's always helpful. We have a new review and this is from Lucky Elephant. It says, "A weekly must. I love staying in the know and getting in some laughs at the same time. It's such a fun show to keep in my rotation every week." Thank you very much, Lucky Elephant. We are lucky to have you.
Thank you for the very kind review.
We have a Facebook page, Facebook.com/TheClipOut. While you're there, like the page and join the group. You can also sign up for our newsletter. We throw a lot of links and stuff at you every week. If you want an easily digestible format of those, you sign up for our newsletter at theclipout.com. You can also watch these episodes at YouTube.com/TheClipOut.
Finally, if you want to support the show a little extra, you can sign up for our Patreon. For as little as $5 a month, you can get ad-free versions of this show when we have access to the landed wifi. Sometimes if the episodes are ready early, then we push them out to the Patreon subscribers 10 to 12 hours early. We also record bonus content for different levels of subscription. We'd love to have you. Thank you to all the people who signed up while we were out. We'll be recording a bonus episode for you shortly. There's all that. Let's dig in. Shall we?
We shall.
—
Joining us is John Mills from Run, Lift and Live. John, how is it going?
How's it going?
I love the energy.
He's got twice the energy because he was off the last episode because we were out of town.
I would have thought you might be a little tired from all that partying that you were doing.
That was a crazy weekend because we went to the You Get To Crew deal. That's the first thing we did. We did the little pool party there. That was fun. It was a busy weekend.
I feel like you're burying the lead.
Do you remember, do you remember? Yeah. A couple of weeks ago when I was on the Lizzo ride and you were a little salty that you got kicked off. John, I got a big salt shaker for you right here because you get to be invited to Alex Toussaint's birthday party.
He was kind enough to invite me. That was nice. It was fun. I love that dude. He knows that. It was good. Jasmine went. I was happy about that because Jasmine is new to the community. She's getting to know the instructors and who they are.
You have a plus two instead of a plus one.
Now I got a plus two. I had to make sure that was all good.
You're lucky because otherwise, it would have been Erica and Jasmine coming to Alex Toussaint's birthday.
Otherwise, I would just be hanging out with all of them like, "Why are you not texting me back? What's going on?"
It looked like an amazing time. It looked like everybody had a good time.
When you rallied with younger people, you realize you were older.
When the dinner starts at 9:00 PM and you're like, "That time."
It was like, "We're arriving here and we're already three hours past my bedtime. What's going on?"
It also gets worse because you'll also find that the percentage of people in the room who are younger than you are is only ever getting larger.
It keeps growing. I don't know how they keep getting younger. I don't understand how that works.
That's what it is. They're getting younger.
We're not getting older. I have noticed though that when you go to the store and somebody is waiting on you, they have now reached the age. They're in grade school. I don't even understand how that is happening.
How can they see over the counter?
What is this ma'am and sir BS? I'm not driving a minivan. Please, don't call me that.
I noticed the songs and Jasmine knows everything. I had to wait until they played the song that was twenty years old. That was all me then.
Did you say, "The song?" Was there only one song?
There were a couple. It was spread out.
Were there more instructors than you would have thought there?
I knew who was going to be there.
You had the whole guest list. You were proving, "Alex, take this one off. Put this one on."
That did not happen. I was not part of none of that. Don't listen to Crystal. I'm not in that.
You made it sounds like you were so in the know I was just checking.
I just knew ahead of time. There were no real surprises and everybody was cool. They were all who we all know them to be. They were kind and kindhearted. It was all good.
Did the invitation say dress like James Bond? Is that what the invitation said?
That was fun because I didn't own a tux until now.
You didn't rent?
I can't walk up in there in a rented tux with all these people. I spent the last 3 to 4 weeks running around, trying to piece this whole ensemble together even down to the socks.
Why it's so hard? I don't understand. Why couldn't you just buy regular socks?
I went overboard because I don't know anything about a black tie. I don't know anything about black tie. When I found out it was a black tie, I started doing all this research, probably the wrong research. I was reading all these rules. I went strict to every rule, depending on who you're listening to.
What are the rules other than the tux itself? Tell me. I don't know the rules of a black tie affair. I've never been to one.
There were rules on types of jacket, lapels, and the material of the sock. I learned afterward that people don't tend to follow it to that degree.
Unless you're taking off your shoes and checking out what socks you're wearing, who is doing that?
I went by the letter.
If someone is paying that close of attention to your socks, you need a restraining order.
This is why we don't get invited.
To put it in perspective, you get personal invites from Peloton instructors to black tie events. Meanwhile, Crystal and I literally got married in a Dave & Buster's.
It happened and it was a lot of fun.
That sounds more fun.
How many times can you play pool in a wedding dress? It's tough to pull off. I know it sounds huge, but it was nice.
That was a lot of fun.
It sounds like the whole thing was. I'm glad you got to go. In all seriousness, I want to say I'm teasing you. I know that you and Alex have always had a relationship. I'm giving you crap, but I did have to tease you because you were so salty about the Lizzo ride.
I'm good about Lizzo.
Digging into the news. You had an interesting post, John, about the growth or lack thereof of the connection fitness industry as a whole.
eMarketer is a common site that does this type of research. I wasn't very familiar with them, but they had done this graph measuring growth year over year of members that are using connected fitness in the US. They state their growth from 2017 to 2018 with 9%, and from 2018 to 2019 was 9%. In 2020, it was a 41% surge, which makes sense. By 2021, it was down to 19%, which is still better prior to the pandemic, which was 9% each year.
Based on where we're at up through the end of June of 2022, they're predicting it is going to be somewhere around 5%. They see that going down every year, 4% in 2023, 4% in 2024, and 3% in 2025. From a pre-pandemic 9% growth every year to a post-pandemic descending at 5% and going down. That was interesting to me because I've heard all these folks talk about how we're back at the pre-pandemic level, but that doesn't sound pre-pandemic. That sounds different.
Peloton has been very useful, especially since we've had a lot of rain lately.
Click To Tweet
That sounds less than pre-pandemic.
That sounds pre-internet. You got to think that maybe that spike was just borrowing from the future. They were pulling in people who would have done it eventually.
I'm not sure I agree. I don't know where they came up with these numbers, the going forward numbers to be clear. Why do they think it's still going to continue to go down? I get why it went down in 2022 because as Tom said, it borrowed against it. I don't know why that automatically means each year after this will be decreasing. I'm curious why they came to that conclusion.
I'm curious about that as well. I'm not sure how they came to that estimate and conclusion. It made me think that too like something comes out new within the space. You would think that that could change this whole picture.
It also made me think, does this also align with how connected fitness is struggling a little right now? Smaller players are trying to find ways to stay afloat. If there are fewer people that are moving towards connected fitness and now you got more players in the space competing, what does that mean if you're a smaller player?
One thing it means is lots of mergers in this space, in my opinion.
That's what I think. You think the smaller players might have to start considering that.
I also wonder because according to this chart, it says US adult connected fitness users. Something that could be thrown off that number to some degree is that in 2017 or 2018, any connected fitness purchase was automatically a new user. Now we see enough growth in this space that you could buy a new connected fitness product but you were already a user. If you have a bike and you buy a tread, you're not new to connected fitness. If you have a bike and you buy a Tonal, you're not new to connected fitness. You wouldn't get counted in the same way.
That's a very good point.
You're right. You could see growth within the existing. That makes sense. I hear you. I'm sure that it's not taking that into consideration. Also, because it's US-based, they're not talking globally. Some of these companies are global like the iFIT and Peloton. If they're starting to expand in these other countries, then maybe it's not such a bad thing for them right now. If you're a company that's only US-based, I think this tells the story. I think some of the smaller ones are.
They are for sure. You're absolutely right.
Another thing that could be suppressing those numbers somewhat at the moment is inflation. People aren't making major purchases or some people aren't making major purchases because of inflation. To project a continued downward growth, inflation isn't going to last forever. It never does. Eventually, it will level off and things will go back to normal. I think you could maybe see those numbers. I'm not saying they'll necessarily go up to 9%, 10% or 15%. I do think that you'll probably see some bounce back once people feel a little looser with their wallets.
I don't know what they're considering adults like if they're looking at 18 as the cutoff or if they're looking at 24 to 32, whatever their ranges are. As people graduate from college and if Peloton and other companies are doing their jobs correctly, one of the things we've talked a lot about is that whole John Foley's thought of democratizing fitness. You should, in theory, be seeing more people that are graduating from college or graduating from high school getting their own connected fitness devices or using the app. I'm also curious if the app is part of this or not.
I was thinking the same thing if they count that as a connected fitness user or if you actually have to have a piece of equipment to qualify for that number.
I don't know whether or not that was included there. That's another good question.
Some of these things would definitely explain why it's headed downward if they weren't able to account for that in this particular table to be able to see some of these other things. I think a lot of it does go into how you're defining a user and how you're defining connected fitness versus an app. To me, the takeaway is it's not as bad as this graph might make it look. It's not as bleak of a picture.
It may not be as bleak as this look. You can't just align this to every player because of all those other variables we talked about earlier.
Here's a mean thought because that's how I'm wired. This could ultimately be a good thing for Peloton because of all the connected fitness companies, even with all their struggles, I still think they're positioned the strongest. If this is a short-term decline, it could starve out the smaller players, which then would push people perhaps to Peloton.
One, they have fewer competitors. Two, if you're with this hypothetical company that I won't name because I don't want to sound like I'm rooting for anything like Echelon. If you have a connected fitness piece of equipment and that company goes out of business but you still want a piece of connected fitness equipment, what are you going to do? You're going to be like, "I'm not rolling the dice on another lesser than piece of equipment. Just give me the Peloton because I know it's going to stick around."
I think it's definitely putting the squeeze on someone. Peloton is a little larger so they can survive it and wade the waters, and out the other end.
That's good for the space. It needs to thin out a little bit. I'm not looking for anybody to lose money or lose their job, but there are so many different products that don't seem all that different.
It's crazy. There are products everywhere.
Everybody said when that started happening, "It's good for the space. It's going to drive down prices." Is it good? Somebody is going to not make it to the end line here. It's impossible. It's too saturated now. There are people out there that are still going to be buying things. It's not so saturated, there are no potential buyers. There are so many options that somebody is not going to make it. We'll see.
Speaking of other connected fitness.
This is an interesting one to me because the person that sent this to me was talking about how being able to count reps for CrossFit-like moves would be game-changing. There's nothing out there that counts reps for CrossFit moves. I never even made that connection because I'm not a CrossFit user.
I don't know if that's true. I've seen other apps like this. Back in early 2020, there was this app called Elixir. In mid-2020 another app called Onyx is similar. All of them are iPhone based and got a similar thing.
Do they have a camera and they count your reps for you?
It's all the same stuff. It's all built into the phone. You don't need any other equipment. It's just the phone. It starts looking at you. You start doing whatever workout. It starts counting your reps. It starts telling you, "You didn't do that. You didn't count that one." All those apps have been doing that since 2020, which is why back in early 2020, I thought this is the next big thing. If you can't do that, you're not going to survive connected fitness. That's what I thought back then. That is why I thought, "This is it. Nobody is going to be able to survive connected fitness." I was wrong about that. A bunch of companies never did it.
It does seem like an obvious thing people would want. I know from doing Tonal, I can't tell you how many times where I look around the machine and I'm like, "I can't be on that number." If I had to count them, either my muscles would atrophy or I'd be super rev because I'd be like, "What number was I on? I guess I was on 2. Got to go to 200."
I was out in the garage all the time. I always forget, "Was that 2 or 3?" When I get tired, I go, "That was definitely 3."
The more you think about it, the more you confuse yourself. You gaslight yourself. You're like, "I don't know what to believe anymore. I'm not even sure I was lifting weights. How did I get in the garage? Is this my garage?"
This is why people get so upset when their Strava stops in the middle of a workout in the middle of a run or their Garmin or whatever because it doesn't feel real.
Suddenly you're like David Byrne and the Talking Heads like, "This is not my beautiful wife. This is not my beautiful house."
You would imagine. I could see that happening. I don't run outside as much anymore, but I used to run outside and if anything happened with that thing where it stopped tracking for whatever reason and I got home and it stopped at mile 2, I was pissed. I was like, "This is terrible." I'm ready to cry in a corner. I wonder if that proliferates and people going to be like, "It didn't count my rep."
"I'm suing." Crystal will get mad at me because she'll be like, "It didn't count." She'll be upset. I was like, "You're going to do it again." "No." I'm like, "I thought it didn't count. It either didn't count or it does count. It can't be both."
I'm exhausted like it counted, but it didn't count. John gets me. He understands. I thought it was interesting. We'll see, but if there are already these apps out there, then who cares? Why are they just now beta testing it? Now I'm like, "This is old news."
Rogue, you know that name, Elixir and Onyx. These were small players that were coming out of the gate, trying to do something innovative. They all disappeared. I don't even know where those players are. There was another product that did it too. I can't remember the name of them. It took Tempo a year or two, but then they eventually came out with their product and try to do something similar. I can't remember the name of that thing, Tempo Move. They tried to base it on the iPhone. Rogue is a bigger name. Maybe it has more sticking power. Maybe it'll be more of a thing.
What appealed to me about it was I thought, "Is this going to start showing up in CrossFit gyms?" The repeat counting for people. They're going to be able to keep it up on that leaderboard and see how the whole class is doing. For people that enjoy that type of workout, I could see that being a big deal.
I'm not doing CrossFit so I don't care. If you were in a class and it could count your reps for you instead of you having to write it down on your little piece of paper, that would be pretty exciting.
Here's an untapped market. You can use it for sex like rep counting to make sure you're doing the job right. "Three reps? Sir, think about baseball." I guess that would technically be a tapped market. I can see it now. It's like, "It didn't count."
"We got to do this all over again."
Are you going to need a minute? Do you need some orange juice? I got to rehydrate. My electrolytes need to replenish. I'm not a young man.
That's a different thought than I had.
I don't like to be called a genius. I prefer visionary. Genius is so passe.
I got to say, Crystal, that hadn't come to my mind either. It's not leaving.
This move is called the thruster, right there on the screen. There you go.
First, you came up with a sexy people filter. Now this, Tom. Good luck to you, Rogue fitness, for getting that out in the market. It reminds me of that company that came up for five seconds that they had all sexy people doing their classes and basically pornography. Do you remember that?
Beach Sweat. That's still out there. I don't know that they're still out there.
Here's the only thing I know. On a Beach Sweat bike, you can backpedal. On that note, thank you so much for joining us. Until next time, where can people find you?
They can find me on my Facebook page or group, Run, Lift and Live. They can find me on Instagram @RunLiftAndLive. They can find me on TikTok, Run, Lift and Live, or they can find me at RunLiftAndLive.com.
Thank you.
—
Joining us once again is Dr. Jenn Mann, licensed marriage, family and child therapist, and Sports Psychology consultant. You may know her from VH1's Couples Therapy with Dr. Jenn or VH1's Family Therapy with Dr. Jenn or her long-running radio show, The Dr. Jenn Show. She has written four bestselling books including The Relationship Fix: Dr. Jenn's 6-Step Guide to Improving Communication, Connection and Intimacy. It's Dr. Jenn.
Hello.
Thank you for joining us. Jenny Lecting is looking for some help. She likes to change goals every 3 to 4 months, but she struggles with letting go of her old goals, and then she ends up trying to add on more goals. How can she focus only on the new goals and trust that what she had worked hard to do the last quarter will still be there? I struggle with this. I feel this.
I can understand this. It makes a whole lot of sense, and then also, making peace with it that at different points in our life, we need to focus on different things. There are some times when stretching needs to be your goal. Sometimes we get so focused on cardio or so focused on weights that we neglect these other things.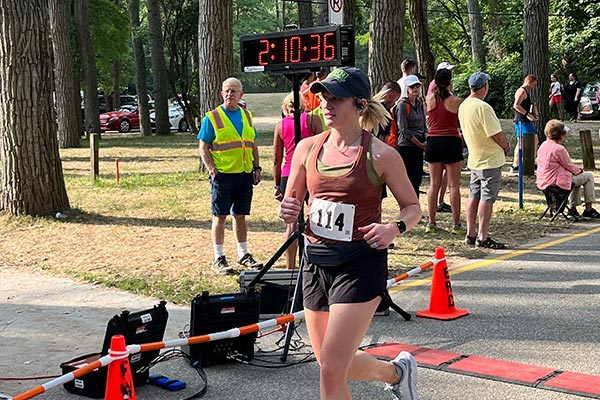 There's this new study that came out and I don't remember what the exact numbers are, but you have to be able to stand on one leg and balance for ten seconds. If you can't do that, they're saying that the odds of you actually dying in the next ten years go up exponentially. I don't remember what the numbers are. We'll have to find this study for your notes for the show. That has me a lot more focused on yoga right now. Anything where someone is balancing, I'm like, "I got to do that."
Part of it is allowing yourself the luxury of focusing on one thing at a time and trusting that. It sounds like this is where Jenny is struggling. It's trusting that the other thing is going to disappear. I get that if you work hard on your cardio, let's say you work up to a 60-minute run, that if you don't do any running, you're going to lose a lot of that cardio, that endurance or even that mental state while you're focusing on your stretching or your balance or something else.
Part of it is having the experience as an athlete of trusting. You can focus on one thing, come back to the other thing, and it's going to build up quicker. It doesn't just completely disappear unless you get totally sedentary, don't stretch or don't do anything. When you're body is used to the movement and you become more of an athlete, when you are active, doing other active things tends to build quicker. The deeper issue on this is looking at your issues around perfectionism, pushing yourself in ways that are no longer healthy, and then trying to help yourself come to terms with we can't do all things at all times. Having different focuses at different times is okay, and trusting that process.
It's difficult to let your goals shift sometimes even though it's time. I struggle with that at the moment because for so long, it was easy to measure my success with a scale. That's not where I'm at anymore. When I see even a minor fluctuation that I know logically is statistically insignificant, I'm still like, "Oh, man." I know in my head that that's not a concern at this point.
That's a good point. What stuck out there to me is when you talk about digging deeper into the issues of perfectionism. I'm like, "How do you go about that?" I know I have that one. That is one I struggle with.
First of all, you want to get to the root of where this comes from. For most people, it comes from childhood and oftentimes comes from either a narcissistic parent where you had to prove that you were worthwhile and worthy to get their love or a highly critical parent where you had to be so perfect that you were criticism-proof, which is impossible especially if you have a highly critical parent or an abandonment from a parent.
It's like a magic trick. Can you tell me what number I'm thinking of?
I've been doing this for a little while. You have a parent who has abandoned you that there's a part of you that starts to believe, "If I'm perfect then I will get their approval and their love," when you have a damaged parent because healthy parents don't abandon their children. A lot of the time, that perfectionism comes from those early wounds that need to be addressed on a deeper level, generally, in therapy.
That makes me sad.
We all have early wounds and it's important to do the emotional work and to do the therapy work. Sometimes people are too scared to do it, but I want to encourage people because not doing it means living in pain and being haunted by the ghost of very unhealthy people who have harmed you. It's important to give yourself that relief. You oftentimes are in more pain in the beginning to get the relief on the other side.
I feel like we covered like 45 things in the six minutes. That was a very efficient use of time.
I need another hour with just Dr. Jenn.
You will get it but it will be on the treadmill. If Peloton is bringing back the video screen with some audio, we could run it and I could do therapy with you.
You run pretty fast. I could be like, "Tell me about my childhood trauma, go."
Definitely slow me down. Everyone is always like, "As long as you can talk while you run," I can't but I'll try.
Especially when you're always worried about how slow you run. You never run faster than when it's trying to outrun childhood trauma.
That is true. I've seen it a lot in 30 years of being a psychotherapist. I've seen a lot of people running fast.
I figure it's a dual purpose. I'll slow you down and I'll be able to go faster. I might actually beat you for once. It could happen.
I don't know if you heard the interviews with Becs when she was trying out for the Olympic team. She had some of her best numbers in running. She said that it was largely because she talks throughout the entire Peloton class and that gave her an edge. We may have to start doing that.
It's like swinging two bats in the on-deck circle. Thank you so much for all of that. I do mean all. There was a lot. Until next time, where can people find you?
People can find me on all social media, especially Instagram @DrJennMann. I post all of my Peloton workouts on my Insta stories. You can check out what classes I'm taking. Also, you can find me in InStyle Magazine, Hump Day With Dr. Jenn. I have a weekly column all about sex and relationships.
Thank you.
—
We got a new instructor,
Assal Arian, she's a German instructor. She speaks German and will teach in German, but she is of Persian descent. I have to point out that one of our interviewees a long time ago, Persian Thug, that's her leaderboard name. She posted in our group, "Persian Thug approves this message." That made me so happy. I love it. A lot of people are excited about this because it's the first Persian instructor they've had. She also looks like a badass and lots of lifting, very strong. I love the message that she has in this video. She talks about how people have told her she can't do things her entire life. She went right ahead and did them anyway. Good for her.
Welcome to the Peloton family.
—
Jess Sims will be joining the cast crew in August. She will be joining ESPN's college game day.
First of all, congrats, Jess Sims. This is huge for her. I don't exactly know how huge it is because we're not into sports.
It has got ESPN in front of it, so I think that's pretty big. It's not like ESPN6 or something. There's no number after it. It's the real ESPN.
The thing though is people are worried about this because she teaches Saturday 60s. These are the bootcamps everyone looks forward to all week. Apparently, college game day is a Saturday thing.
I do know high school football is Friday, college is Saturday, and professional is Sunday. I only know that because I watched every episode of Friday Night Lights.
It's okay though. She is going to do direct to camera ahead of time, so basically on demand. They'll drop on demand still. You will still get your Saturday 60s at least for the time being. It won't just be live. Congrats to Jess Sims.
Speaking of Jess Sims, it was her birthday. Matty Maggiacomo put together a little montage for her.
It's all his favorite moments with her and all the times he tormented her with different costumes. It is a hilarious video. If you haven't seen it, you absolutely have to watch it. There are some sweet moments in there too. Most of them are him teasing her and tormenting her. It's lovely and I love it so much.
If you're not sure where to find that, you can sign up for our newsletter at theclipout.com. You will have a link in the email that goes out on Sunday mornings. Tunde had an exciting moment.
Apparently, this particular billboard in Midtown has had many Nike athletes on it in. Now, the billboard had Tunde on it. She shared a video of herself watching herself in Midtown Manhattan. I can't even imagine how surreal that must have felt. Congratulations to Tunde. All these instructors are amazing, the things they're doing.
Aditi Shah had an Instagram post about getting a sneak peek at the next season of the Netflix show Never Have I Ever.
She got to watch the first two episodes and she also got to play trivia with the lead character from Never Have I Ever.
We love this show. We watch every episode.
This is such a great show. The kids love the show too. It's awesome.
It was created by Mindy Kaling who is also a Peloton user. It's on Netflix. If you have it, you should check it out. You can watch it with your teenagers. It's not raunchy, but it's raunchy adjacent at times. If you got a 14, 15 or 16-year-old and you put an iPhone in their hand, there isn't anything on this show that they haven't already seen, so calm down.
As opposed to Euphoria, please don't.
That Euphoria, on the other hand, is nightmare fuel for parents.
I love it. It's a great show, but do not watch that with your teenagers. That's what I mean.
They will take your teenagers away from you.
This is a wholesome one you can watch. I love watching it with our kids. They enjoy it and so do we.
The Kroger Wellness Festival is happening in September and Ally Love will be taking part.
The reason I saw this was because I love this paragraph, "Here's where Carrie Underwood will come in not as a singer but instead presenting a special workout September 24th with her trainer, Eve Overland, and a mind over matter session with Love Squad founder, Ally Love." I find that fascinating because they say nothing about Peloton, Love Squad founder only. At any rate, she will be there. This sounds cool. This whole concert sounds great because it's going to have Eli Young Band and Fitz and The Tantrums. That sounds like a great show. We need to pop over to Cincinnati. Tom.
Power Zone rides help keep you more accountable. It's fun and competitive, but you're not really competing because you're on a team.
Click To Tweet
I'll get right on that. Hannah Frankson is hosting an event for singles at 180 House.
This sounds fun. It's a singles night. They're going to play games. There's going to be more to it than that. The whole reason that I posted this is because Hannah Frankson is the one who's actually hosting it. It sounds like one of those shows we watched, Love On Spectrum. In that particular show, they show a lot of speed dating events. That's what this reminds me of. It is like a speed dating event. That's what I'm picturing. With Hannah Frankson being the person who's keeping it all going, it sounds like a ton of fun.
Logan Aldridge will be taking part in Fashion Week.
I'm surprised at that. I've never seen him do anything else with fashion. That came out of nowhere. At any rate, it's very cool. He is going to be hosting Fashion Week Revolution. That takes place on September 12th. That's during New York Fashion Week. I'm sure if you follow fashion, you already know that. It's On The Runway of Dreams. Our instructors are hosting all the things.
Speaking of hosting, all the things, Cody Rigsby is taking part in ALTA ONE.
ALTA stands for American Land Title Association. Again, where did this come from? It comes out of nowhere. It's not like he does a lot of land titling. I don't know.
He could be a big fan of land titling. We all have hobbies.
He's going to sit down and discuss the importance of self-care and mental health while he is there. It's part of the new horizons.
They've all been fed into the speaker circuit. They're like, "You can hire Peloton instructors as one of your guest speakers." People go to these conferences and they're like, "That's fun and different." That's why you're seeing a lot of this stuff.
I totally agree.
—
All-for-one is around the corner and you know exactly when.
It's going to take place on my birthday. It's nice of them to do that. It's going to be from the 19th through the 21st. Basically, they're celebrating me. It's all-for-one for my birthday. My birthday was actually on the 20th. All-for-one is going to take place from August 19th through 21st. It's going to be announced on Thursday at 11:00 AM Eastern. We just happened to already know.
I'll have you know, I keep a calendar of all the Peloton birthdays for all the instructors and you're on it too.
I'm not an instructor.
It's Peloton related. Jayvee is on there. She's not an instructor.
That's true. Good point. It's nice to be included.
Peloton has revealed a new live schedule.
I'm not excited about this. I do not like it at all.
What don't you like about it?
It used to be that every morning at 6:00 AM or 5:00 AM Central, you had a class and you could take it and it was a spin class. When they added the tread, I always thought there would start to be running classes at the same time, so run or bike.
It's almost like different channels.
That has never happened on a regular basis. It has never been every day. At some point during the entire fiasco of COVID, the regularity of the schedule went poof. There was no more regularity. We used to be able to take classes all day long, especially spin classes. There used to be 45 minutes like freaking clockwork. It all went away. I have long defended that and always said, "It's going to be back after COVID." I was wrong and I hate being wrong, but I also hate what this looks like now.
There are all these new classes, but if you scroll down and you look at what they are, it's a big freaking mess. They have Monday through Thursday. You're going to have cycling and treads. Cycling is going to be at 2:00 AM Eastern because they are trying to get the UK on the other side of the world. I got that, and then 7:00 AM, 10:00 AM, noon, 2:00 PM and then 7:00 PM. That doesn't sound bad. The problem is they say cycling and tread. When you go to the tread, there's one class. That's not Monday through Thursday. There's one class on Monday.
I'm talking about running. I don't like these walking and bootcamps. I want a freaking run class every day. How hard is that? I don't want to pick from 1:00 PM. That's not a good schedule. There's a regularity to it, but they're like condensing it and then like, "Do you see all the choices you get?" When you start breaking it down, you don't.
The cycling is there on all those days but the tread is not because they break down. You've got running, walking, hiking, and bootcamps. If you scroll back, you will see that they have different days like tread bootcamps. They're going to be Monday through Friday. You get those at 12:00 PM Eastern. Walking, you get those at 10:00 AM Eastern. Where is the freaking run? There's no run. Who did this and why?
Do you think that they have data that shows that people want these other versions of it?
I don't know.
That's what we talk about when the 45 minutes started to go away and they pivoted to the 20 minutes.
They didn't tell me that data. I want to know that data because I don't understand. I would like to know.
I also wonder if you would ever see that thicken up if they start to move more treads. They catered to the bike because they have sold so many more of them. I don't know. I just wonder if that plays a role.
I don't know either. There are barre, Pilates, walking and strength, but I get strength from Tonal and I like that. I like my programs over there. This does nothing for me as a consumer. One thing, I don't want to take a bike class five times a day. I want to take one running class every day and I'm not getting that. The one thing that I actually love about Peloton right now, I don't get. Everybody else got something, but no running. I'm bitter.
We've been seeing reports of people having trouble booking classes like physically getting the software to function.
There have been numerous accounts of different things happening. For the record, I've checked the status page multiple times. The status page says that everything is good. That's not what's going on. This appears to be account related. It also appears to be like something is happening. I never mentioned this, but back when Jenn Sherman did her first live class, I heard that day that all of the Jenn's Men Crew was there. There were OG members there. It was a ton of people.
When everyone showed up to walk into the class, there were two people that had a confirmation. They were in the class. It was all good. They got booted at the last minute because two people got moved off the waitlist. Nobody knows why it happened. Nobody knows how it happened. Jenn Sherman being Jenn Sherman made sure they were taken care of and they were still in the class. It was all good. That's not my point. I'm not trying to bring it up.
The reason I'm trying to say that is because this woman, Lisa, posted on the OPP that she got into Robin's class on 8/12, got the email confirmation, and then she gets an email from Peloton saying the class is over capacity. She has been removed from it. She gets two more emails confirming she's in the class. She sees her class and it says she's wait-listed. She has been moved to the waitlist. That was the overall with that. That's real messy. For people who are trying to schedule travel and stuff, that's a big deal. I understand it's not that big of a deal if you live in the city and you get to pop in any time. That's okay. When you're coming from however far away, that's a big deal.
It's still frustrating even if you live there, but even more so if you travel to get there and then it happens.
I'm more saying like be careful because I don't want people traveling halfway across the country and then finding out they're not actually in that class. They're not going to necessarily be able to fix it for you at that moment.
You would think that they would boot a local before you boot somebody who traveled.
It depends on who that local is because they didn't boot anybody the day that happened with the Jenn Sherman cast. There have been other things happening too. There have been accounts that they can't go in and buy the studio packages and the studio credits because you have to buy the studio credits before you can apply for the studio credits.
There have been people whose accounts will not let them buy it, but other people in their family's accounts can buy it. There's a lot of confusion around that. It's hit and miss. This is not happening to everybody. Lots of people are having very good success with it. I'm not sure why that's happening or what's causing it. I want people to be aware that if you're traveling, double-check and triple-check that you have everything set before you get on that plane.
Also, Tom, while we're on the subject of classes, I wanted to bring up Trish. She posted in The Clip Out group that she had asked Peloton how she could get the class book. They told her that they are going to now be releasing six weeks ahead of time. Classes are not going to be four weeks as I had originally been told. It's going to be six weeks. The other thing is that if you're looking for the end of September, this person suggested looking at it this coming Monday. It would be the 15th and keeping an eye on it on the 26th as well.
If you're looking for the end of September, that's what you need to do. They go fast. There are only three days a week that these classes are available and they are gone in minutes. If you are trying to do this, you need multiple devices, you need a set-up, you need a system, and you need everyone to shut up so you can get it done because otherwise, you're going to miss out. I'm trying to give you all the things to make this happen for you.
CNBC is reporting that you can now access Peloton bikes when you're waiting at the airport or some airports if you can get into a Capital One lounge.
There are going to be two new lounges that are opening in 2023. One in Denver and one in DC. They are going to feature nap pods and Peloton bikes.
They're targeting both of us.
You can take a nap while I ride. It's going to be awesome.
Does that mean we need to get a Capital One card now? Coming from TechGuide.com.au, Australians didn't skip their exercises during winter according to research by Peloton.
This was interesting that Peloton is the one that provided the research. It says the study is called the motivation that matters and it showed that 84% of Australians did not shirk their exercise. Apparently, they continue to workout at home. To our point earlier when we were talking to John Mills, it seems like when I see this, I'm like, "How does that match a table that shows this is decreasing when it gives people the ability to continue to workout." To John's point, this is in Australia and not the US and that table only showed the US.
It's not showing usage. It's showing a new acquisition of membership. There's also that.
It was interesting on a lot of levels and I thought it was cool so we included it.
You can now get PRs on Lanebreak. I know you're super excited about that.
First of all, I have done some of my best biking on Lanebreak. I don't know what it is about gamifying something. You think the leaderboard would do it for me, but no.
I think because you don't feel like you can win on the leaderboard.
That's exactly what it is. That makes a lot of sense. Having this game in front of me that's like I'm trying to get two things, 100% but also as many points as I can get, it pushes me so hard. My legs will be aching and I'm like, "Go, go, go." I'm talking to myself like I'm on a mountain or something. It's amazing when I can do self-talk with Lanebreak. I don't know. It's unlocking something in me. Anyway, you can get PRs now. You couldn't before. You might know that you had a PR based on your average output but you couldn't recognize it anywhere. Now you get badges and it shows you how many classes you've taken and it'll show your PR. That's exciting. Plus you need to take Lizzo's Lanebreak. I mean she didn't create it. It's a Lizzo collection of classes on Lanebreak. It's for 30 minutes. It's amazing.
—
Joining us once again all the way from MetPro here to answer all of your nutrition questions, it's Angelo. How's it going?
Here we are. We're getting to know each other pretty well.
We do need some help for Elaine Stephens. Elaine wrote in and she said that she's having every problem with nutrition. I asked her to be specific. She said that she rides her Peloton every day. She plays pickleball three mornings a week, but she cannot seem to eat in a healthy manner. She has tried subscribing to healthy meal delivery services, but she can't stand the lack of flavor. Elaine doesn't even know where to get started.
I'm a big fan of food services when they're used right, but they have to be a tool. What we need is the skillset where we can at any point, anywhere we are, at any season in life, we can dial in quality and consistent nutrition because we have that skillset. It is a skillset. A lot of people don't realize it's not like a decision. Sometimes people talk about nutrition as it's strictly once you decided you want to eat healthily, it's a done deal. You have to just make that decision. No. There's a lot more to it because our clients, the first time they meal prep, they'll come back and tell me, "That took two hours." I'm like, "Trust me, you're going to have this down to ten minutes. Right now, this is the first time you, so you're learning that skillset." Elaine, don't be disheartened. We're going to get this. Whether you're using some pre-made meals or not, what I want you to do is anchor to two things. I want you to have your breakfast in the morning, which I'm confident you're able to do.
At the time you're having breakfast, whether you're preparing it or getting ready in the morning, I want you to take five minutes. I want you to prepare and commit to an afternoon snack. If you can do that, here's what's going to happen. That's going to be one of those disruptive behaviors that are minimal input as far as your time invested, maximal disruption in a good way as far as your daily routine because then I know you're going to get a clean, basic and healthy breakfast.
You're looking for simple, portable, low perishability, and not a lot of cleanup for the attributes and traits you're looking for with that afternoon snack. I'm a big fan of something as simple as fruit and nuts. Something simple like jerky and a piece of fruit, rice cake and almond butter. You come up with something really simple that you like. Yogurt and berries are simple.
Once you have that in place, when you have breakfast, what you're going to find is it ticks up your metabolism. You're actually going to be hungrier for lunch. Likely, you won't overeat at lunch because you know you've already committed to having that afternoon snack. You already have the sunken costs into the time to prepare that snack. You're going to eat a reasonable portion at lunch, then you're going to have that afternoon snack which is going to stabilize your blood sugar in the afternoon.
Now we had breakfast, lunch and afternoon snack. Your odds of the back half of your day working out well are dramatically improved. You're not going to have as many cravings in the evening. You're not going to be as blood sugar craving hungry at dinner, and you're not going to have as many blood sugar craving swings at night after dinner. Odds are you're going to be able to execute a little bit more willpower in the evening, and it's all going to come together.
Let me break it down, Elaine. Your number one priority is breakfast and afternoon snacks. Dial that in for a week. Once you feel like, "I've checked that box. I've got it," the next thing I want you to do is to move into consistent lunches. Lunch is when we're usually on the go. We're busy and we're doing things. We don't always have as much time for it. If you can prepare a few in advance, that's going to be the next meal in the order of priority.
Once you have that, all you need to do is look at your dinners as having the groceries in the house, whether you're preparing for the family. If you have kids, whatever your circumstances, if you have quality foods in the house, our general culture in this corner of the world is that we'll take a few more minutes for dinner. That's where you can exercise good decision-making, willpower, values, etc. Earlier in the day, we're looking for pragmatic, practical, functional solutions and getting ahead of the curve by having food prepared.
That's going to be my recommendation and Elaine, I know you're going to be successful. Do you know why? Because you already have traits. You already have qualities. You're already consistent with your Peloton. You enjoy pickleball. These are the things that you're putting effort into and you're being consistent with. If you put even a small amount of that effort into the food, you're going to be amazed at the results you get with the combination.
I'm excited for Elaine. You got me all pumped up for Elaine.
Keep us posted, Elaine.
Thank you so much for all of that. Until next time, where can people find you and have this sort of advice tailor-made for them and their nutrition goals?
Thank you.
—
Britney Spears posted on Instagram and she was next to her Peloton.
She did a whole dance and everything. It was pretty funny, but this is one of the still images that she decided to post. She loves working out on her Peloton. Welcome to the family, Britney.
One of the little perks of co-hosting The Clip Out with you is this forced you to send me a picture of Britney Spears. Speaking of celebrities and their Peloton, Sebastian Maniscalco was spotted on his Peloton on the gram. He's a super big-name comedian. He does very well. If he came to town, he would play 3,000 or 4,000 seats. Maybe even do two shows.
He's got a blue check mark. I know he's a big deal and all the instructors were posting on it. It's got lots of likes. I know he's a big deal. I just don't know who he is.
It's interesting that he has built a very successful stand-up career, but unlike a lot of successful stand-ups, he doesn't have a show or a movie. He's out working the road.
That's very impressive.
It's hard to get to that level just doing that. Well done. Another connection that he has to the show besides Peloton, he and I are in the same fraternity. Not at the same time or the same school but yeah. I'm a Sigma PI and so is he.
Call up your frat brother and say, "Sebastian, join us on the show."
 I'll see if they put his number in the buzz book.
—
If you can't get enough of Crystal during the week or if you would like more Crystal and less me, you were in luck because she was on a podcast.
It's called Strong By Design. We talked all about how you can change your life into what you wanted to be rather than what it is. It talks through how we went from project management to podcasting and being a MetPro coach and that whole journey. We talk a lot about how the Peloton community had so much to do with that. They are the ones that caused me to be curious about what else I could do and what was next in my life. It was a fun conversation. I enjoyed it and I appreciate it being asked to be on.
That's episode 242. I see in the picture here. You are on the podcast but the picture is of both of us. I'm going to have to have my management team contact yours and see if we can get that adjusted. It seems misleading to people. I would hate for someone to tune into Strong By Design and be disappointed that I'm not there.
It does say featuring Crystal O'Keefe. It doesn't say Tom.
Then don't use a picture of me.
I'll let my people know.
The joke is you are your people and you're also my people.
I know. Is it a joke?
I'm laughing. You're laughing too. All is well that ends well.
—
We have two birthdays coming up because it's August. Rebecca Kennedy, August 13th and Nicole Meline on August 17th.
Happy birthday to both. For anybody out there who doesn't know Nicole Meline. She was one of the original instructors. She left the company back in late 2016 and early 2017. It has been a long time but she had a lot to do with the growth of the company especially back at the beginning. We want to make sure we say happy birthday.
The Power Zone community is awesome. Every power is owned. Everybody motivates and excites each other up the whole time.
Click To Tweet
We remember our history.
Both of these ladies have been interviewed on the show if you would like to know more about them.
—
Joining us in this episode is Melissa Urso. Melissa, how is it going?
How are you guys?
We're so glad this is finally happening.
I know. I can't believe it's happening.
I know. It's exciting. You know my first question because I always start with this, but when did you find Peloton and how did it come into your life?
We got our bike, I think it was October of 2018. We bought our house a couple of months earlier. We were living in an apartment. Once we got a house, it was like, "We should get a Peloton. We have a room now." We thought about it at 2:00 in the afternoon, at 8:00 PM, we were online ordering it. We barely researched it. We were like, "Let's do it. You can finance it. There's no interest."
It was a no-brainer. I didn't even have to talk my husband into it, which was awesome. I didn't know anybody that had one personally. I was all-in for the idea. I took a spin on and off since probably 2013 at my gym. I was super into it. I had been to SoulCycle and other studios when I visited New York. We got it then. It was the start. We built up a home gym after we got our Peloton with free weights and all kinds of stuff. It was the start of our home gym metropolis in the basement of our house.
Had you seen it like on Facebook ads?
Definitely on social media. A girl in my class had one. We went to school from 2015 to 2017. I think she got it in 2016. She was a real OG. I had been to her apartment and I had seen it. I had never been on it but I was always intrigued by the idea. It was a cool idea. I am from Erie, Pennsylvania. I moved to Pittsburgh in 2017. Where I lived in Pittsburgh, originally, there were no spin places anywhere near me. I had a gym in my apartment. I was itching to get back on the bike because I hadn't been to a spin class in forever. That is what propelled us to do it. I was like, "I want to spin. It seems like a great way to do it." Definitely, social media is where I primarily heard about it.
It's funny because you're like, "A real OG," but these days, you're an OG by the current standard.
I know. It's so weird but that's true.
It's a sliding scale.
You said that you didn't have to talk your husband into it. Does he use the bike as well?
He started out using it a fair amount. Nowadays, no. He's super into running. He's running the New York City Marathon in November.
Are you married to Ashton Kutcher?
I was going to wait until the end to reveal that. I already texted him when I saw that he was running. I screenshotted it and I was like, "We found the first celebrity we have to look out for in the marathon." He's running that. He's into running and lifting. He rode a lot in the beginning and now, he's gotten more into running. He'll do CrossFit-type workouts and he'll use the bike for his cardio portion. He hasn't taken classes quite as much anymore.
That must be nice. You don't have to share as much.
It is. At first, I was like, "Why don't you like it? Get back on the bike." Now, I'm like, "Stay off. It's fine."
It gives me free rein. It works up.
You don't have to adjust the seat all the time.
Yes. I haven't trained pretty well because we have two cats and a baby. He's pretty good about putting the seat down but when other people come over, I'm like, "Let's seat up." I'm very lucky I don't have to yell. He's very trainable.
It's a losing battle in this house.
I'm lucky. I feel like that's the case for most people.
I gave up. It's weird because my dad was good about that. He always put it down and so it has been a real culture shock living with Tom.
I bet.
I feel like I put it down all the time.
No, you don't.
I even had the fancy toilet seat where you tap it and it slowly goes down.
You did put the fancy one on. I'm not saying you never do it but it is not all the time by far.
It doesn't count in the middle of the night because I'll be like five times in the middle of the night. It's too much.
Melissa is like, "I don't need to be here for this."
Now you both come from active backgrounds. You've been active your whole life. He's been active his whole life. Did you guys get a treadmill too? Is it a Peloton tread?
Yes, it is. We built a house. We moved a few months ago. It's like fifteen minutes from our old house. Our old house was in this quaint little area, a suburb of Pittsburgh called Oakmont that we loved. It was built in 1920. Our basement was unfinished. It was a very old house basement. There was no way a tread was getting down there or if we got it down there, I don't know if we would've got it back up.
Once we decided to build, I was like, "When can I order my tread?" My husband's like, "Really? That's what you're thinking about?" I'm like, "Yes, that's what I'm thinking about. I'm excited about the house but now we can have the treadmill."
"I'm decorating. What's the problem?"
"That's normal." We're a month away from closing on our house. We have a showroom at the mall here. My mom came down on Memorial Day weekend, so it was a few weeks before we closed. I was like, "We're going to the mall. I'm going to take the baby in a stroller." I'm like, "I should go to the store while I'm here." I was like, "The delivery is probably going to be a few months." Until I got home and I was like, "I might have ordered the tread today." He's like, "Are you kidding me?" I'm like, "The delivery is not going to be until July. It's good. It's fine."
Does he end up now using the tread since he's all focused on running?
Yes, that has been very useful, especially since we've had a ton of rain. That has been perfect for him because it's a lot of back roads and windy roads where we live. Now, where we used to live, it was very residential sidewalks and you could go out and run. Now, he will run here but it's like you're risking your life running out on these streets. He's more active on the tread and he loves it.
Mean streets in Pittsburgh. Take note.
Have you ever heard of the parking situation thing in Pittsburgh, the folding chairs? People put folding chairs to reserve their parking spots. It's a thing.
I thought he was joking.
It is real. I'll send you guys a picture the next time I see one. You drive by and you see a folding chair and like, "Don't move that chair. That's somebody's spot."
What happens if you move it? Are they going to come to get you?
Fight.
It would probably be bad. It would probably make the news.
I'm glad you told me this in case I'm ever in Pittsburgh because I'll get out and move anything. It's like if there's a curtain in that parking spot, I'll get out and move it.
You wouldn't think it's supposed to be there. You would think the wind blew it or whatever, but don't get me wrong. People are very nice here but don't mess with their chairs.
There's etiquette.
That's a local thing that everybody knows.
Especially in the winter when you shovel out a spot.
That's true.
You work hard for that parking spot.
Do people ever get their chairs confused?
Probably because I feel like they're all usually the cheap folding chairs. People don't use their nice chairs. There's no way to differentiate. Maybe they put their name in Sharpie on it.
Do you not have the wind in Pittsburgh?
We do but somehow, they stay in place. It's weird.
They were magnetized to the street. They have special holders.
I wonder if they do that in St. Louis City because we live in the city and park on the street a lot. We're in the suburbs and we have a driveway and a garage. We don't have to worry about that.
It's not an issue.
We learn something new every day. I got all distracted. I don't even know what we were talking about. How did we get here?
We were talking about Peloton.
He's running the New York City Marathon. What's going on with you? What are you working on now?
All I can think about and I'm losing sleep is how do I schedule a class at a studio? I don't know when. Is it two weeks in advance?
I heard it's now four weeks in advance but it doesn't officially open until August 19th, then they'll start posting classes four weeks in advance. There's still going to go like crazy.
I'm going to have to set my alarm at 3:00 in the morning or whatever.
It's like 24 hours.
From whatever the time of the class?
That's the way it used to be. I don't know if it's still will be but that's how it was before.
It's like trying to get a dinner reservation at Disney. I've heard though that what they're doing now to pick the bike you like, you put a lawn chair on it.
I have an advantage over everybody as long as there are no other Pittsburgh yinzers that are going to be there.
What's a yinzer?
That's the slang term for Pittsburgh people. I don't know the history of it.
We are learning a lot.
People like my in-laws have a very Pittsburgh accent and they'll say, "Yinzer didn't want to come over for dinner tonight." It means you all.
Here we say yous.
We do have that.
They're like super Pittsburgh. Anything that's down, instead of down and it dahn like dahn pan. That's very similar to the Boston accent but it has its own Pittsburgh flare.
That's fascinating.
It is. If you listen to real Pittsburgh people talk, it's like, "Wow." It is our own thing.
This is from the urban dictionary, "Yinzers are so called because they speak a regional dialect of American English feature in the use of Yinz or Yunz as the second person plural pronoun. Yinzers are the subject of a number of stereotypes, some of which they are actively proud of and consciously reinforced to strengthen their sense of identity. An example is their use of French fries as a condiment."
That's a thing too. Fries on everything. Fries on salad. Have you heard of Primanti Brothers?
No.
It was originally in the Strip District, which is now a very hip place to live. I lived there when I first moved here. The original one is there. It was a late-night sandwich place with a bar. It used to be that truckers would come through. The Strip District is a very industrial area where there are a lot of warehouses. That's where it started. It was this dive sandwich place where they would go in the middle of the night to get food and now it's huge. There are probably twenty of them. It's a chain now. There's one in Erie, where I'm from two hours away. Their signature thing is a sandwich with this thick Italian bread. You can get all different kinds of meats then they top it with fries and coleslaw. The sandwiches are like that. It's huge. You have to cut it in half.
I got to know how are you fitting that into a MetPro diet.
Sadly, I have not enjoyed many Primanti sandwiches. It's one of the sacrifices I had to make but it's all worth it.
I just heard carbs.
It's like 80% carbs, 10% fat, and 2% I don't know. It's all carbs and fat, no protein except a little bit of meat. They have these giant beer glasses the size of a cowboy boot. Those huge tall glasses.
It sounds like a lot of fun.
It's a lot of carbs and a lot of fun. You got a little list going now.
Don't look at the leaderboard. Just do the class. There's no way you won't feel better when you're done compared to how you felt when you started. You'll feel good. So just jump in, do it, and enjoy it.
Click To Tweet
I do. I'm going to watch for chairs. I might tip one over as we do in the Midwest like cows, tip thing. I'm kidding. I've never tipped cow. Chair tipping.
She's too tough to tip a cow. She went straight for bulls.
I'm going to have a cowboy boot full of beer and a carb sandwich.
I love it. That would be awesome.
It sounds good. That seems yummy.
It is very good. You can go without it.
You won't get yelled at.
If you get the fries on the side, everybody in the restaurant becomes silent. That's a big no-no.
It's like you would be Philadelphia if you get whatever without cheese or cheese whiz on it.
You're immediately ex-communicated from the city. You need to leave.
There are so many rules in all these cities.
It's a little stressful at first but once you live here, you get the hang of it. I'll help you guys out. I'll be there for you.
She's going to protect us. She's strong from all of her running and biking. She's very in shape.
She'll beat people away with a chair.
No yinzers are touching you guys.
This sounds fun. How did we get here again? You said you were working on going to the studio. How did we get there? It is going to be tough but you will have better luck doing it than people who live far away like myself because you don't have to plan a whole trip around it.
The marathon is on a Sunday. We're going the Friday before and we're saying through the following Thursday. I'm not going to try to do anything before the race because we're bringing our daughter. That's going to be super fun. She'll be eighteen months so it's going to be a lot of work. I might be working harder watching her than my husband will be running the marathon. We'll see. That's TBD.
It's a marathon that lasts eighteen years.
It's not ending anytime soon. I should get the medal, to be honest.
I have a kid turning eighteen in a week. When we get back from our cruise, he doesn't know that all his crap is on the front doorstep.
The cruise is the last hurrah.
"Surprise. You don't live here anymore." He's going to be like, "I'm just starting my senior year of high school." "You should have been born in a different time. A rule is a rule."
It's nice that you're giving him a cruise as his last hurrah.
It was only a sale so the third and fourth passengers are free.
You can't pass that up. That's understandable.
It's like a BOGO. We practically saved money by taking him.
He is doing you a favor. He should be thanking you.
We can't afford not to take him.
We did find out that he can drink alcohol on his 18th birthday.
We have to sign a waiver. I don't know that we're going to but it was interesting.
Is he onboard to that?
We haven't even told him.
It's the kind of thing that he would think was fun at the moment.
To say he did it.
He has tried alcohol in the past like a sip here and there. He's never enjoyed it.
That's all good. It's a good sign. We went on a cruise with my parents and my brother turned 21 on the cruise a couple of days after. He turned 21. We're four years apart, so I was 25 or I was going to be 25. Whatever the math. I can't do the math. I'm off work this week, so math is everything. He turned 21. I was a tight person. I was like, "Let's go." We were on the cruise, so it was fine.
I feel like it's relatively safe in the sense that you're not wandering the streets somewhere. You're in an enclosed space but things can still happen. I'm like, "We can do whatever we want tonight. Let's go get drinks." He's like, "All right." We had a couple of beers. He went to bed. On the cruise, they have ice cream. You can get ice cream 24/7. He's like, "I want a strawberry ice cream." I was like, "Who are you?"
You're wasting it.
"You want to lay in bed and eat ice cream?" I was like, "You're lame." On the last night of the cruise, I think he was having major regrets for not living it up. We befriended this bartender. We knew his schedule and we followed him around the ship every day. He became our friend. He was working at the clubs the last night. My brother was like, "Let's go and hang out with him at the bar." He started making Long Island and my brother had a Long Island. I was like, "Where did you even know about Long Island?" He's like, "I don't know. It sounds good." This guy knows he turned 21. He's swinging him all these Long Islands. I was like, "We have to disembark the next morning."
I was going to say this is an awful deal because they kick you off the boat at 6:00 AM.
He and I were in a room. My parents were in a room. They didn't know any of this was happening. They thought we were just hanging out. We get back to the room. I don't even know what time. It's something ridiculous. We get back and he's like, "I don't feel good." He ends up sleeping. He's 6'3″ or something. He's super tall. He managed to squeeze himself into that tiny little bathroom because he was sick all night. I'm getting him bottled water. I said, "I'm going to get more." He's like, "I feel terrible." The next morning he passes out on the floor and my mom is banging on the door. She's like, "Are you guys ready? Are you packed?" He's still sleeping on the floor. I'm like, "Yes, we're almost ready." She figured it out obviously once we opened the door. Stuff was everywhere. It was a total disaster.
She was like, "I don't know how he got seasick on the last night of the cruise."
I gave him Dramamine. I don't know what happened. It didn't kick in. My dad thought it was hilarious. He wasn't even mad, but my mom is. It was a long day after that when we went to the airport and all that stuff. There was a lot of coffee consumed.
I'm sure he loves that you're sharing this on the show.
I'm going to make sure he listens so he can relive that whole experience.
I've never been that drunk at sea. I'm not sure I would like it. I don't want to be that drunk at sea.
I never will be after witnessing that firsthand.
It is expensive to be that drunk at sea.
I think my dad knew that could happen, so he bought the package where it's not unlimited. You get so many drinks but it was unlimited. To drink all of them, you have to be like.
Your brother.
He's like, "My kids won't use this. There's no way."
You were like, "Challenge accepted." Long Islands are rough.
I probably never had one since. I'm sure.
I bet not. I can't. The smell of it. I'm sure. Getting back to Peloton. People are like, "What are you talking about?" Do you have a favorite instructor?
I joined the Power Zone Pack in the fall of 2021. I discovered them and I had never taken Power Zone rides. I did my FTP test one time and I was like, "I don't know what this means" and never used it. I was looking more into it. I'm like, "Maybe this would be fun." I found out about the Power Zone Pack and Angie and their challenges and all of that. I signed up for a challenge. I got put on a random team and I was hooked on Power Zone training after that. I still love regular rides but it's knowing like, "Go in zone three for this many minutes." That works so well with my brain.
You like the structure.
I love it and I love the challenges. I feel like it keeps me accountable like doing X number of rides a week. It's fun. It's competitive but not because you're not competing. You're on a team. That being said, Matt and Dennis are my faves. I love Matt. He's so cute. I love him and all the Power Zone instructors but Matt and Dennis are my two go-to for sure.
Who do you gravitate toward if you're not doing a Power Zone?
Robin was my original girl when I got the bike. We were pregnant at the same time. I'm like, "I can relate to her." I got her book and I read it to my daughter. I got the signed edition. I'm like, "Robin signed this even though she didn't sign it for me. It's still cool." I love her, her work ethic, her motivation style, her music, all of that. I would say she's one of my go-to. She, Olivia and Alex. If I've been lazy and I needed to get my butt kicked and work hard, then Alex, for sure.
That's awesome. Do you ever run on the treadmill?
I started running. We got it at the beginning of July. I did a half marathon in my hometown. In the little bit of time I had, we were busy moving. I didn't get to run. I pretty much train for my half marathon solely with Power Zone rides because that's how it worked out. I was like, "We'll see how this goes." I didn't care about my time. I was doing it for fun. I ended up finishing so much faster than I did last summer when I was newly postpartum, and I was happy I could even run at all four months postpartum. That was a big feat. I was amazed by, with very minimal running, how fast my pace was for me and how good I felt afterwards, which is great.
I did get to squeeze in a few runs before. I did Susie Chan and Marcel. They are great. I love them. I am off work, so I got to do them. I've been trying to do a live run or ride every day since I'm off and have the availability to do it. I did a live run with Matt. That was great. It's so fun. It's the same concept as the bike but I think maybe because it's a smaller community on the tread.
When you do a live ride, it's not nearly the same number of people as it is on a lot of rides on the bike. You're high-fiving and everybody is high-fiving you back. I feel like everybody is hyping each other up. For the most part, people do that on the bike but you get in some rides where I feel like I'll high-five people and no one will high-five me back. I'm like, "I'll be here."
I will say the Power Zone community is awesome with high-fiving. Every single Power Zone that I do, I feel like it's rare that I high-five someone and don't high-five me back. Everybody is very motivating and hyping each other up the whole time. That's always cool. When I go into a non-Power Zone ride and I have that expectation. I'm like, "Yes," then I'm like, "Oh okay."
I picture your face falling.
Does your husband get frustrated when you're using his tread?
It has worked out so far because he works from home. I workout after work. I get up at 5:30. I have to be at work by 6:30 and I work until 3:00. It works out. He'll workout in the middle of the day. He'll use it on his lunch break and I'll do it when I get home. I've tried time and time again to do it before work but I would have to get up at 4:00 or 4:30. I can't do it. I'm like, "Let's stop trying. Every couple of months, I get in. I'm like, "I'm going to go to bed at 8:00 and I'm going to get up at 4:00. I'm going to workout before work." It doesn't work for me. I envy the people that do it but I can't do that.
It's tough to get up early.
There's something about the hard line of 5:00. I can never get up before that. I don't know.
I was an ICU nurse then I went back to anesthesia school. I'm a nurse anesthetist. My program is two and a half years. When you're a student, you get up even earlier because you're expected to be there. You have to set up the OR. You get everything ready. You get there an hour before your CRNA gets there. I would get there at 4:30.
When you're doing your open-heart rotation., you can imagine a huge setup. There are tons of things to set up. I get there at 4:00 in the morning or something crazy. You would think like your body would get used to it because I've been doing it since 2015, but every day that alarm goes off, it's like the first time I've ever had to get up that early. I can't get used to it. It's rough.
She has access to the good stuff. Have we said what your leaderboard name is?
I don't think so but it's related to my job. It's Pushing Propofol. I was like trying so hard forever to think of a creative leaderboard name. I sit and envy all these people. I'm looking at the leaderboard. I'm like, It would be my first and last name." I was like, "I have to be able to think of something. One day, I think I was at work and I was like, "Propofol." I put it in a note on my iPhone then as soon as I was able to use my phone. I went on the app and I typed it in. I was like, "Please be available," and I hit enter it and it let me take it. All of my nerd cohorts understand that. Everybody is like, "I'm so jealous that you got with that. That's an awesome leaderboard name."
It is an awesome leaderboard name. It's good alliteration.
I was going to change it. I was going to do Pedaling Propofol but then I was like, "That sounds like I'm dealing it out of my trunk." I think because the lingo is like we push the drugs through the IV. People that do anesthesia work know what that means. That's why. It's like more jargony. Pedaling would have been good because it's a play on the bike but I was like, "No." Pedaling Propofol might still be available to anybody who wants it.
You didn't want people thinking that they could contact you to get the propofol.
I don't want another Michael Jackson scenario.
For a lot of reasons.
I'm still getting that question a lot from patients. Not quite as much anymore. It has gotten a little bit better but they hear the name of that drug and they panic.
That was the first thing I thought. I was like, "That's what Michael Jackson took."
I'm licensed to give the drug and give the anesthesia and monitor you while you're receiving it versus that scenario.
That person is taking it for a reason with an outcome that's specific.
Once I explained that, people are usually okay. Sometimes every once in a while, they're like, "Is that the Michael Jackson stuff?" I'm like, "Yes, technically."
It's like, "Hang on. Let me get my script."
I do. It's the same thing. I have it memorized.
She's got a script for her script. It's not the drug that's the problem. It was the doctor who kept writing the script for the drug that was the problem. Do you have any advice for people entering the world of Peloton?
I would say get on the bike if you're getting the bike or the tread. Find a twenty-minute class. I didn't mention him when I was talking about my favorite instructors but I also love Cody. He's amazing. I think he's good. I took him a couple of his rides in the very beginning. Not to say he doesn't have challenging rides but I think he's good for beginners because of his personality. If you've ever been on the bike, he makes you feel, "I can do this." That's something about him.
He's the spoon full of sugar that makes the medicine go down.
That's a great analogy. I would say get on and take a class. Don't hide all of the metrics. You probably want to see where your resistance is. I've had a lot of friends that have gotten them that have never done any type of spinning before. They're like, "I feel like I would be terrible." I'm like, "Just do it. Don't even think about what you're doing, how fast you're going, what the resistance is at. Don't look at the leaderboard, just do it. Do the class. There's no way you won't feel better when you're done compared to how you felt when you started. You'll feel good." Jump in and do it and enjoy it.
Good advice.
Thank you so much for joining us. We appreciate it.
Thank you for having me. This is a dream come true. I can't believe it.
You're so sweet.
You have to dream bigger.
That's true. Is there anything we didn't get to that you wanted to mention?
No, I think that was great. I was going with the flow.
Awesome.
—
I guess that brings this episode to a close. Until next time, where can people find you?
People can find me on Facebook at Facebook.com/crystaldokeefe. They can find me on Instagram, Twitter, and the Peloton leaderboard, celebrating my 800th ride.
You can find me on Twitter @RogerQBert or Facebook at Facebook.com/tomokeefe. You can find the show online on Facebook.com/TheClipOut. While you're there, like the page and join the group. Of course, don't forget our YouTube channel, YouTube.com/TheClipOut. That's it for this one. Thanks for tuning in. Until next time, keep pedaling and running.
Important Links
Love the show? Subscribe, rate, review, and share! https://theclipout.com/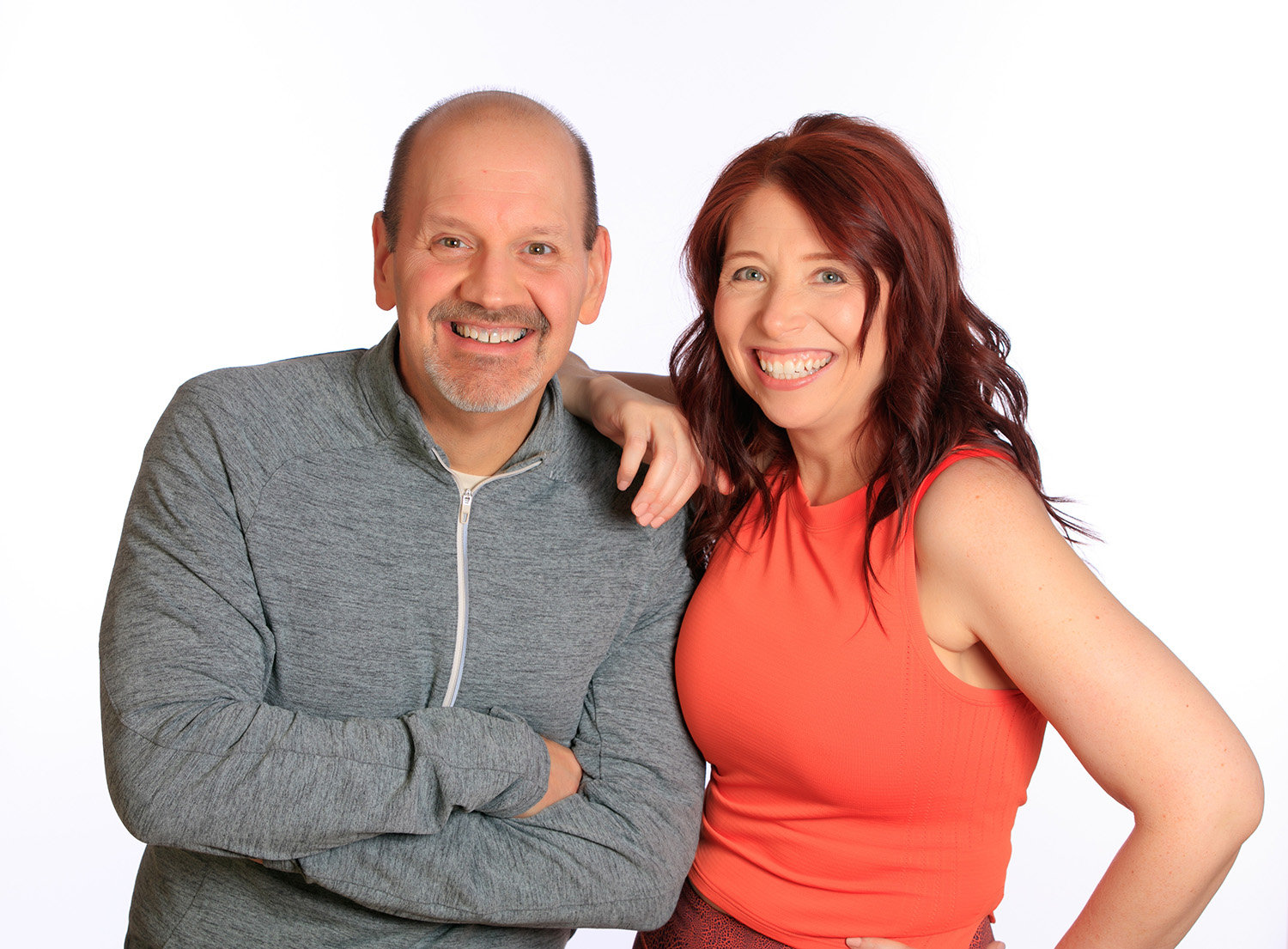 Subscribe
Keep up with all the Peloton news!