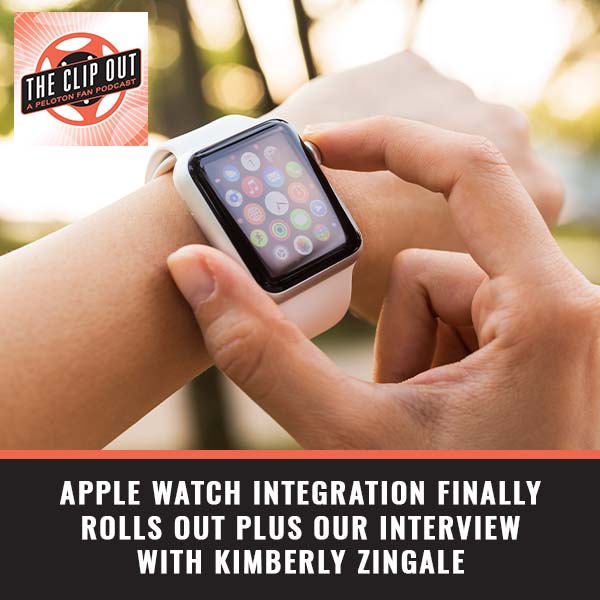 249: Apple Watch Integration Finally Rolls Out plus our interview with Kimberly Zingale

Apple Watch integration is rolling out.
All Classes 3/20-22 are now encore. What does that mean?
Peloton now has new class details displayed including muscle groups worked.
John Foley sends a company-wide email about a patent victory.
Foley sells his house in the Hamptons.
Peloton extends their free trial to 100-days.
Peloton offers a $300 discount on Bikes & Treads.
Fitness Flipped, Peloton's official podcast, debuts.
Video Week asks if Peloton will become a content company.
Architectural Digest sings the praises of Pelton Tread.
Peloton countersues NordicTrack.
John Mills joins us to discuss Peloton's attempts to block iFit's imports.
The Peloton class action wage-and-hour suit moves to federal court.
What does Verizon Plus Play mean for Peloton?
Dr. Jenn: How to get your motivation back.
 Robin Arzon becomes the first-ever brand ambassador for GSTQ.
Robin was on the Second Life podcast.
Tunde was featured in Ebony Magazine.
Olivia Amato's IG post for International Women's Day.
CyclingInspire.com

ranks the toughest Peloton instructors.

Angelo joins us to talk about how much protein you need while strength training.
The latest Artist Series spotlights Donna Summer.
We have past guest updates from Ali On The Run, Kim Holderness, and Eric Tostrud.
Jenn Sherman and Emma Lovewell have a Women's History Month Power Stack.
Nico Sarani has a 10-minute peace meditation.
Selena Samuela is wearing orange for National Kidney Month.
Are apparel sales just never NOT happening now?
Birthdays – Sam Yo (3/16), Peloton (3/17)
All this plus our interview with Kimberly Zingale!
—
Watch the episode here:
Listen to the podcast here:
Apple Watch Integration Finally Rolls Out plus our interview with Kimberly Zingale
We should say that we are going to be in Miami on March 24th. We've picked our locale. We've decided we're going to hit Monty's Coconut Grove.
This is our big get together.
There will be an event set up on that. I will post all the details in the Facebook group. If you live in the Miami area and would like to come to hang out, we would love to see you.
That would be a lot of fun. I would love to meet people in person.
What to pray tell do you have in store for people?
We're going to talk about Apple Watch. We are going to talk about encore-only classes. We are going to talk about the little guy front and back, and I will explain it.
The Superset listeners don't need an explanation. This little guy front and back is an example of what you're missing out on if you don't listen to the Superset, which is the Tonal version of The Clip Out.
This little guy front and back is about Peloton. There's a whole bunch of updates on lawsuits. There are so many. We're going to talk about Peloton's new podcast, Fitness Flipped. We're going to talk about all kinds of things that the instructors are up to. We have a visit from Dr. Jenn on how to get your motivation back. You probably need a little update on the motivation. We have a visit from Angelo at MetPro talking about how much protein you need while you're doing strength training. That one is for Mojo Mike. He knows who's who he is. We got our Artists Collaboration. We got a Past Guest Update. We got so many things.
That is multiple Past Guest Updates. Before we get to all that, shameless plugs, don't forget we're available on Apple Podcasts, Spotify, Google Podcasts, TuneIn, iHeart. Wherever you find a podcast, you can find us. While you're there, be sure and follow us so you never miss an episode. If you would be so kind, maybe leave a review so people that come along after you will know that we're worth checking out. You can also find us on Facebook, Facebook.com/TheClipOut. While you're there, like the page and join the group. You can start conversations better in the group. It's a way to stay up to date on things throughout the week or get tips on where we're going to be like we were talking.
You can submit questions for Dr. Jenn or Angelo. That's the best place to do it.
You can also sign up for our mailing list at theclipout.com where you will get all the links and everything sent to you in a nice and easy to digest digest. Finally, don't forget, you can watch all of these episodes on YouTube, YouTube.com/TheClipOut. That's all of that. Let's dig in. Shall we?
We shall.
—
At long last Apple Watch integration is upon us.
It finally paid off that I went Apple. We have been talking about this for months. We knew about this coming. Peloton Prophet visited us way back when and said that this is happening. For anybody who hasn't heard us talk about this ad nauseam, the deal is you can use this with any Peloton equipment. It appears to be easy to use with anything Peloton, except for Apple TV, but everything else it's working on like iPad or whatever. It's all happening. It's cool and it's super easy.
All you have to do is make sure that your Apple Watch and Peloton are connected, first of all. Once that happens, then you go to the equipment. You hit the little i where it says Peloton, Apple Watch. You click the button that says Heart Rate Monitor, then there's an i at the top right-hand corner. It says Peloton Apple Watch. You click that and it finds it. It says, "Go to your watch. Turn it on." You do that. You click the button and it connects. That's it. It closes your rings. It's very exciting.
One little quirk though is that you have to wear it on your ankle. People are going to wear it on their ankles for no reason. It was going to be funny.
No. The thing is there was a whole thing about Fitbit and people doing that a few years ago. Fitbit used to be all about tracking your steps. On the bike, it doesn't track your steps because it's on your wrist. People started wearing it on their ankles so they could win walk challenges. It always drove me crazy. I don't want to restart that all over again.
I didn't realize I was lumbering into an area of controversy.
There are a lot of controversies that have happened over the years. I've got them all filed away right here.
Yes, I know. Anyway, wear it on your ankle. That's the takeaway here.
Nope.
We also should talk about the fact that a lot of classes from March 20th through 22nd all of a sudden mysteriously have been flipped to encore. Everybody is on repeat.
Here are the theories that I've been hearing. We've got theory number one. It's some kind of holiday that none of us understands or observes. For example, people would put this under things like World Mental Health Day whenever everything went dark for a weekend, or over the Christmas holiday and things go silent. I negate this theory. I do not think that is true because they have never once done that three days in a row during the workweek. I do not think that's what this is.
Theory number two is it must be a big Peloton company-wide retreat. I say no to that one too. Here's my reasoning for that. They have no freaking money and if they are spending all that money to have a worldwide Peloton retreat for three days, that's very bad optics. For God's sake, Uncle Barry, don't do it. The third and I think the most reasonable is that the Guide will be released. We know it was supposed to happen in April or they are doing some kind of big shoot for all the content for it. Something is happening with a new product. Maybe not the Guide because that was supposed to be April.
It's foreign classes too.
It's both studios completely closed. That's why I don't think it's a company-wide retreat. It's also three days during the week. It starts on Sunday and then it's Monday and Tuesday. It's very odd timing.
I think they are all taking off work to see the Batman.
It is a ridiculously long movie so maybe. For anybody out there who loves Batman and disagrees, I don't care. It was too long.
If you would want more of my take, go to our latest episode of Reel Spoilers.
My take is not there so I will tell you here. It's too long.
We have new class detail description things stuff.
Whenever you go to the class and you look to see under the additional information for the class, it now breaks it up into how many movements there are during warm-up, how many during running, full-body, again to running and full body and running whenever there is a bootcamp. It goes back and forth.
You go to the next screen, and for anyone not looking at the screen, we're showing pictures of what the screens look like because not everybody has it yet. This only went out to a few people for whatever reason on the app. This is not on the computer. This is not on your bike. This is on the app. It breaks down the class and it says how much cardio you're doing on the machine and how much you're doing on the floor. It breaks down like the jog is 20%, walking is 5%, drill is 3%, transition is 0%. It shows that 71% of the class is running intervals. It was helpful to be able to see this.
Finally, you get the debut of the Peloton version of little guy front and back.
It's blue instead of green so I will give them that, but it's the same dude.
We should explain for non-Superset listeners that Tonal has been doing this for a long time now. It shows you which muscle area is a particular move focusing on.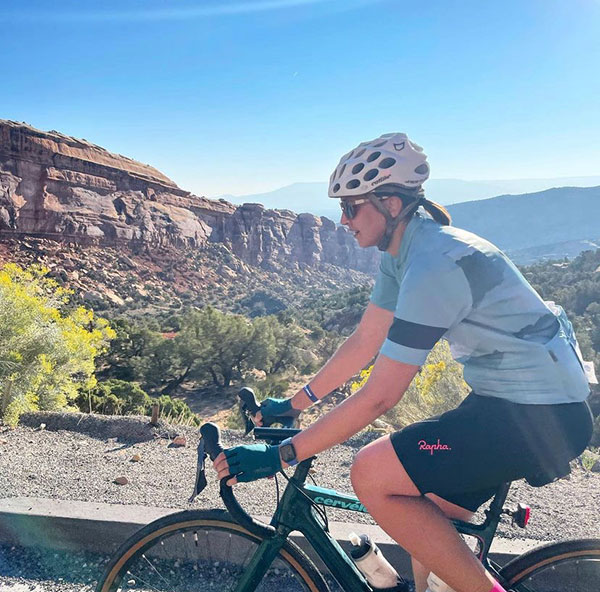 This is going to show like this is what the entire class has covered. Peloton did do it a little bit differently, so good for them. They have it broken down by muscle group percentage. The darker the color, the more time you spent on that body group. For example, this image shows hamstrings is 17%. You can see that the hamstrings and the quads, also 17%, are the darkest color. They are lit up. Calves go down to 16%. It's a little bit lighter. Glute is 14%. Core is 12%, which is much paler. They have others at 24%.
This will be helpful for people who are using this for strength classes. I also got a note from the Peloton Prophet that this new feature was designed for and is best used with the Guide. You will get feedback on your best and worst movements post-class. This data will also power recommendations for what strength classes to take next. There you go. That is the absolute newest information found nowhere else because we're the only ones that have it.
A harbinger of things to come. The important thing here is it's called little guy front and back. Let's lock that in. I've already staked my claim, little guy front back.
John Foley sent out a company-wide email. No, you're not listening to an old episode. People are instantly looking at their phones or their car stereos like, "What? Foley sent out an email?"
We thought why didn't Bear Bear send this out.
He's older. He might not have the email yet because he's still trying to figure out the email machine.
He's busy doing the rounds, making crabby comments. Maybe he's just busy. At any rate, Foley sent out this email and he said, "As you might know, we've been involved in ongoing litigation around the patented leaderboard technology."
You got to narrow that down.
I was. He says that their competitors have copied this technology and they have been defending their intellectual property for several years. We all know that. This was on March 3rd. The US Patent Office declared one of our earliest leaderboard patents to be valid, rejecting the challenges brought against it by some of our competitors. This ruling confirms that the leaderboard technology we invented, which powers our unique in-class experience has been formally recognized as the innovation it is.
Anyone who uses it in the way our patent details, which is important to note, is at risk of infringing our IP. Are we done? No, we're far from done because there's all this equipment out there that is using it. The interesting thing is the little note, "In the way our patent details." I only know this because one of our friendly patent lawyers sent me a very lengthy explanation of patent law. My eyes might have glazed, but he said it very well. Patent law can only interest me for so long. Basically, it's all about how a patent gets used not necessarily on what the content of it is. That seems to be a big key in this discussion. When it comes down to, is iFIT infringing? Is Echelon infringing? That's going to come down to, are they using it in the same way? How are they putting forth that information?
He sure seemed to think it was a big deal.
It is a big deal. It is a major milestone. It is just far from over.
It's still very fascinating that he sent out that email, especially in light of everything that's transpired over the last few weeks. He popped up and be like, "I did a thing."
I've got a lot of comments about this whenever I put that out there. The general consensus seems to be that it's because Foley was so integral in that discussion. It was his baby from the beginning. Because he always has been involved in this level of the patent that it made sense for him to send it out. Some people have agreed. They had some side side-eye.
While we're discussing Foley, the New York Post in a snarky headline referred to him as "Down on his luck Peloton founder."
For all of you out there who are saying, "Don't listen to the New York Post," there's a whole bunch of outlets reporting this. This just happened to be the first one. Apparently, it looks like it's true. It wasn't said very well. I will give you that. It is made to be an attention-grabbing headline.
We didn't actually say what the headline was. He is selling his Hamptons estate that he had purchased that everyone was apoplectic over when the stock dropped.
The timeline on that was he had a $4 million Hampton house. He sold it, then went and bought a $55 million Hampton mansion and then was told to leave Peloton. Now he's shopping that and it will be at a loss, apparently.
Anytime you sell a house that quickly, you're going to lose money.
There's a big difference between he's quietly shopping it and it's like for sale. It seems very dramatic.
It does but that's also what the New York Post does.
The theory is that he got a margin call on his stock shares.
That's conjecture but that's what people were bandying about.
No clue if that's true. I hope the Foleys are well.
Peloton is extending its free home trial from 30 to 100 days.
I've got so many things to say about this. People were telling me that there are actually people that during the summer, they will have one of these delivered to their summer home and then they will send it back. This is only going to make that worse. For whatever reason, it is only until 3:00 AM on March 22nd. It's not long. Maybe that's part of why it's not long. I don't know but they are pushing it hard on social media that you have 100 days.
Here's a shitty theory but a mean one. Did they extend the free trial period because they had a backlog of people wanting to send them back? They didn't have the manpower to go pick them up so they extended the trial period. It's just a dark douchebaggery of a theory that I'm throwing out there.
I have no reason to think that that is true.
They are also offering a $300 discount on bikes and treads.
This is fascinating because they sent out secret codes. When I say they sent out secret codes, what I mean is everybody who has an account. If you're an account owner, not an app person, like you have a bike or you have a tread, and you are the main account holder, you already have a code. This is in addition to that. They sent out five codes. You could forward it to five people, to each owner. If you send that code on, it's a $300 discount. That applies to either the Bike, the Bike+ or the Tread. I found that fascinating. They win around their own codes to give a bigger discount, but it's having a lot of success. People are copying it and talking about it like crazy. I've seen it posted like a bazillion times. People are very excited.
I guess it's working. At long last, the official Peloton podcast Fitness Flipped has been released.
The theme was stress and she had two guests, Helen Peterson and there is a comedian. Her Instagram name is Dope Queen Phoebes. I know it's Phoebe something. I don't remember. People were saying that she's funny. I haven't gotten a chance to listen to any of it other than what you played for me which was the beginning.
I thought it was interesting that this went from a Spotify original to now it's available on all platforms. There was also something interesting that was snuck by in the opening episode. She referred to it as the first season of Fitness Flipped, which leads me to believe that it will be weekly with a set of episodes, and then take a break, and then come back and do more.
We need to mention that it says right here, "It's our first ever podcast." As I said when we first talked about this, this is going to be all of the instructors that are over on Instagram. We're going to see one from Kendall. We're going to see one from Robin. There are going to be a bazillion of them. What they are going to do is have multiple seasons. It's like what they are doing on the bike for the Jess King experience or whatever. There are going to be tons of them. The other thing is if you like to do outdoor walks, you can listen to them in the Peloton app as an outdoor walk. There you go. That is listed under classes as a separate thing.
A website I've never heard of called VideoWeek.com had an article about will Peloton become a content company?
I thought this article was interesting because we discussed an article and a quote from Barry McCarthy that talked about, are we going to open up this API? Is it going to be more like open-source? I took that to be thinking about third parties giving information or perhaps advertising or perhaps adding on features to the bike. This version interpreted it to be content. They heard it as other companies could have fitness content on Peloton equipment, which I thought was very interesting because that never occurred to me.
Exercising with diabetes is a lot of trial and error.
Click To Tweet
They hope that it doesn't because if it does, then people who love Peloton are now going to be frustrated because now they're going to have to hunt for quality content. One of the things that's brilliant about Peloton is that you hop on and even if it's an instructor that's not your favorite or it's not somebody that you gel with, you know you're getting a quality workout. You know you're going to have a good workout.
I have a hard time believing that they are going to let other people come in and put content on their platform.
I agree. I thought it was an interesting thought because it was totally different from my interpretation. I thought it was worth mentioning because, at this point, I keep telling people this. I knew Peloton and how they ran things because there were people who understood how they thought they are running the company that is no more. Now there is a bunch of people I do not understand. I don't necessarily agree with or think the way they do. Therefore, anything could happen.
I could see somebody short-term being like, "Somebody wants to pay us a bunch of money."
It would be a terrible idea. I thought it was fascinating.
Architectural Digest has an article about thirteen self-care and wellness products designers swear by. These are ways to make the homes and offices you're designing look even cooler and more trendy. One of the things they have on the list is a Peloton tread.
I love it. It's yet another way to get clicks. That is all this is. Why else do we need to know what architect designers swear by? Who cares?
If you read an Architectural Digest, that's something you care about.
I think I would go to fitness people, in general, to find out what they think is best.
They are not critiquing the treadmill on its effectiveness. They're critiquing it on its design and impact visually in a design setting.
I heard that differently. That's interesting. This is why I include things because that's not the way I heard it.
They are saying, "If you want this new apartment you designed to look super cool, don't just put in a treadmill. Put in a Peloton treadmill."
That's not what I hear.
That's how I took it because it's Architectural Digest.
I don't know if you read the quote, it says nothing about that. This is like when you reveal movies and you're not supposed to tell the story for them. I think you wrote in a whole extra story.
That's the whole purpose of this thing. They're trying to create spaces that are aspirational like when you have someone stage your home.
—
Law360 is reporting that Peloton countersues saying NordicTrack is the IP thief. I had some legal research when I was in college and this falls under the legal precedent, setting the case of I'm a rubber and your a glue.
No. I know we can't read this whole article but you don't need to because of the general gist. It relates back to what we were talking about. There's this constant thing of going back and forth about IP. It will be interesting, but they are specifically asking the US International Trade Commission to block the rival stationary bikes, treadmills and rowers because of those alleged patent violations.
Do you think this is a result of the email Foley sent that we discussed earlier? That email comes out on March 3rd, and this article is from March 4th.
That's exactly what I'm saying.
Good timing. They move quickly.
Yes, they do.
—
Getting stronger is hard work, but that doesn't mean it can't be fun.
FightCamp is the perfect way to blur the line between fitness and having fun, gaming specifically.
FightCamp brings the best workout in the world into your home and makes it fun. You can learn to box and kickbox from home with access to world-class programming, elite trainers, premium equipment, and smart technology that turns your workout into an interactive experience. Most importantly, you get to punch stuff.
That is my favorite part. Also, it is a full-body workout. Boxing is combined with plyometric workouts. It brings the best of both cardio and strength training into one. It gives you an intense full-body workout and we promise, you will be sore.
FightCamp comes with all the gear you need to start boxing from home, including a free-standing punching bag, boxing gloves, quick hand wraps, and smart punch trackers. It takes up less space than you think. If you have enough room to do a push-up, you have enough room for a FightCamp.
FightCamp is also one of the only home workouts that are safe for kids to do because there are no heavy weights or spinning wheels. You can get the whole family involved. FightCamp offers easy payments so you can get your equipment and get started. Pay over 24 months for less than the cost of a gym membership.
Plus FightCamp offers free shipping with a 30-day money-back guarantee, just go to FightCamp.com/clip.
—
Joining us once again is John Mills. How is it going?
What's going on?
I love that energy. Freshly pressed grandpa shark shirt. You're all ready to go.
I'm down 20 pounds.
I saw your post about that. That's exciting.
I know it for a long time that if I could get down to 190, that's the point where my blood pressure medicine goes away. I have had that for years. I will always drop down to 195, and then I will go up to 220, then I will get down to 198, then I go back up.
It sounds like you're a foot taller.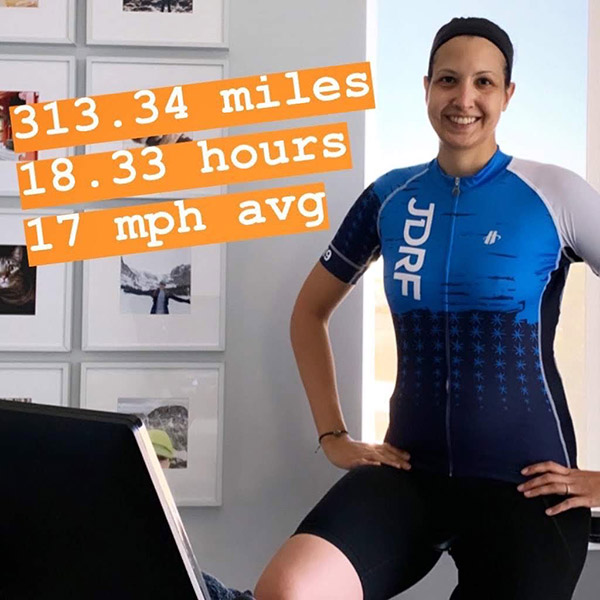 You need the goal to be 180 instead of 190. That's what you need.
This is the first time that Erica was like, "You know what? I'm tired of hearing this. It's crazy. We're doing it." Now, Erica is like, "Don't eat that, drink this. Don't drink that. Don't eat right now. Go workout."
I love Erica. I feel like Erica and I have a lot in common when you talk about how she addresses you're doing this. She is a born project manager. You need to let her know.
I'm down to 198, so I'm 8 pounds away. She said the same thing as you, "You thought the goal was 190. We're going to 185." That's what she told me.
Get yourself a little wiggle room.
If you stop at 190, it's like, "He did it."
I'm like, "What now?"
When Crystal started working for MetPro, I was like, "Please, dear God, don't make her my coach."
Right back at you. I said, "Please do not make Tom my client. All he eats is tomato sauce and naked chicken tenders.
We should dig into the topics proper. You find an interesting story. Peloton counters iFIT and asks the trade agency to block imports.
We mentioned this very briefly earlier. John, what are your thoughts on this?
This is like a tug of war because back in January iFIT asked the same thing. There was some type of upholding of a particular patent of iFIT on January 31st. I don't remember the details of that. It has something to do with a patent that allowed for moving from riding to lifting.
It has something to do with weights on the bike because you were like, "Does that mean we've all been infringing?"
It was a combination of that barre and OG classes telling you, "It's not a lift weight now." The fact that you had weights and that the screen could turn if you got off the bike, a combination of all those things was in this patent. In late January, the court ruled that Peloton didn't intentionally infringe. Back then I thought that was a win. When you reread it, they didn't say they didn't infringe. They said they didn't intentionally. On February 2nd, iFIT goes to the International Trade Commission and says, "Stop Peloton from importing any of these Bike+." Nothing came of that until a few days ago. The International Trade Commission now is probing. They are actually probing to say, "Maybe we should stop Peloton." This is a similar thing a few days ago.
It was on March 3rd that Peloton got their patent upheld.
That was about the leaderboard. That was relative to Echelon challenging the patent.
I thought it was NordicTrack and iFIT as well.
I know they are a part of it but the particular challenge came directly from Echelon. The courts went, "Although Echelon presented a strong case. The success of Peloton was clearly based on this leaderboard so w we're upholding that patent." The very next day you see this. It's the same thing as what iFIT did back on January 31st. The next day, they asked the Trade Commission to stop imports. Peloton did the same thing. They got that patent upheld for their leaderboard. The very next day, they go to the Trade Commission and say, "If our leaderboard is ours, then stop iFit from importing any bikes." The exact same thing happened. I find it fascinating.
Do we have any idea how long it takes them to rule on something like this?
I have no clue. I know it took a month before the Trade Commission decided to then probe it. iFIT asked on February 2nd, and then it wasn't until a few days ago that they said, "We will probe it." Peloton is asking now, so I'm assuming in April, they will try to determine whether they should stop iFIT from importing these.
Wouldn't it be funny if the solution was like, "iFIT, you can't import any bikes because of the league leaderboard. Peloton, you can't import any bikes because of the weights." That's King Solomon, "We will cut the baby in half."
I'm looking at this and I'm like, "Is our tax dollars paying for all this? This is crazy."
It is. That's every lawsuit ever done.
This whole thing is wild. I agree with you. That would be the perfect outcome. No one can import a bike. No one gets the bike.
All of a sudden Peloton is like, "Ohio, we would like that factory back please."
Ohio would be like, "No, thank you."
While we're talking about lawsuits, another one to take a gander out here, there was the wage and hour class action lawsuit. Peloton actually requested that they make a Federal case out of it.
They make no Federal case out of this. I thought that was the same.
Peloton wanted to make a Federal case out of it, and then they got their way. Right, John?
Yeah. It was like an individual in California. There was a sales rep or something. They were let go then they filed suit. The claim is saying delayed in getting wages post-employment. There were inconsistencies in statements. They weren't allowed breaks in lunches or something and were paid for them. It was a bunch of stuff in that, but it became a class action. It wasn't just this individual in California. These people that are part of the class action now go beyond California. They are in other states. It's their sales reps in other states. Peloton requested that this come out of the California courts and become a Federal suit. I don't know why they want it to be a Federal suit.
I have a theory.
I have a theory too. Let's see if they are the same.
My theory is that California is very free. They are strict with companies, but they are open with people. They are going to be more pro-workers. Delaware, which is where Peloton is, is more pro-company and less pro-workers. Federal overall is probably going to weigh more heavily towards pro Peloton versus pro-workers. That is my theory.
That makes a lot of sense. That probably is right. I was lost.
My theory, which could run parallel to this, is that it's easier to fight one lawsuit at the Federal level than in 30 different states. They would rather have one ruling and be like, "This is what we're doing," and be done with it, rather than having to keep going state by state having battles.
That's a good point too.
When you're diagnosed with diabetes, you create food plans for yourself.
Click To Tweet
It sounds like Peloton, in this request to make it a Federal case, which got approved. It's now a Federal case, did some estimates on what their exposure is. It seemed like it was a little over $6 million. I thought it was going to be more than that.
It sounds like a rounding error.
Is it $6 million or 6 million people?
It's $6 million. I thought, "Is that what we're talking about?"
I would think at this level like your legal fees are probably more than that. It seems like it's easier to be like, "$6 million. Okay, fine. That's a speeding ticket." That's like Foley's old house at the Hampton.
That's the one before he bought the one that he's selling now.
We should probably also talk about Verizon is launching Plus Play, a streaming aggregation hub. It has added Netflix and more as partners.
Explain this to me because I hear so many words. I don't even know what they are telling me.
Erica had to explain it to me. When they put the term bundle here, that's what has thrown me completely. Erica goes, "Verizon is saying that they launched this Plus Play thing where you have this aggregation hub." She's like, "John, that's the same thing we already have with Comcast Xfinity X1. The cable company provides apps with your cable box like the Netflix app, the Hulu app, and the Discovery+ app. They have all these apps. You turn on your cable box and you could look for those apps. You may not have a service with that.
We don't have that.
We do, at the bottom of our TV. Our TV has an aggregation hub but not Charter.
This is Missouri so we still have to pay extra for the color.
That's some serious old-school.
We still have the satellite dish the size of a house in our backyard.
It's a part of the cable box. Even if you didn't have that service, you could click on it and you can sign up right there from within your cable box. Comcast Xfinity has that. I guess Verizon didn't. In Erica's mind, Verizon is saying, "We're going to offer the same thing that Comcast offers in their areas of cable TV. If you have that cable service right from your cable box, you're going to have these apps. The interesting thing about it now is Peloton will be one of those apps on Verizon cable. It's not on Comcast, probably not on Charter.
I bet it will be on Charter eventually because a Charter uses all the same lines as Verizon. For mobile, they do that. Maybe not for TV, but that's fascinating.
That's what this is all about. It's simply Verizon is going to create that same product that these other cable companies already have. Peloton is going to be on that platform. To your point, smart TVs have this in them already. You might have a smart streaming media box like Roku. They already have this as well. There are all these layers where you could already get to some of these things, which I don't know if this is that valuable.
Does Verizon have its own cable television offerings? Who's using this? I don't understand where you use this from.
Could it be on your phone? I don't know. I've never heard of Verizon cable. There might be. I'm not saying there isn't because so much of that is local. There's usually a section of the country that has that.
They have monopolies within different regions.
It might be that we don't know about it.
It might be on these devices, their phones or these tablets.
Kids consume stuff from their mobile devices, not from a TV. Maybe it is. I have no idea.
Maybe it's trying to get into the next generation as they go to college and graduate, they're like, "It's in my phone. I don't need it."
This concept of bundling thought is what threw me. It's not bundling. They are not charging anything less. You're still going to bill all these different people. You're not going to get one bill. It's one location where you could get to the application.
I am glad that Erica could make sense of that mess. Thank you, Erica.
I was sitting there and I'm like, "I don't know what this is." She pulled that Uncle Barry on me. She's like, "You don't know how to do this. I'll show you how to do this."
"If you dropped the ball on the end zone, you're out."
From Uncle Barry to Aunt Erica.
Do not let her listen to this episode.
She's like, "I'm not spending more time listening to John." Here's how I know. Honey, what was the last episode of Reel Spoilers you've listened to?
It's been a while.
I was joking. We're on almost 700. You're safe, John. She will never hear this. You could go on about what you're getting her for her birthday. She would have no idea. You are safe as a kitten. John, thank you so much for joining us. Until next time, where can people find you?
They can find me on my Facebook page or group, Run, Lift and Live. They can find me on Instagram @RunLiftAndLive. They can find me on TikTok Run, Lift and Live, or they can find me at RunLiftAndLive.com.
Thank you.
—
Robin Arzon will be the first-ever brand ambassador for GSTQ. Someone tell me what that is.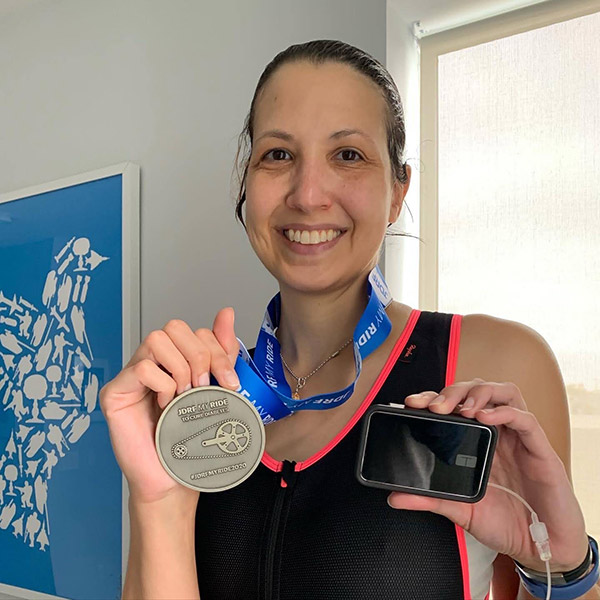 It's a brand by Dany Garcia.
Please tell me who that is.
Dany is a trailblazer in the Latinx community. She's an entrepreneur and athlete, and a force to be reckoned with in fashion. She's got all these things going. She's running her own business. She's an athlete. She also makes fashion. Her values and Robin's values aligned so they made a partnership. It's taking fashionable pieces, but they are also for sportswear flexibility and a little bit of streetwear swagger. That is what GSTQ is all about. Robin is going to be their spokesperson.
It's about fashion which explains why I am completely unaware of it.
It does and myself too. The latest collection is online at GSTQ Soho. This ad is fun. It's showing Robin and Drew having a good old time with their daughter. She's also showing off all of the clothing. It's natural but also shows the clothing well and what it is doing. It's a good ad. Peloton might want to take a look.
I liked their Fitness Flipped ad.
That was funny. That was good.
While we were speaking about Robin, she was on the podcast Who What Wear.
The title is How bestselling author and Peloton head trainer Robin Arzon is transforming lives. You can hear all about that.
Tunde was featured in EBONY Magazine as part of International Women's Day.
This whole thing was about how she's continuing to push boundaries, but it was about the podcast that dropped. It was a lot of information that people have already heard, but it's very cool to be featured in EBONY Magazine.
Olivia Amato had a post.
She is an ambassador for the Puma brand. This ad was all about International Women's Day for all the different Puma athletes and Olivia Amato was featured in it. That's pretty cool.
Cycling Inspire had an interesting article, the six toughest Peloton instructors ranked by difficulty.
I disagree with this. Ally Love should not be on this list. She is not one of the toughest instructors. Matt Wilpers, yes, absolutely. I get that. Kendall, absolutely. Alex Toussaint, absolutely. Olivia. Yes and also she cannot stay still. Ben Alldis, yes.
Although for the Olivia one, if you're going to be like, "This is the toughest instructor you can find," it's maybe not a picture of her wearing kitty ears.
They then have the strength instructors. Where they got this from was how they were rated on the Peloton app. It's not the article's fault. They're getting the information. I just disagree that Ally's classes are harder. There are so many instructors that I would call harder than Ally. All the instructors have tough classes. When you say the toughest, are you talking about two points or 0.2 of a whole point? It's not that much of a difference. They are all tough classes. You're going to get a good workout.
—
Joining us once again is Dr. Jenn Mann, licensed marriage, family and child therapist, and Sports Psychology consultant. She was a five-year national team member in rhythmic gymnastics and does Sports Psychology for USA gymnastics. It's Dr. Jenn.
Hello.
You can tell we're past the new year's resolutions. We've got a couple of folks here that need some motivation help. Daniel Maladi says he needs help getting back into it. Stephanie Anne says she's struggling big time with motivation lately. She says she doesn't know if it's this never-ending pandemic and a bunch of frustrating injuries, or if it's working like a maniac. By the time she gets home, she's eating dinner at 9:30 PM and then beating herself up for not working out. I've been there. It's terrible. Help.
There are a few things. First of all, one thing that jumps out at me is that I have a feeling that Stephanie may be having expectations of herself and poor scheduling that make it impossible to meet her goals. If you're coming home that late and you're having dinner late, the last thing I didn't feel like doing at 9:30 if you're just finishing dinner is to get on the bike. That's not going to happen. To even expect that of yourself is not fair.
It's going to be important for someone like Stephanie to create a plan that is conducive to the reality of her life. Notice I say the reality of her life, not what she wishes her life was, not what she hopes it would be, not what's in her dreams but actually, "I get home from work and I'm starving. I need to eat and it takes a while to prepare dinner, and then I'm not done until 9:30." That's not a good time for you to expect yourself to get on the tread and run. Nobody wants to work out on a full stomach.
You can do a Shavasana yoga class on a full stomach, but anything more than that, not so much. What she needs to do is to look at lunchtime, do I have a break where I could put on sneakers and go for a walk? Is that realistic to get in a 20-minute or a 30-minute walk? Even if it's not the 60-minute run or the bootcamp class that you hope you'd be doing, and then maybe save some of the harder workouts for the weekend. Maybe the goal isn't to do it every day. If you want to get your checkmark, then maybe you do your Shavasana yoga class and get your checkmark. You save your harder workouts for the weekend and do more maintenance-oriented stuff like a walk, a chair yoga class at the office, and things that you can do during breaks at work. That makes more sense.
I think Daniel has lost his motivation. You hear the instructors and Robin, in particular, talk about what is the why? What is the motivation? It's time for Daniel to re-evaluate his why because his why is not motivating him anymore. A lot of people get stuck on the why that they want to look a certain way or weigh a certain number. To me, that is always a mistake. We can't control how our bodies respond to exercise. We can't control how our bodies respond to our changes. What we can control is what we do and what the process is. Making goals that are process-oriented instead of end-result oriented can be very helpful. Also, you've heard me talk a lot about one of my whys is I want to live a long time. I want to be able to dance at my grandchildren's wedding. When I start to feel like I'm tired. I'll go, "Okay, longevity. Let's start."
The other thing is starting tends to be the hardest part. Set up your life so it's conducive to starting. For example, I put out my exercise clothes every night before I go to sleep. What I can do is if I don't do that, I will stand in my closet for twenty minutes. What am I in the mood to wear? How many tights do I need for this workout? Before I know it, I already missed my window of opportunity to workout. There it goes. I got to go see clients. I have everything set up like I have my shoes in the gym. I've got my towels in the gym. I've got my clothes sitting out. I've got my water waiting in the refrigerator. If you have it set up so it makes it easier for you to do it and start, that's going to work in your favor.
One of the things that keeps me motivated is I will look on The Clip Out. Sometimes you guys will post a workout that I'm like, "That one looks fun." I will screenshot it and I'd be like, "I got to put that one on the agenda," or other Peloton people that I follow who post their workouts. If I see a suggestion, sometimes it gives me that extra excitement of like, "I can't wait to get on the tread because I want to try out that class." That's another good way to get yourself moving. He needs to re-evaluate his why and come up with something different to help him to be motivated.
Last but not least is sometimes people end up not keeping that new year's resolution or that commitment because they have overdone it. It sounds like Stephanie has overdone it. She mentioned in her list that she is getting injured. When I hear injury, to me it's a red flag for are you overdoing it? Secondly, have you come up with an exercise plan that is well balanced enough to avoid injury. Clearly, she has it. The other thing I would recommend to Stephanie is to do a consultation with someone who is certified in personal training like Crystal to find out what should she be doing?
For example, I have a hip injury. If I want to avoid being in pain, the best thing that I could do is Hannah Corbin's foam roll. Her glutes foam roll is like the thing for me. Afterwards, a stretch. I love Chelsea's five-minute pigeon class. It's one of my absolute favorites. That will help me prevent that injury that can come back pretty easily for me. Stephanie needs to look at what does she need to do for injury prevention. Is she training too hard? Is she not having a balanced enough regimen where she is hurting herself in overdeveloping some muscles and under developing others, and then compensating and getting injured?
That's excellent advice as always.
Thank you so much for joining us. Until next time, where can people find you?
You can find me on all social media @DrJennMann. I post all of my Peloton workouts on my Insta Stories.
Thank you.
—
Another week. Another artist collaboration. This time it's with Donna Summer.
I'm excited about this one, although one of the cycling classes that was going to be happening got canceled because of the snow in New York. I'm sure that they will reschedule it. This is going to be a fun one. People are super stoked about it. We're going to have classes with Ross Rayburn, Matty Maggiacomo, Rebecca Kennedy, Cody Rigsby, Leanne Hainsby and Jon Hosking.
It was not your last chance.
—
Joining us again is Angelo from MetPro. How is it going?
Nothing is the same with diabetes day after day because it literally affects everything.
Click To Tweet
It's great to see you again.
Crystal will dig into the bag of questions that have been solicited from the listeners.
Mojo Mike Rockwell says, "How much protein does someone who is doing strength exercise to build muscle need? Is there a specific time when it's best to add products like a protein shake such as before or after workouts?" He is a vegetarian and his husband is vegan and he wants to make sure they are getting enough.
It's a great question that gets asked to me all the time. I would love to tackle that one. I'm going to give you a little bit of background on this. How much protein does someone need? The framework is trying to build muscles. The answer is definitively it depends. Here's what it depends on. First of all, you're going to get conflicting comments and answers depending on what media outlets, magazines or material you're reading that recommend how much protein you need.
I'm not taking sides here. I'm just giving an appraisal, spreading it out and looking at it. If you go to the more technical or the scientific community that has done double-blind studies and tests, they are going to say within the orbit of this number. You're going to need 0.7 grams per pound of lean mass that you currently have. Maybe a little more to then grow into a few more pounds of lean mass. I'm going to come back to the big caveat on that and then the other number that you have.
If you go down to the bodybuilders' magazines and the sports magazine with a picture of the 300-pound behemoth on the front flexing, you could get any number of responses. It could range from similar but you actually would want to have about 1.5 or even 2 grams per pound of mass total body weight. Why the discrepancy?
This is the disclaimer I'm going to give my opinion. When you ask them, they're going to say serious lifters. That's just for serious lifters. I'm going to decode that. If you're taking enhancement substances, you can utilize more protein. For a lot of serious lifters, that's their reasoning or thinking. For the bodybuilding industry, we know that a lot, not all, use substances that aid them in anabolism. They can actually utilize more protein.
Do you mean approved substance to help them?
He's not saying steroids. He's saying protein supplements.
No, I'm saying steroids.
I'm glad we cleared that.
Not everybody who's taking steroids or of that ilk is in the back alley doing a drug deal. You can get prescribed as well. There is that and stop it if you are because you don't know what you're putting is dangerous. There are a lot of people that are getting prescribed and under those circumstances, their body can uptake more. All of that to say, for our average people, your body can't use that. You're not taking steroids. You're not taking anabolic agents. Steroids are a big class of anabolic agents. You're not taking that. You're not going to be able to use the upper end of those recommendations.
Sliding back to the 0.7 grams. I say this has nothing to do with the individuals that are taking enhancements, steroids, etc. Why do some people say, "I need more protein?" That's because more protein doesn't necessarily hurt you. It is sometimes the better of the options. I emphasize sometimes. Here's how it actually works.
Carbohydrates are protein sparing. How much protein do you need to build muscle can only be answered when considering how many total calories you're getting and if you're getting enough or extra carbohydrates. If you're getting plenty of calories and plenty of carbohydrates, your body, even with a small amount of protein, it is surprising how well someone can actually put on muscle even with minimal amounts of protein. The issue comes when people don't want to eat a bunch of extra carbohydrates, a bunch of extra calories in total. They want just enough to maintain a lean body mass. They want to make sure that they are using an optimizing protein, which is why sometimes they will go with a little bit more.
Your body can convert protein into energy through a process called gluconeogenesis. It has to take an extra step. With carbohydrates, it doesn't have to take as many steps. It's a more readily available fuel source, but when pressed your body can take that extra step and switch over to using essentially converting protein into usable energy.
Some people will reason I'm going to give myself a little extra protein so that way when some get chewed up, then I still have enough leftover to build lean mass. Now I'm going to tell you the down and dirty answer for you, Mike. The answer for you is if you are trying to gain weight, make sure you're getting a reasonable amount of protein, but what you want to increase is total calories and increase your carbohydrates. That's going to be the number one way for you to add muscle. Make sure that your protein isn't low.
Usually, when people are asking me that question, they're trying to figure out, "Do I need to be between 0.7 grams or 2 grams per pound of body fat?"Make sure you're at least getting a good start. It is that 0.7, which is where the research is indicating and then decide if you need to go up from there. If you're already at that 0.7 and your goal is not to lose weight. You want to gain more weight. I would add carbohydrates and calories first. Once you've already added more carbs and calories. If you want to go back and add in a little more protein to that, that's fine.
The reason there's so much confusion is because most people are trying to determine how much protein I need in the framework of weight loss. Now your protein needs are actually higher per pound because you don't have any leftover resources for energy. You need to make sure your protein is adequate so that you don't start breaking down your own muscle to have the raw materials needed for energy.
The vegetarian question, Mike, has no bearing on it. It's either you're not getting enough protein or you are getting enough protein. The question for you is sourcing that protein and I'm sure you're acquainted with lots of great vegan or vegetarian or plant-based options to get protein. You want to make sure those same rules apply. For my plant-based dieters, I'm a big fan of vegan protein powders. That's what I take. I use a vegan protein powder in the mornings.
Do all vegan protein powders have carbs in them?
Most do. Even most straight protein powders have some carbs. With the vegan protein powders. Usually, they have a few grams more, but you can absolutely find ones that are still very low in carbs. If you're getting 30 grams of protein and you're getting 6, 7, 8 grams of carbs, that's a pretty good ratio if your intent is to get mostly protein. That's still acceptable. In those scenarios, adding a little bit of protein throughout the day via supplementation is more of a convenience tool. It's not that you have to do that if you want to build muscle. It's that you don't want to live in the kitchen and constantly prepare and carry stuff with you. It's a great way of getting easy protein throughout the day.
The last asterisk that you've slipped in that question, Mike, had to do with the anabolic window. In other words, should I be eating protein post-workout? There's nothing wrong with that. The scientists and the researchers have essentially disproven the anabolic window. Unless you're talking about coming off of a fasting state, then in most cases, it is not as critical as we once thought that you get that protein in immediately within 30 or 45 minutes of working out. What's more important is that your total spread out throughout the day meet what your body needs.
I will tell you, as someone very interested in my client's ability to build muscle, meal frequency is huge. You should be getting your protein within about an hour of your workout because if you work out for an hour and you didn't eat right before your last workout, that means that an hour after your workout, you're already about three hours since your last meal. You should always be eating regularly throughout the day to optimize muscle development. I can absolutely see the difference between my clients who are trying to put muscle on eating 5, 6 or 7 times a day versus my clients trying to put muscle on eating 2 or 3 times a day. By virtue of a meal coming around the horn, get the protein.
Thank you so much. Those were very informative.
Congrats, Mike, you got a whole consult.
If people would like information like this tailored for their fitness goals, where can they find you?
—
We have a whole bunch of past guests updates. Let's start with Ali On The Run.
She announced her 2022 racing announcing schedules. She's going to be at the New York Half on 3/20. She's going to be in the Cheap Marathon in New Hampshire on 4/10, Track Night in New York City on 5/20, Bayshore Marathon on 5/28, Brewery Chase Relay on 6/18, the Wine Shine Half on 7/16, and the New Hampshire 10 Miler on 8/27. She's got a very full announcement schedule. There's more, New Hampshire Trick or Trot on 10/30, and the Santa Claus Shuffle in New Hampshire on 12/3. Those are so many funds hunting races.
I liked the name Trick or Trot. The marketing guy in me says, "Hats off. Well done." For the next past guest update that we have for you, we should warn you.
Spoiler alert, if you watch The Amazing Race, get out of here.
Kim Holderness and her husband were on The Amazing Race.
Kim Holderness was a guest on the show. That's why it's the past guest update. They won the latest season of The Amazing Race. How cool is that?
I'm glad we have already had her on because we'll never get her now.
She had won The Amazing Race. She'd be like, "Who are you?" Their videos are so fun. I like them. I love the Peloton ones.
Finally, past guest Eric Tostrud, you might remember him because he does his annual event Peloton for Parkinson's. It is coming up.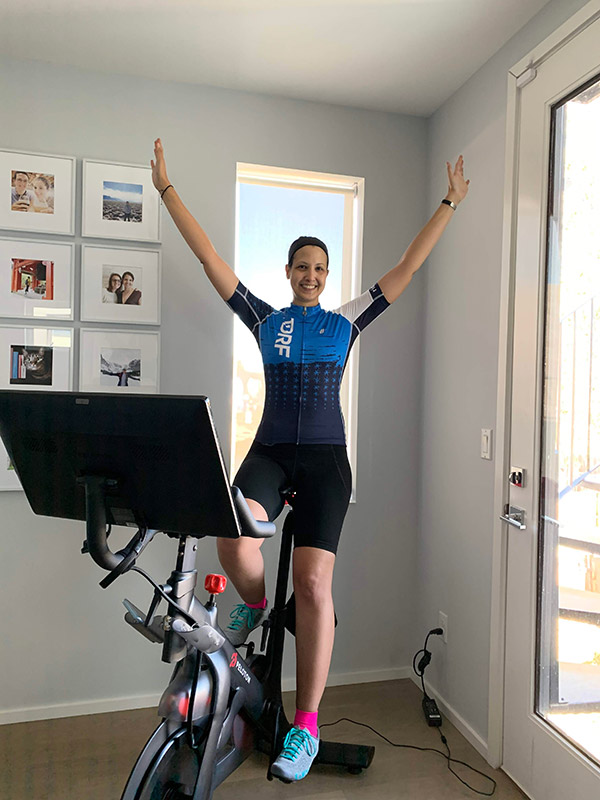 We did a full interview with Eric in 2021. We also were sponsors of Peloton for Parkinson's in 2021, and we are proud to be sponsors again. This is the seventh year of the event. He started back in 2016 to honor his mom and they have raised almost $200,000. The proceeds in donations go to the Michael J. Fox Foundation. They're going to be livestreaming eleven classes and rides on the Zoom from the Hudson. They will also be riding all of the live Peloton rides that day. Registration is $45 and you get a t-shirt. I believe it's April 30th, 2022. There are 33 people that are going to be riding all day from 5:00 AM to 7:00 PM. There are 100 people registered live and in-person and virtually. How cool is that?
—
If you can't get enough of International Women's History month, day, week events. I can't keep it all straight.
Peloton is doing a lot of classes. It's interesting because this is the first time they've done this. They are calling them Power Stacks. For Black History Month, there is a tradition now where it is Alex and Tunde. There are others too that happened. That one has become an annual tradition. Instead of having the instructors team up for all of the classes for Women's History Month, some of them are doing Power Stack. We have Susie Chan and Leanne Hainsby doing one. You can do a class with Jenn Sherman on the bike. Right after that, you can do a Women's History Month core with Emma. They are stacking them.
There was a ten-minute peace meditation.
It was specifically a World Peace Meditation and it was led by Nico Sarani.
Did it work?
By watching the news, no, but it makes you feel better. There's only so much we can control. She led this and seven other instructors were in the room during the peace meditation. The biggest takeaway besides how wonderful it is that we had a peace meditation is the fact that all these instructors were in the room. It's the first time in three years that we've seen this many Peloton instructors in one room.
That's a very good point, which makes you think that we got to be getting closer and closer to the studio opening back up.
That reminds me and I have to say, the fourth option for those days that there are all encore classes, March 20th through 21st, do you think they are doing something to prepare the studios? Maybe not like they are going to open the doors before. I don't see a way that they are going to open the doors to the public before Homecoming because that would be chaos. Maybe they're doing something to refresh or prepare for people coming in. That's another option because they would have to close down the London studio and the US studio to do whatever it is that would need to be done in both places. It's the fourth option. Just putting it out there.
Selena Samuela is wearing orange.
Selena Squad is celebrating National Kidney Month because that's the entire month. You can celebrate with the squad on Sunday by wearing orange. Selena too will be wearing orange and the whole squad will be. You can take a selfie and celebrate at SelenaSquad_Peloton over on Instagram.
There was a Peloton apparel sale. The sale has ended by the time you read this. We thought it was interesting to raise the question, will there ever not be a Peloton apparel sale? There seems to be a lot of them lately.
This one was fascinating to me because it was in-store only. I thought that was fascinating,
Especially when we were talking about all the instructors in one room. For a while, they were like call them, make an appointment at the stores. Now it's like, "We're done with that."
—
We have two birthdays. The first is Sam Yo on March 16th and the other birthday is Peloton.
They officially filed paperwork to be a real company on March 17th, which falls on St. Patrick's Day. You can celebrate Peloton's birthday. If you want to do both, you can wear a little hat or something green. You can do a little Irish jig while you celebrate Peloton.
You can wear green leggings that day, and I am always a leprechaun.
Happy birthday, Peloton.
—
Joining us is Kim Zingale. How is it going?
I'm good. How are you guys doing?
We're good. I would love to hear your Peloton background story. How did you first hear about Peloton and when was that?
I've been following a former guest of yours, Peter Shankman, on social media for a long time. When he got the bike, he was posting about it. I was like, "What is that thing?" I didn't seek it out or anything. Eventually, in 2018, we were on vacation in Oregon and there were a couple of Peloton bikes in the hotel gym. I tried it and then I was like, "We're getting one." We were debating how we could build one ourselves thing. My husband has a bike on a trainer. He's like, "Why wouldn't you just ride your bike on a trainer?" I was like, "I want a Peloton bike."
It's like when you're ten and your mom is like, "I can make McDonald's at home. You don't need that. I have hamburger and potatoes."
He eventually agreed it would not be the same, but then I got one off on Craigslist. That was how I got mine. That's that was June 2018. It's early but not early, early.
It's been a while. You've had it for quite a while.
I feel like the pandemic has become the new dividing line if you're an early adopter or not. It used to be the kickstarter. Now that's almost mythical.
There are a few out there that have had it since the beginning. The OG crowd is tiny compared to the Peloton world at large. Help us understand your fitness background. Have you always been a person that works out? Was working out new to you? How did that go?
I've always been pretty active, not traditionally sports or anything. I was in the marching band in high school though. That was big activity.
That's a lot of activity. My son joined the marching band. He did it for one year and he's like, "This is awful."
He was not even moving.
He played bass. It was like, "You just stand there, dude." They worked those kids like crazy. What did you play?
Clarinet.
You got to move around the fields. You didn't just sit still.
We were one of the bands that competed in the national competition of these marching bands. We would travel across the United States and compete. My high school won the whole thing twice in history.
I'm not a sports guy. I wasn't like, "Band is for nerds." I never realized how much stuff goes into marching band until he was in it. It was like a part-time job.
It was like a real sport. I see the real sport in that if you go out for football, you have to fill out all these clearance forms and everything. If you do the marching band, you have to fill out the same ones, even though it's not technically a sport. That's what they all say. I was like, "I don't know. It looks like a sport to me." They are all out there dancing, throwing stuff, and running around for two hours every day of the week.
Stress affects your blood sugar. Exercise affects your blood sugar hormones. So pretty much everything affects your blood sugar.
Click To Tweet
That's what I did but then after that, I ran on treadmills and stuff. I ran outside and got a little more into cycling when my husband started riding outside, but I was still a little nervous about that at that point. I didn't ever feel super comfortable doing it. I started taking barre classes after we moved to Denver a few years ago. That petered out, then I got the Peloton. I've been pretty much all Peloton all the way since then.
Usually, I'm trying to figure out if getting a Peloton made you more active. It sounds like it did.
I also had been running. I ran three half marathons. It was more like it being a regular thing in the house was helpful. It wasn't that I wasn't doing anything before Peloton. It just made it more cohesive.
You said in the middle of all that, your husband started cycling outside.
He always has been, but he has taken some breaks periodically. When we met in college, he wasn't riding outside, but then he started after that.
What part of the country do you guys live in?
We live in Denver. We both grew up and met in college in Ohio. We moved to Chicago and then lived in DC for nine years. Now we've been in Denver for the past several years.
That's a lot of moving around. I'm sorry. It's a lot of packing. That's terrible.
It was all we wanted.
It was good you're not fleeing.
We didn't want you to be fleeing. That would be a different conversation.
I wanted to try different places.
I would think that cycling outside in Denver is not always hospitable for outdoor cycling.
I did ride a little bit outside when we lived in DC in Rock Creek Park. You have to get further out of the city to do more outdoor activities. It was a little bit trickier for me to do that because I'm not an individual doing it. I need my husband to go with me.
It's a lot of gear you have to take. You have to know how to fix your bike if something happens to your bike. I remember the last time we were out in Colorado. We were watching people on the side of the road, going up these ginormous hills. I was intimidated watching them because you have to be a good rider to do that on a regular basis. Tell us about your medical background. I didn't know if you meant medical history or medical profession.
That's medical history. Sometimes Robin's type-one diabetes comes up in conversation and I'm always like, "That's not quite right." Maybe I should let everyone know a little bit more about type-one diabetes that I have had for several years now.
You were diagnosed when you were pretty little.
I was shy of nine years old, a month before my ninth birthday.
How does that manifest itself in a nine-year-old? What tips it off?
It's the same for anybody. When you have high blood sugar for an extended period of time before diagnosis, the typical symptoms are excessive thirst and urination, you're hungry, but you're also losing weight. What's happening is your body cannot break down any of the food that you're taking in. It's all going out of you and you're wasting away. My parents were like, "Why is she losing weight, drinking so much and eating two hamburgers at dinner?" They knew something was up. They didn't let it go on for too long and went to the doctor. I was diagnosed with type-one diabetes.
At that point, you spent more time in the hospital after diagnosis. What I'm hearing now is they give you some education, send you home, and you do more stuff on the internet. At that point in 1991, I spent a week in the hospital learning about eating and food plans. A lot has changed since then. Also, how to inject yourself with the needle, sliding scale of insulin doses, and all that stuff.
That's a lot for a nine-year-old.
Was that intimidating?
It was. My parents took on a lot of it when I was a kid, but then I took on more as I grew up but I was a little bit of a late bloomer where I was like, "I don't want to do this." I let them do it until I graduated from high school, and then I took over that stuff more. What you have to do once you're diagnosed with type-one diabetes, what happens is that it's an autoimmune situation.
There are two types of diabetes. You hear about type-one diabetes and type-two diabetes. Type-two is more of a metabolic issue where your body can't use the insulin that it's making to break down the food as well as it should. Type-one, your body attacks the cells that make insulin in your pancreas, and then you no longer produce insulin. They don't always know why this happens. You probably have some genetic predisposition to it, then something triggers it. For me, I had a weird virus around Christmas time and then in April, I was diagnosed with type-one. They think that the virus confused my immune system.
You have to become your own pancreas, which is difficult because that's an autonomic system of your body, but now you have to use your brain to deal with all of that. You have to inject yourself with insulin, add an appropriate dosage for what you're doing, and check your blood sugar to know what your blood sugar is so that you know how much insulin to do.
As you find out, nothing is the same with diabetes day after day. Everything affects diabetes because it is part of your autonomic body system. Stress and exercise affect your blood sugar, also hormones and what time of the year it is. I'm not even kidding. Pretty much everything affects your blood sugar, which is all the internal stuff.
Now you have the insulin pumps and the continuous glucose monitors. If those aren't working 100%, you have those external issues that you're like, "Is my infusion set bad? Is my CGM miscalibrated." You have some other external factors to deal with in addition to not understanding what's going on in your body. It's a lot of trial and error, but you can't get too upset about it when it's not doing what you want it to do because that will make it worse.
That would never work for me. I would be the worst type-one diabetic ever. It's tricky. I picture these continuous glucose monitors and they're on you. They're like, "Pay attention, do something now. Add some insulin." That's all you got to do.
The addition of the continuous glucose monitors has been a real help because when you are pricking your finger to know what your blood sugar is, that's a point in time. You don't know where it was five minutes before that and what it's going to be doing. The continuous glucose monitors have algorithms that help predict the trend of the blood sugar now.
First of all, I can see what it is and where it's been. There's a line that shows up and down things. It will also have predictions because it can read a trend of how fast, how slow or that it's been going up or down. It will predict you're going to be going high or low at what rate. I'm talking about there are different versions. The gold standard at this point is the Dexcom G6 CGM. It has an arrow that will go up or down, or double arrow down or double arrow up to tell you how fast it's changing. That is what Robin wears, in case anyone is wondering.
It's a lot easier to exercise now that we have this technology. It's good at this point. It had been less good early on and things got better over time. That is what helps her and everyone else in the Peloton community with type-one diabetes, get ahead of what's happening so they can enjoy themselves and exercise like everyone else does without diabetes.
Doing something like a marathon or the ultra long-distance marathons that Robin has done is probably pretty complex given that she has to constantly watch it. It's not like when I go for a run, if it's a long run, I'm supposed to eat some snack every 30 to 40 minutes. She's probably got to watch it even more because your body is using that glucose as you're running. That could affect your blood sugar even more.
When you eat something, there's immediate glucose in your blood. That's what you're reading when you check your blood sugar. When that stuff is or isn't used, it gets turned into the glycogen stores in your body. A non-diabetes person would be concerned with not depleting their glycogen stores. We have that as type-one diabetics, plus looking at our free-floating glucose in our blood number.
The other stuff doesn't work as fast like the glycogen stores and the liver releasing its storage stuff. I don't know all the signs. That doesn't work as quickly. That's why we need to have fast-acting sugar sources on hand like raisins or glucose tablets, which are gross, chalky things that have sugar in them. Fructose works a lot faster than a chocolate bar because that has all the fat and stuff in it. You want to keep fructose-based sources of sugar on hand when you're exercising.
What do you feel people don't get right about type-one diabetes? What do you think the common misnomers are?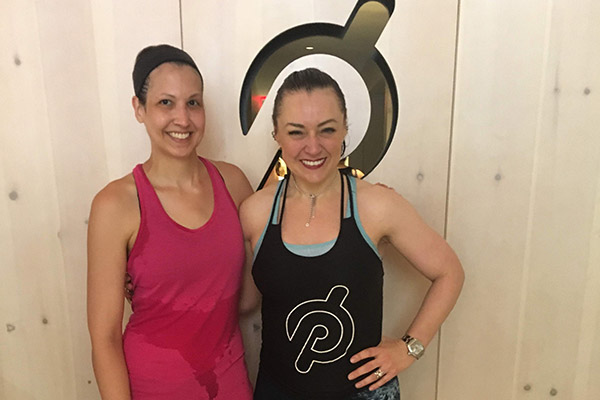 There has been a lot more education about it in past years. There had been a lot of getting type-one and type-two mixed up, which has always been frustrating. I do feel people are somehow hearing more about it, maybe with the Dexcom being in commercials on TV and all that stuff now. Not understanding that it is like, "I am doing a function that your body does. How much goes into that?" Offhanded comments like, "Maybe you shouldn't eat that," or even asking, "What is your blood sugar?" I will tell you but also, "Why do you need to know?" I don't know.
There's a fine line that a lot of people have between having it be out in public for general education purposes, but also keeping it more to yourself because you want to feel normal or that it isn't everyone's business. Now with these things stuck all over us, people are wondering what that is. I am the first to run up to anyone that has a Dexcom stuck on their arm and be like, "You have a Dexcom. I have one too." If I see their insulin pump sticking out, I'm like, "I have that one too." I always talk to people. It's a little tricky
I worked with a gentleman who had type-one diabetes. He had an insulin pump. I would genuinely be concerned because it would start beeping. After the third beep, I'd be like, "Are you okay? Do you need anything?" I don't want to sit there and ignore it. That feels rude. I get what you're saying. It's tricky. I honestly think people don't know what is okay or not okay because everyone is a little different.
It probably depends on the person with diabetes too.
It makes it tricky for the nondiabetic because some people are nosy, and some are trying to make sure that they are okay.
If you came to me with a genuine concern about my pump is beeping and are you okay, I would not be upset about that. If I was severely low, it's beeping and I'm not doing anything about it, I probably do need help. You may have experienced this after you exercise a whole bunch or something and you haven't eaten enough. You feel spacey. It gets even worse. It could be like my tongue is tingly. I'm spacey. I'm sweating. When it gets to that point, a lot of times, I don't know what to do and you're confused. It is a symptom of low blood sugar. When it gets too low, you do legitimately need help sometimes. If someone is witnessing that, it's reasonable to ask if they need help.
Do you have to change things up when you exercise? Do you have to take extra precautions?
Yes and no. It needs to be more planned out than on a whim. If I have ten minutes, that wouldn't matter. If I'm like, "I'm going to do it now," and I had given myself insulin or I ate something, it's called an insulin bolus. If I had bolus for the food and I was going to exercise, I probably shouldn't exercise because the best thing to do is to exercise when you don't have any of what's called insulin on board. You haven't given yourself a bunch of insulin because your blood sugar is going to crash pretty much guaranteed. There are some differences between aerobic exercise versus anaerobic exercise, which I'm not going to get into right now. It's all trial and error. Most people find that maybe exercising first thing in the morning, but also eating something beforehand is a good idea. It's a lot of trial and error.
You had mentioned that you have some big exercise-related goals. What are they?
I had some big exercise-related goals that I met in 2021. I haven't set my new goals for 2022.
What were your goals in 2021?
To ride outside.
That is a big goal. That can be very intimidating for people.
We signed up to do this metric century-ish. It was 62 miles through the Colorado National Monument in September 2021. I needed to eventually start riding outside in order to practice for that. I did that. I also signed up for Matt Wilpers' training for some assistance with figuring out how to do that and not overtrain. We have to do this every day in order to get better, but I need to take a few days off every week to improve on things. He helped me with that. We did some Peloton training and then around May 2021. He was like, "You got to go outside." I was like, "Okay."
I did that, then my husband broke his collarbone. It was his second collarbone break. It derailed my outdoor riding for a little bit. I figured out another way that I could go do this one bike path that goes between Denver and Boulder, Colorado. It's a long ride. I did that on my own a lot, back and forth between Denver and Boulder. That worked out.
It has some elevation game too. I also did some riding on the roads at Red Rocks Amphitheater because it has a lot of ups and downs. I did hill work there because of this thing in the Colorado National Monument. All of the elevation gains were in the first 5 miles of the ride. It was a 6% or 7% grade. It was pretty steep. I had to practice going uphill for that. Eventually, September 2021 came and we did that. I did that ride. A couple of weeks before that, I did another metric century ride as practice. A couple of weeks after that ride in the monument, I did another metric century. I did three metric centuries. I'm like, "This is how I'm ending 2021."
You went from 0 to 3, right in a row. Congrats. Did you have any problem riding outside? Were you clipped in or not?
I was clipped in.
That can be intimidating all on its own. I was intimidated when I did that for the first ride.
I had ridden outside when we were in DC. That's when I learned how to clip in outside. It was muscle memory. It took a couple of rides as far as to be comfortable again. I was like, "I'm fine. This is not a thing. I don't have to relearn how to do this." That was great to find out.
How about coming down the hills? That can be also pretty intimidating in Colorado.
My husband also thought that I would be more scared in riding the brakes going downhill but I was not. I thought that part was fun.
One of my first outdoor rides I did by myself here in Missouri. We have big hills but nothing like Colorado. There is this one hill and I was randomly driving around. I had no idea where I was. All of a sudden, I was at this place that was like, "No biking on this hill." It was straight and it ended, and you go straight into traffic. It's coming down off of this ginormous hill and then you go straight into traffic. I was like, "I'm going to die." It is why I don't like to go outside and ride. You're still thinking about your goals for 2022, though.
There will be more outdoor riding again because that did end up being a lot of fun in 2021. I like how Peloton did set me up well for that. I was already strong. It was more practicing and balancing on a bicycle more.
The moves are less than the actual physical strength and stamina. You had that part down. What is your leaderboard name?
It is Kim_Zinger.
Is that because you have zingers? You give people jokes all the time and tell them off.
It was a nickname in high school.
Is it from the marching band?
No, my English teacher.
Do you have a favorite instructor or is it safe to say that it's Matt Wilpers?
It's Christine, with Matt being in the top two. I did go to the studio back in the day for my birthday in 2019. I did a class with Christine on Saturday and I did a class with Matt on Sunday. That was my birthday. I have pictures of both of them.
It's amazing that you got to do both on the same weekend. Not all our favorite instructors that we have are back-to-back on the same weekend. It's good for you. I'm glad that worked out. Who knows what it will look like if we ever get to go back again? That's going to be a whole new world.
You have to learn how to bike with your mask on. Do you have any advice for people who are just getting their Peloton?
The biggest thing is to keep at it. It's easy to get excited. You want to do it all and then you're like, "I'm in a lot of pain." Pace yourself and know that it will hurt because if you're doing something that you've never done before, exercise-wise, you're going to be sore. The saddle does take time to get used to. I personally recommend padded shorts. Find what you like. It's all the same advice. I don't have any new advice but I can give some advice for people with diabetes.
Trial and error but have food on hand, so you don't have to leave the bike. If you have a continuous glucose monitor, keep checking it. Write down what you do so you can try to replicate that on subsequent rides, especially if you're trying a different ride, or if you're doing a 45-minute ride versus a 30-minute ride or you're doing a climbing ride versus something else. Write down what you do, what time of day, what you did before the exercise. Keep a diary of that stuff because it can help you with figuring out patterns, and maybe what works better for you than something else. That could be applicable to other people too but for diabetes purposes, that would be useful too.
Help figure out patterns and what works better for you.
Click To Tweet
Thank you so much for taking time out of your day to join us. Before we let you go, where can people find you on the internet if you would like to be found?
I'm mostly on Instagram. I don't post a ton but on that, I am @KimberlyZingale.
Thank you very much for joining us. We appreciate it. Thank you.
Thank you for having me. It's good to see you, guys.
—
I guess that brings this episode to a close. What pray tell do you have in store for people next episode?
We are going to talk to Nichole Ward and she has a fun little story about Peloton and paying it forward. You got to tune in to the whole thing because it's great.
Until then, where can people find you?
People can find me on Facebook at Facebook.com/crystaldokeefe. They can find me on Instagram, Twitter, and the Peloton leaderboard, all the places @ClipOutCrystal.
You can find me on Twitter @RogerQBert or Facebook at Facebook.com/tomokeefe. You can find the show online at Facebook.com/TheClipOut. While you're there, like the page and join the group. Don't forget our YouTube channel at YouTube.com/TheClipOut. That's it for this one. Thanks for tuning in. Until next time, keep pedaling and running.
Important Links:
Love the show? Subscribe, rate, review, and share! https://theclipout.com/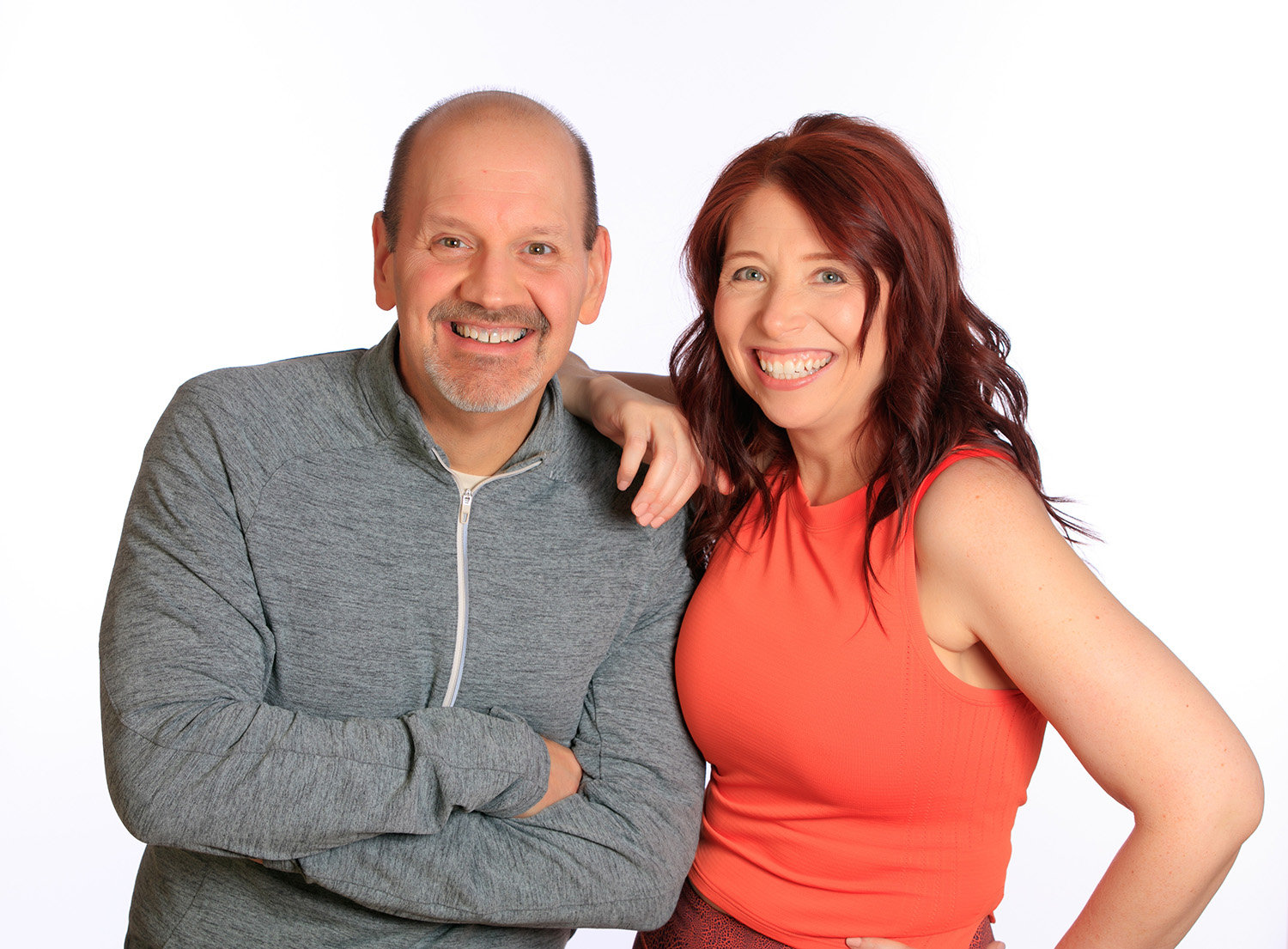 Subscribe
Keep up with all the Peloton news!