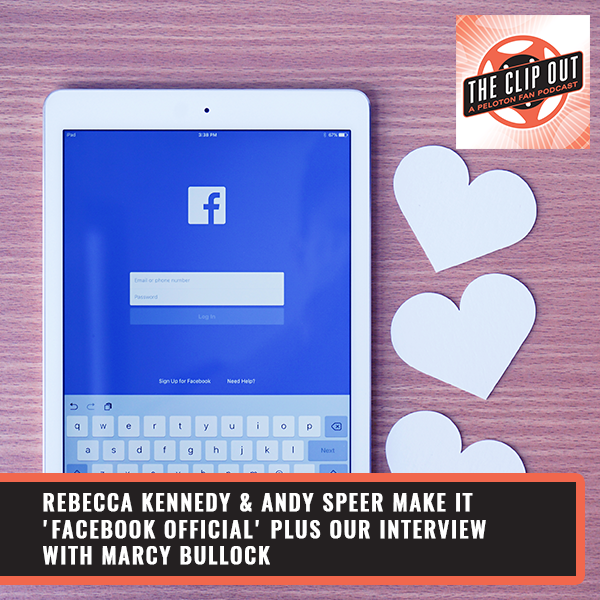 229: Rebecca Kennedy & Andy Speer make it 'Facebook Official' plus our interview with Marcy Bullock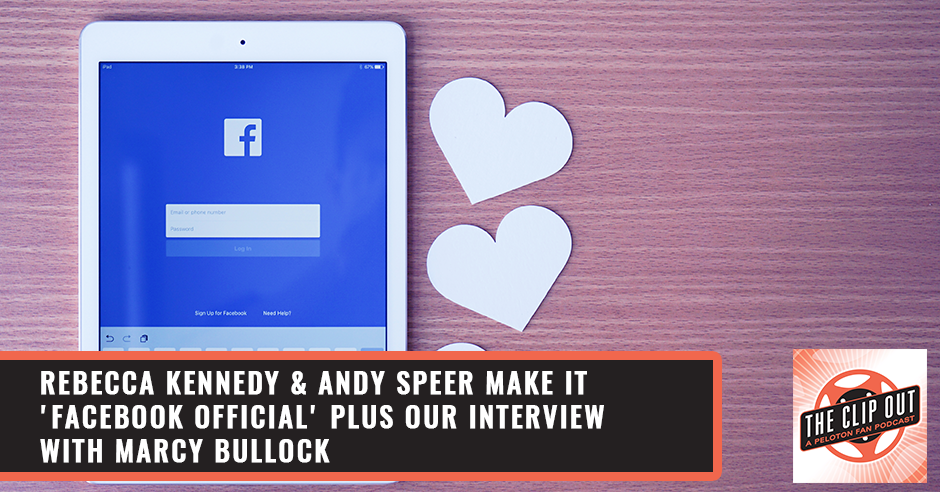 Cody Rigsby returns to the ballroom on DWTS.
Rebecca Kennedy & Andy Speer are Instagram-official.
Olivia Amato partners with Puma.
Shape Magazine talks to Olivia Amato.
The Lily spotlights Robin Arzon.
Robin Arzon makes the cover of Parents Latina.
Susie Chan gives us a video guide to Tread workouts.
Ocean Drive features Camila Ramon.
Dr. Jenn – What to do when you're ashamed of your Peloton stats?
You can now get text updates from Peloton.
Peloton now limits the number of profiles account holders can create.
The Fall schedule has been released.
John Foley drops by a Peloton store and helps the sales team.
Maid on Netflix was created by a Peloton member – Stephanie Land.
Peloton partners with David Jones department stores in Australia.
KeyCorp changes Peloton's stock price target.
Angelo joins us to discuss the best sugar substitute.
Past guest updates on CJ Albertson, Howie Godnick, Susie Beris, and Paul Bradley.
Peloton teams up with Usher for dance cardio.
Tonal teams up with Lebron James.
Connected Fitness companies are launching IPOs to mixed results.
There's a new artist series with Bad Bunny (Again).
Sundays With Love is back.
Birthdays – past instructor Steven Little (10/18)
All this plus our interview with Marcy Bullock!
—
Watch the episode here:
Listen to the podcast here
Rebecca Kennedy & Andy Speer make it 'Facebook Official' plus our interview with Marcy Bullock
A funny thing happened at work. We do the Shrine Circus in town. The Shrine Circus has been in the building for twenty years. I've worked there for 15 of those 20 years. I deal with the same guy all the time and he comes up to the door of my office and he says, "Have you seen Tom?" He points down the hall, which is where my coworker named Don sits. I was like, "Do you mean Don?" He's like, "No, Tom." He looks at me like, "Dumb ass." I've dealt with this guy for years and I'm like, "I'm Tom." I don't even know how to respond. He's like, "Holy crap."
You're the incredible shrinking man.
He legit did not recognize me.
That had to feel pretty good.
Had I known that, I would've ducked him. That way, I wouldn't have had to do any work. I would have been like, "He's out. No Tom here. He got fired. Keep on moving."
That was pretty awesome.
That's what MetPro has done for me anyway and Tonal. You are getting there as well. You're still recognizable.
I haven't had anybody say, "Where's Crystal?" I think we're safe. I don't begrudge you. I'm so proud of all the changes you've made. It's been awesome.
Thank you. What pray tell do you have in store for people?
We have some past guest updates that I cannot wait to share with everyone. We have Dancing With The Stars week 4 or 5. There's a Cody update.
They do two performances in a week. I don't even know what you call that.
We'll talk about it. John Mills is not going to be able to join us in this episode.
He had some family stuff that he's doing. He will be back next episode. Don't start any rumors unless it gets us more downloads.
We got more Peloton relationships to hit. Dr. Jenn stops by and we have the most heartbreaking question that Dr. Jenn answers. What to do when you are ashamed of your Peloton stats? Except it's way more heartbreaking the way it was recorded. We have MetPro stopping by talking about the best sugar substitutes. We have celebrity sightings. We have competitor news, artist collaborations, in case you missed it. It's been a glorious week of many things happening in the Peloton world.
Before we get to all that, shameless plugs. Don't forget, we're available on Apple Podcasts, Spotify, Google Podcasts, TuneIn, iHeart. Wherever you find a podcast, you can find us. While you're there, maybe leave us a review so the people that come along after you will know that we're worth checking out. This one is from Bang Life. I'll leave it there but if you see that in my browser history, just remember this moment. They say, "Thank you for your all-inclusive podcast. I was skeptical at first on how much can you talk about a bike? Boy, was I wrong. This is an all-around fitness podcast, not only physical fitness but mental health, finance, wellness and even fashion. The interviews are inspiring and the best part of my podcast week. Thank you for sharing your passion. Follow me." The leaderboard name is XTee. Find them on the leaderboard. That's who they are.
Thank you for the very kind review.
We also have a Facebook page, Facebook.com/TheClipOut. While you're there, like the page and join the group. Sign up for the newsletter at theclipout.com. You'll get all the links and things like that emailed to you in one easy to find format. Check out our YouTube channel at YouTube.com/TheClipOut where if you were watching this on YouTube, you would have seen our bug guy sneaking around behind us killing bugs. It is an apocalypse for bugs in our home. Take that bugs. There's all that. Let's dig in. Shall we?
We shall.
—
Another week, another Dancing With The Stars update.
There were two performances and it was Disney Heroes and Disney Villains. For the heroes, Cody played Goofy from a Goofy story. They did a jive. For the Disney Villains, Cody played Gaston from Beauty and the Beast, in case anyone out there doesn't know what that is. They did the Viennese Waltz. We had a little bit of mixed reviews on the first night, the Goofy performance. There were three 7s and a 6 from Len because he doesn't like Cody.
He doesn't like Goofy.
Everybody liked the Viennese Waltz except for Len. There were three 8s and a 7. That was pretty great, not to mention that Cody had lots of support from the Peloton Studio. Emma, Robin, and Jess Sims were all live in the audience. Each member who dances only gets to have three guests. Tunde was out on the West Coast supporting but she was not able to go into the actual ballroom to watch. I think she drew the short straw.
Judging by his hair in that Goofy dance. I thought there was something about Mary Week.
It's funny that you say that because Matty Maggiacomo posted on his Story this morning. He said, "Kidding, kind of not kidding, who is making these wigs because they're terrible." They are really bad. Gaston's was better than Goofy but still not great. It cracks me up that every week, John Foley is tweeting about these. He's out there going, "Don't forget to vote for Cody," then he posts pictures of it.
I think he has 6,000 Twitter followers. I know people love the instructors but for the CEO, you think he'd have more than that.
He's a good CEO. He just sits back and let the instructors get all the loving.
He's like, "It's not about me." I also thought it was interesting that Heavy.com talked about how the ratings on Dancing With The Stars are not exactly where they have been historically, which is a polite way to say, "In the dumper."
A lot of people blame that on changing to Tyra. This is only her second season as a host.
Who was it before her? I know it's Tom Bergeron for years but he left a while back and there were so many different hosts.
I don't know. You'll have to do your own research on that. I'm sure somebody could be answering that. They're probably sitting at their homes answering the question right now.
They are screaming at their phones.
I'm sorry that I don't know the answer but what I do know is that people are not super thrilled with Tyra. There are a lot of people that wish she was not still the host, but she is. I don't know if that's fair to call that the reason why the show is not doing well though.
I agree because some shows are definitely host driven. If the ratings on The Tonight Show dropped, then it's Jimmy Fallon's fault. I don't know with Dancing With The Stars that the hosts can kill the show like that.
Part of it might be how formulaic it is. You always know that guy on the end is going to get up, stand up and start yelling because he's so excited.
We've only watched it for four weeks.
You know that Len is never going to be happy with anybody's performance. It's very formulaic. That's my point, so why keep watching it? Also, Cody said this week that Peloton is going to put a mini studio out there so h doesn't have to go back and forth. He'll be able to do classes from there. What that actually means is they know that Cody is going to be on the show for a while.
I was thinking about that too. Why would you have not done that in week one? We're already four weeks in. That's a little confusing.
You shouldn't know that he's going to be on the show for a little bit.
Unless they see the stats. The phone text and stuff are strong enough that he'd have to come out and sit Indian style for the whole song to start losing. Even then, he probably wouldn't.
It's all about overcoming struggles and realizing that life has many ups and downs.
Click To Tweet
That very well could be. He's made it through and he'll be on again. It'll be interesting to see how they do the studio and where because in my mind, it's going to be like what they did during COVID times whenever the teachers were all teaching from home. It will be like when the instructors were teaching from home. It will be that kind of studio. I made sure to point that out because I'm pretty sure when people saw the studio on the West Coast, they all were like, "Peloton is building a studio on the West Coast." They're not. I don't think they ever will because if they were going to, they would have.
It's mystifying that they haven't but it seems like if they were going to, they would have done it by now. The asterisk I would put on that is as more and more opportunities pop up like this for Peloton instructors, they will be incentivized to have some sort of presence on the West Coast because if you want your instructors to get the extra push from participating in things like Dancing With The Stars, then you need to be on the West Coast.
That's a fair point. We will see what happens with that. I would love to hear John's perspective on all of this.
We will check in with him next episode.
We will see how Cody's doing because we already know. I can't wait to see it.
Rebecca Kennedy and Andy Speer have made it Facebook-official, even though I'm showing you a picture of Instagram.
They made it official across all channels. I have been seeing speculation about this for months and here it is.
This is all part of Peloton plan to never have to hire a new instructor. They're just going to breed them.
You could be right. I hope that they are both very happy.
We talked about Alex Toussaint's signing with Puma, and now we found that Olivia Amato is also going to be a representative of Puma.
Congrats to Olivia. That is cool. I wonder how many other Peloton instructors they will snag.
I'm assuming that a lot of them already have deals with competitors.
I saw that Kendall also signed with New Balance. I don't know when this happened. I saw it on one of the instructors IG stories. Potentially, it was new but maybe it has already been out there. I don't know.
I wonder if we'll start seeing new instructors immediately getting gobbled up by athleisure wear companies and things like that. In case they become big deals, throw some money at them while they're cheaper.
It could be. They'll have lots of chances with so many new instructors.
While we're talking about Olivia Amato, she was also featured in Shape Magazine.
This is our girl, Michelle K. She's Shape Peloton girl. Those are her words. I will say that every week. This story is her whole path to fitness. She changed from finance to fitness. If you don't know the story, now you can get it. I love the way Michelle breaks this down. She gets into the details with these instructors. I appreciate that.
A website called TheLilly.com featured Robin Arzon. What a Peloton VP and instructor does in a workday.
In case you're wondering what she does without reading the whole article, it's breastfeeding, hair and makeup, and an Aretha Franklin themed class. We'll spoil it for you.
I think that she probably breastfeeds every day. I don't know that she does an Aretha Franklin themed class every day. That would seem unlikely. If you want to check that out, that'll be in the newsletter that I will send out on Sunday.
I want you to know that her workday starts at 3:06 AM.
While we're speaking of Robin Arzon, she was featured on the cover of Parents Latina.
Since this is not Robin's first cover, let me say that it's Athena's first cover. She's two months old and she's already accomplishing things I never even thought of. She's crushing goals.
She's crushing goals she doesn't even know that she has.
Congrats to them both. That's cool.
I'd be like, "Come on, baby. Goal number one, stop shitting yourself." When I told my parents that I wanted to be a disc jockey, that's what they said to me, "Stop shitting yourself."
You've accomplished that goal.
I did so briefly. Susie Chan posted a cool video on Instagram.
I love this video. If you guys haven't seen it, she breaks down all the different types of workouts that are available on the one Peloton app. It's like a mini-guide to the tread. That's what she calls it. She goes through all of them in this video. It's great. It's absolutely wonderful. I love whenever instructors do things like this.
OceanDrive has an article about one of the newest instructors, Camila Ramon. It was good to see her making the rounds. There was also an article about her before this.
She is coming in hot because she's the first-ever Spanish speaking cycling instructor. She's making the waves.
—
Joining us once again is Dr. Jenn Mann, licensed marriage, family and child therapist, and sports psychology consultant. She was a five-year national team member in rhythmic gymnastics and sports psychology for the USA gymnastics. It's Dr. Jenn.
Hello.
I have a little bit of a heartbreaking question from one of our audience. This particular person did not want to share her leaderboard name or her actual name. We'll have to keep that in mind.
She's Jane Doe.
That's perfect. Jane Doe explained to me that she keeps everything private. She does not share her leaderboard stats with anyone because she's embarrassed at how poor her numbers are. She doesn't even accept friends for that reason. This one is heartbreaking. Both of her sisters and one of her brothers have bikes. They video chat and ride together but she can't because they are so much faster and better than her. "You do you but I have so much shame at how bad my numbers are. I'm always at the bottom of the leaderboard. I miss out on so much by being this way, but I see other people being so proud of their numbers and I can't be proud of mine. I can only be silently proud that I ride in spite of it. How do I overcome this?"
First of all, I feel for you and it makes me sad that you are active, engaged, riding and doing your thing, and that you are doing something that's so wonderful, and you have so much to be proud of but that you're not sharing it for this reason. I don't know if you come from a family where those members are mean-spirited or competitive or teasing and would be insensitive to you, in which case, it may be a good self-care to not do that with them.
With that said, I'm someone who's normally super competitive. I was on the national team. I performed in the '84 Olympics and where I do gymnastics. I am someone who always tries to be the best of the best, except at Peloton. I'm generally at the bottom of the leaderboard. Don't look for me, Jane Doe. I will be there with you, sister. I'm proud of what I do. This is who I am. For me, the process is more important than the outcome. It's taken me years to learn that. Especially as a competitive rhythmic gymnast, that was not what we were taught.
You can't control the outcome. You can only control what you do, how often you train, how you train, how much sleep you get, your nutrition, and stuff that fuels you. Your body's going to respond the way it's going to respond. You should give your body the respect of saying like, "This is cool. I'm at the bottom of the leaderboard with these awesome people who are also working as hard as I am. Fuck anyone who judges us." That's my perspective.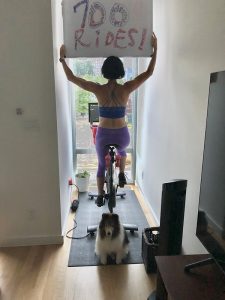 You've got a lot to be proud of. It's a shame to not be more part of the community. If there are people in your life who would not be cool about it who would hassle or tease you, well then fuck that. They don't deserve to get to see your numbers or anything. To me, the numbers are one of the least important things. I never compete on the leaderboard. Crystal, you and I have taken classes together and you passed me like, "Bye, see you."
The leaderboard is about encouragement. It's about high-fiving people and being like, "You can do it," and them doing the same for me. We're in this together and we're sweating it out. We're all struggling and we're all doing our thing. It's important to examine, why does it matter where you are on the leaderboard? Why does it matter how you compare to these people? What matters is how you compare it to you.
Even more importantly, how often are you working out? How consistent are you? How much enjoyment are you getting out of it? Is it time for you to try something new to reinvigorate yourself and make it fun and exciting again? Are you loving what you're doing? The focus needs to be the process over the outcome, and also finding people that support you wherever you are, and letting those people in on that. You're on the leaderboard and this is what you did. Share that with them.
I totally agree. I want to give Jane a big hug and tell her I'm at the bottom too. I'm right there with you guys. It's part of the bike. They're always calibrated differently. It's not even a reliable metric.
Not to brag but I feel like I can a little bit because I'm no spring chicken. I'm in the best shape of my life. I have got six-pack abs. You would look at me and you'd be like, "She's at the top of the leaderboard. I'm at the bottom and I'm happy. I can't believe that I'm able to do the things I can do and I can make it through a 60-minute running class. That's amazing. I couldn't have done that when I first got my Peloton. I did the LA Marathon in 1999. I don't care if I crawl or walk. I don't want a place. I want to get there in 5 hours and 20 minutes. I couldn't be any prouder. I'm happy that they didn't close the whole race before I was done. It's time to look at this differently and fuck anyone who judges you or has an issue with you. Find the people who will support you wherever you are on the leaderboard and that you can feel good about it.
We always tell the kids, "You wouldn't care what people thought about you if you realized how little they did."
It's absolutely true. Phil Stutz wrote The Tools. He always talks about the 30-second rule. He says, "Nobody thinks about anybody but themselves for more than 30 seconds," and it's true. People look pretty on the leaderboard. That's nice. Does my ass look fat with these leggings? What am I having for dinner? What time is my husband coming home? Is my daughter going to break curfew again? Everybody goes back to thinking about themselves.
That's human nature. Thank you so much for joining us again. Until next time, where can people find you?
You can find me on all social media, especially Instagram. I Instastory all of my workouts, @DrJennMann.
Thank you.
—
You can now get text updates from Peloton.
Any breaking news from Peloton that you don't get here from The Clip Out. You can get it now so you can sign up and get the little texties on your phone.
Peloton also changed its terms of service.
It was funny. I know that suddenly when I turned on whatever machine I was using, I think it was the tread, it was like, "Agree to these terms and conditions again." I was like, "What? I've had this piece of equipment forever. Why am I doing this again?" It turns out that's because they changed some things.
I don't think it will affect most people. You used to be able to have unlimited profiles under your membership.
If you have full access membership, not on the app.
Now it's limited to twenty, which is a lot. I feel like this is part of the whole Precor thing. They're pushing into apartment complexes, hotels, and maybe even various workplaces and office spaces that have gyms. You're not going to get one membership and everybody in the office gets to glob onto it.
You still have to have a membership. If you scroll down, it even says that now. That was something else they changed. It wasn't just about the number of profiles. It also has this piece in it that says that a member is an individual who has a Peloton account for personal non-commercial use. The membership holder is any member who activates and pays the monthly subscription fees for membership. It didn't use to say that before. It did not clarify that it was non-commercial use. It's small but it's to the point that it's about Precor. That's why I'm mentioning it. I agree with you that that's what all this is for. They're setting it up.
It's similar with software. If you sign up for Adobe Photoshop, you don't get to buy one license and share it with all of General Motors. General Motors has to buy different licenses for everyone. It's no different. Also, the Fall lineup has been announced.
Do you know what is different than announcing a Fall lineup? They've never done this before.
Is that new? I thought it felt like it was but I only half listen.
In the past, what they've done is as new classes come online, when they set up a new kind of class, their signature classes as they call them or series, they'll just announce them. Now, we have all these classes and series returning. Together We Ride with Robin is on Friday, October 15th. Sundays with Love with Ally Love is on Sunday, October 17th. Flow and Let Go with Aditi, October 21st, Cover to Cover with Jenn Sherman, October 24th, Jess King Experience, November 5th, and XO XO with Cody, December 14th. I was going to talk about clothing but we'll get there. I'll talk about that later.
This goes back to what I've been saying for a while, which you think of Peloton like a TV network.
Yes, and there's the Fall lineup.
John Foley stopped by a Peloton retail location.
I think it was the first retail location, but I might be wrong. It was the Short Hills showroom. He says that he put his sales pitch to the test. He says that he still got it. He sold a tread and a bike. There was a picture of him with the whole team. I thought that was fun. How many CEOs do you see doing things like this?
Unless it's for some wacky reality show. I'm also thinking it's probably a lot easier to sell a bike and a tread now than it was six years ago.
He would agree with that. That is true. I love it that no matter where John goes, he's got that vest. I wonder if he bought all of those vests. That's why nobody else has them. I think he got all of them.
He cornered the market. Finally, we should talk about Maid on Netflix.
I don't have a specific news article that links this to Peloton but Stephanie Land is a Peloton rider or she has been in the past. I think that she's been off the bike for a little while with COVID but she is a Peloton rider. She wrote a book based on a true story called Maid, which got turned into a Netflix series.
It was number two trending or something. It's been doing very well on Netflix.
It started off at number three and has increased to number two. If you haven't read this story, you should or watch it, even better. It's a true story and there's a lot in it. It's tough. It's about the cycle of poverty. When you're in the poverty cycle, it's hard to break out of because you can't get a job. You can't get to the job because you don't have a car, but then you need proof of a job to get a car. In the middle of all that, you have kids. What do you do with them? There's also domestic and verbal abuse that's talked about. Stephanie Land has been through a lot. She is on the upside of that at the moment where she's lived a shit ton of shit, but she's made it to the other side.
Bestselling book and a hit Netflix TV show.
Go, Stephanie.
—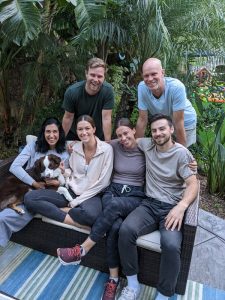 I was very excited about this one when I first read it which is Peloton partners with David Jones. I was like, "Now that's a class I can get behind," but it turns out that's also the name of a department store franchise in Australia.
It's not Davy Jones from The Monkees. Tom, you should have known that wasn't a thing because Davy Jones is no longer living.
They could still maybe do an artists series with them but yeah, they would just do The Monkees. I was decidedly less excited. Maybe I'd be more excited if I was Australian.
The thing is when we interviewed Joey Ruggero, he was saying that none of the stores in Australia actually got to open because of COVID. They were all set to open, then nothing. Now, they're launching their first Australian showroom and they're partnering with David Jones to boost their presence. It's very similar to how they've done it in other stores where they have a section of the store. They did this in England.
Wouldn't it be cool to teach a class while students are actually peddling on a bike?
Click To Tweet
I forget the name but the one that makes all those cool Christmas commercials.
That's the one. This is very cool. I love seeing how they grow internationally.
—
KeyCorp cut its Peloton price target from $185 to $155.
First of all, a lot of places have been cutting targets. The interesting thing I thought is that this is still above where they are now. If you look at the stock market, they're not at $155 right now. They anticipated still heading back up and I do too. I know that there are people who are like, "Cut your losses."
It's funny that the same people that tell you that you were fooled to buy it at $29 are now telling you that you're a fool to still hold onto this stock.
I'm not a stockbroker. Don't listen to me for financial advice. I'm saying, in my opinion, it'll be fine. I'm not selling.
—
Joining us once again is Angelo from MetPro to answer all of your nutrition questions, or at least one at a time.
Thank you for having me back.
We are glad you're here. One of our Clip Out members, Ashley G has a question for you. She would like to know what is the best sugar substitute. She's heard that Splenda and similar do more long term harm than good. Is Stevia any better or are we better substituting something like honey in coffee, obviously, applesauce in baking?
The answer as always is it depends. Everybody has their preferences. There is a body of research that suggests there are some artificial sweeteners, some more so than others that have negative impacts long term. With that said, I am always a proponent of what I'm looking for with my clients is improvements. A lot of my clients were 100% natural, totally organic. We don't need to use any synthetic or artificial sweeteners. For other clients, I am fine with them taking baby steps. If we have gone from having eight diet sodas a day down to two, that is a huge win and we are making progress. We put these goals on the totem pole and check them off one at a time, and move towards progress.
A general rule of thumb is any move towards more natural is a good move. Here's where people sometimes get hung up. There are some natural sweetener substitutes that also come with a hefty caloric load. For some people, that's not a problem. If you don't have a slow metabolism or if you're not on that edge of your body's itching to gain weight, a teaspoon of honey here or there is not going to be a problem. If your body is stubborn and you're on a very regimented, strict nutrition plan, and you're fighting the last few pounds of fat loss, switching to something like honey is not going to help with the fat loss effect. You're actually giving your body sugar. Instead of burning the fats, you have a fuel source that's readily available.
It's a matter of understanding when and how to apply. I'm a big fan of Stevia because that is in more natural substitutes. Stevia by itself tends to have a little bitter aftertaste. Some people love it. Some people use it in everything and it doesn't bother them. It's very potent. You don't need as much. It's not a one-to-one translation for sugar. You might try using a dab.
What a number of companies have done is they've found that by mixing Stevia with another sugar substitute, they come up with essentially a happy medium. In other words, it's not 100% all-natural. It is a sugar substitute and maybe it does have some artificial but it's 80% Stevia, 20%. Does it check the box of, are we making progress? You might look into some of those. A lot of my clients like Truvia. It is a good example of something that's a middle ground.
Some people find that as you get used to less sugar, less sweeteners in general, your palette will change to where you won't need as much. You will taste the flavors and enjoy the sugar in fruits and the applesauce in lower quantities. That's a good goal as well. Here's the caution. At the end of the day, I'm all about actionable practical. There are some people that are like, "That's great. I could freeze some blueberries and some strawberries and sprinkle a little Stevia on it," and love that.
There are some people reading this right now and go, "This guy is nuts. He thinks that's going to do it for me and I'm going to be happy with a couple of strawberries." Figure out where you're at and where you can find that happy balance. In general, if you are using straight-up artificial sweeteners and if you can start to gradually progress towards reducing them, that's a good thing.
I feel a little guilty for thinking of drinking diet soda now.
You're a very good example of improving, so we'll take it.
Thank you for all of that. If people want to get your advice personally so they can go on their own fitness journey, where can they find you?
Thank you.
—
We have four past guest updates. Let's start with CJ Albertson who competed in the Boston Marathon and loves his Peloton Tread. If you have a Tread and you've been seeing the same guy kicking your ass on the leaderboard thinking, "That guy is doing some sort of game." No, it's CJ Albertson.
He's that fast.
He was leading the Boston Marathon for 12 miles or something. He ended up coming in 10th.
This is his first time at the Boston Marathon and he's a half marathon guy. This is a big deal. He set the world record for the 50K in 2020. He's a big deal. You better remember this name because he is not done setting records. It was his birthday and he's expecting a baby. CJ is having an amazing year.
We also have past guest, Howie Godnick, the poet laureate of Peloton.
If you haven't seen him over on the OPP, then you are missing out. His son Max has been on Jeopardy and winning. Congrats to Howie and Max, but Howie was the guest.
Max is doing the heavy lifting. Susie Beris, you might remember. She was one of our early guests. When we did our 200th, she was one of the guests that we checked in on because she has had brain cancer.
Her scans are clear. She has had breast cancer. She is in remission.
She has been doing amazing. She competed in a virtual half marathon.
Not only did she compete on it on her Tread, but you might remember from Susie's update that she can't walk outside anymore because it's too confusing. She has to be on a flat surface, but she can run on her treadmill. She got a PR for her half marathon on her treadmill. She's incredible. What an inspiration.
Finally, last but not least, Paul Bradley, who was on here talking about his adventures in the Moab 240. Just to be clear, that 240 refers to miles. Unfortunately, he did not finish it but he got to 103.2 miles.
He had severe blisters and swelling because it was raining the whole time he was running. He was soaked through, everything was chafing and not good. He ran for I don't know how many hours it was. It was a crazy amount of hours straight.
Three consecutive marathons.
It's incredible. This was his second attempt at the Moab. He started off in 2020 and he did not get very far. Comparatively, he still did 60 miles or something like that.
It's still a major achievement. I'm sure it's frustrating to not complete it but that's still 103 miles. That's insane.
As he's been training for this in the last ten months, he's lost 30 pounds from all of his training. Congrats to Paul Bradley. Also an inspiration. Our guests are so inspirational.
—
As we know, Peloton is bringing back dance cardio and it was alluded to at Homecoming that Usher would be making an appearance, and Usher is making an appearance.
Articles were aplenty about this, which cracked me up. Usher is actually in one of the videos and I guess he comes in at the end and does this little thing.
He then teaches a whole class.
No, I don't think that he does. He did it with the music. He did provide the music.
I guess that counts.
I think it does.
—
Tonal made a major move. They have signed a deal with LeBron James.
That's legendary right there. That's a big deal.
I know an athlete is a big deal when I know who they are.
That's how I felt. Whenever I posted this, somebody was like, "Crystal now recognized an athlete." I was like, "That says more about LeBron James than it does me." That's the point of it. He's that big of a deal that even I know who he is.
The only way he could be a bigger basketball player is if he were on the Harlem Globetrotters.
I knew you were going to say that.
We all know that the Harlem Globetrotters is the pinnacle of basketball achievement. Chicago bulls, do they have a Saturday morning cartoon? No. Los Angeles Lakers, big deal, absolutely. Did they rescue Gilligan? They did not, so case closed.
Back to LeBron James, this is amazing. He's using his Tonal to train for basketball. Whenever they do even better than they normally do, we know why.
For people that are like, "You can't get a good workout with Tonal," there you go. He invested money with the company as well. He must think pretty highly of it. He didn't just take their money. He gave them his money.
That's putting your mouth where your money is or something like that.
While we're talking about other connected fitness, HeadTopics.com had an interesting article about a bunch of fitness companies that have jumped into the IPO market this year, and it isn't going well.
They have all been like, "Let's do this IPO." It turns out the market conditions aren't as great as they thought.
It's not so easy to be the next Peloton.
Peloton makes it look easy. Whenever they're downgrading, you all just remember that.
—
The latest artist collaboration is with Bad Bunny.
He's back by popular demand to celebrate Latin Heritage Month. How cool is that? There are going to be brand new Spanish speaking classes featuring Bad Bunny. It's going to be with the two instructors. We have Mariana and Camila, on the mat and on the bike. Check it out.
—
I know we've talked about Sundays With Love but that's not what this is about. What this is about is the apparel that you can get for Sundays With Love. It's interesting because we saw the Fall lineup. This is the only one that's announced clothing so far. Will there be more? We will see. We know that a new drop is happening. I don't think it's for another Fall lineup class though. I don't think it's for themed classes. I think it's the regular one. We will see what happens. If you haven't gotten it though, you can go get your Sundays With Love apparel. It's out there.
—
We have a birthday we missed because she was new and we couldn't find her information, but now we know it so she will be on the list. Kirra Michel's birthday was October 10th.
We got her on the list.
Send her a belated card. For you, long-timers who have been with Peloton for a while now, coming up on the 18th of October is Steven Little's.
For all of you, reach out. Steven Little is in the middle of Moab where Paul Bradley was. He is going cross country in an Airstream. He posts daily all of his adventures on a motorcycle and his Airstream. He's doing that camper life. Go say happy birthday to Steven Little.
—
Joining us is Marcy Bullock. Marcy, how's it going?
It's going great. It's so nice to be here. Thanks for having me.
I have lots of questions for you. I am interested in a lot of things, but I'm going to start where I always start, which is how did you originally find Peloton and decide this is the bike for me?
I've always been an avid fitness enthusiast. I have done a lot of spin classes in big groups before. My daughter brought it up to me when she was traveling. She found a Peloton in her hotel and said, "Mom, you've got to check this out." This was a few years ago. The rest is history. All of us have one, both my daughters. One lives in New York and one lives in California. We ride together and are now addicted.
Was it like as soon as she told you about it, you went and got it? Did you have to research? Were you a little hard to convince?
I went to a shopping mall in Durham, North Carolina, where the Peloton booth was right in the middle of the mall. It was super embarrassing. People were shopping and my husband and I were all decked out, and we wanted to give it the test ride. During that test ride, a friend of my daughters texted her and said, "I think I see your mom in the middle of the mall riding a bike." After we did that test run, we were like, "We're sold. Let's do it."
You said that you've always been a fitness enthusiast. Did your fitness level change at all whenever you brought Peloton home?
I got a bit obsessed as far as wanting to do a lot of things. I'm a soccer player. I played soccer for 40 years, and then I received a diagnosis. My doctor said you could not run or jump anymore. That was time to retire the soccer boots, which I'm totally fine with. I've been there and done that. I got to play with my daughters in tournaments. Even in my mom's memory for breast cancer called Celebrate the Tatas, we did so much with athletics together.
We got breast in show. We had so much fun with soccer as a family. We're all obsessed with it, but now we've switched to Peloton. I get on it every day. I got back from a vacation in California for ten days, where I missed it so much. I was so excited to return. The first ride I did was Live DJ with Robin. I'm like, "Yes, I needed that now."
It extends your vacation a little bit. You get to have a vacation even though you're home. It's a good way to start back.
I love it. I was telling my students. I teach at North Carolina State University and I say, "I start my day with a dance party. That's what happens in my world before I come to campus and teach you."
If this is too personal and you don't want to answer it, by all means. Just tell me to shut my pie hole. It happens a lot. What precipitated your doctor telling you that you can't run or jump?
The diagnosis I received was femoral acetabular impingement, which is basically where the ball and socket of the hip are not doing what they're supposed to do. I had three different surgeons look at the MRI and say, "There's not any surgery to do. Go ahead and do PT." That's helped me. I'm able to be active and enjoy strength training, yoga and the bike.
Was that from all the years of soccer playing? Did you overuse that part?
Yeah. It's a lot of overuse because when your dominant footed in soccer, you're always compensating with all the other muscles that are connected. It's like your quads, your calves and everything is trying to deal with the fact that you're always hitting with your right foot. After that many years, I think the old hip decided to say, "You're done."
That's why I don't play soccer.
If I tell people that my body is in a new condition.
It's true, Tom. Not doing anything means that you haven't used up all of your muscles. Tell us about your podcast. What's the name of it? What is it about?
Thanks for asking. We're fellow podcast nerds. I started a few years ago doing Wolfpack Career Chats, which is an opportunity for me to talk with graduates of my university as well as current students. It's all about overcoming struggles and realizing that life has many ups and downs. When I give a stage to people that have gone through a lot of these obstacles and come out on the other side, it inspires my current students.
With the pandemic, we need to focus on the students' wellness. There's so much mental health crisis happening in universities.
Click To Tweet
What school is that?
It's North Carolina State University in Raleigh, North Carolina. That's home of the Wolfpack, thus Wolfpack Career Chats. We talk to all kinds of people about their journey in life and what happened to them. Did they know what they wanted to be when they grew up? We talk about wellness, all things for a very happy and successful life.
What made you decide, like, "I'm going to do a podcast to reach out to my current students?" I'm curious about that.
I decided to do it a few years ago. I've listened to so many of the podcasts and I said to myself, "I want to talk to people about their stories." Plus, I realized that not every student on our campus, there are 30,000 of them, can take the classes that I teach. I only have room for 100 every semester with the four different sections of the courses. This way, students could listen to the interviews. Many of them, I recorded live in my class and they would listen to the students asking questions. It would be the same questions that they would have. They got to pop their earbuds in and walk to class and get the same content. We've had over 20,000 listens so far. It's exciting.
That's good, especially for a narrowly focused show like that. Is the school supportive?
The school is very supportive. I think overall, we get the freedom to have these conversations, to talk about challenging things that everyone's thinking about. We've done a lot on diversity, equity and inclusion. Understanding when you pick an employer, how important that is to feel a part of the group. Even if you're not in a majority group, how can you make sure that you are encouraged to advance and feel welcomed?
Do you guys talk about how you don't necessarily know what that's going to feel like at the new company? I find that it's a tricky part of the interview process to figure out what it's like there and not just what they tell you it's like there.
It's super hard. I agree, Crystal, because from the standpoint of a student coming out of college, they're in a pandemic, everything is turned upside down. They're like, "I hope I get employed," but this is one of the things that we tell them to do is to look at not just what is said in the interview and on the website, but what people who work there feel. Do they have mentors that look like them? Are there programs that assist them with support? That's hard to find out. It takes a lot of digging.
When did you become a teacher or professor? I don't know what your official title is. I don't mean to make it sound less than it is, but tell us a little bit about how you got where you are.
My title would be the instructor. I'm not officially a doctor, but a lot of students call me a professor. I've worked at four different universities, from the University of Queensland to the University of California, San Diego, to the University of Redland. In each of those roles, I think the tagline that I use is I devote my life to helping other people figure out what to devote theirs too. We spend more waking hours with our coworkers than we do with our loved ones. I'm passionate about helping people make those decisions.
Several years ago, I got the opportunity to teach courses that would be for credit on a student's transcript related to career exploration and readiness. I'm now teaching women in the workforce and these are all professional development-focused. I got a chance to put forward my ideas for what I wanted the syllabus and the rubrics to look like. The rest is history.
I remember when you and I were chatting offline, you told me that you use Peloton yoga content in your classes. I need to know all the things about this.
It's funny because I think with the pandemic, we have focused a lot on wellness with our students because there's so much mental health crisis happening in universities around the nation. It was reported that two-thirds of college students are feeling overwhelming anxiety. It's hard. Even before the pandemic, I had done yoga and wellness because it's in my DNA. Once we all went virtual, everyone jumped on the bandwagon with wellness because people were struggling so much. What I do is midway through the class, and my students know that it's coming. At first, they're like, "What we're doing yoga? Do we need a mat? Do I have to have blocks?"
Leggings are not required. It's yoga everywhere or wherever you are. I can't remember what the filter says. A lot of it is standing or chair yoga. I put it up on the big screen. We get to see Kristin and all of the wonderful instructors live. Everyone gets out of their seat and we take part in the 5 to 10-minute class in the middle. Sometimes we do meditation. That's another popular one in my class. I love using that content and introducing students to it because many of them have never done it before.
Are these like 5, 10-minute classes? They're on the shorter side. You're not taking up a ton of your instruction time, is what it sounds like.
It's usually 5 to 10, although it was funny, I pulled up the filter and said, "What do we need now? Do we need courage, meditation, patience, relaxation or energy?" Someone picked a 15-minute meditation, and my students were all like, "Yes, we want to do this." I was like, "Sorry, we have some other things we have to do now." It's typically 5 to 10 minutes.
That's a great scam, though, to take the longest one.
We don't have to do the real work. We can sit here and breathe together.
There's something to be said about it, obviously.
Robert's here, you refer to the yoga classes as not real work.
No, I like it. It's funny. The one that we did was Kristin McGee, and she said, "You have nowhere to be, nothing to do and you have no one to be." We talked about that afterwards. It was probably the only five minutes that you didn't have to be a sister or a daughter or a student. You could just be.
She's done that in a couple of her meditations and I love that mantra. It's very relaxing.
I love it too. We got a chance to do a live class with Kristin before the pandemic. We went up to the homecoming and now we're such big fans of hers.
You were at the last homecoming that was live. It's very cool. Hopefully, someday we'll all get to do that again. It would be nice. What are the students say about it? Obviously, they want to take a break, but what do they say about yoga and meditation? Especially the ones that never have done it, what are they saying?
They talked about it in their course evaluations, which made me so happy. Typically, students like to criticize and say all the things that they didn't enjoy about a class, but this stood out, "I loved the yoga." We did a Zoom with over 600 people on it. It was the winter holidays. Right before school started, we said, "We're going to do a career bootcamp." We had 600 people tune in. They all mute their camera and their microphone when the yoga comes on and take their break. Even in that feedback, it was highly rated. It's a keeper.
I have a little bit of a tricky question. Have you ever told anybody at Peloton that you're doing this? If you have, what's their response? I'm only asking this question out of complete curiosity. I am not trying to start anything, but it occurs to me as we're talking through this if they were a Disney-like entity, it could be a problem.
I could see the reaction going either way.
Me too.
In my opinion, I do this all the time. I'm not making any money off of what you're doing. I'm introducing all these people too. It's like, "I want to be a part of that content." That's how it works in my own brain. I am showing the content that I have purchased to a group of people that happened to be present in the room. If you have connections there and want to get approval, feel free.
I don't know. I'm thinking maybe you leave it alone.
Unless they tune in to this show and all of a sudden, I have John Foley call me and say, "Wait, you like being sued."
Hopefully, that does not happen. I feel like as long as we don't start seeing a ton of people going down this road and taking advantage and make money off of it. I feel like that's the key. I think you'll be fine.
As long as you're not giving them your login and password.
There's a bunch of ways that you could be taking advantage of them that you're not. You're sharing and you're doing so in a very loving way. You want to introduce them to it. I was asking out of curiosity, not to be like, "How dare you?" Do you have an idea of how many different classes you've done these in? You said you've done it for a couple of years.
I have. We meet twice a week. We take our break twice a week for fifteen weeks. That's 30 times I've done it times four classes. You might have to do the math on that.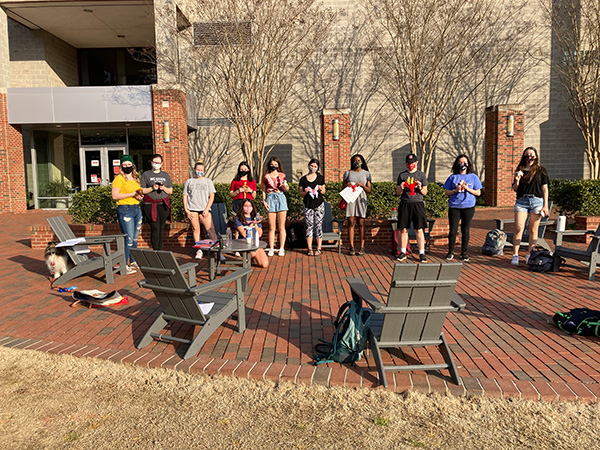 We're at 120. If it gets too big, I won't be able to go much further.
I've been doing it for the last few years, times three.
It's 360. They've had enough Peloton content that you can keep up with that even if you've had to repeat some classes here and there. There's a lot of different content that has flowed through the classroom.
I don't think I've had to repeat because it's different students on different days, but I will forget, I'll say, "What did we do last time? What do you want to do this time?"
Have you ever had a student be like, "Yeah, I do Peloton," and they talk about all the different stuff they do? Do you guys like exchange leaderboard names and get all nerd out as I do?
Yeah. I haven't given my leaderboard name out to a student. I'm trying to keep a little lime there. I have had students say, "My mom has one and whenever I go home, I ride it." Sometimes I think college students maybe don't have the budget quite yet. They get a great job offer and remember how much fun it was. They might be able to purchase it.
I think what you're doing is neat. I think it shows not how much anxiety is out there among college students, but how much doing something so simple for five minutes, slowing down can be beneficial. Even if it's not something you had counted on doing. Somebody put it in front of you and look at this amazing benefit that you got from it that you never expected to happen.
That's exactly what I've heard, Crystal. It's the very beginning of the semester now, so they're getting introduced to it. They said, "I've never had this opportunity in a class that wasn't a PE class." It was more on the academic side. This is the first time I've ever done this. I love it.
I also have to say from my personal college experience. I took a yoga class in college once and I did not enjoy that experience. Probably it's because of my age at the time. I wasn't as open to things as I am now, but her personality and my personality did not mesh. I wish that I had had instructors do things like this. That bite-size piece of it where you could try it out, but it didn't have to be like, you have to invest an entire semester in a class for that to figure out if it's something that you like or not.
I'm happy that they've been so receptive to it. There's also research that shows that you can't focus in a lecture for more than X number of minutes. It might even be ten minutes that you're supposed to change. I'm going to show a video. Now we're going to do a group activity. Now we're going to do a meditation. To stand up and talk in front of a group is completely not the way colleges are these days. It's very interactive.
I would need to go back to college and visit again. I don't want to go, but that is exactly how I was taught. They stand up in the middle of the classroom. You're absolutely right because there were times, I had no idea what they said.
You can't remember it. You remember how you feel and that's why it's great to elicit the emotions and some of these different activities we do with yoga and meditation.
I wonder if other teachers, even where you are in North Carolina if they will start doing more of this. If you're hearing anything about that or do you ever bring it up when you go to networking events for education?
Yes. I have had an article written on it by one of our national publications, which was fun. A lot of my campus partners know that it's something I do. I'm a wellness champion on our campus as well. That's an additional responsibility I have. I'm always looking for ways to infuse wellness into everything that I do. For example, now I have this idea, "Wouldn't it be cool to teach a class while students are pedaling on a bike?" Maybe Peloton can make a little donation here. I could see where we can go with that.
It would be a lot of bikes. She can reuse them in the different sections. She just needs enough to cover one section.
We only needed 30. There's also research that shows movement helps you to remember things. Even doing walks and talks, which I do a lot with students one-on-one, we don't sit in a room and have a conversation during office hours like the old-fashioned way. It's, "Let's go out in nature, walk, move and talk. It's so much less intimidating." Students are so much more open and you can build a bond of trust.
I wish I had you as a teacher when I was in college. That would have been amazing.
What is your leaderboard name, or would you rather not say in case a student stumbles upon this?
I doubt that would be a problem, but it's MarcyBull. It's my first name and then the first four letters of my last name.
Do you have any favorite instructors that stand out?
It's so much on my mood. It's funny because we'll talk about that as a family. I would say now, I will pick Cody because it's so entertaining. I laugh and the class goes by so fast.
I'm guessing there's no tread in your future.
There is not a tread in my future because of the diagnosis.
Are you doing any of the strength content or the Pilates, the bar or any of that? What are your thoughts on that?
I do the strength. I try to combine my workout. As a matter of fact, my nutritionist said, "For women of my age, our bodies change a lot." She's recommending more strength and less cardio and that is what I've been doing. I typically try to do about 30 minutes of strength in the morning. I'm doing as best I can to cut down on my cardio, but I typically still do 30 minutes. I try to take a day off now and then.
I was like, "I want this diagnosis, don't run, jump, get cardio."
All you have to do is go through menopause, Tom and you will be told not to do it.
Do you have any advice for people who have found the Peloton community?
My advice is to enjoy it. I would say don't overdo it because I sometimes have gotten sucked into that notion. How much can I do this? Don't always compete. Go out and turn all of the numbers off and have a fun time.
Let's go out in nature and walk, move, and talk. It's less intimidating, students are so much more open, and you can build a bond of trust.
Click To Tweet
I often turn off the leaderboard. I don't want to see it.
I don't do it, but if I did, I think I would. I don't pay attention to the stats on the Tonal. It frustrates you how much I don't. Thank you so much for joining us. Before we let you go, where can people find you on social media if you would like to be found?
My Twitter is @WolfpackCareer. It goes with the podcast. They can look up Wolfpack Career Chats or Pack Career Chats. I got in trouble with athletics. I can't say Wolfpack. They can find me there. You can find me on LinkedIn with my name, Marcy Bullock.
The show isn't like behind a paywall for students and alumni. It's out there in the wild for anybody to find.
Everyone is welcome to listen to the podcast.
Thank you so much.
Thank you so much for joining us.
Thanks for having me. I've enjoyed it.
—
I guess that brings this episode to a close. What pray tell do you have in store for people next episode?
We are talking to Katie Johnson. Make sure and tune in for all kinds of interesting facts.
Until then, where can people find you?
People can find me on Facebook at Facebook.com/crystaldokeefe. They can find me on Instagram, Twitter, the Bike and the Tread @ClipOutCrystal.
You can find me on Twitter @RogerQBert or on Facebook at Facebook.com/tomokeefe. You can find the show online at Facebook.com/TheClipOut. While you're there, like the page and join the group. Don't forget our YouTube channel, YouTube.com/TheClipOut. That's it for this one. Thanks for tuning in. Until next time, keep pedaling and running.
Important links:
About Marcy Bullock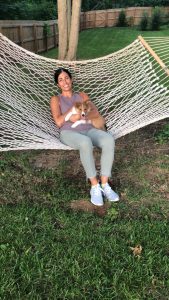 My trademark is constant growth as a fearless career center leader. I emphasize innovation, strategic campus collaboration, curriculum development, talent recruitment and engagement, employer development and organizational transformation.
I am an inventive leader and collaborator who provides transformative experiences to students. Forward-Thinking and Persistent. I devote my life to helping others figure out what to devote theirs to. I am an experienced leader/educator who empowers students to reach their potential with a commitment to diversity, equity, inclusion and belonging. I offer creative solutions resulting in career fulfillment. I lead teams and teach classes on career exploration, career readiness and professional development at NC State. I have published articles on career issues and have presented at national conferences. I received the Governor's Award for Excellence and the Outstanding Faculty Award from the alumni society. I spent a semester abroad in Brisbane Australia learning about new career programs.
I am a Keynote Speaker and career coach with expertise in building trust in teams / careers / Gallup strengths / job search / building relationships / purpose / goals / professionalism / leadership / and values. I encourage my audiences to reach their full professional potential by enthusiastically sharing what I have learned. I have done it for thousands over my career at four Universities from Australia, to California to North Carolina.
My P5 Mantra is "Be fully PRESENT and trust the PROCESS as you explore your PATH releasing the PRESSURE valve to unleash your POTENTIAL"
Gallup Strengths- Woo, Strategic, Communication, Empathy, Activator
Primary Professional Question- "Is there a better way to do this?"
I welcome personalized connection requests from college students, alumni, faculty, partners, prospective employers, talent development professionals and colleagues seeking career collaborations.
Love the show? Subscribe, rate, review, and share! https://theclipout.com/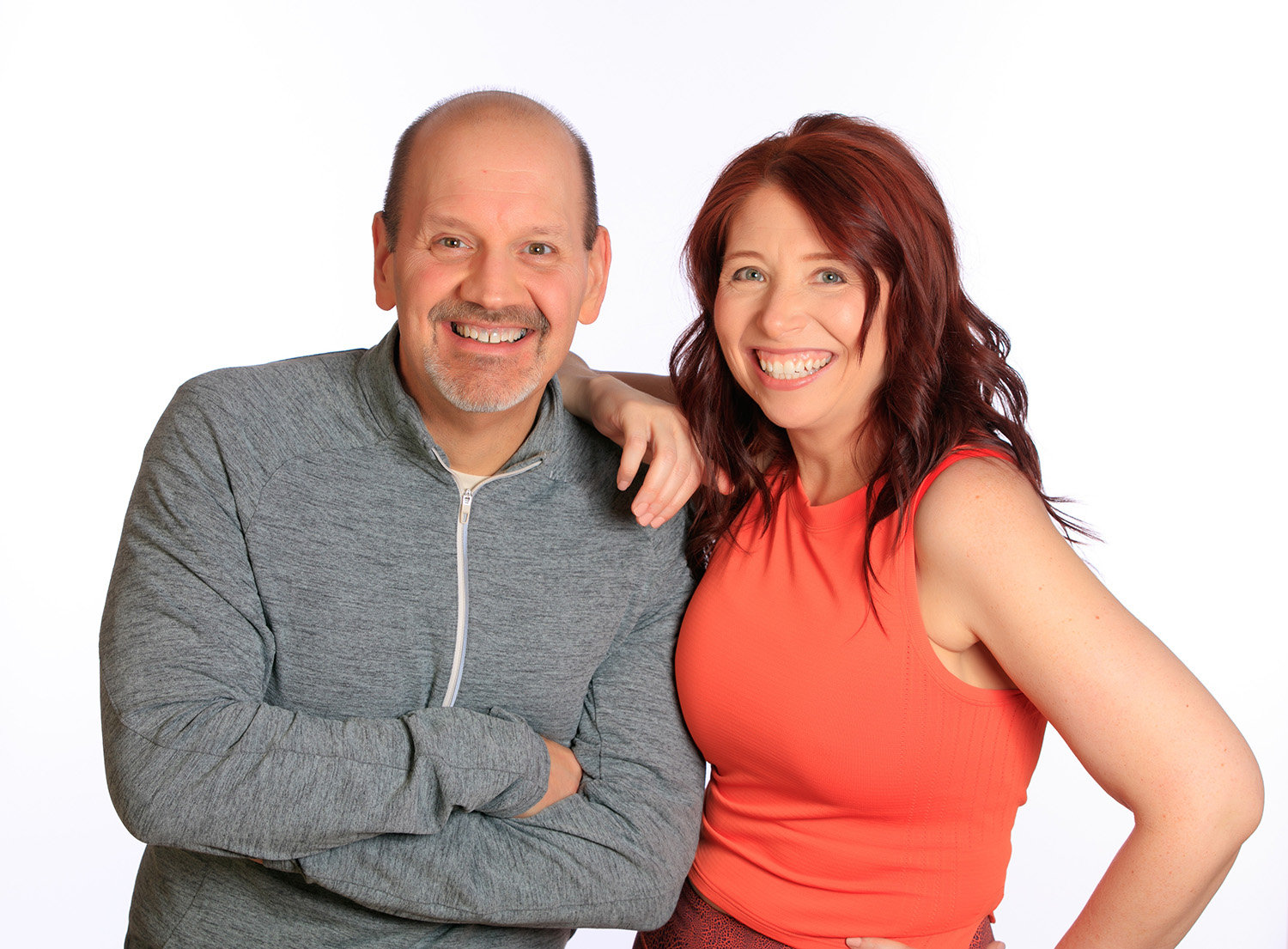 Subscribe
Keep up with all the Peloton news!