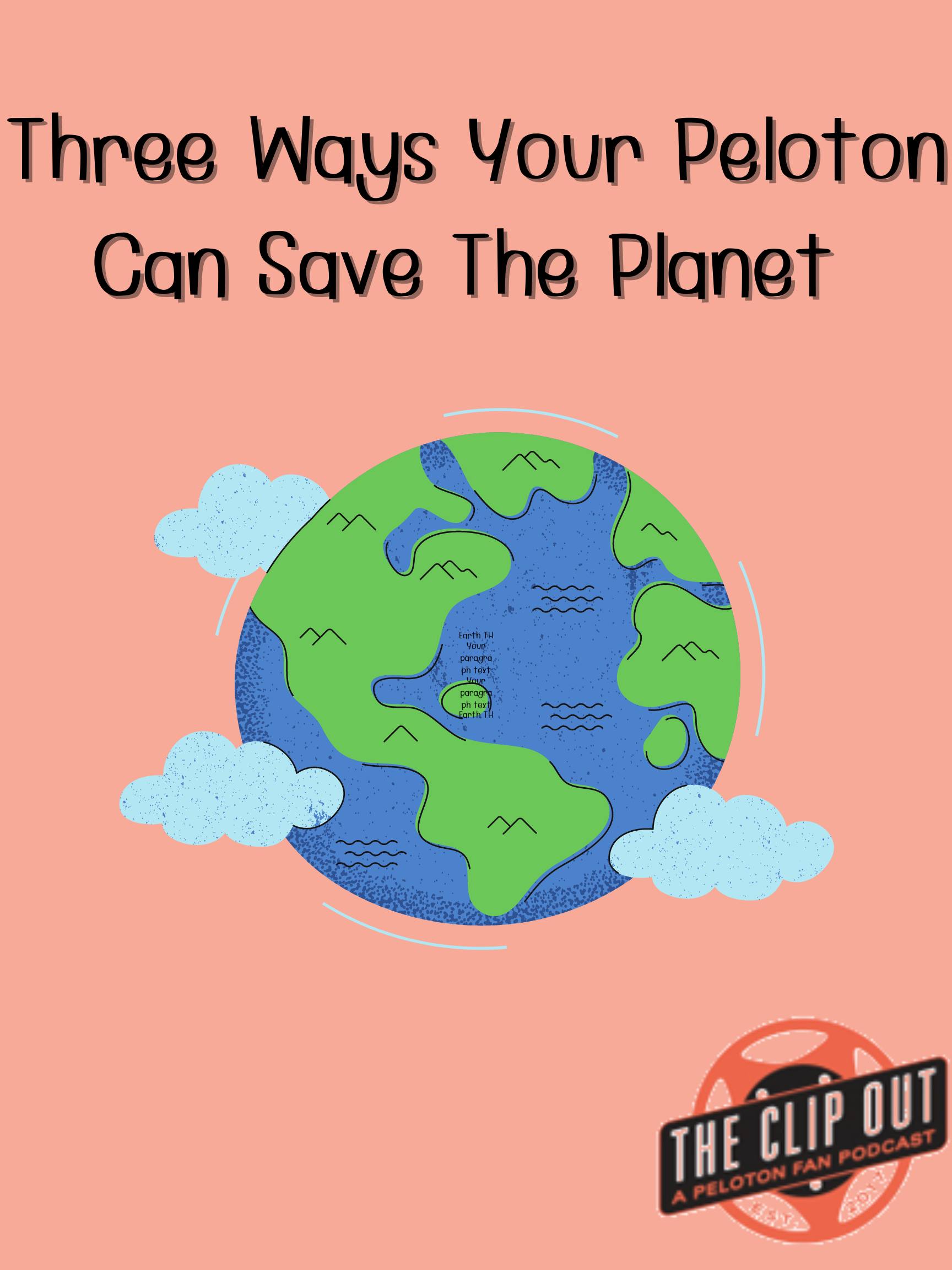 Three Ways Your Peloton Can Save The Planet
Did you ever think that Peloton can save the planet? Peloton's Nov 1. 2022 ESG report highlights the company's approach to sustainability, equity, and inclusion. An ESG report leverages an internationally recognized set of standards that enables organizations to share sustainability risks and opportunities that affect enterprise value. In short: Investors (and anyone else) can use ESG reports to gain insights on company health. These three earth-saving highlights stood out to us!
Peloton Can Save The Planet
Peloton helps heal the ozone layer! Peloton reduced its Green House Gas emissions by 353,310 cubic tons from FY21 to FY22. Almost all reduction came from what's known as "Scope 3" emissions, which are emissions from outside direct operations (think: supply chain).
Peloton gets the planet closer to zero waste! Peloton tested Certified Pre-Owned (CPO) Bike sales in the US and Germany, with significantly better-than-expected results, keeping CPO Bikes out of landfills. Peloton is exploring ways to expand this program for an even happier planet.
Peloton could one day be completely plant-powered! Peloton aims to source 100% renewable electricity for its direct operations by 2026.
Here's a rundown of the rest of the report.
Environmental Impact
In addition to the planet-saving efforts above, these highlights stand out as environmentally positive:
Since June 2022, roughly 20% of first-generation Bikes were leased under Peloton's test rental program, equating to more than 5,000 Members with All-Access Memberships. Together with the CPO Bike program, this effort is meant to build circularity (getting more life out of the same equipment) into Peloton's business model
Team-lead grassroots efforts to extend the life of used accessories. Teams across the company found ways to repurpose returned accessories, including shoes, weights, and workout mats, by routing them to on-site team member gyms and for use by social impact nonprofit partners
Some key environmental impact targets going forward:
Source 100% renewable electricity for its direct operations by 2026
Release product carbon footprints for key connected fitness products by 2024
Reduce air freight by 95% from an FY21 baseline, and maintain air freight at less than 2% of production units shipped annually
Expand circular business models (equipment refurbishment)
In a show of transparency and commitment, Peloton has also filed the results of a standard climate-risk assessment questionnaire with the Carbon Disclosure Project (CDP) and will continue to report to CDP.
Social Impact
June 2022 marks the two-year anniversary of the Peloton Pledge, Peloton's ongoing commitment to combat systemic inequity and promote global health and wellbeing. With the ESG report, Peloton shares a reimagined and clarified Pledge. Much of the social impact shared in the ESG report is a direct result of this Pledge.
Peloton reported social impact achievements both internally and externally.
Some highlights from Peloton's internal work:
A Global Pay Equity Study found no statistically significant pay gaps. Peloton will repeat this study annually and commits to maintaining 100% pay equity across gender and race/ethnicity
Provided 4,000 hours of training to develop leadership in-house
Initiated anti-racism training program with an amended goal of having 100% of all people leaders complete the program by end of FY24 (original goal was 80%). Additionally, Peloton aims to have anti-racism learning opportunities available at all levels of the company
Held its first US Employee Resource Group (ERG) summit. ERGs create belonging and engagement by bringing together communities of team members to provide support, development opportunities, and programming.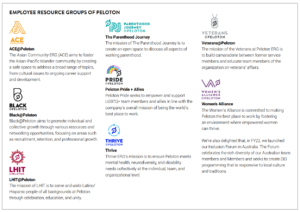 Peloton reported a positive social impact for its members as well. Some highlights:
Instructor-lead experiences celebrating and supporting members, including:

Breath In, Speak Up series
Juneteenth classes
LGBTQIA+ celebration classes

Amended community investment goal: Rather than a fixed budget over a finite period, Peloton is implementing an ongoing, evergreen commitment to give 1% of its operating income before tax, starting in FY24, plus leveraging non-monetary resources
Welcomed its first adaptive training instructor and launched an adaptive training collection
New accessibility features released across Bike/Bike+ and Tread, geared toward meeting the needs of Members living with visual, hearing, and mobility impairments
First annual inclusion survey completed, will inform future development. Note that this survey was conducted before the announcement of Logan as Peloton's first adaptive training instructor. Survey results: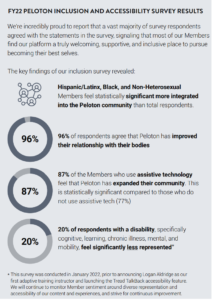 Peloton also explained that it is "looking at accessibility through the lens of economic inclusion." They are exploring more low-cost ways for people to enter the Peloton community (e.g. the rental program)
Governance
From a corporate governance perspective, the ESG report describes a C-suite and governance framework fully invested in the company's ESG strategy.
In FY22, Peloton launched an ESG executive steering committee that includes the company's most senior executives. Pamela Thomas-Graham, Peloton board member and chairperson for the nominating, governance, and corporate responsibility committee explained that "this committee will help ensure that ESG issues are central in top-level strategic and tactical decisions, and will enable continued, cross-functional accountability in the years to come."
Peloton also created an Impact Framework that formally integrates ESG principles into Peloton governance and culture. The Impact Framework outlines how the company prioritizes the well-being of its people, community, and planet.
Peloton President and CEO Barry McCarthy centers Peloton's success on performance against its ESG goals: "Our ESG goals and performance are key to ensuring Peloton can be the best version of itself, continuing to deliver on our goals and commitments."
Peloton can save the planet.
Want to hear more?
Tune in to The Clip Out on Friday, Nov. 4, to hear Tom and Crystal's take on this and other hot Pelotopics. We're available on Apple Podcasts, Spotify, Google Podcasts, iHeart, TuneIn. Be sure and follow us so you never miss an episode. You can also find the show online on Facebook.com/TheClipOut. While you're there, like the page and join the group. Lastly, find us on our YouTube channel, YouTube.com/TheClipOut, where you can watch all of our shows.
Written By: Darci Bolger