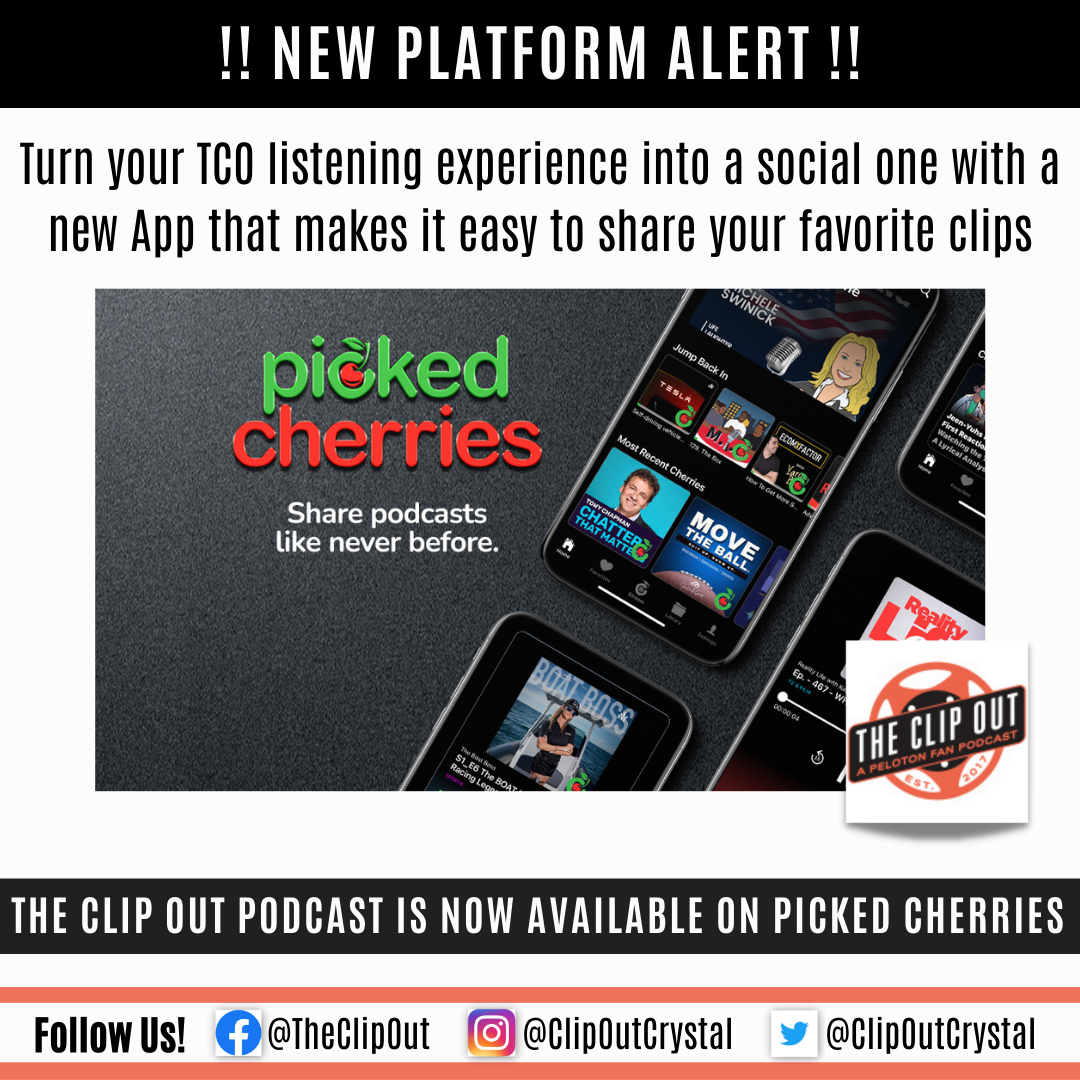 The Clip Out Podcast Now Available on the Picked Cherries Platform
How many times have you been listening to The Clip Out podcast and thought to yourself, "Man, I'd really like to share this with my Pelo-loving friends!" but the idea of sharing the link, marking the time-stamp, telling your friends to navigate to the exact timestamp and then actually completing all of that got lost in the intention?  Never mind the followthrough on the other end of the person you're sending it to.  To be frank, it's a cumbersome process.  But, all of that is changing with the creation of a new way to listen to your favorite podcasts, and you can find your most favorite (The Clip Out…duh) already there, waiting for you. 
Podcasting Gone Social
We are excited to announce that The Clip Out is now available on the Picked Cherries podcast platform.  Picked Cherries is a revolutionary new platform that is taking the solo experience of listening to a podcast and turning it into a social experience, by giving listeners the ability to select segments that resonate with them and turn those segments into shareable 60-second audio clips, all within the Picked Cherries App (no additional editing App required!).   
A unique new way to share your favorite clips with your social circle
These shareable clips, called 'Picked Cherries,' give listeners the ability to introduce their favorite podcasts to family, friends, and co-workers even if they don't have the Picked Cherries App themselves.  Listeners can share via text, WhatsApp, email, and messaging and posts across all major social media platforms.  In addition, you can create a library of your favorite podcasts and clips to revisit or share down the road.  
How to Pick a Cherry
The process of making a Picked Cherry couldn't be easier.  Once you identify the clip that you'd like to share, tap the cherry button at the bottom of the screen, trim down the 60-second audio clip, tap the share button, and send it off to your family, friends, or social media account.  That link automatically takes them to the Picked Cherries platform and, to that exact moment in the podcast (no more sharing links to entire podcasts and directing people to a specific timestamp!).  Picked Cherries is a free App, but people you share your link with are not required to have it.  Ready to download it and give it a try?  You can find it in your favorite App Store, or follow the link here.  Once you've downloaded the App, navigate to the search function at the top of your screen and type in The Clip Out.  From there, you'll be taken to the TCO page, where you can hit the heart and save it to your favorites.  Then you're ready to listen and start making–and sharing–clips! Easy as (cherry) pie.
See something in the Peloton Universe that you think we should know? Visit theclipout.com and click on Submit a Tip!
Tune in to The Clip Out every Friday to hear Tom and Crystal's take on this and other hot Pelotopics. We're available on Apple Podcasts, Spotify, Google Podcasts, iHeart, TuneIn. Be sure and follow us so you never miss an episode. You can also find the show online on Facebook.com/TheClipOut. While you're there, like the page and join the group. Lastly, find us on our YouTube channel, YouTube.com/TheClipOut, where you can watch all of our shows.