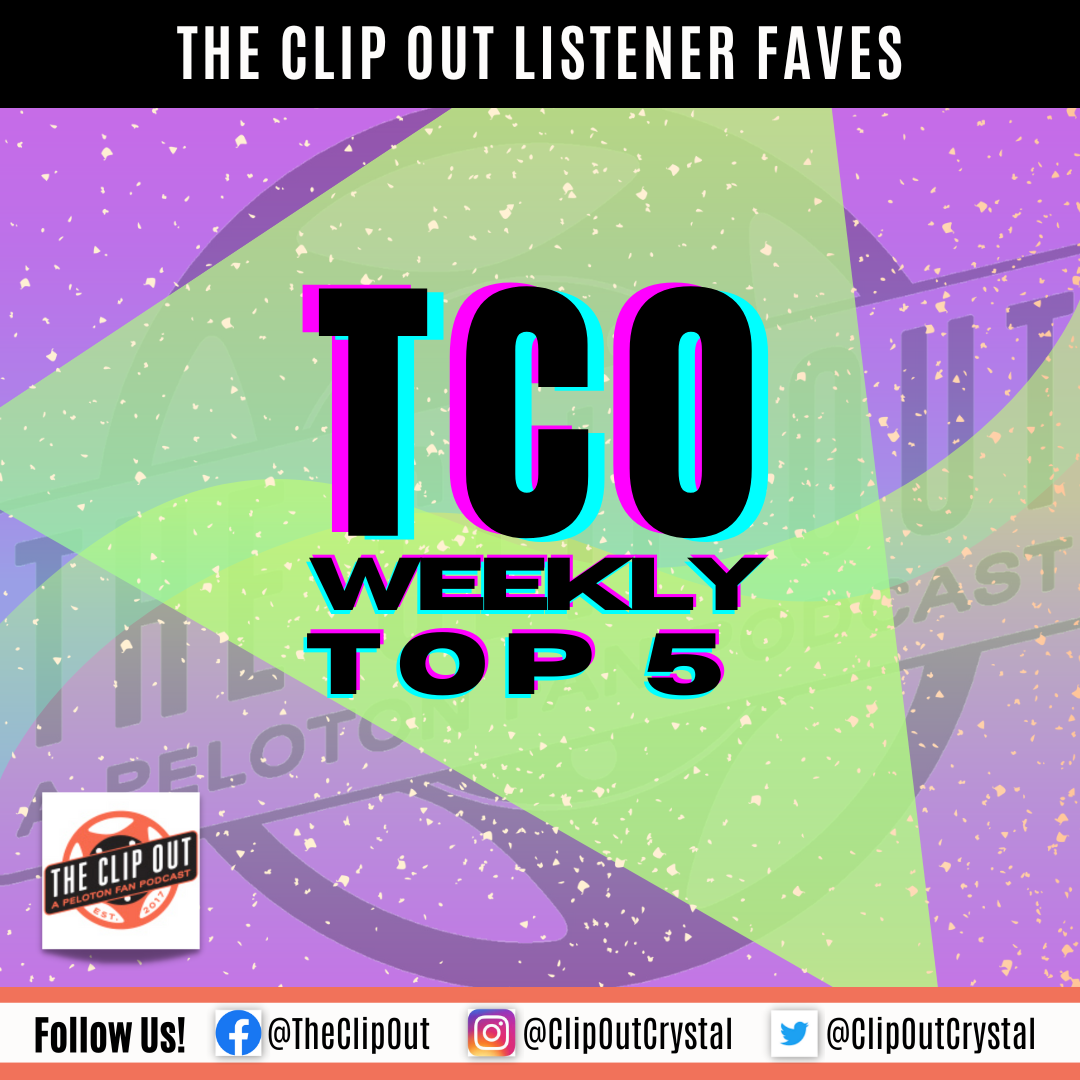 TCO Top 5 Favorite Peloton classes: Stay motivated with this week's picks
The Clip Out Facebook Group came through with a solid Top 5 Classes this week! We're sharing the five most enthusiastic recommendations from our community, along with a quick summary of each class. Read on for our weekly dose of motivation!
This week's favorite Peloton classes:
Why you loved them!
Sometimes it's hard to pick just one favorite, but these reviews make it seem easy! Here's what the TCO Group had to say about their favorite classes from the last week.
1. Favorite Peloton Walk + Run
6/26/23 30 min Walk + Run with Logan Aldridge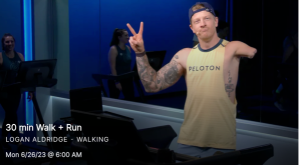 As Peloton's first adaptive athlete, Logan Aldridge inspires Peloton members with his positive attitude and expert motivation in both Strength and Tread classes. Listener Teresa Spelts Ross found an extra dose of inspiration in his 6/26/23 Walk + Run, where he honors the 19th anniversary of losing his arm:
"Logan's 30 min Walk + Run from 6/26/2023 was good," she said. "It was the 19th anniversary of losing his arm, he tells the story of it, why he says, "It's just an arm," and the music is from that era of his life. Highly recommend."
After a five-minute warmup, Logan takes the class through seven one-to-one run/walk intervals beginning with two at three minutes, then three at 90 seconds, and finally two quick one-minute intervals to finish the class. The playlist includes rock hits from the early 2000s, including Sex on Fire by the Kings of Leon, Can't Stop by the Red Hot Chili Peppers, and The Pretender by the Foo Fighters.
This class is a very special moment with Logan, with a great reminder that no matter what we face, to be proud of our bodies and confident in our skin.
2. Favorite Peloton Yoga
8/16/23 20 min Classical Slow Flow with Mariana Fernandez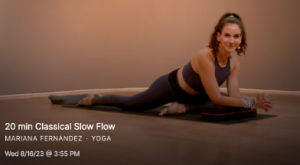 Jennie Bryan Leichtling highlighted Mariana's 20 min Classical Yoga Flow from 8/16/23 as a perfect complement to running. She said of the class: "[It] was a true delight. It stretched everything out and Mariana is just such a positive light. I think since she's a runner, when she does a slower placed flow, it hits all of my tight hip issues.
Mariana introduces the class with intentional breathing and uses a few sets of Sun Salutations to connect breath and body. She then guides the class through a slow flow designed to help down-regulate the body and mind—to help create calm from the inside out. The class is set to soothing classical and neo-classical tracks from Vanessa-Mae, Sophie Hutchings, and Gabriela Parra.
Add this class to your stack for your next active recovery day, or any time you want to slow down and connect with your body.
3. Favorite Peloton Ride
8/18/23 30 min Dance Music Ride with Erik Jager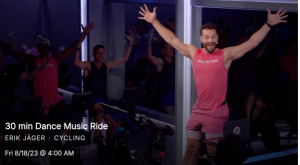 Erik Jager was very popular with the TCO Group this week, thanks in part to his stint at Peloton Studios New York. In particular, his 8/18/23 30-minute Dance Music Ride racked up quite a few comments:
Danette Royal Giles (bettrnettr) said, "This ride with Erik was so fun. It was nice riding in English with an energetic studio full of people including Adrian and Katie. It was live from PSNY."
Jessica Ann (cartonomilk) agreed, saying, "He was hysterical talking about sexy stories and Adrian with Katie in there. So much fun. He was silly and great music choice to sing along."
Chelsea Schroeder was also loving Erik's energy: "I enjoyed this one too!! I love listening to his voice and his fun interaction with the studio."
The class playlist is nonstop singable pop magic, with hits from Whitney Houston, Donna Summer, Blondie, Madonna, and Alanis Morissette. The class plan includes some climbs and intervals, but it is absolutely a fun-first dance party on the Bike.
4. Favorite Peloton Core Strength
8/18/23 10 min Core Strength with Rebecca Kennedy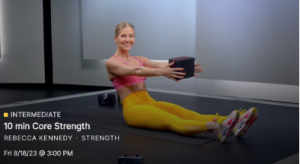 Most of us could use a little more pelvic floor awareness in our lives, so this recommendation from Celina Schocken went straight to this week's TCO Top 5: "Rebecca Kennedy's 10 min core from 8/18. She plays one 10 min Taylor Swift song, and it's all about the pelvic floor. Fantastic."
Throughout the class, Rebecca uses common core exercises but adds a special focus on pelvic floor engagement and stability. She uses a yoga block as a tool to help activate the pelvic floor and lower abdominal muscles properly.
This class won't leave your abs burning, but Rebecca says that's a good thing! She says this class is for the oh-so-important lowest layer of abdominal muscles. And while this lowest layer of abs is subtle, it's key to injury prevention and healthy function.
5. Favorite Peloton Unstackable Class
8/18/23 45 min HIIT & Hills Ride with Jenn Sherman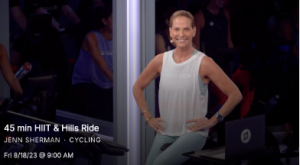 Sometimes we want a class that leaves us in a puddle and washes all hope of a stack of extra classes away with it. We call those classes that really empty our tanks Unstackable, and we love hearing about our listeners' Unstackable experiences.
For this week's "Unstackable" recommendation, we heard from Steph Marriott Abbott. She said:
"Jenn Sherman's 45 Minute HIIT and Hills class from 8/18. I had thought I'd stack a 15-minute low impact then a 10-minute Arms and Light Weights. But I was done after that class. I ended up doing a 15 [minute] floor stretch. She's so funny with the Fbombs. I love her."
Jenn really knows how to pick music that makes hard work a little more fun, and this class is no exception. Reel 2 Reel's I Like To Move It sends some well-timed positive thinking to your legs, and Justin Bieber's Sorry tries to make amends for the pain they're going through. The Hold Me Closer collaboration between Britney Spears and Elton John is a little escape to the dance floor, and Usher and Pitbull's DJ Got Us Fallin' In Love brings you back to your body and the bike.
And if the music isn't enough to get you through this Unstackable treat, Jenn's humor will! If you are brave enough to give this one a try, let us know how it goes—and how long it took you to get up off the floor after!
Thank you!
Thank you to all of our listeners for sharing your recommendations and enthusiasm. To see the full list of this week's classes and add your own to the conversation, check out the post from August 21, 2023, here. To see past weeks' Top 5 classes, visit TheClipOut.com and search TCO Top 5! If you try any of the recommendations and find a new favorite, we'd love to hear from you!
---
Tune in to The Clip Out every Friday to hear Tom and Crystal's take on this and other hot Pelotopics. We're available on Apple Podcasts, Spotify, Google Podcasts, iHeart, TuneIn. Be sure and follow us so you never miss an episode. You can also find the show online on Facebook.com/TheClipOut. While you're there, like the page and join the group. Lastly, find us on our YouTube channel, YouTube.com/TheClipOut, where you can watch all of our shows.
See something in the Peloton Universe that you think we should know? Visit TheClipOut.com and click on Submit a Tip!