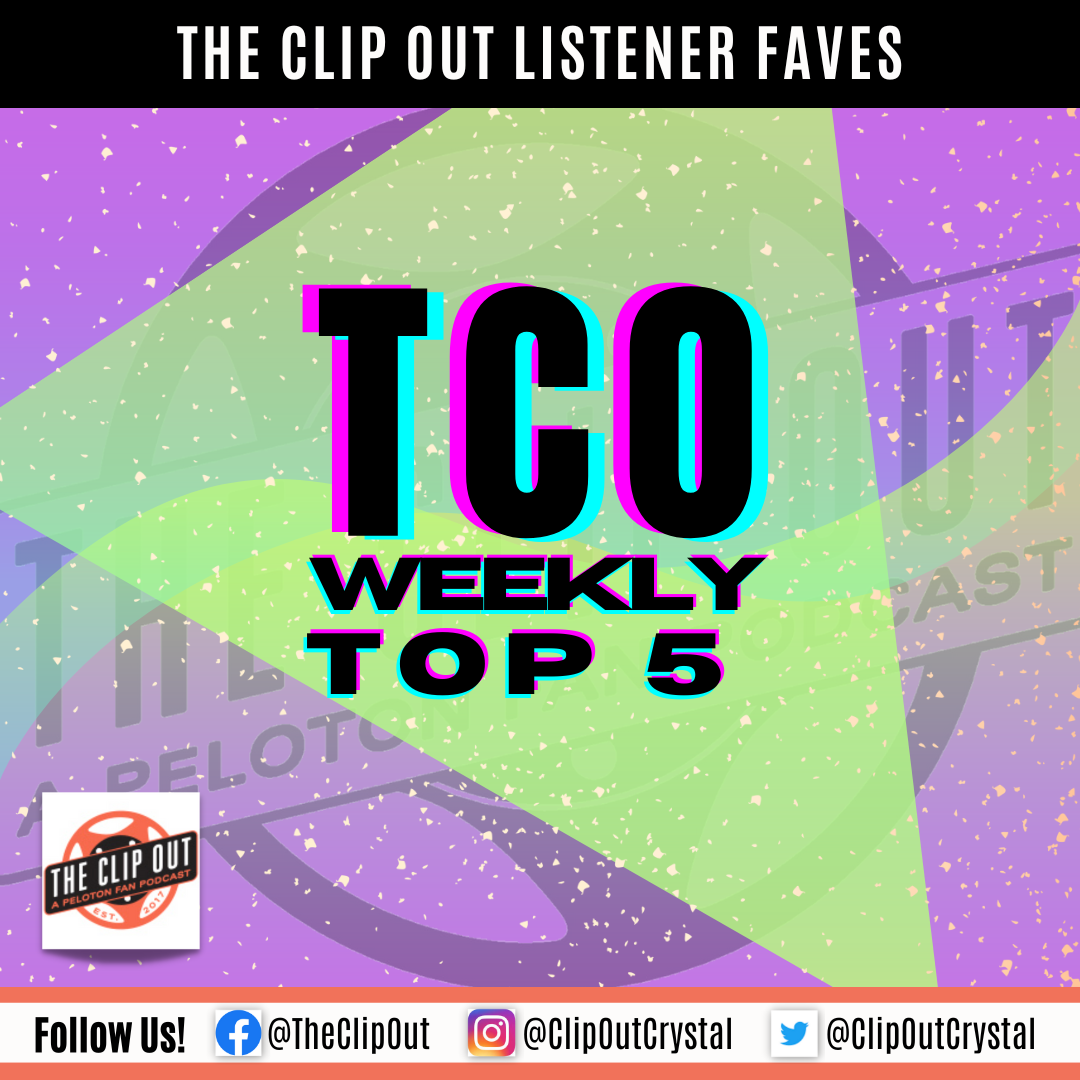 TCO Top 5 Favorite Peloton classes: Stay motivated with this week's picks
Our favorite Peloton Strength classes and an absolutely Unstackable ride topped the Clip Out Facebook Group's Top 5 list this week! We're sharing the five most enthusiastic recommendations from our community below, along with a quick summary of each class. Read on for our weekly dose of motivation!
This week's favorite Peloton classes:
Why you loved them!
Sometimes it's hard to pick just one favorite, but these reviews make it seem easy! Here's what the TCO Group had to say about their favorite classes from the last week.
1. Favorite Peloton Bodyweight Body Strength
10/31/20 10 min Bodyweight Strength with Andy Speer

Alexandra Tsiros is focused on the long game. Her goals include aging well, and she shared with us one class that is helping her do that.
"I may have already shouted out Andy's 10 min BW class from 10/31/20," she said. "I've taken it so many times and just put it on again because I've set some long-term goals for aging, like balance, which is what this class focuses on. I love it."
This class is focused on balance, so you'll spend the entire class on just one foot or the other. Andy recommends taking it on bare feet, if that's an option, and repeating it twice a week for a month to see improved balance. He even says it's great to stack before or after a run or more intense workout. Don't be fooled though—your muscles are sure to feel the burn after this one!
The playlist is one long electronic song, but it serves as more of a background so that you can focus on all the great info Andy is serving throughout the class.
2. Favorite Peloton Run
30 min East London Scenic Run with Jermaine Johnson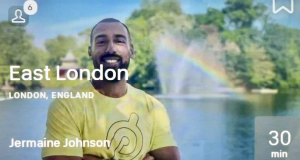 Cindi Stuart (i_brake_4_tacos) decided to try something new this week and took the scenic route with Jermaine (aka JJ). This class is only available on the Tread and Tread+, but the Bikes and Row both offer their own Scenic content worth checking out!
Cindi says, "My favorite [class this week] was JJ's East London scenic run. I don't do these often, but I've been to London twice this year and I'm going back at the end of this month. Loved the tour of east London & hearing JJ's long history of living in the area."
JJ guides you on an easy run through East London while sharing memories of his life and childhood. The playlist includes music from Cream, Bob Marley & the Wailers, Amy Winehouse, and Coldplay. The class is perfect for when you want your run to feel smooth, like a London summer breeze.
3. Favorite Peloton Total Body Strength
7/21/23 45 min 90s Full Body Strength with Rebecca Kennedy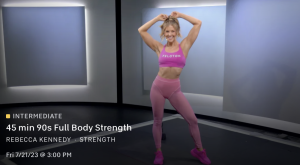 Teresa Spelts Ross found a gem of a total-body strength class this week. She shares:
"My favorite workout was RK's 45 min full body strength workout from 7/21/2023. It was a descending pyramid of reps with various exercises – starting at 100 reps total in warmup (10 different movements), finishing with 10 reps and a bonus burner. I bookmarked it to take monthly. So much fun."
This class sounded so tough, I had to ask Teresa if it was unstackable. To my surprise, it was not! "I did it after a 45 min run, then followed with 10 min core and 10 min stretch," she said, "It was a long workout day for me. It was really empowering."
After a 7-minute, 100-rep bodyweight-only warmup, Rebecca takes you through 9 more blocks of work, with each additional block descending by 10 reps (90, 80, 70, etc.). The moves include lunges, Russian twists, snatches, dumbbell Romanian deadlifts, and more.
The music features 90s hits from En Vogue, N'SYNC, Run DMC, Juvenile, and Alanis Morrissette. Rebecca's energy and instruction, as always, are top-notch.
Add this class to your stack for the next time you want to tackle a serious full-body strength workout!
4. Favorite Peloton Upper Body Strength
8/8/23 20 min Upper Body Strength with Logan Aldridge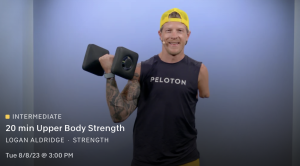 Pat Darling wasn't feeling motivated to do a strength workout this week, but she was committed regardless! And this class ended up being just what she needed to get her mind and body in the game:
"I loved Logan's 20-minute upper body strength class from Tuesday 8/8. I was in no mood to do strength. I am so glad I chose this class, because the playlist totally got me into it. Between Logan's energy, and the rock and hip-hop playlist, I got energized."
Logan says the class "will provoke quite a pump." With a straight-forward medium- and heavy-weight program, it's easy to see why. After a 3-minute warmup, Logan takes the class through two circuits and a 90-second AMRAP (as many rounds as possible) to finish things off. The first circuit includes bent-over rows, bicep curls, chest presses, and skull crushers; the second is upright rows and overhead presses.
As Pat said, this playlist is audio energy! It features music from Fall Out Boy, Kendrick Lamar, Breaking Benjamin, and Eminem. Logan's positivity and focus make this the perfect pick-me-up for when you need to pick up some heavy weights!
5. Favorite Peloton Unstackable Class
5/27/23 30 min Tabata Ride with Benny Adami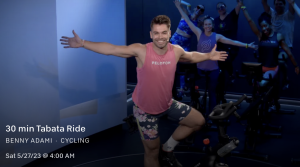 Tabetha Perrault (tabbyspickles) is bringing us this week's Unstackable class highlight. This class sounds like equal parts fun and torture. It's the kind of class you clear your stack for—and maybe even the rest of your day for! Because nothing happens after this one–just a lot of sweating… and maybe, if you're lucky, a nap!
As Tabetha puts it: Do you love Tabatas? ME NEITHER! but this class was so much fun! I had been sleeping on Benny Adami, until now! It's Benny's bday and you are celebrating with him by doing 50! (Yes I said 50!!!) Tabatas. You will sing 3 words max of every song in this diva-filled playlist (because you won't have enough breath for the entire line) In the words of Benny, "you will survive this, it will just be super painful." 
She also has this word of caution: "Pro tip: the warm-up is only 4 min; you better come prepared!"
The playlist includes music from Dua Lipa, Whitney Houston, Lady Gaga, Tina Turner, and The Pointer Sisters. You'll want to sing, but will you be able to??
If you've only got 30 minutes but want to get a killer workout in, this is the class for you. If you give this a try, let us know how it goes!
Thank you!
Thank you to all of our listeners for sharing your recommendations and enthusiasm. To see the full list of classes and add your own to the conversation, check out the post from August 14, 2023, here. And let us know in the comments if you try these and find a new favorite of your own!
---
Tune in to The Clip Out every Friday to hear Tom and Crystal's take on this and other hot Pelotopics. We're available on Apple Podcasts, Spotify, Google Podcasts, iHeart, TuneIn. Be sure and follow us so you never miss an episode. You can also find the show online on Facebook.com/TheClipOut. While you're there, like the page and join the group. Lastly, find us on our YouTube channel, YouTube.com/TheClipOut, where you can watch all of our shows.
See something in the Peloton Universe that you think we should know? Visit TheClipOut.com and click on Submit a Tip!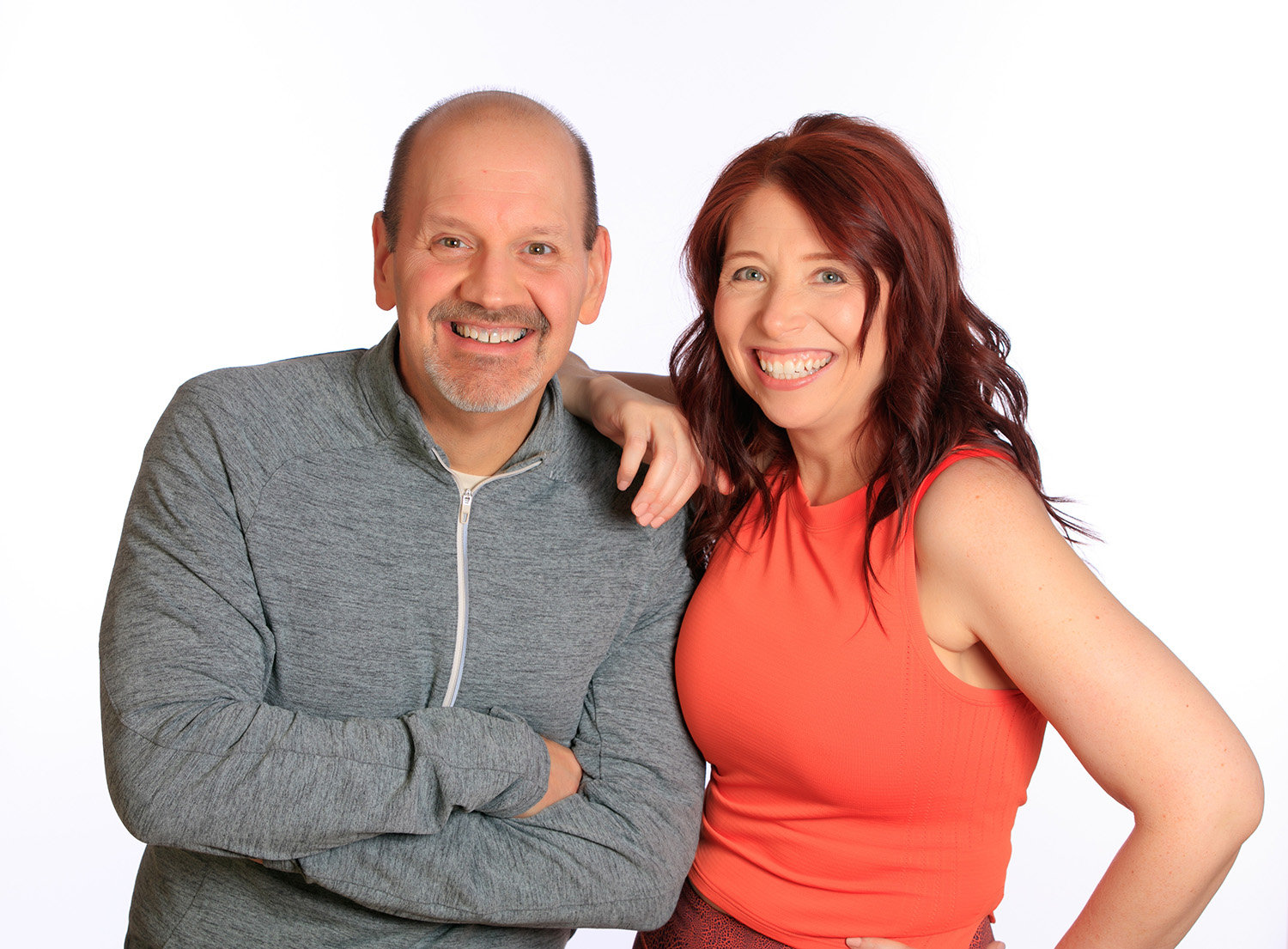 Subscribe
Keep up with all the Peloton news!