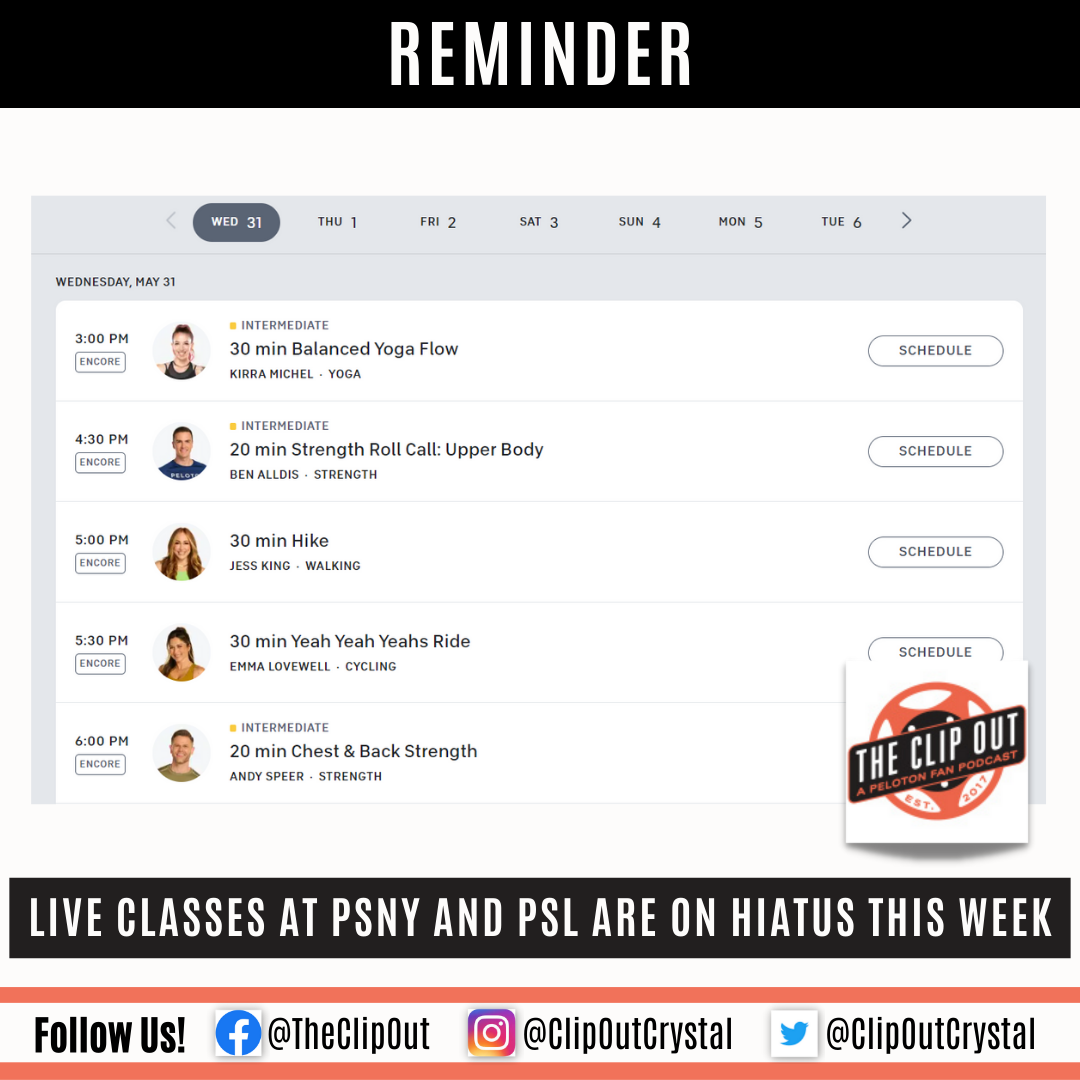 Reminder: Peloton Live Classes Are On Hiatus This Week
Where did all the Live classes go? The Peloton hiatus explained.
As a reminder, Peloton Studios in both New York City and London are closed "for maintenance" this week.  While we don't know the specific details of what this round of maintenance involves, we've heard rumblings of an upgrade to the PSNY Tread studio, along with other maintenance-related tasks.  For those who rely on the routine of daily classes to get their sweat on, Peloton has stacked this week's schedule with Encore classes running through the weekend, and, of course, there are thousands of classes available in the On Demand library.  But, for those who live for the live classes, a week-long, studio-wide hiatus is rarely a welcome change.  Thankfully, we're nearly half way through the current studio closure and classes are set to resume on Monday, June 5th with Leanne's live 20-minute Pop Ride from Peloton Studios in London.
Downtime for the Instructors
Our beloved Instructors are using their downtime to travel, to visit family, to relax, to recharge, and most of them are documenting it all on their Instagram pages.  If you're jonesing for an instructor fix right now and/or you just miss seeing their faces, you can live vicariously through these intrepid globetrotters by heading over to their Instagram pages to see how your favorite coach is spending his/her time off.   Pizza and sightseeing in Rome?  Check out Emma's posts.  Walking the streets of Barcelona?  Callie's got you covered.  A tropical vacation in the Maldives?  Hit up Tunde's page. Her 2023 goal of becoming more comfortable in the water is going swimmingly, by the way!! (see what I did there?)  Love the City of Light?  Follow Cody's trip through Paris.  Need a hit of the warm fuzzies?  Check out Katie's trip to California to see her grandmother. 
Looking for your favorite Instructor's Social Media? 
No matter who your favorite Instructor is, or maybe you just can't possibly choose a favorite, you can find our comprehensive list of all of the Instructors' Instagram pages here.  Warning:  Peloton Instructor Instagram pages may cause occasional to extreme bouts of FOMO and wanderlust. 
See something in the Peloton Universe that you think we should know? Visit theclipout.com and click on Submit a Tip!
Tune in to The Clip Out on every Friday to hear Tom and Crystal's take on this and other hot Pelotopics. We're available on Apple Podcasts, Spotify, Google Podcasts, iHeart, TuneIn. Be sure and follow us so you never miss an episode. You can also find the show online on Facebook.com/TheClipOut. While you're there, like the page and join the group. Lastly, find us on our YouTube channel, YouTube.com/TheClipOut, where you can watch all of our shows.