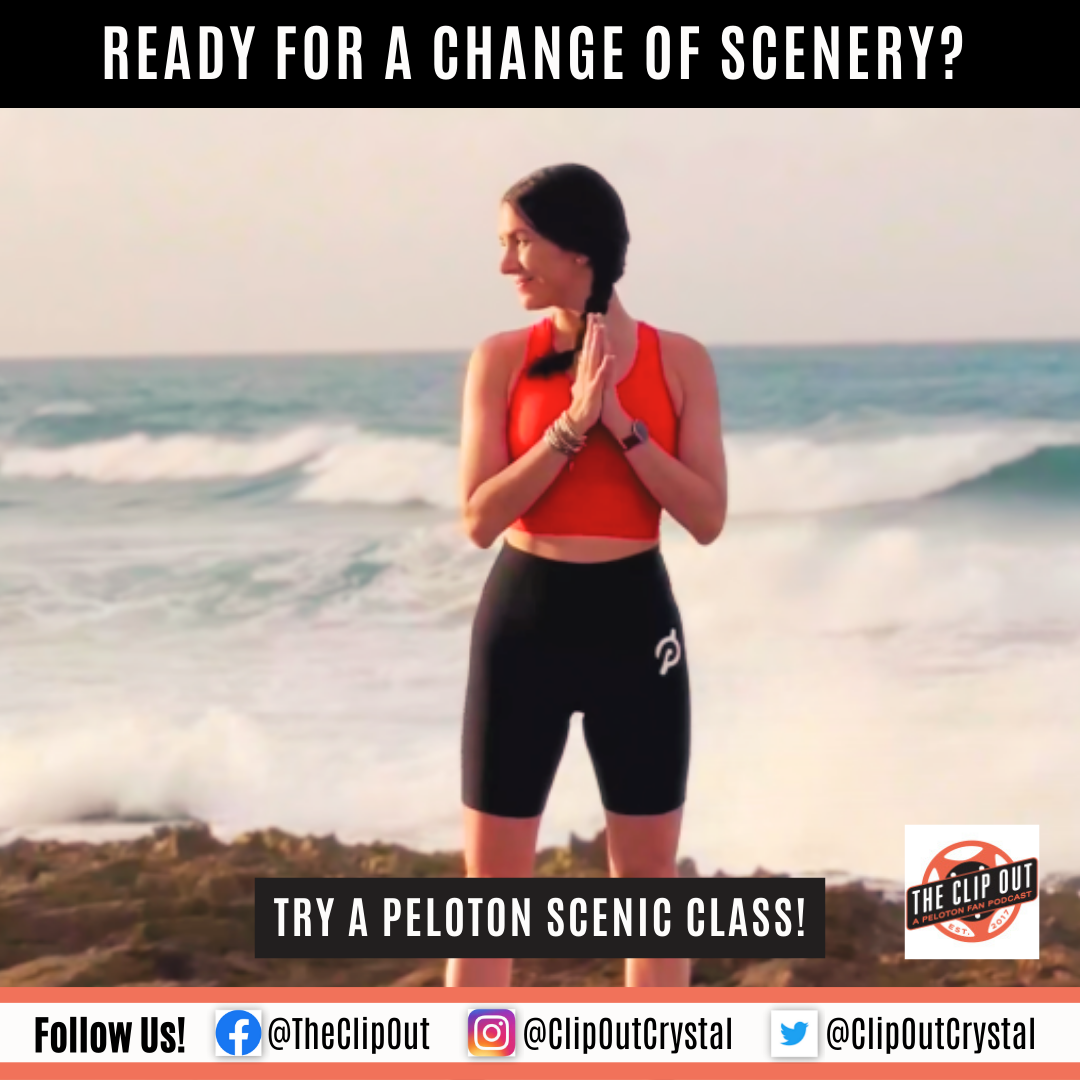 Ready for a Change of Scenery? Try a Peloton Scenic Class!
Are you tired of the same old workout routine? I used to be too, until I discovered the Peloton platform. It completely transformed my fitness regimen, and now in 2023, I'm still finding new and exciting ways to stay fit with Peloton scenic classes.
And guess what? Peloton has recently released a bunch of new offerings, including an expanded selection of scenic classes.  Not only do they have more options, but they now offer three different variations of scenic options.
How to Access Scenic Classes
It's super easy!  When you have a Peloton bike, tread or row, you choose more rides (or run or row) from the very bottom of the screen on the right-hand side. Then choose scenic!  Please note, scenic classes are only available with your all-access membership and on the actual equipment.  You cannot access these classes on the app.
Choose Your Adventure
Peloton has something for everyone with its three types of scenic classes. You'll get the same great workout and escape from reality, but each variation offers different goals and viewpoints. So whether you're a beginner, intermediate, or advanced Peloton fan, there's a scenic class for you.
Guided Scenic – Ride Run or Row with a Peloton instructor
If you enjoy guided tours, you're going to love this. Imagine having a tour guide who not only gives you interesting facts and history, but also guides you through cadence and resistance goals. Plus, the resistance even mimics the actual road, so you'll feel the challenge of climbs and descents. (Auto resistance is also available for Bike+ owners and regular tread owners.) 
Here are just a few of the amazing guided classes they offer (from the bike):
20 Min – Tenerife – Canary Islands, Spain (Rebecca Kennedy)

30 Min – East London – London, England (Hannah Frankson)

20 Min – Scotland Kinloch Hourn, West Highlands, Scotland (Jon Hosking)

20 Min – Puerto Rico, Pinones, Puerto Rico (Mariana Fernandez)

30 Min – Oregon, Columbia River Gorge, USA (Emma Lovewell)

30 Min – Iceland, Snaefellsnes Peninsula, Iceland (Ben Alldis)
Distance-Based – An immersive class with responsive video
If you want to feel like you're on a solo ride, run, or row, this is the perfect option. You get to choose how long you want the class to last, and the faster you go, the quicker the scenery passes by. It's like being on your own adventure! And don't worry about following cues – you can freely enjoy the beautiful views. 
Check out some of the awesome distance-based classes (from the bike):
5km – Tenerife, Canary Islands, Spain

10km – Tenerife, Canary Islands, Spain

5km – Tenerife, Canary Islands, Spain

5km – London, England

5km – Tower Bridge, London, England

5km – Scotland, Glencoe, Western Highlands
Time-Based – Ride, Run or Row at your own pace
If you prefer to take things at your own pace, this is the ride for you. You can choose classes based on how long you want to work out, and your speed won't affect the duration. Just like the distance-based classes, you'll have access to the awesome Peloton Radio soundtracks. 
Here are some of the time-based classes they offer (from the bike):
15 min – Tenerife, Canary Islands, Spain

30 min – Tenerife, Canary Islands, Spain

60 min – Tenerife, Canary Islands, Spain

5 min – Figanieres, France

5 min – Rohtang, India

45 min – Noordwijk, The Netherlands
Final Thoughts
These scenic classes are what your Peloton screen was made for! Imagine exploring breathtaking landscapes and beautiful roads from around the world, all from the comfort of your own home. Peloton has truly got you covered, no matter what you're in the mood for. Even though I usually prefer Powerzone workouts, I'll definitely be incorporating scenic rides into my routine. They offer a quick "getaway" to top travel destinations, all included in your Peloton all-access subscription. So, which scenic class are you most excited about? Let us know in the comments below!
---
See something in the Peloton Universe that you think we should know? Visit theclipout.com and click on Submit a Tip!
Tune in to The Clip Out every Friday to hear Tom and Crystal's take on this and other hot Pelotopics. We're available on Apple Podcasts, Spotify, Google Podcasts, iHeart, TuneIn. Be sure and follow us so you never miss an episode. You can also find the show online on Facebook.com/TheClipOut. While you're there, like the page and join the group. Lastly, find us on our YouTube channel, YouTube.com/TheClipOut, where you can watch all of our shows.