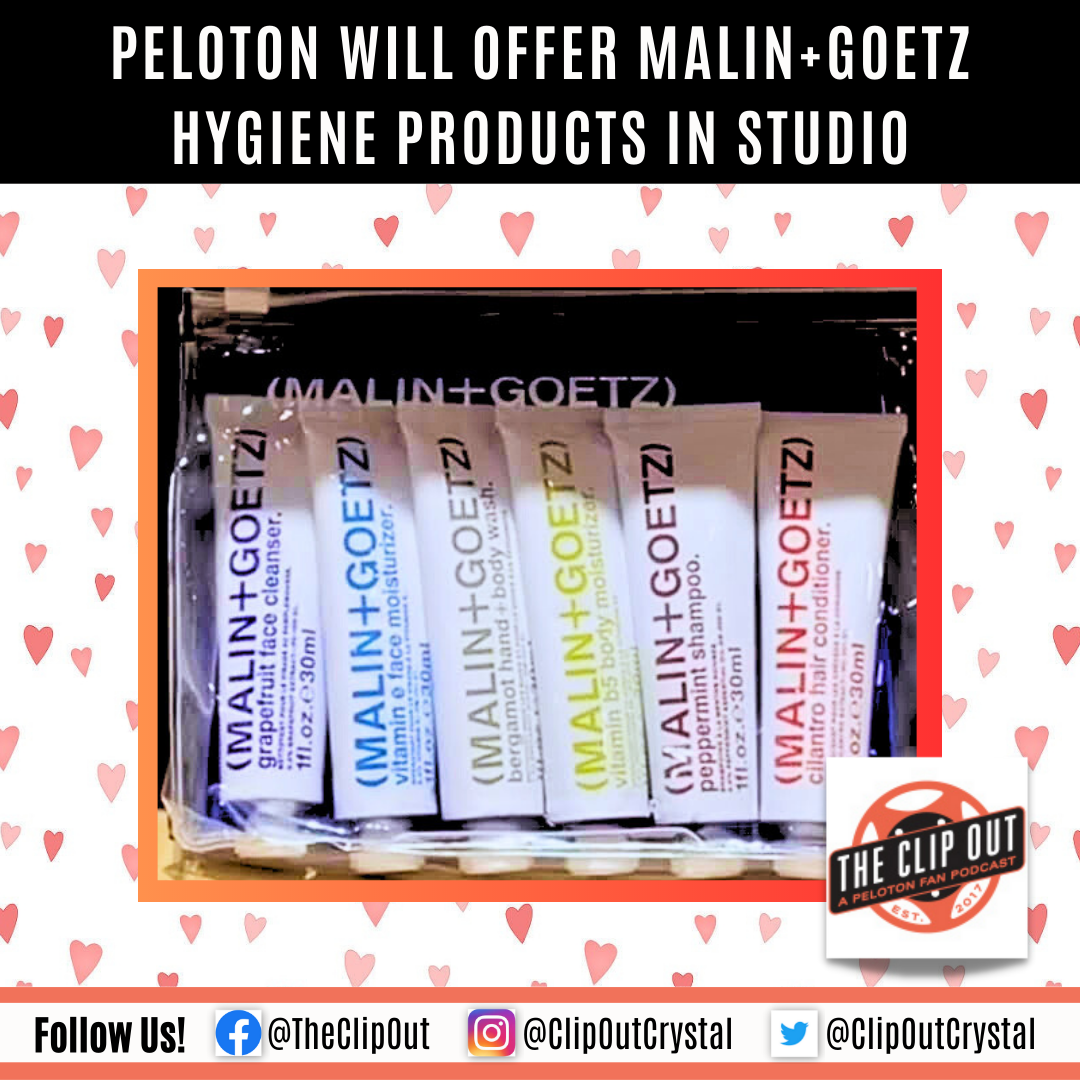 Peloton Will Offer MALIN+GOETZ Hygiene Products In Studio 
Community members who are fortunate enough to participate in a live Peloton studio class can't stop talking about their experience – the class itself, the music, meeting instructors, the studio, the apparel store – but many also talk about the amazing hygiene products in the locker rooms.  You can now bring that locker room experience home with you (whoever thought we'd be excited by scents from a locker room!) – Peloton has announced that the studio's beloved hygiene products by MALIN+GOETZ will soon be available at Peloton Studios New York! website.
The Peloton community of fitness enthusiasts has long been obsessed with the refreshing, invigorating scents and effective natural ingredients of MALIN+GOETZ's hand and body washes, lotions, and other products. So it's no surprise that the announcement of their availability in the studio has sparked excitement among Peloton members.
What's so special about MALIN+GOETZ's products, you might wonder? The brand prides itself on using natural, gentle ingredients that are safe for all skin types and free of harsh chemicals and synthetics. Their formulas contain nourishing botanical extracts, antioxidants, and essential oils that not only make your skin feel and smell amazing but also offer therapeutic benefits for your well-being. Whether you're looking for a quick pick-me-up before a workout or a soothing wind-down after a sweat session, MALIN+GOETZ has a product that can fit the bill.
Peloton's Instagram reel announcing this exciting news shows us a set of products which include grapefruit face cleanser, vitamin E face moisturizer, bergamot hand + body wash, vitamin b5 body moisturizer, peppermint shampoo, and cilantro hair conditioner.  MALIN+GOETZ products are bound to become a staple in your post-workout routine.
MALIN+GOETZ is a New York City-based brand that has a strong commitment to sustainability and social responsibility. Their products are meant to be gentle, effective, and efficient, as well as cruelty-free and designed for all skin types, tones, and gender.   The company also uses eco-friendly packaging materials, so not only are you treating yourself to high-quality skincare and haircare products, but you're also supporting a company with a positive impact on the world.
With its perfect combination of natural ingredients, refreshing scents, and practicality, MALIN+GOETZ is a brand that aligns perfectly with the Peloton ethos of wellness and community. Whether you're a longtime fan or a curious newcomer, it's worth giving these products a try and experiencing the benefits for yourself.
If you're looking for a way to elevate your shower routine and treat yourself to some self-care after your workout, MALIN+GOETZ is definitely worth checking out.
See something in the Peloton Universe that you think we should know? Visit theclipout.com and click on Submit a Tip!
Tune in to The Clip Out every Friday to hear Tom and Crystal's take on this and other hot Pelotopics. We're available on Apple Podcasts, Spotify, Google Podcasts, iHeart, TuneIn. Be sure and follow us so you never miss an episode. You can also find the show online on Facebook.com/TheClipOut. While you're there, like the page and join the group. Lastly, find us on our YouTube channel, YouTube.com/TheClipOut, where you can watch all of our shows.