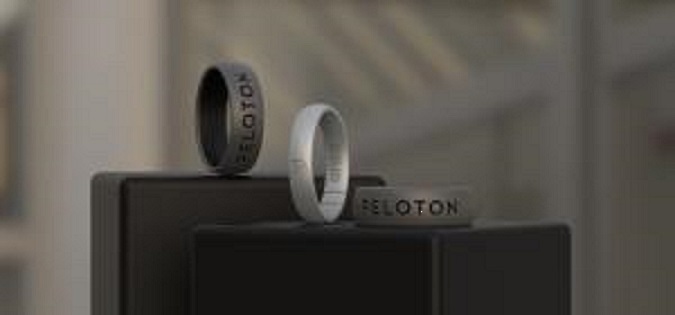 Peloton Teamed up with Enso for an Exclusive item in the Boutique
Brand new item in the Boutique!
If you follow The Clip Out on Social Media (and if you don't — you really should :D) then you know that there was a brand new drop today in the Peloton Apparel Boutique.  One item that IMMEDIATELY caught my eye was the Enso ring.  It's SO PRETTY! To be honest, I've had my eye on Enso rings for a LONG time.  Turns out Peloton teamed up with Enso for a brand new item in the boutique!
According to Enso's website: Whether on the job, on the go, or exercising, Enso's rings and bracelets fit every lifestyle – allowing people to uniquely express their style without compromising safety or comfort. Enso Rings are the modern solution to the daily inconveniences and risks of metal jewelry, so people can live a life uninhibited.
Why I'm Excited Peloton Teamed up with Enso:
For me, that means I can still wear a wedding ring, but not wear MY wedding ring.  This is great because if I'm riding or running outdoors, I don't like to wear my wedding ring. It makes me feel unsafe.  So, wearing an Enso ring was a great option.  However, for some reason, I never could quite pull the trigger.
But TODAY, there was a sparkly Enso ring and it had a Peloton logo on it – that's right Peloton teamed up with Enso!  So, of course, I immediately bought it.  It was only afterward, I saw that John Mills posted an article in his Facebook group about the collaboration and I found the ring was infused with REAL DIAMONDS! What???
Specifically, the article said that "Enso Rings' best-selling Elements Diamond ring is infused with real diamonds and the thin profile of this ring catches the light and looks like real metal without getting in the way of your workout. Designed with premium silicone, breathing chambers for added comfort, and an exclusive design for Peloton, its barely-there feel makes the Elements Diamond a great addition to any workout."
The Rationalization for the Purchase – After the fact still counts!
So, I didn't even KNOW I needed, it but I obviously needed it.  Now, if you don't know my sense of humor, then you may not know I'm joking.  I don't need another ring, but this was a great reason to finally try Enso.  Once the Peloton logo is added, I'm going to buy it and check it out.  I know I am NOT alone in that thought process.
We'll be chatting about ALL the items I bought in the 9/11/20 episode of The Clip Out podcast, so make sure you check it out!  This week, episode 172 will be dropping on 9/4/20 and we'll be chatting about the rumors surrounding the new bike and tread too!  If you missed that news, you can check out a sneak peek here.