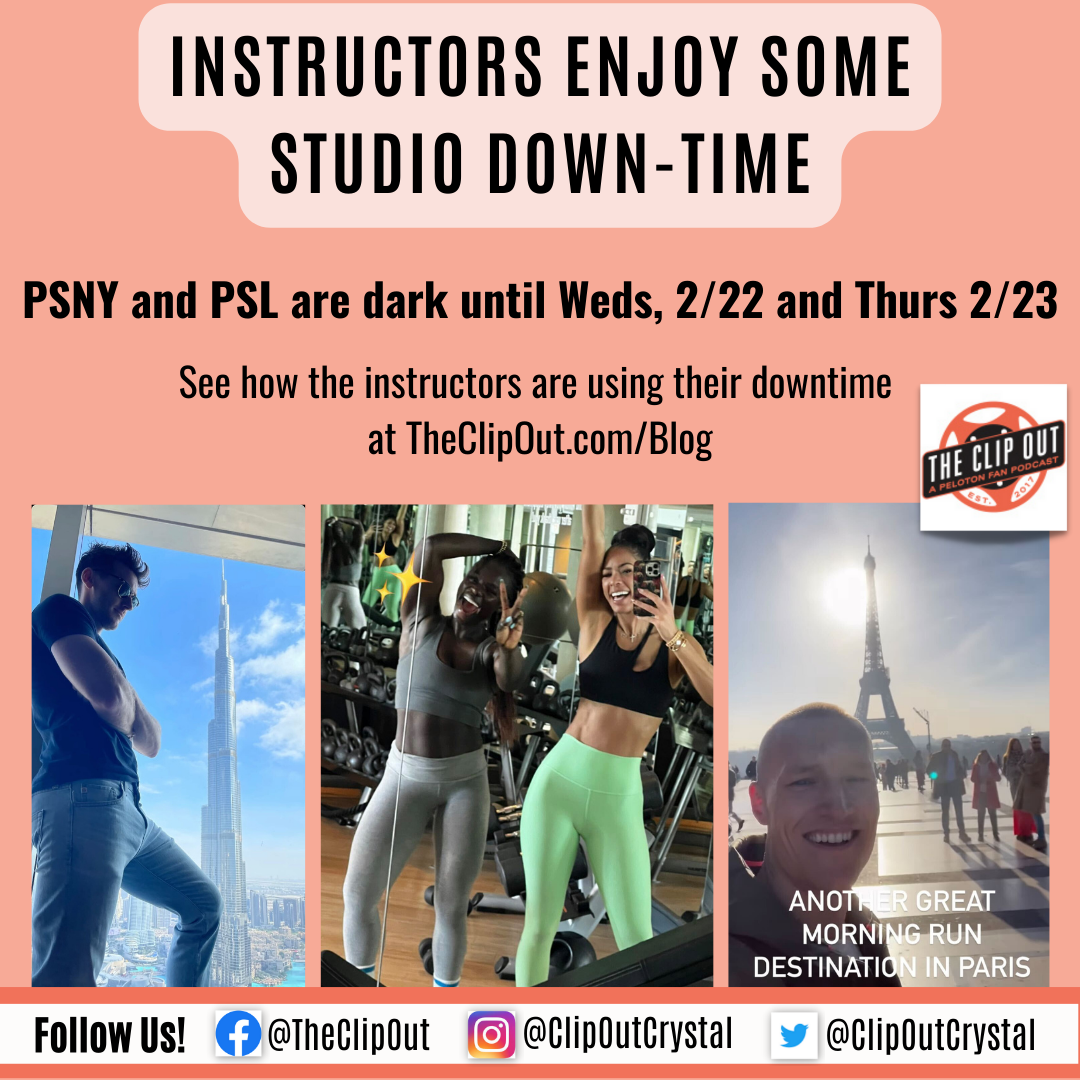 Peloton Studios Are Closed, and the Instructors Are Enjoying Their Downtime
PSNY and PSL are dark Feb 20-21/22
For so many of us, Peloton is a key component of our self-care. We look forward to—or may even rely on—Matty Maggiacomo's walk and talks, Jess Sims' reminders that "we don't have to, we get to," and Adrian Williams' post-AMRAP emotional laps. But we also know that our instructors, not to mention the staff, crew, and equipment, all need the occasional self-care too.
This may be why Peloton Studios New York and London are closed with no new live classes on Mon, Feb 20, or Tues, Feb 21, and only a handful of live classes coming out of London on Weds, Feb 22 (they're probably just doing some routine maintenance). Both studios will be open and streaming live again on Thurs, Feb 23.
Instructors are enjoying their downtime while Peloton studios are closed
So while we're joining in on encore classes or checking out on-demand content, here's a roundup of some of the instructors' jet-setting adventures from this week.
Newlywed Matt Wilpers is literally running around Paris (with his newlywife, Jess)!

Cody is living his best life in London (ahead of his Two for One ride with Leanne on Thurs, Feb 23).
Jess Sims was at the NBA All-Star game cheering on Alex in Utah.
Kristin McGee was at Disney with her kiddos.
Hannah Corbin is in Portland, OR and answering some AMAs (Ask Me Anything).

Bradley is in Dubai (and before that he was in Bangladesh for a wedding).

Robin was with her family in Mexico leading up to the start of her book tour for Strong Baby.
Tunde and Kirsten Ferguson are relaxing, dining, and even working out together in Miami.

DJ John Michael (ok, not an instructor, but definitely part of the team!) is resetting in Palm Springs.

We linked each of these instructors' IG profiles above so that you can keep an eye out for more on how they're enjoying their time away. Spot anything we missed? Let us know in the comments or on any of our socials!
---
See something in the Peloton Universe that you think we should know? Visit theclipout.com and click on Submit a Tip!
Tune in to The Clip Out on Friday, February 24th, to hear Tom and Crystal's take on this and other hot Pelotopics. We're available on Apple Podcasts, Spotify, Google Podcasts, iHeart, TuneIn. Be sure and follow us so you never miss an episode. You can also find the show online on Facebook.com/TheClipOut. While you're there, like the page and join the group. Lastly, find us on our YouTube channel, YouTube.com/TheClipOut, where you can watch all of our shows.