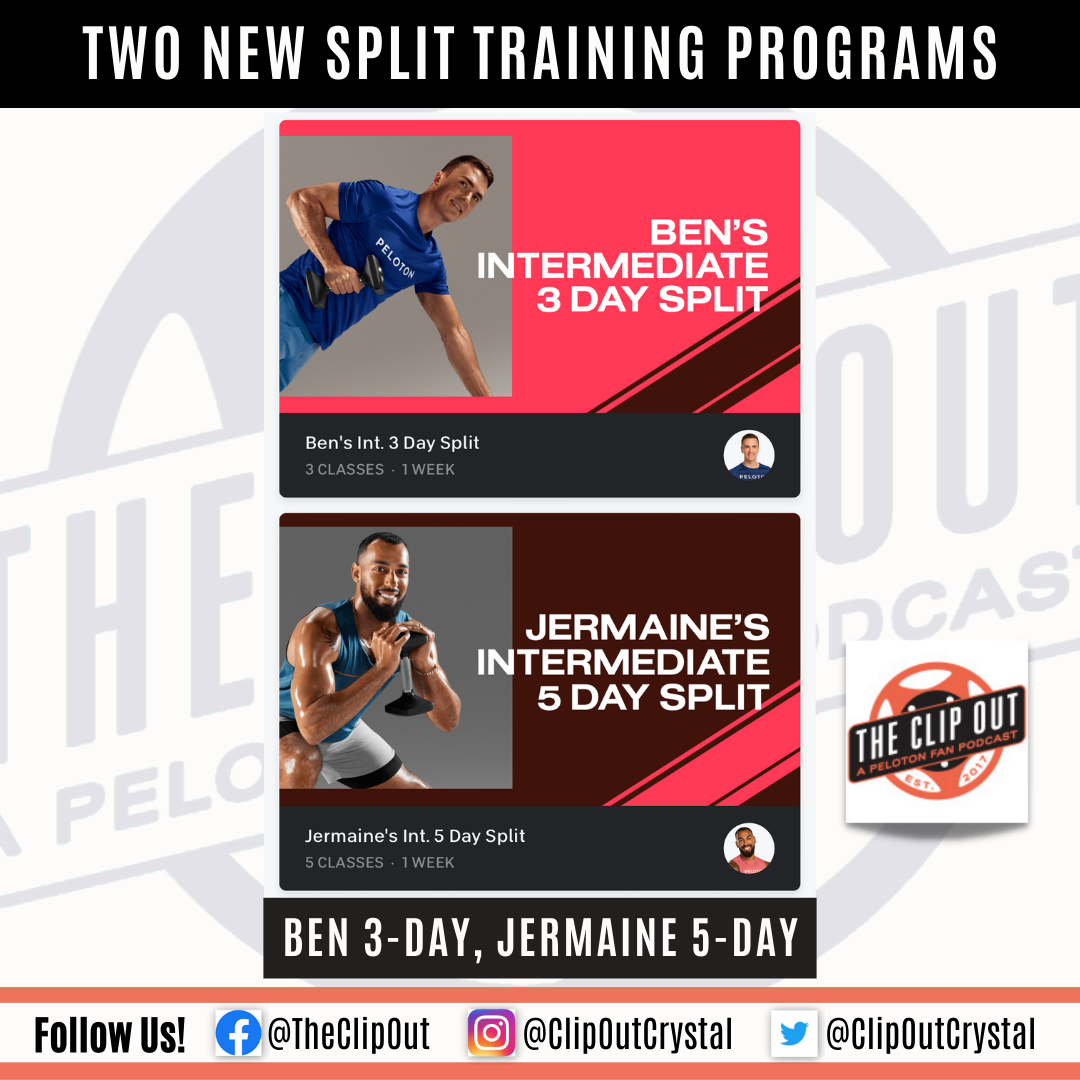 Split Training Strength Programs: Peloton Releases Two New Ones!
Exciting news for fitness enthusiasts out there! Peloton has just released two brand new split training strength programs: Ben Alldis' intermediate 3-day split and Jermaine Johnson's intermediate 5-day split. Although these programs are built to interact with the Peloton Guide, they are not exclusive to the Guide upon release and are available immediately on all platforms.
Unlike Peloton's "Total Strength" classes that target many if not all muscle groups in a single workout, the "split" training programs are typically designed to target specific sets of muscles each day. This allows you to push muscles fully on the working days, and rest in between.  These two new programs continue this format.
Ben's Intermediate 3-Day Split
The recommended schedule for Ben's new 3 Day Split is as follows:
Day 1 – 30 Minute Upper Body: Push – targets chest, shoulders, and triceps.

Day 2: Rest

Day 3 – 30 Minute Legs & Core – targets your largest muscles while also focusing on core and lower back.

Day 4: Rest

Day 5 – 30 Minute Upper Body: Pull – upper body workout focused on strengthening back and 

biceps.

Day 6 & 7 – Rest
Jermaine's Intermediate 5-Day Split
Jermiane's new program packs 5 days of work into a single week and the recommended schedule is as follows:
Day 1: 30 Minute Legs & Core – focuses on the largest muscles while improving core and lower-back stability.

Day 2: 30 Minute Chest and Triceps – focuses on chest, triceps, and back.

Day 3: Rest

Day 4: 30 Minute Back and Biceps – back and biceps focused.

Day 5: 30 Minute Legs & Shoulders – leg day again this time with shoulders included.

Day 6: Rest

Day 7: 30 Minute Chest & Back – like day 2, focused on chest and back strengthening.
When to use them
If strengthening and toning your body is your goal, Peloton's new strength programs might just be the perfect addition to your fitness routine. While both are labeled as "intermediate," Ben's program is only three days of work with more rest built in during the week. Jermaine's program looks a bit more challenging with 5 work days and only two rest days during the program. 
How to find Split Training Programs
It is easy to find these Split Training programs in the Peloton app:
navigate to workouts,
then choose programs.
The most updated are closest to the top, so as of this writing, both Split Training programs would be at the top.
Wrap it up
These new split programs look to be outstanding additions to Peloton's already impressive library of strength training programs and collections. One of the wonderful aspects of these programs is that they may be repeated as many times as you like. There are a week's worth of classes.  You can repeat the classes for 4-6 weeks and then track your fitness progress over time.
So, whether you prefer a three-day or five-day strength training program, Peloton has got you covered. Are you planning to take either of the new split training programs or both? Let us know!