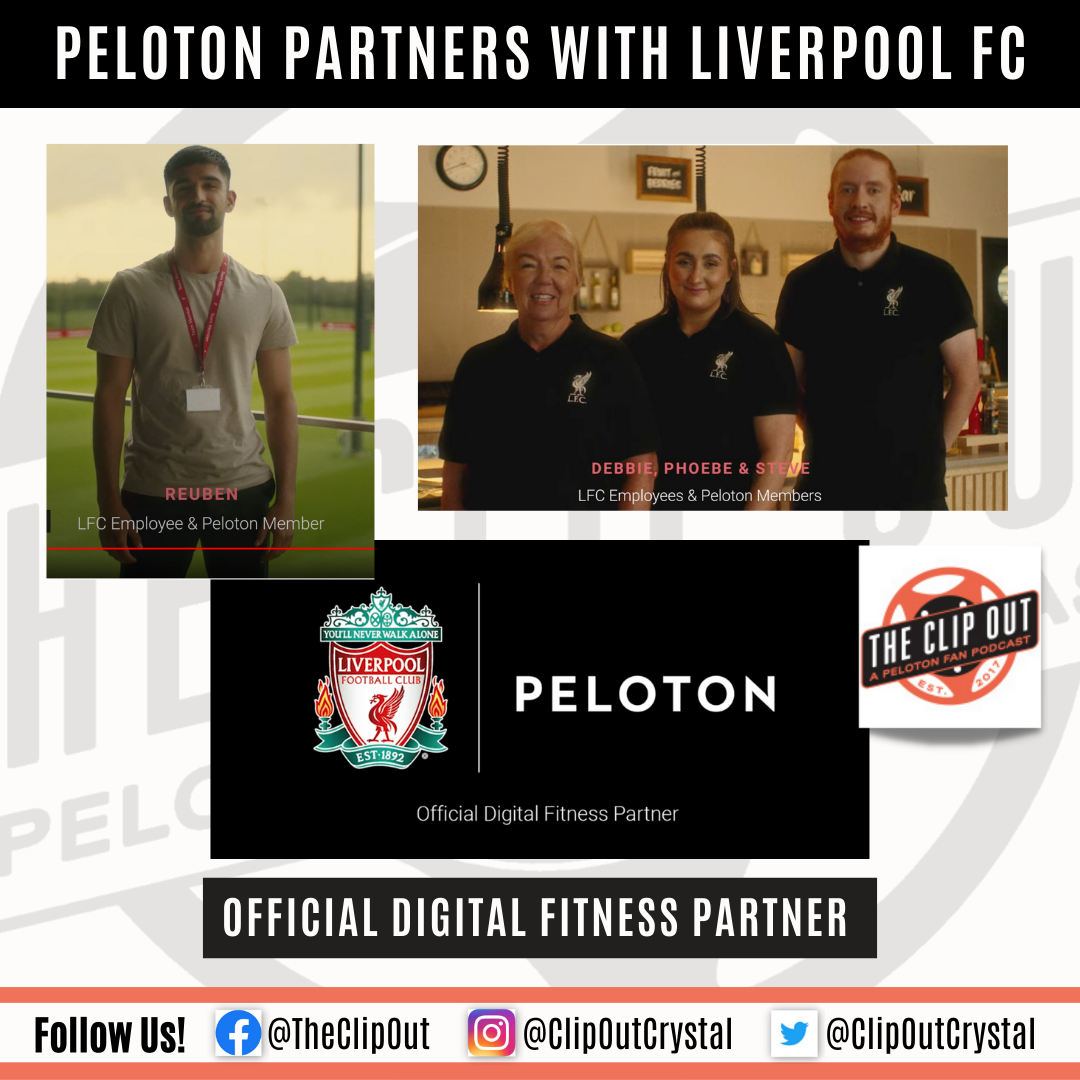 Peloton: Official Digital Fitness Partner of Liverpool FC
In a groundbreaking move, Peloton has joined forces with Liverpool FC, becoming the club's first-ever digital fitness partner. This partnership signals an era of innovation in the fitness and sporting industries, merging the worlds of at-home workouts and professional football.  The pairing was announced with social posts from both Peloton and Liverpool FC, in addition to a YouTube video posted by Peloton (see below).
A Landmark Partnership
Peloton, a global leader in digital fitness, has reached millions of fans around the world with its high-energy, interactive workout classes. Similarly, Liverpool FC, one of the most successful football clubs in history, has a dedicated fan base that spans the globe. This partnership is set to bring together these two communities in a dynamic and exciting way.
The collaboration was announced ahead of the 2023-24 pre-season and will benefit both the men's and women's teams. The partnership aims to foster community spirit and promote fitness and well-being among Liverpool FC fans and Peloton members alike.
Elevating Fitness Experiences
With this partnership, Liverpool FC fans can now engage more deeply with their favorite club, even when they're breaking a sweat on their Peloton bike or tread. The integration of Liverpool FC-themed content into Peloton's platform will provide an immersive experience that combines fitness and football fandom.
Furthermore, Peloton's state-of-the-art equipment and technology will be used to enhance training for Liverpool FC players, helping them reach peak performance levels. This partnership will not only impact the fans but also contribute significantly to the club's ongoing success on the pitch.  
As members, we think (we HOPE!) there will be special Liverpool FC-themed classes – maybe even a visit from some of the players in the London studio!
Community-Focused Initiative
At its core, this collaboration is about building stronger communities. Both Peloton and Liverpool FC share a commitment to creating positive and inclusive environments for their respective members and fans. This partnership will amplify these efforts, encouraging people to come together through shared passions for fitness and football.
Looking Ahead
As Liverpool FC's first-ever digital fitness partner, Peloton is breaking new ground. These two entities working together reflect the evolving landscape of fitness and sports, where digital platforms are playing an increasingly significant role. While it's clear that this collaboration will bring exciting changes to both Peloton and Liverpool FC, it also points to a future where fitness and sports are more interconnected than ever before.
By bringing together two globally recognized brands, this collaboration is set to redefine how fans engage with their favorite teams and how athletes train for success. As the official digital fitness partner of Liverpool FC, Peloton is leading the way in this new era of digital fitness partnerships.
---
See something in the Peloton Universe that you think we should know? Visit theclipout.com and click on Submit a Tip!
Tune in to The Clip Out every Friday to hear Tom and Crystal's take on this and other hot Pelotopics. We're available on Apple Podcasts, Spotify, Google Podcasts, iHeart, TuneIn. Be sure and follow us so you never miss an episode. You can also find the show online on Facebook.com/TheClipOut. While you're there, like the page and join the group. Lastly, find us on our YouTube channel, YouTube.com/TheClipOut, where you can watch all of our shows.