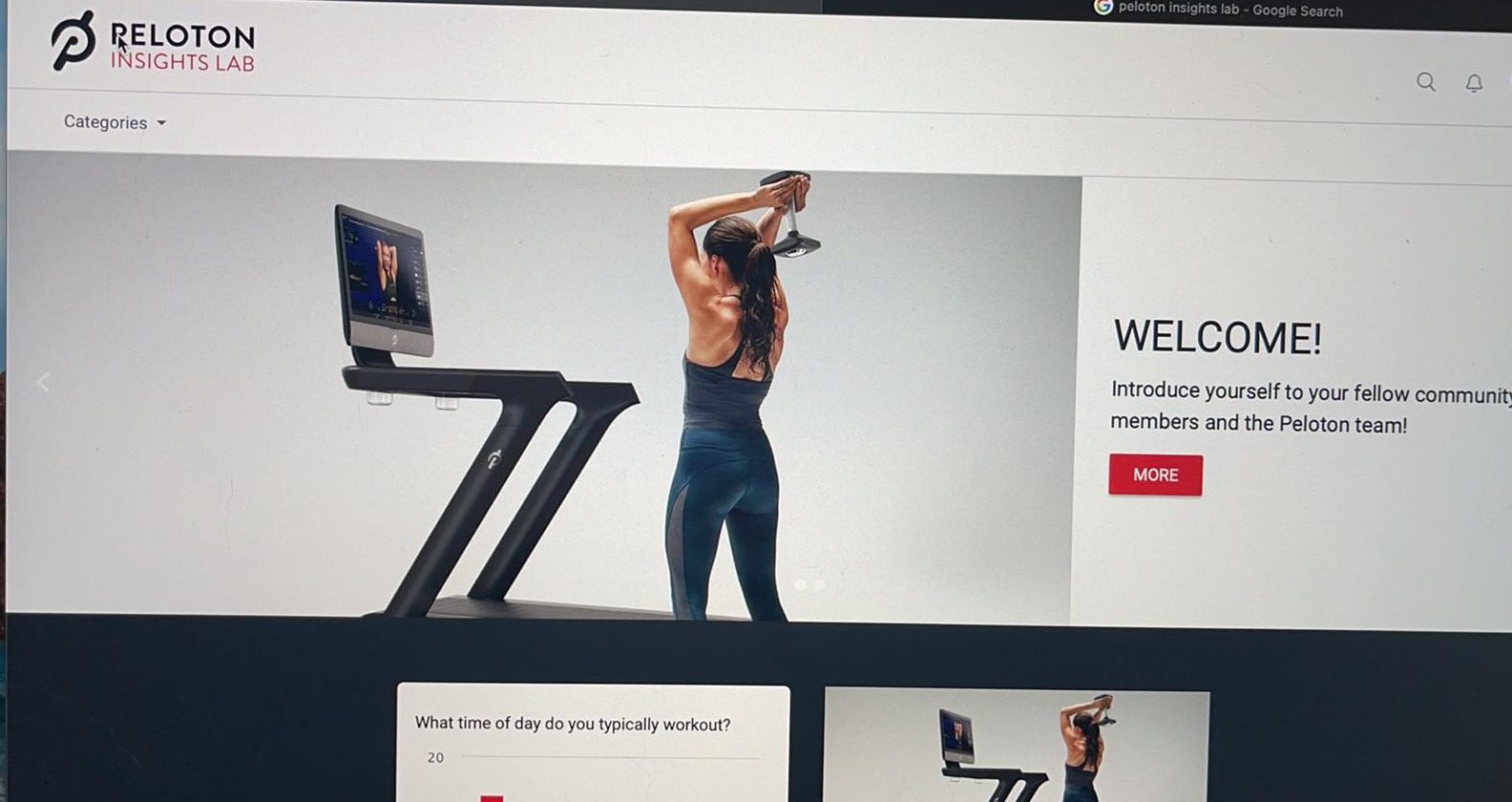 Peloton Insights Lab
Peloton Insights Lab
Peloton Insights Lab is official!  Members have reported receiving invites to the new service in the last 24 hours.
Process
Members report receiving an email inviting them to take a short survey. If they qualify, they are able to join the Peloton Insights Community.  The survey consists of a range of questions including:
Which Peloton and non-Peloton equipment you have in your home.
Do you live alone/with others?
Annual household income.
State of residency.
Area of Employment.
Does anyone in your family work in certain industries (like entertainment/marketing)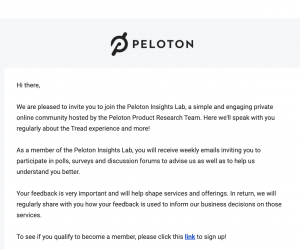 Once you complete the survey, if you qualify, you are included in the community. At this point, there is a message board and an option to fill out a couple of additional surveys.
These surveys are short and general so far:
Time of day you workout
Get to know you
What is included
The community is invited to do an introduction.  You can contact the moderator with topic ideas and you can respond.  The community is not able to see your personal details, none of your personal information is visible to other members. Other members are only able to see your username, photo, how long you have been a member, and your number of logins.
According to the FAQ's, the lab appears to operate like a typical discussion board:
Can I access the community from my mobile device?
Yes, the community is fully optimized for all mobile devices.
How do I know what's new in the community?
You will receive regular emails updating you with new content and opportunities for you to engage with the moderator and other members.
How do I suggest a topic for the community?
To suggest a topic or ask a question about the community, click on the "Contact Moderator" link at the bottom right corner of any page on the site.
How do I know if someone has responded in a discussion board?
If another member or moderator responds to your post, you'll receive a notification at the top of the homepage alerting you. You can also elect to "subscribe" to content, which will notify you any time a new post is made. To change your notification settings, head to Account Settings.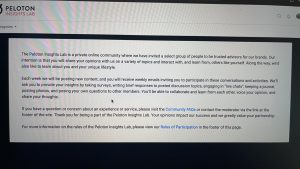 Intention
Peloton Insights Lab is powered by Fuel Cycle.  Fuel Cycle describes their business as: "We're building technology to help organizations capture and act on insights that improve products, brands, and people. Our goal is to help businesses run their best. Ultimately, this means transforming brands through superior Experience Management software for better decision-making across the business."
Simply put, this is market research. Peloton describes the intention in the following:
The Peloton Insights Lab is a private online community where we have invited a select group of people to be trusted advisors for our brands. Our intention is that you will share your opinions with us on a variety of topics and interact with, and learn from, others like yourself. Along the way, we'd also like to learn about you and your unique lifestyle.
Each week we will be posting new content, and you will receive weekly emails inviting you to participate in these conversations and activities. We'll ask you to provide your insights by taking surveys, writing brief responses to posted discussion topics, engaging in "live chats", keeping a journal, posting photos, and posing your own questions to other members. You'll be able to collaborate and learn from each other, voice your opinion, and share your thoughts. 
It is worth noting that the invitation email specifically calls out the community is for Peloton Tread users.  I can only assume this indicates they are focusing on Peloton Tread specific market research.  Will this mean new Tread content?  A revamp of existing content?  An update to the existing Tread machines?  Will this be used to direct content for the new Tread coming to market very soon?
Be sure to sign up for The Clip Out newsletter and we will keep you updated on all things Peloton!