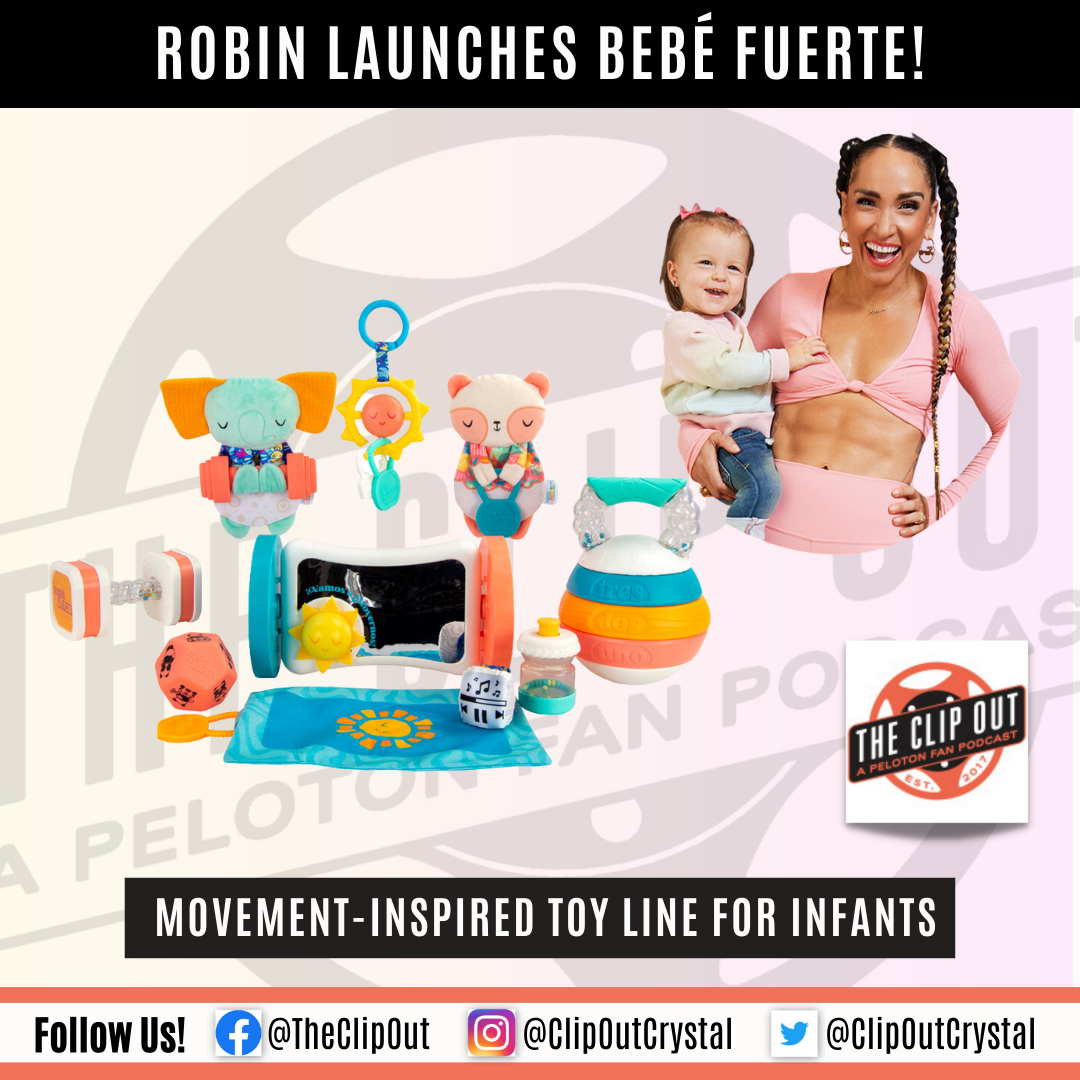 Peloton Head Instructor Robin Arzón Launches Movement-Inspired Toy Line for Infants
Are you looking for a way to introduce your baby to the benefits of movement and physical activity? Look no further than Bebé Fuerte, the new bilingual toy line launched by Peloton head instructor and new mom of two, Robin Arzón. In this article, we'll dive into the inspiration behind Bebé Fuerte, the benefits of movement for infants, and the exciting products that make up the collection. Author Georgia Slater from People magazine broke the story with an exclusive on 8/10/23.
Bebé Fuerte: A Bilingual Toy Line That Celebrates Movement
Bebé Fuerte, which means "strong baby" in Spanish, is a movement-inspired toy line that aims to educate and engage infants in physical activity. Strong Baby is also the title of Robin's first children's book.  The collection features seven signature products, including soft building blocks, a plush gym mat, and a teething toy. Many of the products feature Spanish words and phrases, adding a cultural touch to the collection.
The Power of Movement for Infants and Its Benefits
Research has shown that physical activity is essential for infants' growth and development. Movement helps with cognitive development, as well as the development of gross and fine motor skills. Additionally, movement can assist with sensory development, which is crucial for infants to understand the world around them. By incorporating movement into playtime, parents can help their infants develop these skills while bonding and having fun.
The Inspiration Behind Bebé Fuerte
As a Peloton head instructor and new mom, Robin Arzón understands the importance of movement and physical activity for all ages. She wanted to create a toy line that celebrated movement and fitness while also reflecting her own cultural background. Arzón is proud to infuse Bebé Fuerte with Spanish language and cultural vibrancy, making it a unique addition to the infant toy market.
Bebé Fuerte's Signature Products and Features
Bebé Fuerte offers a variety of products that cater to infants' varied interests and skill levels. The soft blocks feature different movements, such as crawling and climbing, and the plush gym mat encourages floor play and tummy time. Other products include a teething toy with a textured grip and a puzzle ball that promotes hand-eye coordination. The collection also features Spanish words and phrases that parents can use during playtime, helping infants develop language skills as well.
Availability and Future Plans
Bebé Fuerte is available now at Walmart and independent toy stores throughout the United States. Arzón hopes to expand the collection in the future with additional products and features. She also plans to incorporate movement and fitness into future Bebé Fuerte initiatives, making it a comprehensive resource for parents who want to introduce their infants to the benefits of physical activity.
Bebé Fuerte is an exciting addition to the infant toy market, offering a unique approach to playtime that focuses on movement and physical activity. With its bilingual features and cultural vibrancy, Robin Arzón's new toy line celebrates diversity and encourages infants to explore their world through play.