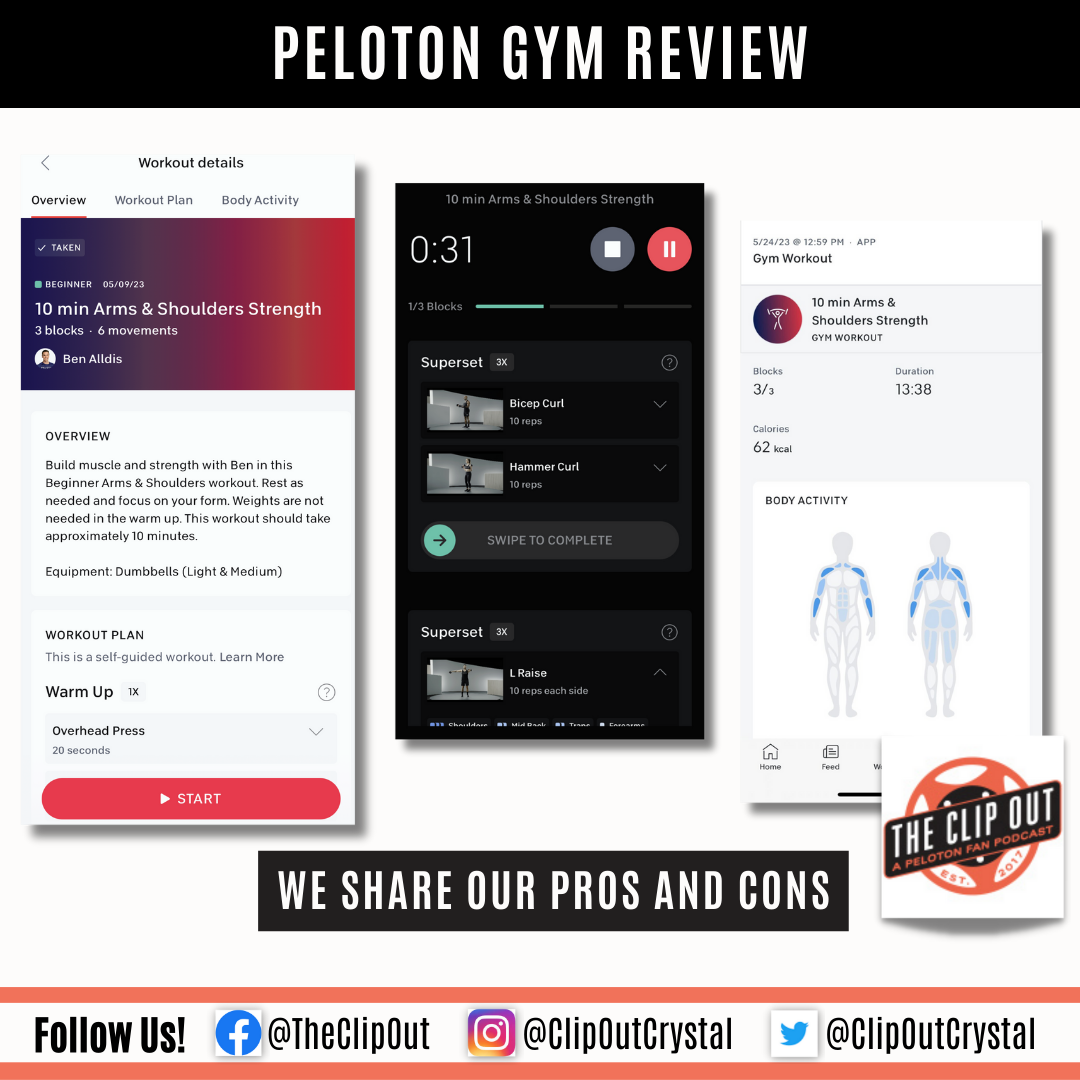 Peloton Gym Pros and Cons
Peloton Gym, one of the latest features added to the Peloton App, aims to support members who prefer working out in a gym environment. But this feature is not limited to gym-goers; it's also great for home workouts, provided that the Member has access to the recommended equipment. The feature is a collection of instructor-programmed strength classes that do not include typical class instruction. In fact, you never see the instructor who programmed the class. Instead, you can view short and silent demo videos for each move, if needed. I tried this feature out and have come up with a list of pros and cons that I would like to share.
The classes:
5/9/23 30 min Glutes & Legs Strength by Callie Gullickson
5/9/23 10 min Arms & Shoulders Strength by Ben Alldis
The cons
First, let's start with the cons (these are all based on my experience on my iPhone).
Some classes require equipment, such as weight benches and barbells, that members might not have access to. In such cases, it is essential to have alternate workout options. The class I took prescribed a barbell, but I used two heavy dumbbells instead.
When searching for a Peloton Gym class, there is no filter on the App Gym tab, only sub-tabs for Full Body, Upper Body, Lower Body, and Core. These are helpful, but I miss being able to filter by instructor and class length, etc.
When you first view the class plan, before hitting start, the plan does not specify the weight range to use; instead, it only mentions light/medium/heavy. This lack of detail could leave members confused about which level of weight to use during the class. Furthermore, once inside the class, after hitting start, the program does not indicate which weight range (light/medium/heavy) to use for each move.
There are a couple of features missing from the way the class shows up in your Workout History:

There is no option to share the completed workout with others from within the App (nor is there a way to share a Peloton Gym workout from the class library).
The completed class record (in your Workout History) does provide a good way to reference the exact movements completed (it does not include the name of the instructor, a list of the movements, or even an option to "view the class." It does include the body activity avatar (little guy front and back), which could be helpful, but this is less than ideal for sure.


Another downside is how the class shows up in Strava (if you're not as obsessed with tracking in Strava as I am, scroll on down to the next section): The Strava activity does not provide adequate information, only the title "Gym Workout" and a black screen with a small Peloton logo. The title of the class and the instructor's name are not included, which may make it confusing for members who like to keep track of their workout sessions.

The pros
Let's move on to the pros.
The big one: Peloton Gym allows members who prefer to work out in a gym environment to follow expert programming without having to stay fixated on an instructor. This is huge, and it benefits people working out at home as well–there are just some times where you want to self-manage your workout without having to watch or listen to a class.
The timer, class plan, and progression features are very user-friendly and provide straightforward navigation. You can easily follow the workout and track your progress with ease.

Many of the classes recommend equipment often found in gyms, like barbells and weight benches, which will help Members enhance their strength training and overall workout experience.
The estimated class duration is pretty accurate. I completed a 30-minute Lower Body class in 26 minutes, and a 10-minute Upper Body class in 13 minutes. (The differences in expected versus actual time is probably because I was using heavier than normal weight on the Lower Body class, and lighter than normal weight on the Upper Body.)
Overall, Peloton Gym is an exciting new feature, enabling members to stay active and engaged, regardless of their workout location preferences. There are some features that seem to be missing when compared to other classes on the platform, but we fully expect those to be rolled out in future updates. I found Peloton Gym to be user-friendly and an excellent addition to the Peloton App. I would recommend it to all members, whether they work out in a gym or at home, provided that they have access to the necessary equipment.
---
See something in the Peloton Universe that you think we should know? Visit theclipout.com and click on Submit a Tip!
Tune in to The Clip Out on every Friday to hear Tom and Crystal's take on this and other hot Pelotopics. We're available on Apple Podcasts, Spotify, Google Podcasts, iHeart, TuneIn. Be sure and follow us so you never miss an episode. You can also find the show online on Facebook.com/TheClipOut. While you're there, like the page and join the group. Lastly, find us on our YouTube channel, YouTube.com/TheClipOut, where you can watch all of our shows.