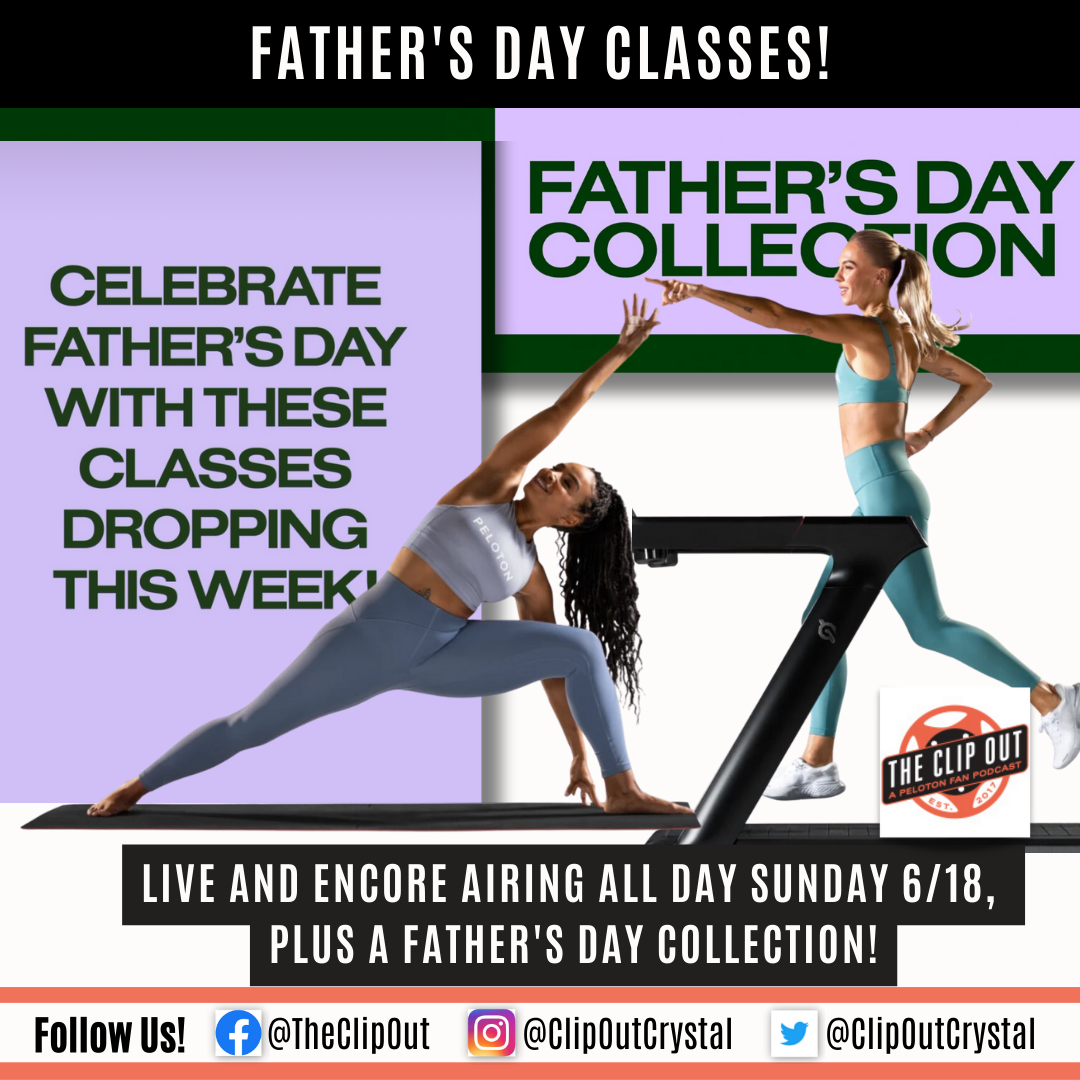 Peloton Celebrates Dads with Father's Day Classes
If you have a father, are a father, are a pet father, had a father figure in your life, or are a father figure to someone, or just appreciate fathers – Peloton is celebrating you with Father's Day Classes on June 18!
Father's Day Schedule
Early morning folks can get sweaty with a pre-recorded ("encore") 20 min Father's Day Run with Hannah Frankson at 5:05 AM ET (note that this is 5 minutes after the hour–an unusual time, so worth an extra heads up!) and then chill out with a live 30 min Father's Day Yoga Flow with Chelsea Jackson Roberts at 8:30 AM ET.
At 9:30 AM ET, Cliff Dwenger has a pre-recorded 20 min Father's Day Ride–and while Cliff is one of our German instructors, this class is not labeled as being in German, so this is a great chance for non-German speakers to enjoy the fullness of his amazing energy! Enjoy some Father's Day love with a pre-recorded 15 min Father's Day Row with Katie Wang and a live 30 min Father's Day Ride with Ally Love, both at noon ET, for those who prefer a later start.
And if afternoons are more your thing, take the pre-recorded 30 min Father's Day Full Body Strength with Callie Gullickson at 3 PM ET or the pre-recorded 30 min Father's Day Run with Becs Gentry at 4 PM ET.
Father's Day Collection
You can also take Father's Day classes from 2021 and 2022, which are grouped under Collections.
These classes include Rides, Runs, HIIT Cardio, Full Body Strength, and even a Father's Day Meditation. Warning:  some of the songs in these classes hit you right in the feels, like My Hero by the Foo Fighters, Father and Son by Cat Stevens, and the ultimate tear-jerker, Cat's in the Cradle by Harry Chapin.  
Father's Day Gift Ideas
And remember, Dad would love some Peloton Apparel or an all-access membership–he has more than enough ties and home-brew kits already!  
Let us know which Father's Day classes you love the most–and when you're done working out, enjoy some traditional Father's Day grillin' and chillin'!
---
Tune in to The Clip Out every Friday to hear Tom and Crystal's take on this and other hot Pelotopics. We're available on Apple Podcasts, Spotify, Google Podcasts, iHeart, TuneIn. Be sure and follow us so you never miss an episode. You can also find the show online on Facebook.com/TheClipOut. While you're there, like the page and join the group. Lastly, find us on our YouTube channel, YouTube.com/TheClipOut, where you can watch all of our shows.
See something in the Peloton Universe that you think we should know? Visit theclipout.com and click on Submit a Tip!