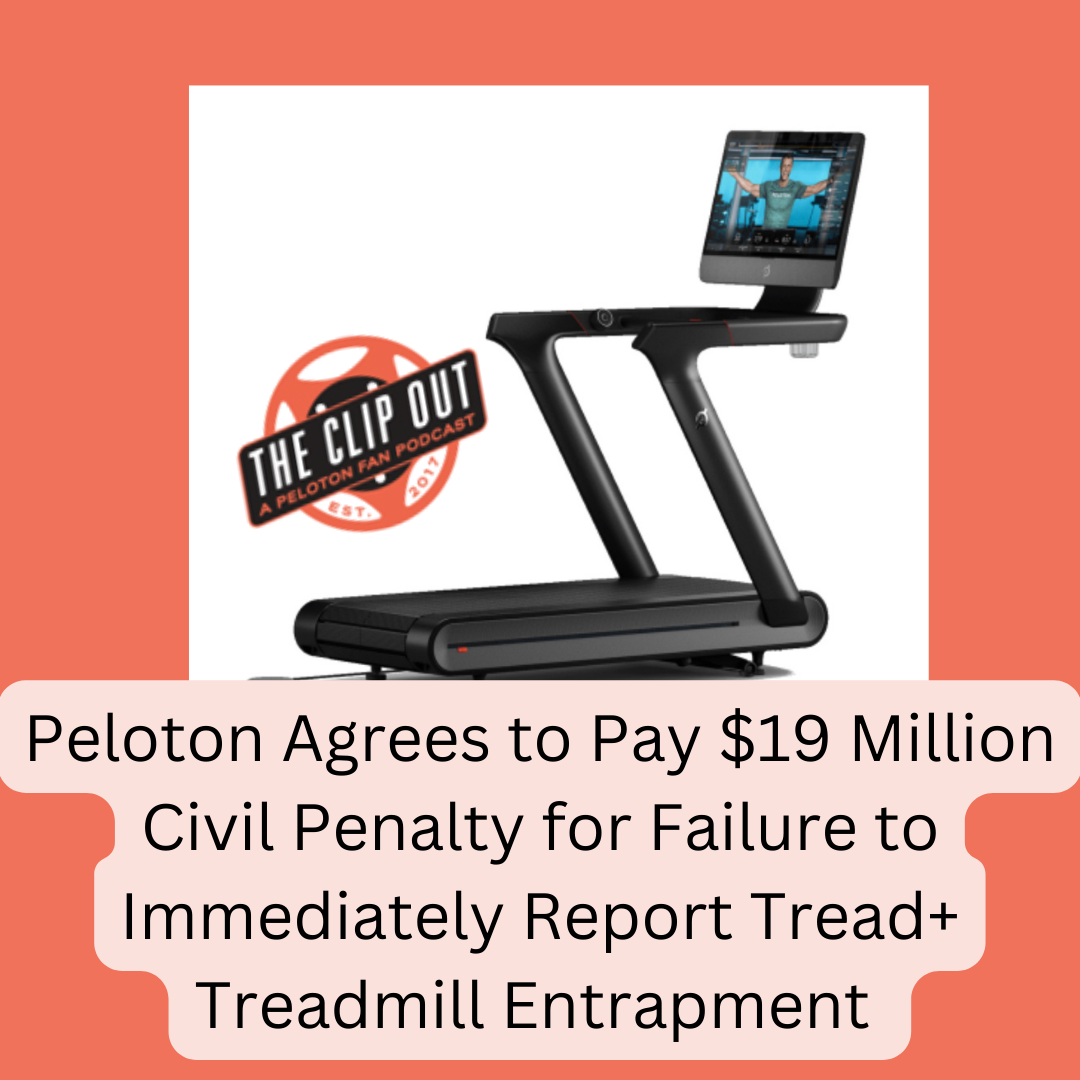 Consumer Product Safety Commission Announced: Peloton Agrees to Pay $19 Million in Tread + Penalty
On January 5, 2023, the Consumer Product Safety Commission (CSPC) announced that Peloton Interactive, Inc. has agreed to pay a civil penalty in the amount of $19, 065,000 for failure to immediately report Peloton Tread+ treadmill entrapment hazards and for the distribution of recalled treadmills.  This settlement effectively resolves all charges that Peloton knowingly failed to report these hazards to the CPSC, as required by law, as well as settled charges that Peloton continued to knowingly distribute a product that was under CPSC recall, in violation of the Consumer Product Safety Act.   
In April of 2021, the Consumer Product Safety Commission issued a
consumer warning
asking people to stop using the Peloton Tread+, followed by an official recall on May 5, 2021. 
From December 2018 and into 2019, the CPSC found that Peloton received reports of incidents. Including injuries, associated with pull-under and entrapment in the rear of the treadmill. Despite these reports, Peloton did not immediately notify the Commission.  Once an official notice was filed with the CPSC, there were more than 150 reports of people, pets, and/or objects being pulled under the Tread+, including the death of one child. 
Reported injuries included:
broken bones

lacerations

friction burns

abrasions.
The CPSC also found that Peloton distributed 38 treadmills after the official recall was announced in May of 2021. 
In response to news of the settlement, Peloton has released the following statement:  
Peloton remains deeply committed to the safety and well-being of our Members and to the continuous improvement of our products.  We are pleased to have reached this settlement agreement with the U.S. Consumer Product Safety Commission (CPSC) and look forward to working cooperatively with the CPSC to further enhance Member safety.  As such, Peloton continues to pursue the CPSC's approval of a Tread+ rear guard that would further augment its safety features. 
In addition to the $19 million penalty, Peloton has also agreed to maintain an enhanced compliance program and system of internal controls and procedures designed to ensure compliance with the CPSA as well as to file annual reports, for a period of five years, regarding its compliance program and system of internal controls (Source: CPSC). 
You can read more details about today's settlement at the CPSC website.  Peloton, in conjunction with the CPSC, has extended the deadline for Tread+ owners to receive a full refund for the Tread+ until November of 2023. 
Tune in to The Clip Out on Friday, Jan 6, to hear Tom and Crystal's take on this and other hot Pelotopics. We're available on Apple Podcasts, Spotify, Google Podcasts, iHeart, TuneIn. Be sure and follow us so you never miss an episode. You can also find the show online on Facebook.com/TheClipOut. While you're there, like the page and join the group. Lastly, find us on our YouTube channel, YouTube.com/TheClipOut, where you can watch all of our shows.
Written By: Nikki Smith