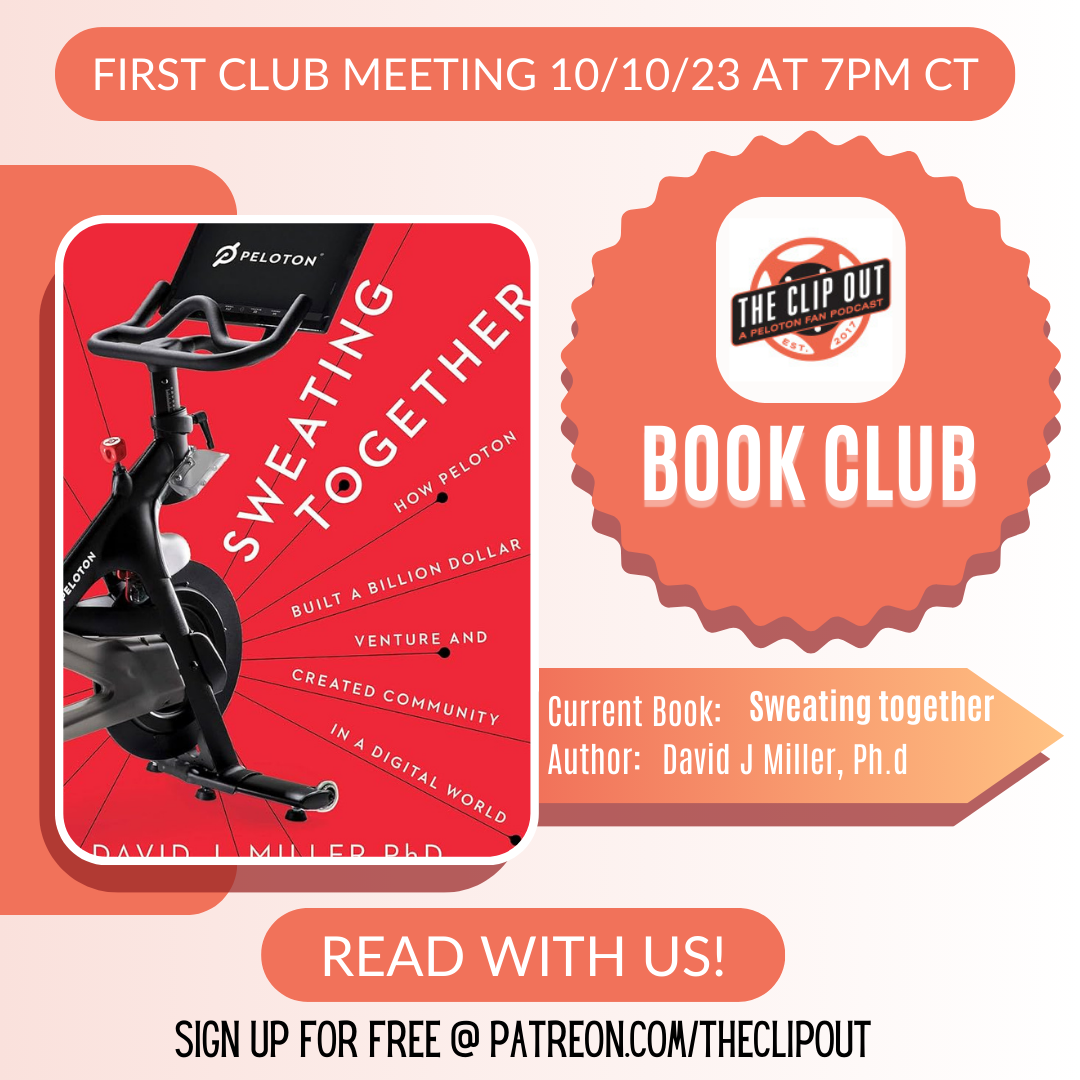 New Patreon Perk for All Levels (Including Free): The Clip Out Book Club
Are you ready to take your love of all things Peloton to the next level?   Do you love to read?  Join the Clip Out Book Club, for Patreon subscribers (all levels – paid and free!!!). Find some new reads, plus you get to discuss them with Crystal, Tom (who might not read the books but will have plenty of comments nonetheless), and other members of the Peloton community!  
Crystal and Tom made the exciting announcement about the first Clip Out Book Club meeting along with naming the first book, "Sweating Together" by David J. Miller, PhD.  And….get ready for it…..David Miller himself will join us for our first Clip Out Book Club Meeting which will take place Tuesday, October 10th, at 7:00 CT.  
The Clip Out Book Club will meet monthly on the Patreon platform. Crystal will choose her favorite books from picks that are suggested by members of The Clip Out community!   Grab a beverage of your choice as we meet once a month to discuss how each book has made you laugh, cry, or work harder towards whatever goals you are currently setting for yourself.  
We'll be reading books from Peloton instructors and riders, both fiction and non-fiction, and we'll get to know each other better and take some time out of our busy schedules to enjoy each other's company.  As with the first meeting, we intend to have many authors participate in the meetings as well!  
Sign up for Patreon here so you can participate in our discussion, buy your copy of David's amazing book here, and remember the Book Club is free for ALL Patreon subscribers!   
Happy riding……..and reading ….. from your friends at The Clip Out!