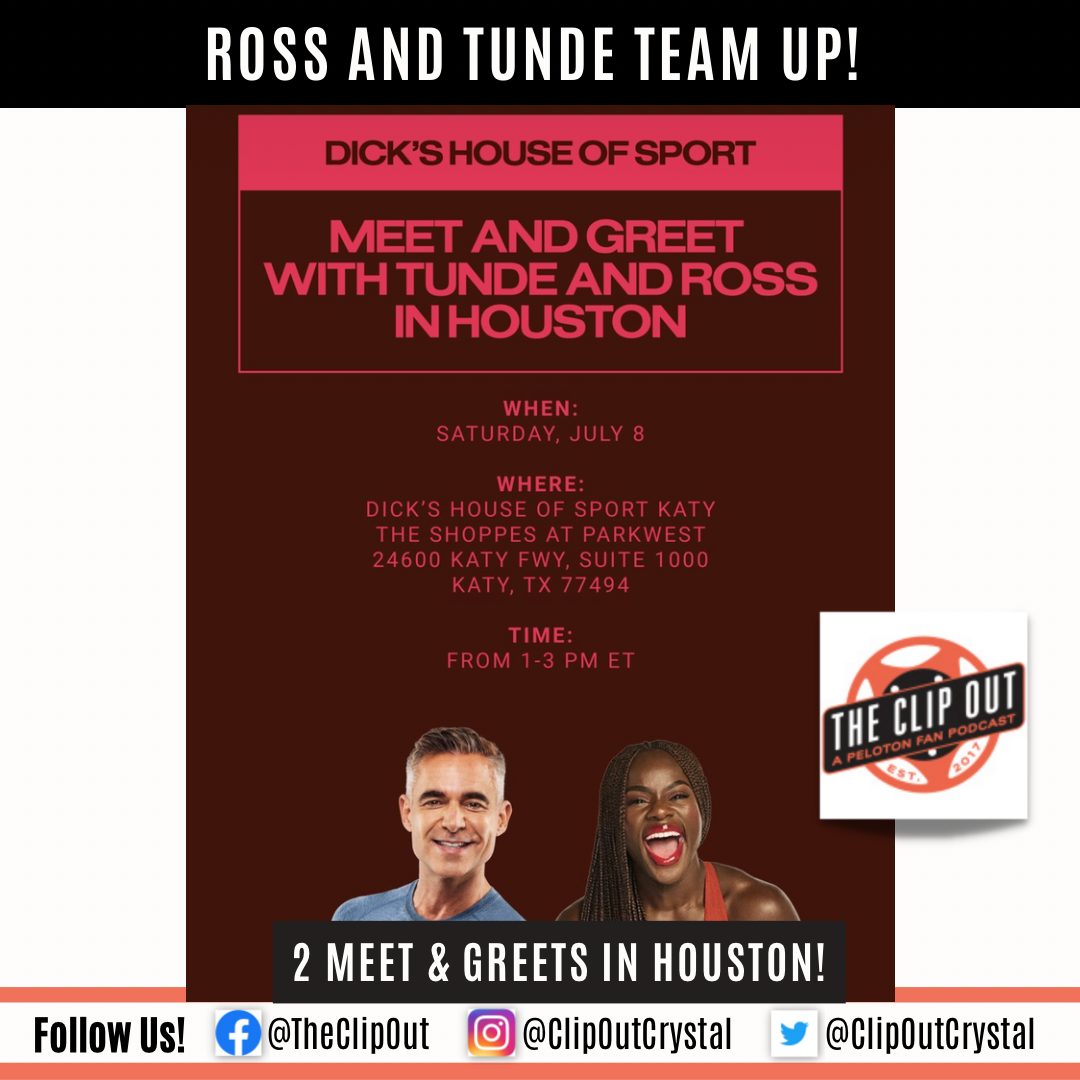 Meet and Greet in Houston with Ross Rayburn and Tunde Oyeneyin
What's better than meeting your favorite Peloton coach?  Meeting two of your favorite Peloton coaches at the same time.  If you live in the Houston area, you will have two opportunities to meet Ross Rayburn and Tunde Oyeneyin in person.  On July 8, from 1 – 3 p.m., this dynamic duo will be at Dick's House of Sport in Katy, Texas, and from 5:30 to 7 p.m., they will host another meet and greet at Dick's House of Sport Baybrook in Friendswood, Texas.  What a great juxtaposition between Tunde's high-energy coaching for riding and lifting and Ross's gentle encouragement for yoga and meditation.  Tunde encourages us to be loud and passionate in everything we do, and Ross is known for his focus on form and alignment, and on quietly connecting with our breath and body.  Everyone who is fortunate enough to attend the meet and greet is sure to take away some inspiration from this duo.    
Those of us who can't get to Houston can still enjoy Tunde and Ross together in an on-demand focus flow for riders class set for Friday, July 7 at 10:00 a.m.  It will be fun to see how Ross and Tunde's personalities complement each other, as well as what music they select for their class (their usual playlists aren't exactly similar!) 
We hope Peloton continues to allow us to meet all of their amazing instructors in person and provides new pairings like this one for classes.  Each instructor brings a special twist to our workout, so classes with two instructors are extra spicy!  What other instructor pairings would you like to see?    
---
See something in the Peloton Universe that you think we should know? Visit theclipout.com and click on Submit a Tip!
Tune in to The Clip Out every Friday to hear Tom and Crystal's take on this and other hot Pelotopics. We're available on Apple Podcasts, Spotify, Google Podcasts, iHeart, TuneIn. Be sure and follow us so you never miss an episode. You can also find the show online on Facebook.com/TheClipOut. While you're there, like the page and join the group. Lastly, find us on our YouTube channel, YouTube.com/TheClipOut, where you can watch all of our shows.