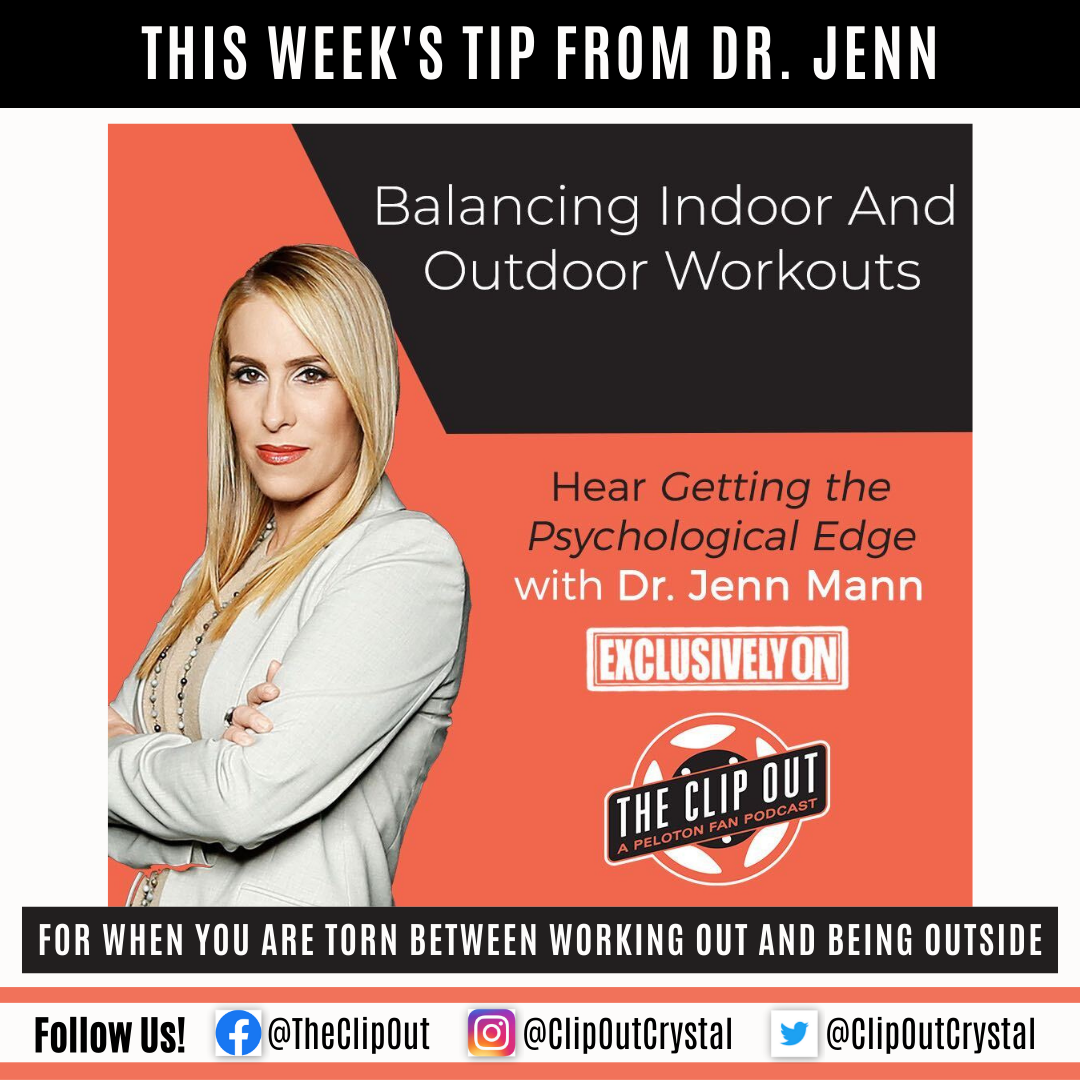 Managing Internal Conflict: Balancing Time Outdoors and Peloton Workouts
For a lot of us, June means warmer (but not too warm!) weather and a chance to enjoy more time outdoors. This can bring about a sense of internal conflict for Members who are committed to their consistency on their Peloton workouts. But how do you balance time outdoors and peloton workouts?
Dr. Jenn Mann, licensed marriage, family and child therapist, sports psychology consultant, and regular contributor to The Clip Out shared how to resolve this internal conflict on the June 9 episode. 
Exercise should be enjoyable, and warmer weather provides the perfect opportunity to refresh your workout routine. So, what can we do to balance spending time outside and with Peloton? Let's find out from Dr. Jenn.
Think outside the box
We often fall into the habit of doing our workouts in one specific area, even when space is limited. If you have a dedicated workout space, such as a home gym, it can be easy to feel restricted to that place. Dr. Jenn has a solution for such a scenario.
She recommends that you adjust your thinking to consider workout out in alternative locations. Changing your workout location, even if it's not weather-related, can be beneficial to your routine. Dr. Jenn shares that taking this approach is a straightforward way to refresh your workout without doing something dramatically different.
You don't have to overhaul your workout routine to achieve this change. Instead, access your surroundings and find new ways to enjoy your exercise. You can take your yoga mat into the living room, the kitchen, the bedroom, or even outside. It could be as simple as doing squats while cooking or some pushups during a TV commercial break!
Get your blue checkmark outside!
While Peloton home workouts are convenient, the App also makes it easy to take them outside. There are several ways to do this, including an outdoor walk or run, or as Dr. Jenn suggests, bringing your yoga mat outside. Do some yoga, strength workouts, or stretching in the fresh air. If you have weights, why not take them with you too? With a backyard or balcony, you can take full advantage of great weather while still enjoying your Peloton sessions.
A pro tip from us here at The Clip Out: When you are spending time gardening, playing with your dog or kid, flying a kite, or even in physical therapy or loading and unloading moving boxes all day–use your Peloton App to track those activities! You can leverage the App's "Just Workout" (aka "Track") feature to honor the movement you are experiencing outside of Peloton, while also getting that blue checkmark.
Gardening? Sounds like an hour of deadlifts, split squats, and goblet squats to me! Flying a kite? Definitely an outdoor walk (maybe even a run!). Physical therapy for an hour? That could be stretching or strength, depending on your day. Just being present outside with your senses? Maybe that's a meditation for you!
Enjoy your exercise
Exercise should be enjoyable, and great weather provides an excellent opportunity to refresh and re-energize your workout routine. It's okay and even beneficial to mix up how and where you exercise. As Dr. Jenn stresses, incorporating a change of scenery into your workout regimen can be enjoyable and reinvigorating, breathing new life into your consistent fitness routine. And great weather can provide the perfect reason to break from the norm.
With this advice, you can find feel confident balancing time outdoors and time working out. The key is to recognize that you should never feel guilty about wanting to break from your usual routine. Instead, embrace the change and enjoy the benefits that come with it!
We've heard Dr. Jenn say this before, but if you're feeling limited by what you think you should be doing, listen to her advice on how to "eff the shoulds" here!
---
See something in the Peloton Universe that you think we should know? Visit theclipout.com and click on Submit a Tip!
Tune in to The Clip Out every Friday to hear Tom and Crystal's take on this and other hot Pelotopics. We're available on Apple Podcasts, Spotify, Google Podcasts, iHeart, TuneIn. Be sure and follow us so you never miss an episode. You can also find the show online on Facebook.com/TheClipOut. While you're there, like the page and join the group. Lastly, find us on our YouTube channel, YouTube.com/TheClipOut, where you can watch all of our shows.