Lentil Tortilla Soup
Kristen Shuman: Episode 39
Perfect for Winter, Kristen Shuman shares her Lentil Tortilla Soup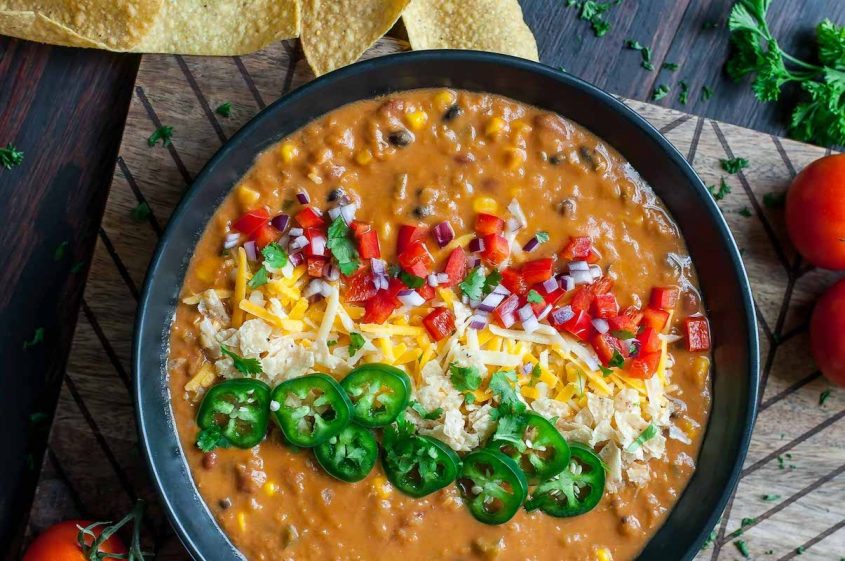 1 cup diced onion
1 jalapeno pepper, diced
1/2 cup salsa verde
1 (15 oz) can pinto beans, drained + rinsed
1 T. Chili seasoning (blend of seasonings, not the chili powder)
1 tsp avocado oil or olive oil
2.5 cups vegetable or chicken broth
1 TBSP tomato paste
1 cup corn (fresh, canned, or frozen)
1/4-1/2 cup heavy cream or coconut cream (skimmed off a can of full fat coconut milk)
For topping, as desired:
Crushed tortilla chips, Shredded cheddar cheese, Diced jalapeños, Chopped red onion, Fresh pico de gallo, Sliced avocado, Fresh cilantro
1 bell pepper, diced
1 can (14-15 oz) can crushed tomatoes
1 (15 oz) can black beans, drained + rinsed
3/4 cup dried red lentils
salt and pepper to taste
Prep

Cook
Depends on Method
Ready in
Depends on Method
Directions
Chop vegetables
Add everything to your IP or Slow Cooker but the heavy cream/coconut cream and optional toppings.
Set the IP to high pressure for 15 minutes. Allow natural pressure release.
If using a Slow Cooker, set to LOW for 8 hours or HIGH for 5 hours.
Stir in the cream if desired, serve with toppings.