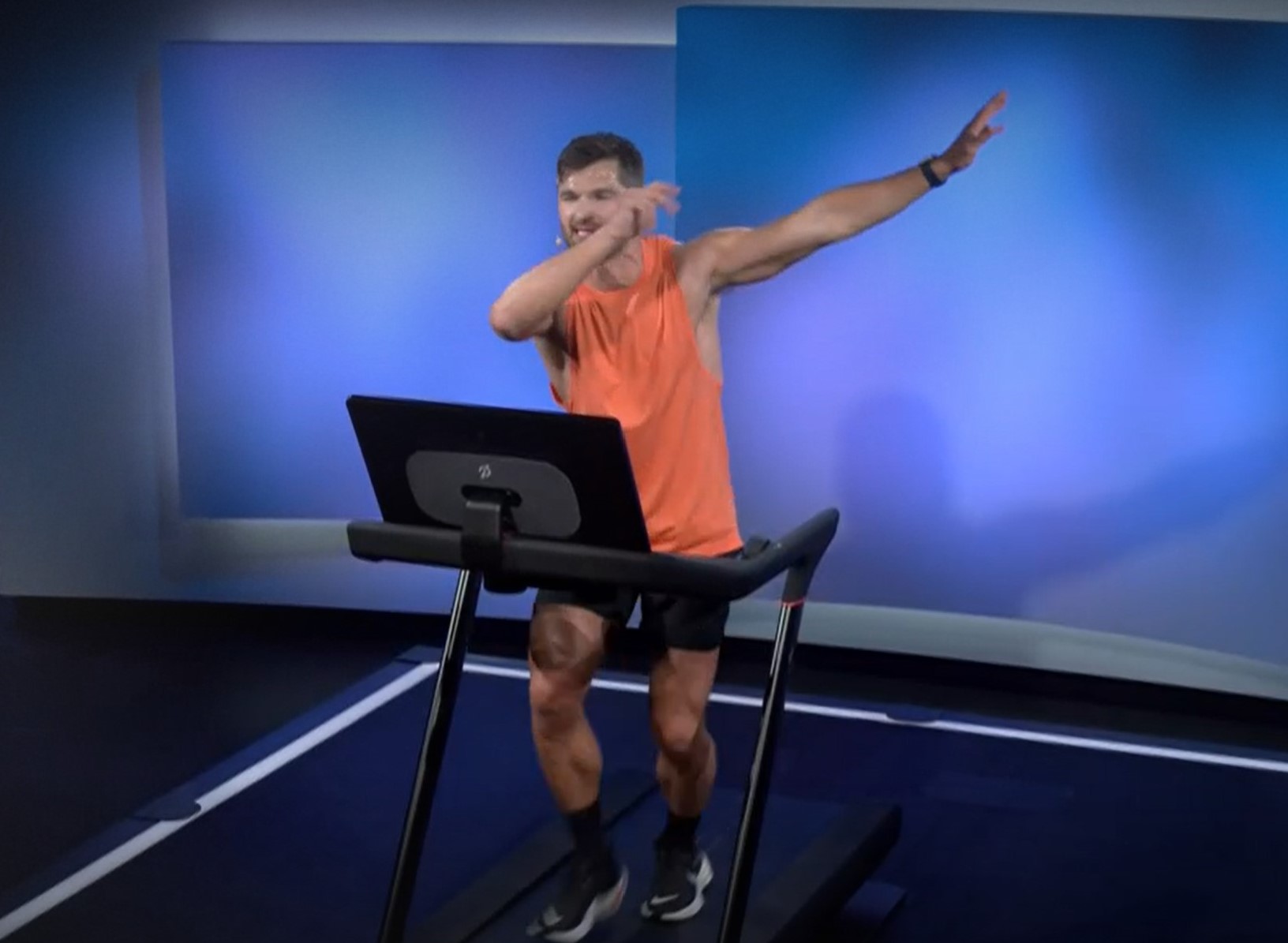 Jon Hosking struts his stuff in Peloton's new signature series
Peloton promises that "you won't know if you've been working out or dancing" in Jon Hosking's new signature series, At The Club. The series premiered on April 6. I just took the first class, and I still feel like I'm on the dance floor.
He's got the moves
At The Club is not just an excuse to watch Hosky dance for 30 minutes, but that wouldn't be a bad reason to tune in. (If you missed it, you've got to check out his dance moves posted by @PelotonStudios.) The class is a fun-first Walk + [optional] Run, and Jon manages to show off his moves for nearly all of it.
Full disclosure: This was my first Jon Hosking (aka Hosky) class. I'm not sure why I've taken so long to try what his fans call "Club Hosky," but I'll absolutely be going back.
For the fellow uninitiated, Jon reminds me of a mix of Jess King and Matty Maggiacomo, with his effortless musicality and joyous, welcoming energy. Maybe add a dash of Kendall Toole for his ability to describe and interact with an imaginary scene while teaching a class. Whatever your instructor background or preference may be, I'm convinced that Hosky is a crowd-pleaser.
A night at the club
Throughout the class, Hosky narrates as if progressing through an epic night at a dance club, complete with checking his coat and inevitably losing track of his claim ticket. He even tracks an ever-present imaginary friend who inexplicably manages to be the life of every party (whether he's invited or not). And just when it seems this friend might have had too much fun, the guy rallies the entire club for a celebratory conga line.
This concept has the potential to be tedious, but Jon pulls it off with delightful ease. The entire narrative is fully engaging and fun—much like Kendall's Holiday Special Movie Buff ride, where she practically transports you into each song's iconic movie scene.
Feel the beat
Speaking of songs, a good playlist is critical to a convincing club scene, and this one really delivers.
Hosky sets the stage with a collection of upbeat disco remixes, the height of which is ABBA's Voulez-Vous. His dancing for this number in particular is infectious–he has the kind of physical expression that only happens when you combine a deep enjoyment of music with an incredible level of fitness and coordination.
I know nothing of Jon's background, but based on how well he walk-danced to ABBA, I imagine he has a past life as a very successful professional dancer.
After a disco-forward first half, Hosky introduces a "DJ request" song based on submissions from social media: Footloose by Kenny Loggins. This feels like a hard left at first, but following Hosky's lead I was fully immersed in the beat and smiling a big, cheesy smile right along with him. The playlist continues with Kris Kross' Jump, Black Eyed Peas' Pump It, and David Guetta x Kelly Rowland's When Love Takes Over.
Just as you think the night is winding down, DJ Hosky pulls out the perfect encore with Queen's Don't Stop Me Now. You can feel the class putting down their imaginary purses and drinks and being pulled back onto the dance floor for one more song.
Dance like no one's watching… but remember: You're still on a treadmill
While the temptation to really bust a move was strong, I know I couldn't pull off Hosky's moves on a solid dance floor, let alone on a moving treadmill. While Jon was skipping, ball-changing (the one dance term I can remember from my elementary dance lessons…), and butt-kicking to the beat like a Dancing With the Stars pro-turned-Peloton Tread instructor, I barely managed to throw in a few rhythmic shoulder shrugs, and even those threatened my center of gravity.
Mostly, I just strutted and clapped. But it's amazing what a good strut can do for your mood!
And don't let the good times fool you–this class has the potential to be as much or as little work as you want. Hosky invites you to add a dash more to your base pace throughout the class, and the run intervals get progressively longer and faster overall. Jon's demeanor and queuing are encouraging and welcoming of all levels, so everyone can feel confident modifying their settings to meet their individual workout needs. 
Directions to The Club
For now, the easiest way to find the At The Club series is to use the Text Search for "At The Club." You can also find it under Walking with your filters set to Instructor: Jon Hosking and Length: 30 minutes.
Note that while Peloton categorized the first class as a Walk, the "More Info" section describes it as a Walk + Run, and it includes nine optional run intervals. I might expect these to land under the Walk + Run Class Type in the future.
We're not sure when the next At The Club class will show up on the schedule, but we suspect about a monthly cadence. While you wait, give the first class a try and let us know what you think!
---
See something in the Peloton Universe that you think we should know? Visit theclipout.com and click on Submit a Tip!
Tune in to The Clip Out on every Friday to hear Tom and Crystal's take on this and other hot Pelotopics. We're available on Apple Podcasts, Spotify, Google Podcasts, iHeart, TuneIn. Be sure and follow us so you never miss an episode. You can also find the show online on Facebook.com/TheClipOut. While you're there, like the page and join the group. Lastly, find us on our YouTube channel, YouTube.com/TheClipOut, where you can watch all of our shows.