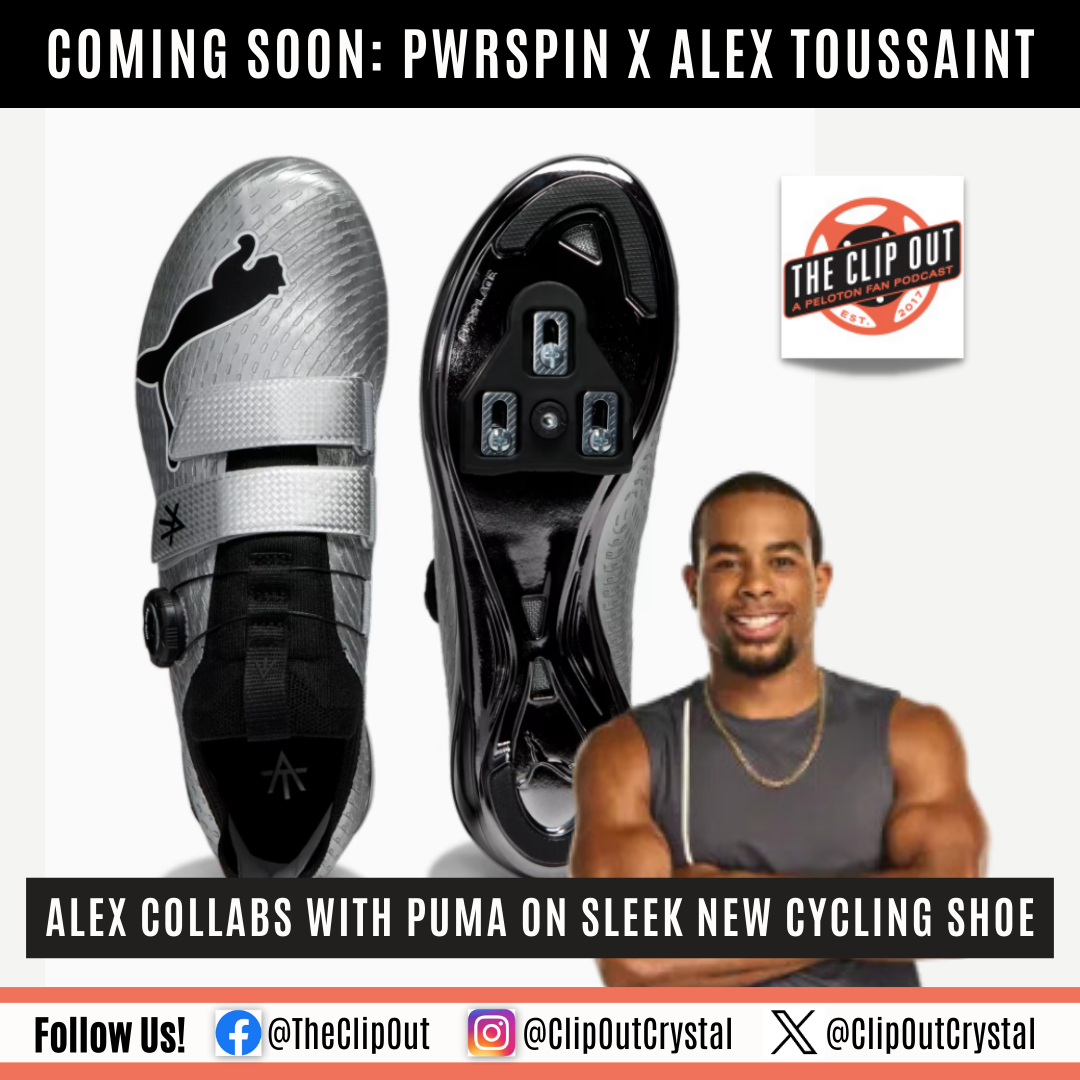 ICYMI: Alex Toussaint Collabs with Puma for New Cycling Shoe
Update:  Alex announced via Instagram that the shoes will be available for purchase on 9/22 via the Puma app and on 9/29 at the Puma flagship store in NYC. 
Sleek, Stylish, and Supercharged: Meet the PWRSPIN x ALEX TOUSSAINT
Peloton cycling revolutionized the indoor cycling experience and transformed cardio workouts into immersive, interactive experiences.  And, while there have been a few cycling shoe options, both Peloton-branded and non-branded, none have been backed by any specific Instruction.  But, that's all changing soon.  Alex Toussaint has teamed up with Puma, with whom he has a branded-partnership, to create a new indoor cycling shoe: the PWRSPIN x ALEX TOUSSAINT.
Carbon Fiber and Laceless Magic
The PWRSPIN x ALEX TOUSSAINT is packed with technology designed to boost performance and comfort during even the most intense indoor cycling sessions. The carbon fiber PWRPLATE outsole provides structure and stability, helping riders maintain a steady, powerful cadence. The upper of the shoe is made with ultra-lightweight ULTRAWEAVE materials and 3D PWRPRINT for enhanced stability and a secure fit. But the real game-changer, according to Puma, is the unique Laceless Disc Fit System, which eliminates the need for traditional laces and allows for a customized fit.
Alex Toussaint Branding, with Peloton Compatibility
Aside from the design technology, the PWRSPIN x ALEX TOUSSAINT leans into a sleek, futuristic silhouette accented with authentic Alex Toussaint branding. The shoe is listed only in a single color option: matte sliver/Puma black. According to photos on Puma's website, it appears that the shoes will be compatible with the Bike/+ Look Delta pedals. Coming in at a cool $120 USD, the price-point for the new cycling shoe is on par with other competitors, including Peloton's own branded shoes.
And, while the shoe is still listed as coming soon on the Puma website, it has already managed to get one 5-star review from mystery reviewer TMacFC21 in Jupiter, FL.  We don't know who you are TMacFC21, or how you managed to get your hands on these shoes already, but we totally respect your love for Alex's Club Bangers rides.