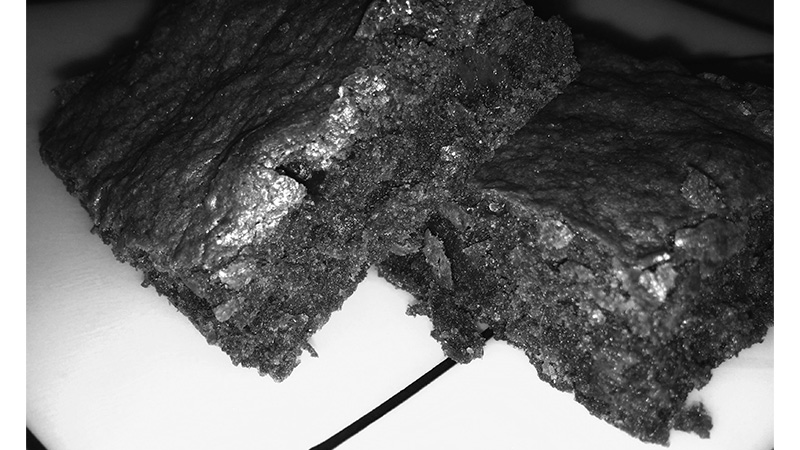 GHIRARDELLI Cricket Flours Brownies
Max Culhane: Episode 72
Looking for protein in your brownies?  Try these cricket flour brownies, courtesy of Max Culhane!
4 oz GHIRARDELLI Semi-Sweet Chocolate Baking Bar (1 bar)
1 stick unsalted butter
1/2 tsp salt
1 cup brown sugar, packed
1 tsp vanilla
3/4 cup & 2 tbsp Cricket Flours: All Purpose Baking Flour
2 large eggs
1/4 tsp baking powder
1/3 cups GHIRARDELLI Semi-Sweet Chips
Prep

Cook

Ready in

Directions
Preheat oven to 350°F.  Using a 8″ x 8″ pan, butter the inside and lightly flour the inside and then set aside.

On low heat, use a saucepan to begin melting the GHIRARDELLI bar and butter.  It helps to cut the butter into smaller pieces, and break/cut up the GHIRARDELLI bar into smaller sections as well.  Keep stirring on low heat until both are completely melted.  Once melted, remove the saucepan and allow to cool to room temperature so that you do not cook the egg and additional ingredients.

Once cooled, stir in the brown sugar and vanilla.  Next, add both eggs and mix fully.

In a separate mixing bowl, combine the Cricket Flours: All Purpose Baking Flour and other dry ingredients until they are fully mixed.  Next, begin to slowly fold in the dry mixture into the saucepan.  After the dry ingredients have fully been mixed in, add in your GHIRARDELLI Semi-Sweet Chips.

The last step is to simply pour your final GHIRARDELLI Cricket Flours Brownie mix into your pan, and bake in the over for 25-30 minutes, or until your tester comes out clean.