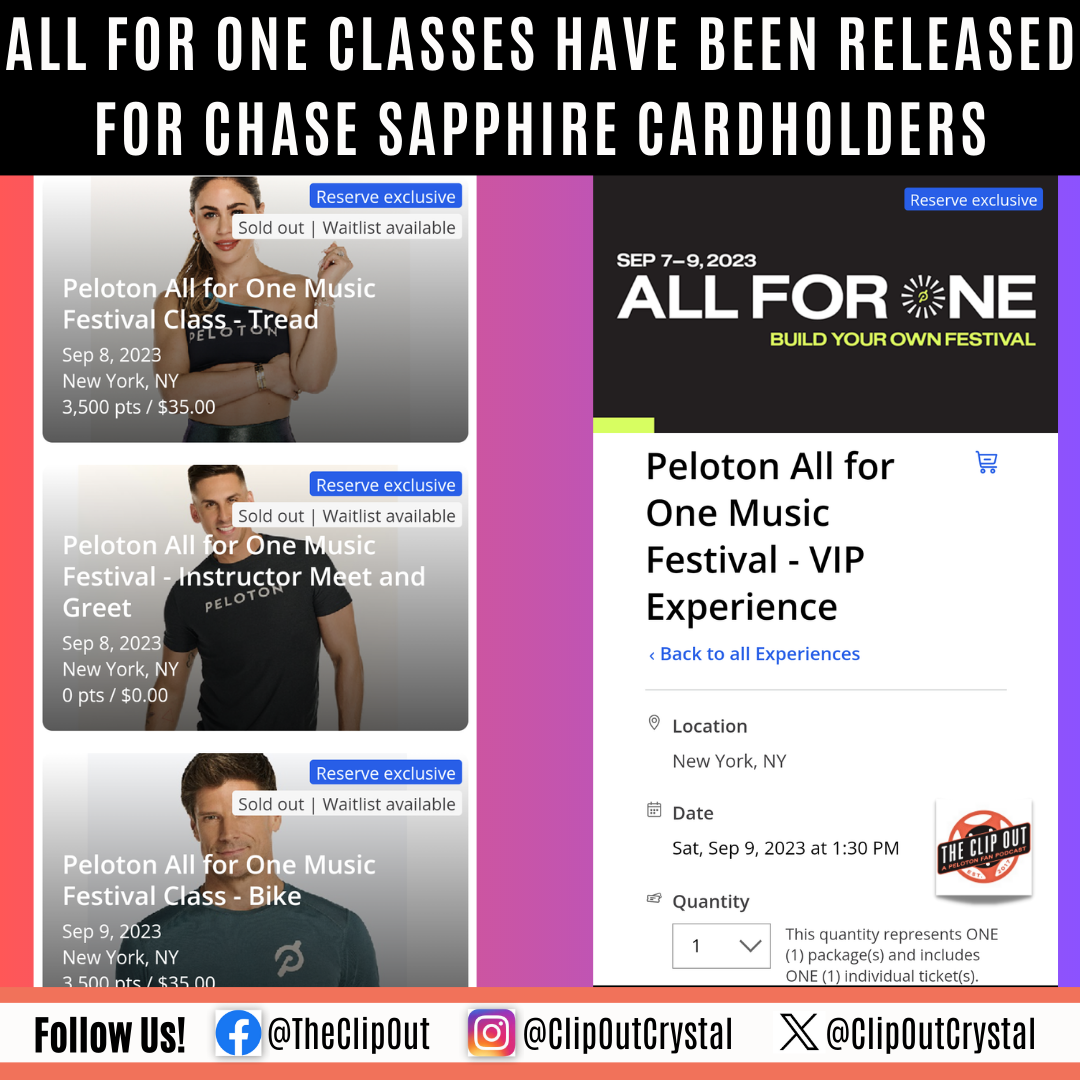 Get Ready to Sweat: Peloton All For One Music Festival Class List is Out for Chase Sapphire Reward Members
Update:  Peloton has confirmed to The Clip Out that AFO classes will be opening up to Members in the near future, so this is not the only chance to get in on the All For One fun!
A Look into the All For One Music Festival
Peloton, the highly popular at-home fitness company, is gearing up for its annual All For One Music Festival taking place on September 7th through the 9th. This much-awaited event celebrates community, music, and fitness all in one place. The two-day extravaganza includes live and on-demand classes with world-renowned Peloton instructors, electrifying DJ sets, panel discussions with industry experts, and much more.
Chase Sapphire Reward Members Rejoice: A Slew of Perks Released
If you're a Chase Sapphire Reward member, you're in for an extra treat. Peloton has teamed up with Chase to offer exclusive perks to its Sapphire members. These perks include attending a live class with your favorite instructor, meeting your beloved instructors in person, and even getting priority access to the Hip Hop 50 Artist Panel discussion. These perks are reserved for Chase Sapphire reward members only, so grab your phone and start booking your spot!
The Sweatiest Classes You Can Join at the Festival
Some of the best classes are lined up for the Peloton All for One Music Festival, and Chase Sapphire Reward members have the first dibs. Here are some of the unique classes that you can join at the festival:
Join a Tread Class with Olivia Amato on Sept 8th: Running enthusiasts, it's time to get your game on with one of Peloton's hottest instructors, Olivia Amato. Get ready to power through a 45-min treadmill workout that will leave you feeling invigorated and energized.  We are hearing that the featured band for this class is Skrillex!

Join a live bike class with Denis Morton on Sept 9th. Pedal your way through some amazing tunes with one of the most musically eclectic instructors at Peloton.  Denis' class is featuring the band Hozier!

Join a

live Row class with Katie Wang featuring music by Katy Perry on Saturday, September 9th!  This package includes a 30 min Row class and and a photo opportunity with Katie!  More importantly —

Could this be the first class with in-studio members for rowing?

Instructor Meet and Greet with Cody Rigsby: Cody Rigsby's live DJ rides are some of the most popular among Peloton members. Not only is he an extraordinary coach, but he's a master of the turntables. Chase Sapphire reward members get a chance to meet Cody and potentially exchange a few dance moves while you're at it.

VIP Experience: The ultimate Peloton experience for Chase Sapphire Reward members: this limited edition VIP experience includes a behind-the-scenes tour of Peloton's bike studio, priority seating for the Hip Hop 50 Artist Panel featuring Fat Joe and Monie Love, and a DJ after-party with renowned DJs John Michael and Skribble.
Meet the Artists Involved in the Hip Hop 50 Panel Discussion
The Hip Hop 50 Artist Panel Discussion is a must-attend event for all music lovers and fitness enthusiasts alike. Not only does this discussion feature industry experts, but it also highlights some of the most influential hip-hop producers, DJs, and rappers from the past five decades. The event will be moderated by Angie Martinez and features Fat Joe and Monie Love.
Fat Joe, who is well-known for his urban sounds, has over twenty-five years of experience in the music industry. He boasts several multi-platinum and gold studio albums, mixtapes, singles, and collaborations under his belt. Monie Love, a British-born MC and radio personality, is best known as a lyrical master of the English language. Her passion for hip-hop emerged when she was just fourteen and evolved into her love for breakdancing, DJ-ing, and rapping.  Act fast! As of this writing, VIP experiences were still available!
Wrapping it up!
The Peloton All for One Music Festival is an event that you cannot miss if you're a fan of fitness, music, and community. The exclusive perks offered to Chase Sapphire Reward members, like a meet-and-greet with instructors and priority seating for the most popular panels, make it an even more engaging event. So, grab your yoga mat or running shoes and join the Peloton family for an unforgettable experience.