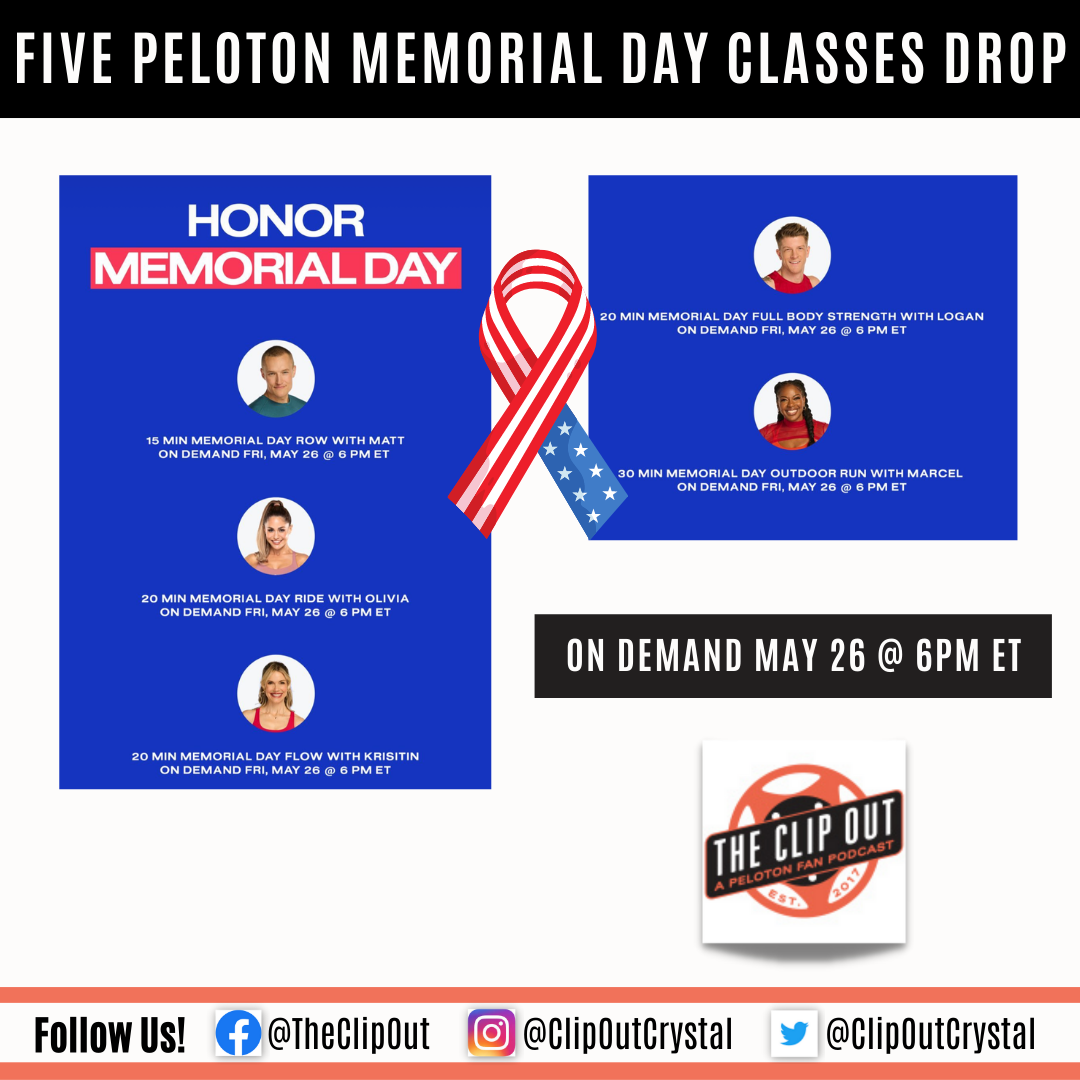 Get Ready For Peloton Memorial Day Classes Dropping And Sweat Your Way Through The Holiday!
As we approach the Memorial Day holiday, it's only natural that we want to take the time to remember and honor our military heroes. One way to do that is with Peloton's Memorial Day classes! Whether you own a Peloton bike, tread, or app subscription, you can get ready to sweat your way through the holiday with their on-demand classes dropping at 6 pm ET on May 26th. Be sure to clear your schedule to take part in these fantastic classes.
First up is a 15-minute Memorial Day row taught by Matt Wilpers. Matt is no stranger to honoring and recognizing our military heroes. Expect nothing but the best rowing techniques and timing in this class. Plus, with this being a shorter class, it's a perfect way to warm up before tackling the longer rides and strength classes.
Next is a 20-minute Memorial Day ride taught by Olivia Amato. This class is perfect for anyone looking for a quick but intense workout to get their holiday started. Olivia's energetic and motivating personality will keep you pushing through the hills and sprints, making sure you earn every minute of your holiday festivities.
If yoga is your thing, you won't want to miss Kristin McGee's 20-minute Memorial Day flow. Kristin is known for her outstanding yoga sessions, and she won't disappoint in this class. This flow will leave you feeling refreshed and energized to face the holiday activities.
For a full-body strength workout, look no further than Logan Aldridge's 20-minute Memorial Day class. Logan is an adaptive athlete and personal trainer who overcame significant obstacles to get to where he is now. This class includes a mix of weights and bodyweight exercises to challenge and strengthen every muscle group in your body.
Finally, if you're looking for an outdoor running experience, Marcel Dinkins' 30-minute Memorial Day class is the perfect answer. This class takes you through a beautiful outdoor run while Marcel shares his love for running and life lessons to keep you motivated. The best part? It's like going on a run with an old friend who knows just how to push you to your limits while making it fun and enjoyable.
Peloton's Memorial Day classes dropping on demand are an excellent way to kick off and get you in the mood for your Memorial Day activities. With these classes being on-demand, you can take part in them whenever you have the time. The instructors are all top-notch, providing challenging but fun workouts that will make you feel motivated and energized. Don't miss out on this fantastic opportunity, clear your schedule, grab your Peloton equipment, and sweat it out this Memorial Day.
---
See something in the Peloton Universe that you think we should know? Visit theclipout.com and click on Submit a Tip!
Tune in to The Clip Out on every Friday to hear Tom and Crystal's take on this and other hot Pelotopics. We're available on Apple Podcasts, Spotify, Google Podcasts, iHeart, TuneIn. Be sure and follow us so you never miss an episode. You can also find the show online on Facebook.com/TheClipOut. While you're there, like the page and join the group. Lastly, find us on our YouTube channel, YouTube.com/TheClipOut, where you can watch all of our shows.