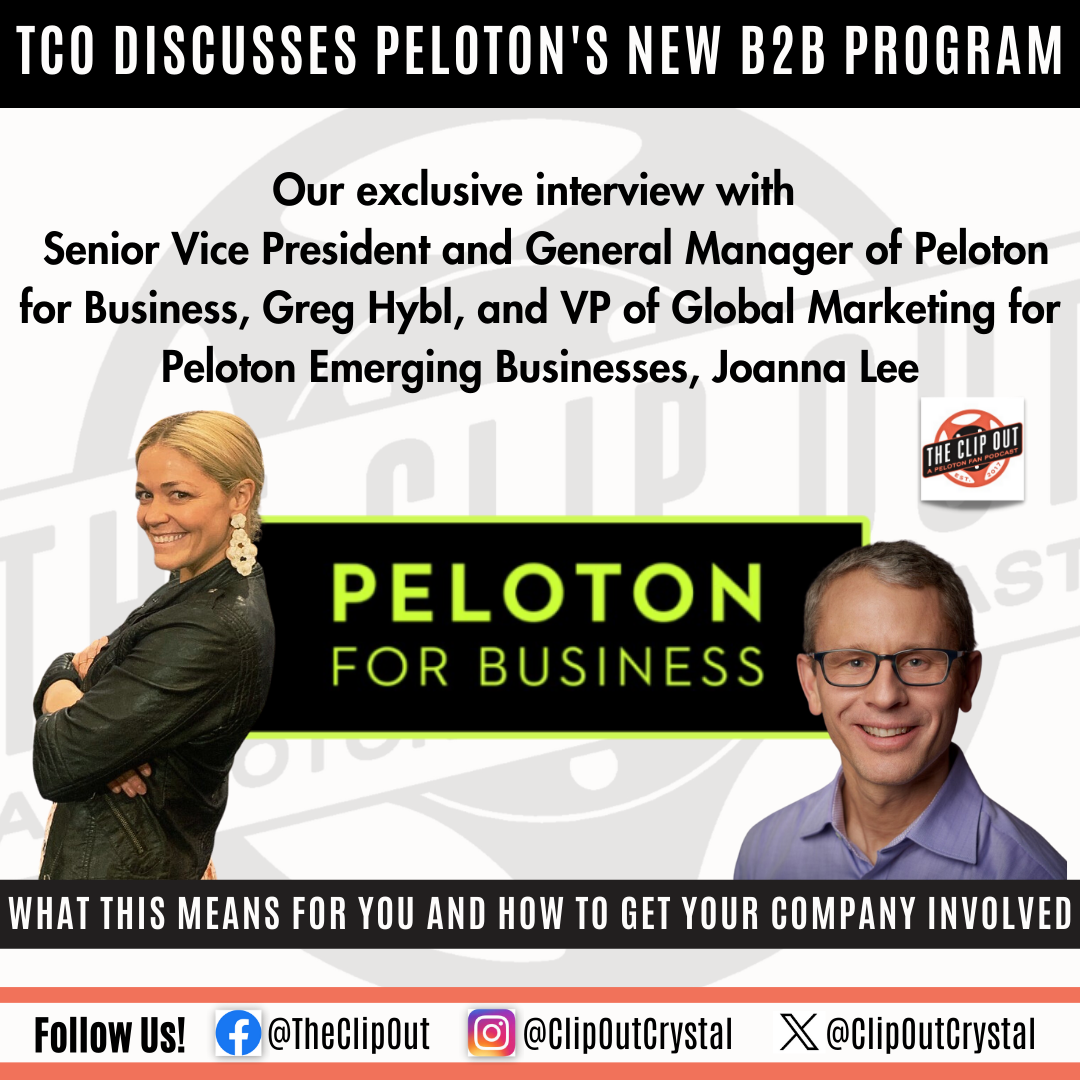 Our Exclusive Peloton For Business Interview with Greg Hybl and Joanna Lee
Peloton, the popular fitness equipment and app company, is expanding its reach by launching a program geared towards businesses called Peloton for Business. Senior Vice President and General Manager of Peloton for Business, Greg Hybl, and VP of Global Marketing for Peloton Emerging Businesses, Joanna Lee, sat down with The Clip Out to discuss the new initiative.
Ease of Access to Fitness Solutions
Hybl explained that Peloton for Business will make it easier for companies to access the fitness solutions they need by streamlining communication. Instead of navigating an org chart, all a business needs to do is make one phone call to Peloton for Business. From there, the team can assist with everything from getting bikes in a gym to providing benefits for employees. This new approach builds upon the company's recent shift towards working with corporate customers, a move that has been successful with partnering companies like Hilton and Sigma.
Expanding Beyond the Bike
Hybl and Lee both acknowledged that Peloton's expansion will rely on offering a variety of fitness solutions beyond just the bike. They confirmed that Peloton for Business will eventually include the Tread and additional hardware. While these options are not currently available, the goal is to make them accessible through the new business program.
The benefits of Peloton for Business extend beyond just fitness solutions. The company is partnering with Sequoia, a professional employer organization, to increase access to Peloton memberships. This partnership will specifically cater to smaller companies with 500 or fewer employees who may not have had the resources to provide fitness benefits before. Employers will also have the option to subsidize their employees' Peloton memberships, even if they are already members.
Maintaining Retention Rates
Hybl and Lee underscored that Peloton for Business has seen a 93% retention rate among partner companies. This high retention rate is a direct result of engagement from employees who are highly motivated to utilize the fitness benefits offered. The renewal rate indicates that these businesses are committed to providing these benefits long term.
With Peloton for Business, the company is expanding its mission to make fitness accessible to everyone by making it more convenient for companies to offer fitness benefits to their employees. Peloton is indeed a leader in the fitness revolution, and with this new venture, it is making a significant impact on the corporate world too.
YMCA Partnerships
One of the most exciting new developments is the partnership between Peloton and the YMCA. Through a new pilot program, Peloton bikes and app will be brought to select YMCA locations in San Antonio and Chicago. The goal is to see how this addition impacts customer acquisition and member experience. This is a significant step for Peloton, as the YMCA has been its segment of most use across all commercial segments. The bikes provided a great cardio workout for members, which naturally led to Peloton exploring how its branded content can add value to the experiences of YMCA members. Peloton's aim is to become the go-to solution for self-guided workouts in spaces like strength floors, treadmills, or bikes.
The Post-Pandemic Migration Back to the Office
But Peloton's corporate wellness offerings aren't limited to just gym partnerships. Companies are also investing in dedicated Peloton rooms, creating a unique and welcoming environment where employees can work out individually. This is an innovative way to encourage employees to return to the office- something that has been challenging following the pandemic. By creating a space that fulfills their employees' needs and prioritizes wellness, these businesses can keep their employees happy, healthy, and motivated.
Peloton is committed to offering businesses a comprehensive solution, tailoring its programs to meet specific needs. This includes working with employers to create personalized wellness programming, tracking data to ensure that their programs are effective, and offering resources to help employees stay on track. Peloton's Corporate Wellness program is the perfect solution for businesses looking to encourage a healthier and more engaged work environment.
Connecting Your Business to Peloton
If you're interested in exploring what Peloton can offer for your business, reach out to them at Corporate Wellness at OnePeloton.com. Whether you're looking for gym partnerships, dedicated workout rooms, or personalized wellness programming, Peloton has a solution that can work for you. Join the many businesses that are benefiting from Peloton's innovative approach to corporate wellness and help your employees become their best selves.