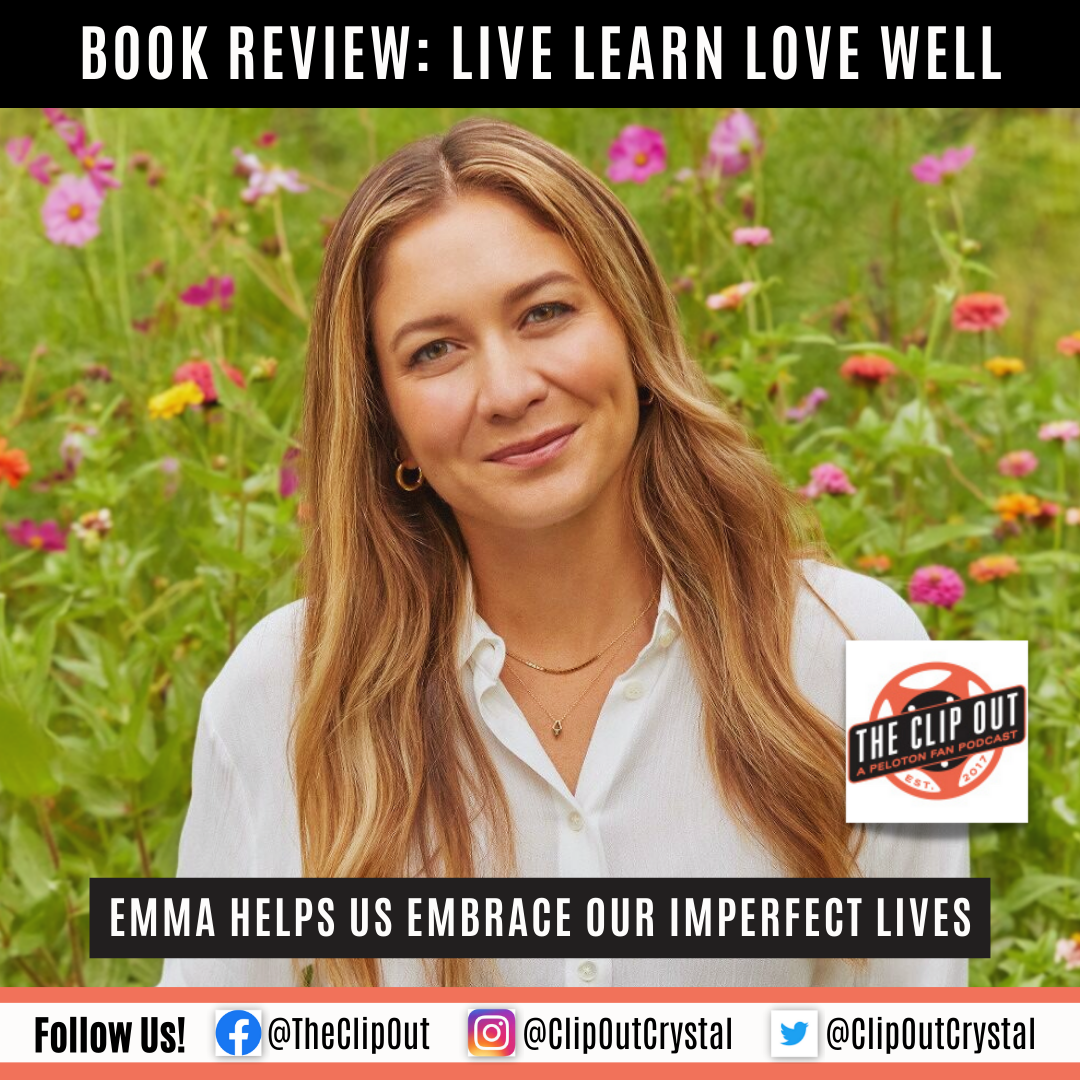 Emma Lovewell's Book Encourages Us To Embrace our Imperfect Lives
Emma Lovewell's persona on the Peloton bike is multifaceted.  She is motivational and plays upbeat music, she gives us positive messages to fuel our rides and our lives, and she has a level of calmness that makes the world seem right. Her new book, "Live Learn Love Well:  Lessons From a Life Of Progress Not Perfection", provides insight into how her past has helped her evolve into the encouraging, strong presence she emits. 
What to Expect in Emma Lovewell's New Book
Emma shares stories about her family, her friends, her career, and her hopes and dreams.  This book also gives us a peek into her life, contrasting her younger years with the calming force we see today.
Emma does not present her life chronologically,  but, rather, topically.  Each chapter has a theme, and the author provides scenarios from her life that help the reader understand lessons she has learned in life that support each theme.   Her writing is straightforward and very easy to follow. It is easy to see how she became a humble and strong woman who has found her voice, despite having some bumps in the road to get to where she is today. 
Lovewell talks about growing up on Martha's Vineyard as the daughter of two artistic parents, her mother having moved to the United States from Taiwan shortly before meeting her father.  Emma grew up growing her own vegetables and flowers and helping her mother cook. Emma's love of cooking, eating noodles, and other Chinese food (and gardening) still gives her great satisfaction and provides outlets for relaxation.  Emma talks openly about the ups and downs of major milestones in her life, including her parent's divorce and the heartache she experienced when she lost a boyfriend to a drug overdose.   She also tells us stories of the joys she has had in her life, including traveling, fitness and dancing, and her current relationship.
Emma emphasized both her victories and her struggles as she explored career paths, eventually landing at Peloton.  She was an initial supporter of the Peloton Kickstarter campaign, but she had to wait a while before she was hired as an instructor. 
Emma's mother was very influential in her life, and in addition to cooking and gardening, she taught Emma how to meditate.  This practice continues to be a big part of Emma's life – she always takes some time to meditate right before she arrives at the Peloton Studios, so she can focus on what her upcoming ride will mean to her and to the Peloton community. 
The main takeaway from the new book is to celebrate who you are in this moment.  Wellness, movement, and the mind-body connection are all essential parts of that celebration.  Emma urges us to think about making something from the "dirt" of life – just as flowers and vegetables come from that dark place in the soil.  She tells us to look at our days in a positive light – to be hopeful – and to work on having our "best day" every day.
Even when Emma is discussing her struggles, she paints everything in a positive light, which makes this a light and easy read while still giving the reader a lot of life lessons to consider.  We can all relate to the types of struggles Emma has faced, and hopefully also to her resilience in getting through the dark times and making our own light.  As Emma says so aptly, growth happens when we realize we are enough.