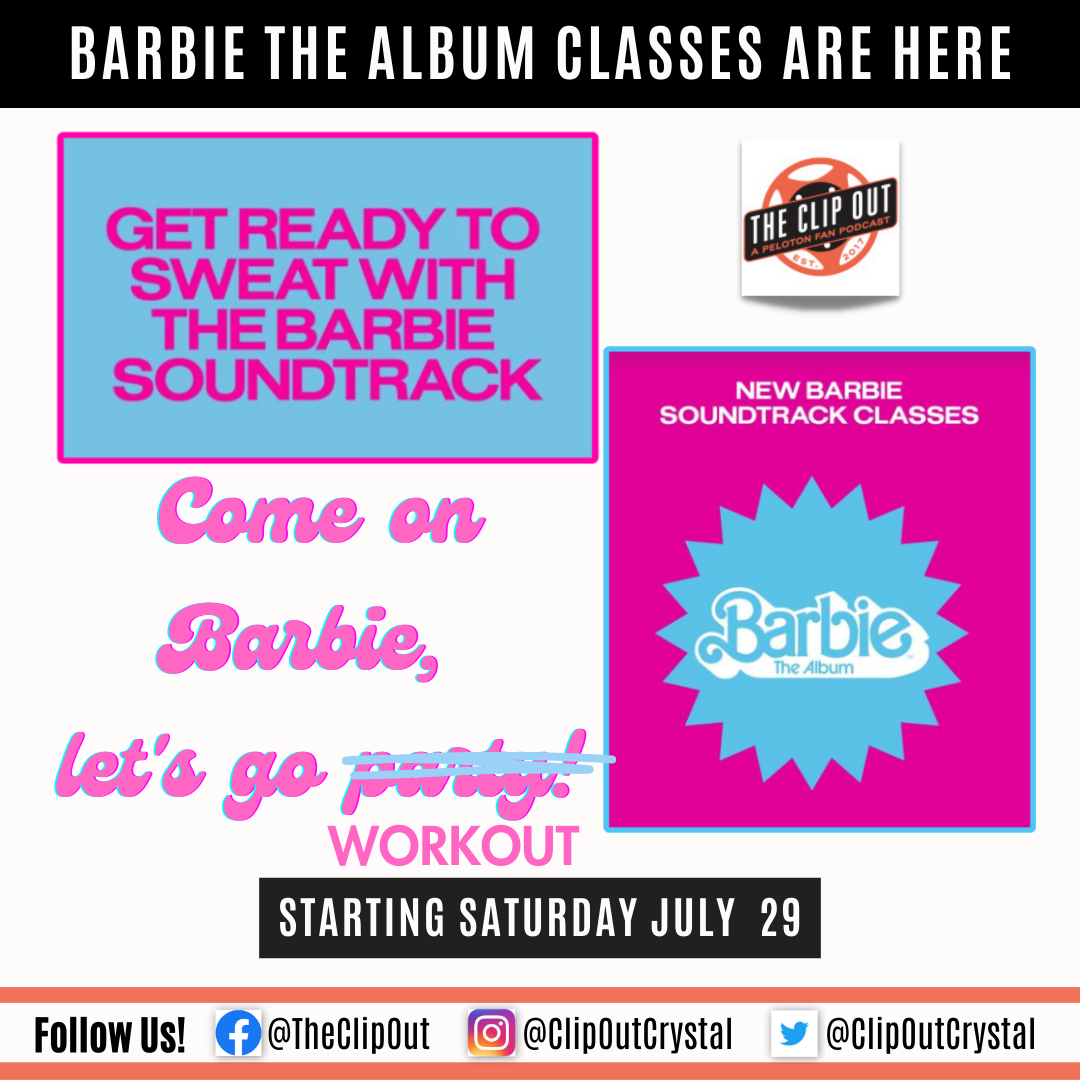 Come on Barbie, Let's Go Workout!
Come on Barbie, let's go party! 
And, by "party," we mean run, lift, ride, shadowbox, and stretch with Peloton!
Get ready to join Peloton Instructors Callie Gullickson, Camila Ramon, Oliva Amato, Jeffrey McEachern, Marcel Dinkins, Kendall Toole and Adrian Williams on an epic fitness adventure set to tunes from Barbie the Album! They've got a lineup of exciting classes and workouts that will have you feeling strong, fabulous, and like you can do anything (obviously!).
You're Invited to the Barbie Party
Starting July 29th, Callie is leading a 30-minute Glutes and Legs strength class at 8am eastern. Want to get your heart pumping? Join Camila for a 20-minute ride in Spanish at 11am eastern. And if you're looking for some midday motivation, Olivia has a 30-minute ride at noon, eastern.
But that's not all! On August 1st, Jeffrey will take you on a 20-minute Barbie run at 12:35pm eastern. And on August 3rd, Marcel Dinkins will continue the Barbie party with a 30-minute run at 5pm eastern.
Peloton is also dropping on-demand content for you to enjoy. On August 3rd, Kendall is leading a 20-minute Barbie Shadowboxing class, and Adrian is guiding a 10-minute Barbie stretch class. Both will be available starting at 10am eastern.
In the meantime, we've got you covered with a Barbie the Album playlist from Spotify!
Don't miss out on the fun and fitness with Barbie and Peloton. Get ready to sweat, smile, and feel like a superstar!  Legwarmers and neon spandex optional (but not discouraged!).
See something in the Peloton Universe that you think we should know? Visit theclipout.com and click on Submit a Tip!
Tune in to The Clip Out every Friday to hear Tom and Crystal's take on this and other hot Pelotopics. We're available on Apple Podcasts, Spotify, Google Podcasts, iHeart, TuneIn. Be sure and follow us so you never miss an episode. You can also find the show online on Facebook.com/TheClipOut. While you're there, like the page and join the group. Lastly, find us on our YouTube channel, YouTube.com/TheClipOut, where you can watch all of our shows.