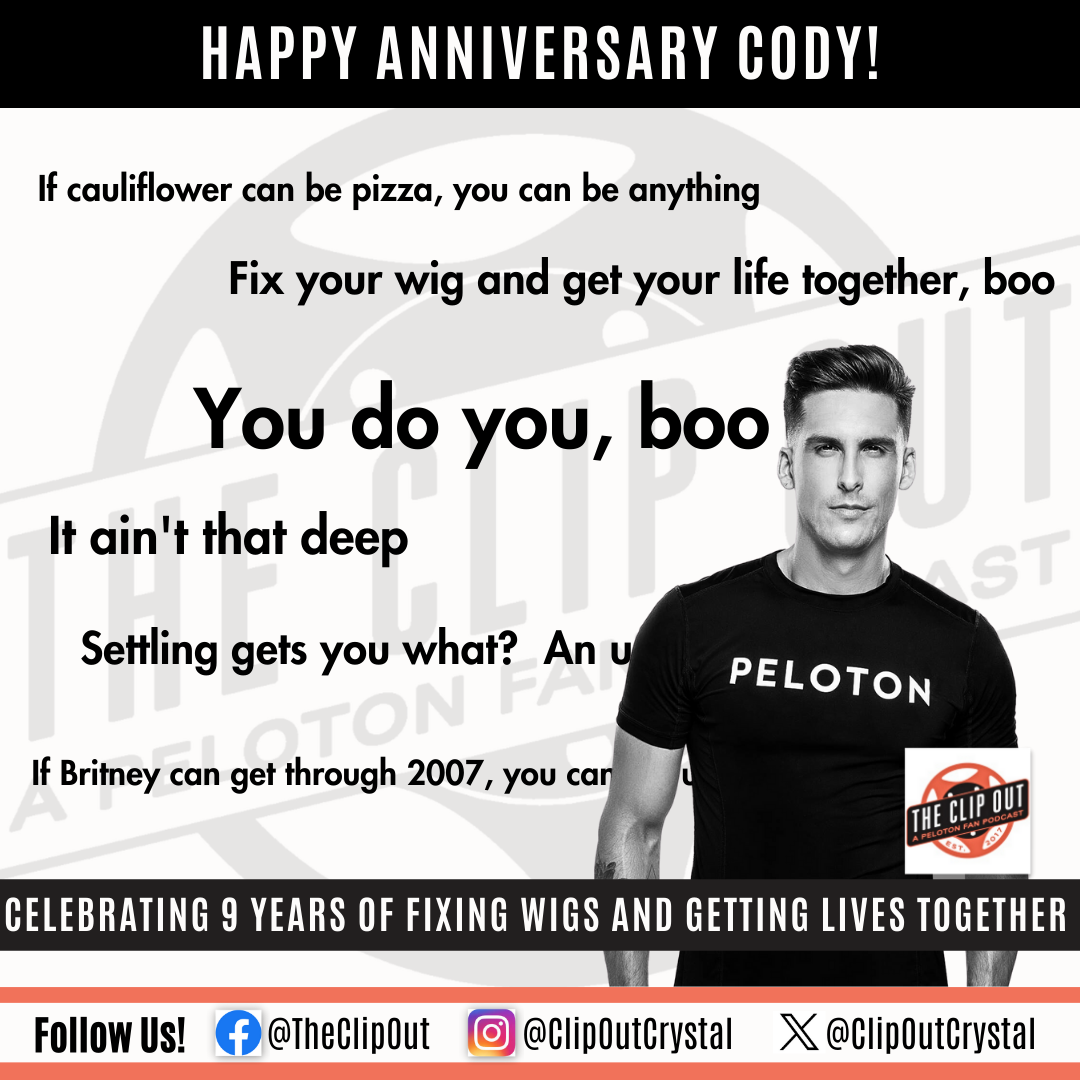 Celebrating 9 Years of Cody Rigsby: A Look at His Amazing Journey with Peloton
It's hard to believe that it has been nine years since Cody Rigsby first joined Peloton as an instructor. Time indeed flies so fast, but it's amazing to see how much he has accomplished and how far he has come since then. Today, we celebrate his incredible journey with Peloton and the impact he has had on the Peloton community. Let's take a closer look at some of the highlights of his tenure, and see how he has transformed not only his career but those of his riders as well.
Cody Rigsby's Peloton Journey:
Cody Rigsby joined Peloton as a coach on August 15, 2014, and the rest, as they say, is history. He quickly became a fan favorite, known for his infectious energy, positive attitude, and inspiring words. Over the years, Cody has been at the forefront of many Peloton milestones and events.
Pride Rides and Capsule Collections:
Cody has been a prominent voice of the LGBTQ+ community at Peloton, leading several annual Pride rides with DJ John Michael spinning the tunes. He also launched his own capsule collection, which dropped in the Peloton boutique back in 2016.
Meditation Instructor:
Cody has expanded his reach as an instructor, joining the roster of meditation instructors in 2020. He brings the same positive energy and spirit to his meditation classes, providing his riders with a comprehensive wellness experience.
Bike Bootcamp and XOXO, Cody:
Cody has been an integral part of Peloton's expansion into new territories, including the launch of Bike Bootcamp in 2020 and XOXO, Cody Season 2 in 2021. He has proven to be a versatile instructor, bringing his unique style and personality to every class he teaches.
Dancing With The Stars:
Cody has taken his talents beyond the Peloton studio, as he became a contestant on "Dancing With The Stars" in 2021. He and his partner, Cheryl Burke, made history as the first contestants to dance from home after Cheryl contracted Covid.
Looking Ahead:
As we celebrate Cody's nine-year anniversary with Peloton, there are many more exciting things to come. He hosted P!nk's album release party early this year (Feb of 2023) and will also be releasing his own book in Fall of 2023. With his infectious energy and willingness to try new things, Cody is sure to continue to push boundaries and inspire Peloton users for years to come.
Final Thoughts
Cody Rigsby has had an incredible journey with Peloton over the past nine years. From his early beginnings as a coach to his numerous accomplishments and milestones, he has become an icon in the Peloton community. His infectious positivity and inspiring words have touched the lives of countless riders, and we can't wait to see what the future holds for this amazing instructor. Happy anniversary, Cody!
Here is a list of memorable moments Cody made The Clip Out news!
August 15, 2014 – Cody Rigsby Joins Peloton As A Coach
June 26, 2015 – Cody Teaches The Inaugural Pride Ride With DJ John Michael Spinning The Tunes
June 24, 2016 – Cody And DJ John Michael Team Up For The Second Annual Pride Ride
November 19, 2016 – Cody's Capsule Collection Drops In The BoutiqueApril 26, 2017 – Cody Celebrates 1000 Rides
October 13, 2019 – Cody Rigsby And Ross Rayburn Lead The Atlanta Pride Parade Celebrating LGBTQ History Month
June 22, 2020 – Cody Joins The Roster Of Meditation Instructors
September 15, 2020 – Bike Bootcamp Launches With Robin, Cody And Jess Sims As Instructors
September 10, 2020 – XOXO, Cody Season 2 Begins
January 15, 2021 – episode 190 of The Clip Out Podcast: Cody Rigsby Featured In New GM Commercial Plus Our Interview With Angelo Poli
July 2, 2021 – episode 214 of The Clip Out Podcast: Cody Rigsby Buys A Penthouse Plus Our Interview With Tracy Patman
September 10, 2021 episode 224 of The Clip Out Podcast: Cody Rigsby To Join 'Dancing With The Stars' Plus Our Interview With Michele Kerulis
October 8, 2021 episode 228 of The Clip Out Podcast: Cody Rigsby Makes 'Dancing With The Stars' History Plus Our Interview With Yaneyra Pellascini
November 10, 2021 – Beyonce Dance Cardio Class Choreographed By Beyonce's Choreographer And Taught By Jess, Cody And Two Of Beyonce's Dancers
November 3, 2022 – LOL Cody Premieres
February 23, 2023 – Two For One Ride With Leanne And Cody Live From London.
February 17, 2023 episode 297 of The Clip Out Podcast: Cody Rigsby To Host P!Nk's Album Release Party Plus Our Interview With Snooki
February 23, 2023 – Two For One Ride With Leanne And Cody Live From London.
March 17, 2023 episode 301 of The Clip Out Podcast: Cody Rigsby's Book Available For Pre-Order Plus Our Interview With Jonathan Yarwood