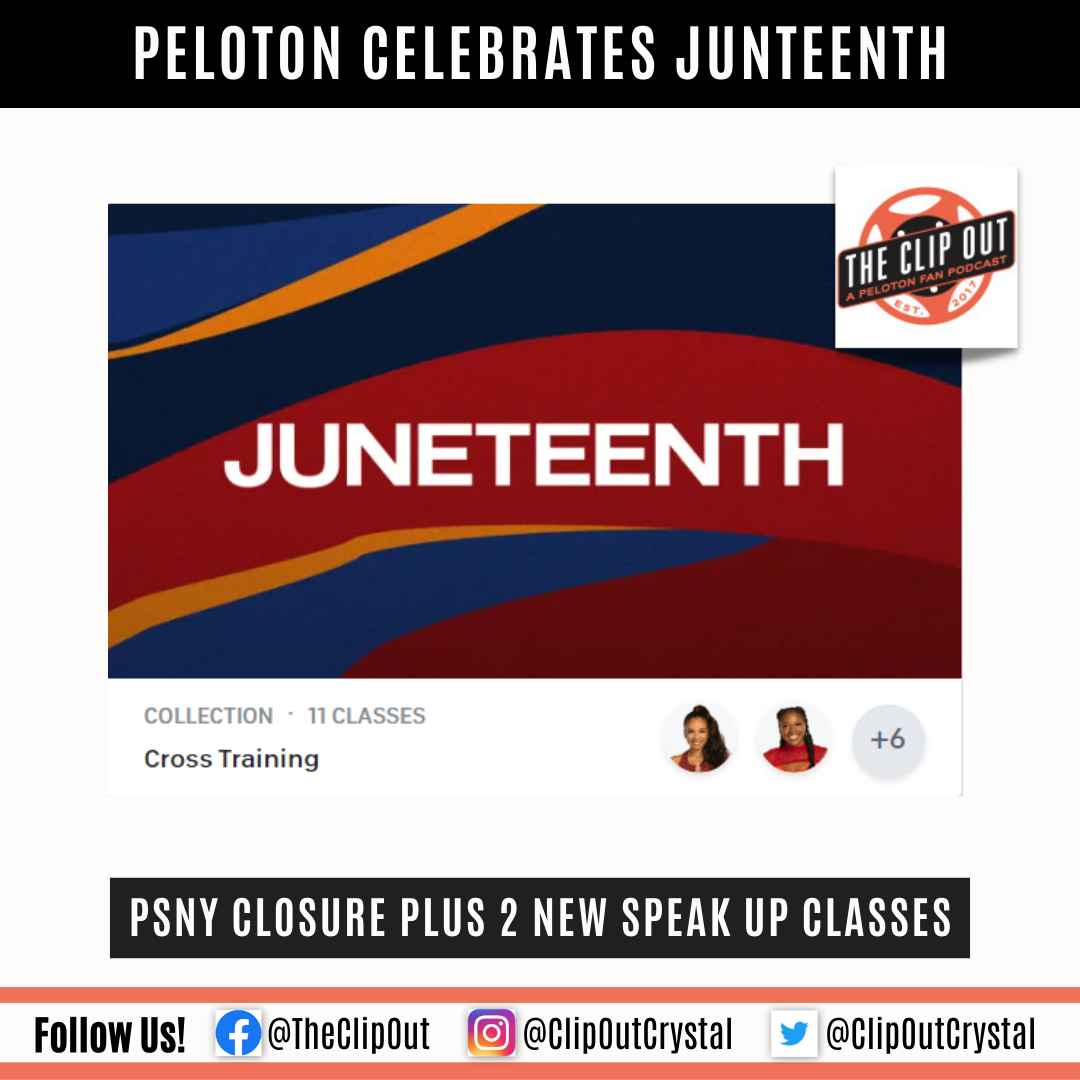 Celebrate Juneteenth with Peloton
Juneteenth, celebrated on June 19th, is an important day in America's history, as it commemorates the day when the last remaining slaves in the United States were finally freed. Peloton is honoring this day by closing its studios so members, instructors, and employees can participate in Juneteenth celebrations.  
Breathe In, Speak Up
Peloton is known for its diversity and inclusivity and already has a Collection of "Breathe In, Speak Up" classes led by Tunde and Chelsea Roberts Jackson – honor your body as you honor the day!   Peloton has also recently added a Juneteenth Collection, so you can find all of the  prior Juneteenth classes in one place, including some 2023 classes that took place today.  
New Classes Available
Peloton's Juneteenth classes can help you reflect and connect with the significance of this day and its meaning.  Encore classes are planned on Juneteenth with a Speak Up Ride  with Tunde at 7:00 A.M. ET ; a Breathe In, Speak Up Yoga Flow at 8:30 A.M. ET and  a 10 A.M. ET Breathe In, Speak Up Meditation with Chelsea; a Walk at 12:00 P.M. ET with Kirsten, and a Juneteenth Row with Ash at 3:00 P.M. ET.  All are sure to include inspirational messages centering around racial injustice and activism.
Enjoy classes  that help you celebrate freedom, diversity, and unity, all while getting a great workout in!  And remember to return to the Speak Up and Juneteenth collections all year long to ride, row,  breathe, and reflect with Peloton!
See something in the Peloton Universe that you think we should know? Visit theclipout.com and click on Submit a Tip!
Tune in to The Clip Out every Friday to hear Tom and Crystal's take on this and other hot Pelotopics. We're available on Apple Podcasts, Spotify, Google Podcasts, iHeart, TuneIn. Be sure and follow us so you never miss an episode. You can also find the show online on Facebook.com/TheClipOut. While you're there, like the page and join the group. Lastly, find us on our YouTube channel, YouTube.com/TheClipOut, where you can watch all of our shows.