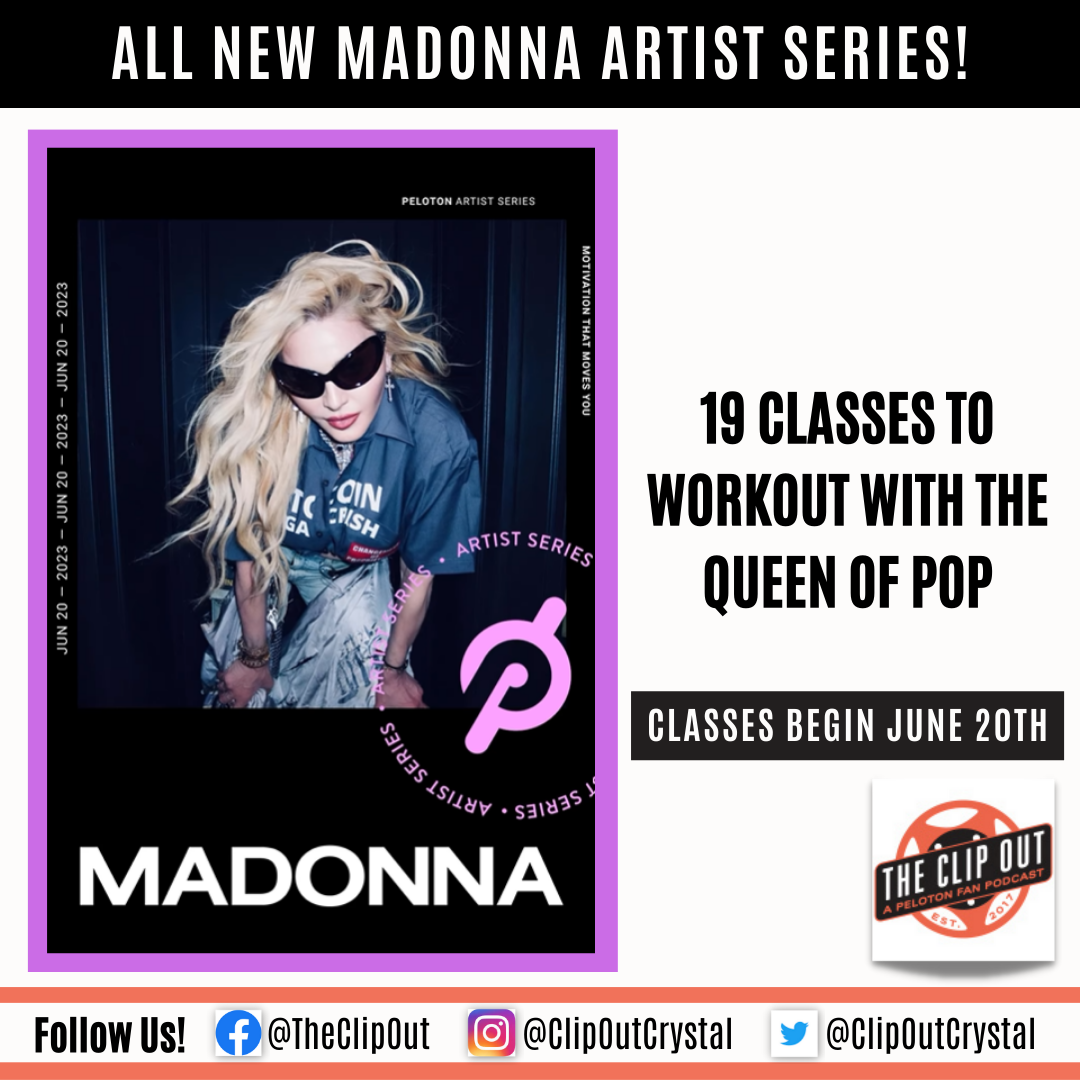 All New Madonna Peloton Artist Series!
Get Ready to Party!
Elevate your workout experience to a whole new level with the incomparable Madonna! Starting June 20, transform your sweat session into a dance party extravaganza with the launch of an exciting Artist Series. This unique fitness journey features 8 exceptional album-themed classes, all set to the pulsating rhythms of Madonna's iconic hits. Get ready to challenge yourself, groove to the beat, and celebrate the Queen of Pop's legendary sound!
On June 16, Peloton unveiled an exciting announcement on Instagram: a spectacular new Artist Series with The Material Girl is set to debut! Starting June 20, 2023, and running until June 23, this exhilarating series will showcase 19 fresh classes for fitness enthusiasts to enjoy. Get ready to immerse yourself in both live sessions and pre-recorded classes, all designed to keep you motivated and inspired throughout your workout journey!
The Queen Of Pop
Madonna, the undisputed Queen of Pop, has been captivating audiences worldwide with her groundbreaking music and provocative performances for over four decades. Known for her ever-evolving style, fearless attitude, and undeniable talent, she has consistently pushed the boundaries of pop culture and inspired countless artists along the way. With a multitude of chart-topping hits like "Like a Virgin," "Material Girl," and "Vogue," Madonna has become synonymous with reinvention and resilience. Her influence extends beyond the realm of music, as she's also made her mark in the fields of fashion, film, and philanthropy. As both an artist and a global icon, Madonna's extraordinary legacy continues to shape the entertainment landscape and empower generations to come.

It's worth mentioning that this upcoming Madonna Artist Series marks Peloton's second collaboration with the Queen of Pop. The debut series, launched in 2019, made quite an impression and continues to be accessible in the on-demand library, despite other classes from that era having been removed. The enduring appeal of Madonna's first artist series is a testament to her timeless impact on music and fitness enthusiasts alike. Get ready for another unforgettable experience with this latest installment! 
The Classes!
This event is an all-out Peloton Party!  Join Instructors Rebecca Kennedy, Hannah Corbin, Susie Chan, Emma Lovewell, Alex Karwoski, Matty Maggiacomo, Ally Love, Robin Arzon, Jermaine Johnson, Camila Ramón, Becs Gentry, Benny Adami, Marcel Maruer, Mariana Fernandez, Leanne Hainesby, Hannah Frankson, Kristin McGee, Katie Wang and Cody Rigsby to Ride, Wak, Run, Lift, Barre, Row and Flow through 8 distinct album-themed classes.  

Which songs do you hope to hear in these classes? 

See something in the Peloton Universe that you think we should know? Visit theclipout.com and click on Submit a Tip!
Tune in to The Clip Out every Friday to hear Tom and Crystal's take on this and other hot Pelotopics. We're available on Apple Podcasts, Spotify, Google Podcasts, iHeart, TuneIn. Be sure and follow us so you never miss an episode. You can also find the show online on Facebook.com/TheClipOut. While you're there, like the page and join the group. Lastly, find us on our YouTube channel, YouTube.com/TheClipOut, where you can watch all of our shows.