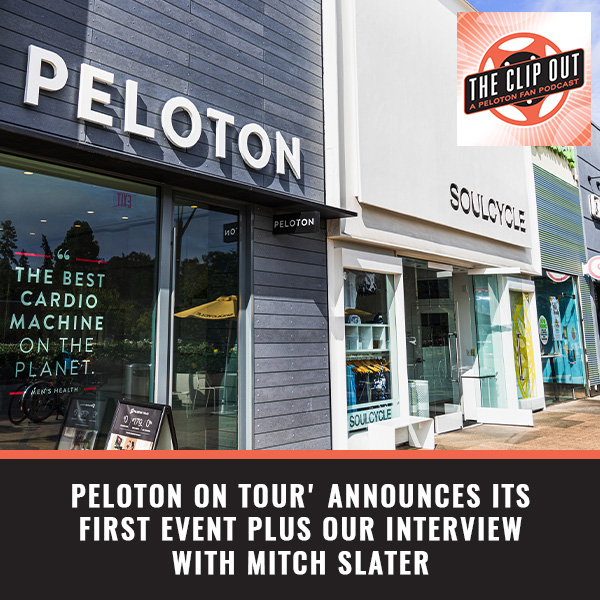 314. Peloton On Tour' Announces Its First Event Plus Our Interview With Mitch Slater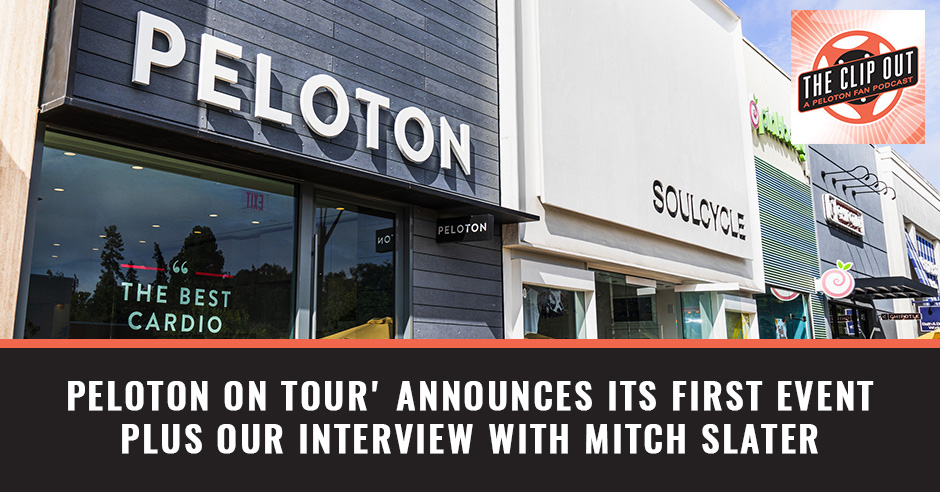 Peloton On Tour L.A. events announced.
Peloton was experiencing streaming issues this week.
MarketBeat says Peloton's comeback strategy is working.
INC.com reports on the recall but fundamentally misunderstands how Peloton subscriptions work.
Psychology Today writes about the importance of workout streaks.
Nikki Smith reviews Anna Greenberg's Self-Care Retreat program.
Tina reviews Peloton's Density Training collection.
Bustle reviews Peloton's Hiking Bootcamp.
Peloton Row makes PC Mag's list of best rowers.
Peloton is hiring a Health & Wellness Editor.
The seat post lawsuit we've all been expecting has arrived.
Jenn – Tips for prioritizing sleep.
Jess King threw out the first pitch at a Red Sox game to celebrate Pride.
Ally Love shared tips for staying hydrated on The Today Show.
Well & Good has tips for decoding Ally Love's outfit color selection.
Well & Good also spoke with Emma Lovewell about finding your motivation.
Emma spoke with People about her parents' interracial marriage.
Emma was on the Freckled Foodie podcast.
Cody Rigsby hosted a Pride event at Stonewall Inn.
Angel/MetPro – Intermittent fasting pros and cons.
P!nk discusses her tour fitness routine which includes Peloton.
That latest artist series spotlights Lil' Kim.
Tonal has an upcoming live interview event with their new CEO…hosted by someone you might know.
Pump Up The Volume 7 is now available across all platforms.
Country Music Happy Hour is back.
There are three German language 2Pac classes.
There are three new Spanish language classes.
Peloton Apparel has a new collaboration with Varley.
Selena Samuela celebrated 5 years with Peloton.
Women's Health has an article about "Runner Imposter Syndrome."
Health Central has the best exercises for digestion.
Selena Samuela (6/22)
All this plus our interview with Mitch Slater
—
Watch the episode here
Listen to the podcast here
Peloton On Tour' Announces Its First Event Plus Our Interview With Mitch Slater
We are back from the wonderful world of mouse. This time last week, we were in the middle of a wonderful vacation. Now, we're playing catch up from all the resting because we all know Disney World is so restful. 
Tom, I don't want to do a whirlwind vacation again for a while. Next vacation, we need to relax.
We already have the next one lined up and it is relaxing. There you go. You and your first-world problems. We did have our meetup that we were telling everybody else. We wanted to say thank you to everyone who came out and said hi.
We had so much fun meeting everybody.
I had chicken tenders.
You sure did. Andrea practically fell out of her chair when you did. She was so excited.
It's like on the Carol Burnett Show when they used to always ask her to do the Tarzan yell. That's my Tarzan yell. They're like, "Can Tom eat a chicken tender for us?"
The answer is always yes.
Especially when I'm in Disney World, not doing MetPro. Taking the week off and enjoying all the Disney food.
Enjoy it, we did, and then some.
Maybe a little too much. We'll have to figure out where our next big giant trip is so we can do something like that.
It's so much fun. I appreciate all the people that came out. We had people driving in from all over. I can't tell you how much that means to us. You did that for us, the community, and Peloton. That's what Peloton is all about.
Especially, I know getting to Disney is not easy. That can be a process. I know we were not in a park proper. We were at Disney Springs, but it's still not like we're at this little restaurant in San Jose like last time. It's braving the world of Disney. That's a whole different level of gauntlet in which to thread yourself. What pray tell do you have in store for people?
We are going to break down all the details of Peloton On Tour. The first event has been submitted, released, or whatever you want to call it. Plus, we have a whole bunch of details about all the things going on with Peloton. Peloton is showing up in the news a lot again. This is a very good thing. One, it says that they never stop being relevant. Two, the communications team is working hard to get positive news out about Peloton, and thank God.
You're starting to see the fruits of that labor. There's always a lag time between the push and the end result.
Also, at The Clip Out, we've got a whole team of people reviewing all of the programs. We've got some thoughts on all of that as well. There are some outside reviews that we will hit as well. There's a lawsuit update because when it isn't there. We get a visit from Dr. Jenn talking about prioritizing sleep. We have a visit from Angelo at MetPro. We're going to talk about the pros and cons of intermittent fasting. Not to mention celebrities, artist series, connected fitness, and In Case You Missed It.
Before we get to all that, shameless plugs. Don't forget we're available on Apple Podcasts, Spotify, Google, iHeart, TuneIn. Wherever you find a podcast, you can find us. While you're there, be sure and follow us so you never miss an episode. Maybe leave us a review. That's always super helpful. You can find us on Facebook at Facebook.com/TheClipOut. While you're there, like the page and join the group. You can also find us on Patreon, Patreon.com/TheClipOut.
We just hit a new episode.
We just dropped a new episode. We go more in-depth about all the things we did at Disney about the minor kerfuffle that almost completely derailed Reel Spoilers, my podcast that has been around for ten years. Someone almost stole our name.
Also, change the face of The Clip Out forever.
We tell that story as well if you're wondering what was all going on there when I was looking for a trademark attorney. You can also find us on YouTube, YouTube.com/TheClipOut, where you can watch these episodes. Also, thanks to everyone who shared an episode, an article, or stories when we break them. That always helps get the word out about us. We greatly appreciate it. Finally, we have a newsletter that did not go out last week because I was in Disney World. It will go out this week, I promise. You can sign up for that at theclipout.com. You get all the links and things like that. There's all that. Let's dig in. Shall we?
We shall.
—
Peloton On Tour has announced its first city and it's Los Angeles. We have more details about what to expect with events and which instructors you will be able to see there.
There are a few things that we need to make sure that you know about this. One, it's taking place from July 13th through 15th. The tickets went on sale at noon on June 13th, and they were completely sold out at noon on June 13th. It took seconds to sell out.
It is the second biggest city in America.
More than that, we had some conversations with Peloton and the communications team. They did explain that Santa Monica is the smallest store on the tour. Because of that, there's limited space. It's taking place outside and it's still super limited. I think that you can expect the number of tickets to vary per city based on what Peloton is telling us. Especially for this one, it's super tiny. There is no three-day pass for any of these events. Whether it be Los Angeles or a different city, you have to buy tickets separately for each event. That way, you get a teeny tiny part of it even if you can't have the whole thing. Some people were having a lot of reactions to that.
Ultimately, that's going to spread the love though. If you could get a three-day pass, people would go in and be like, "I'll get the three-day pass if I can't go to something or whatever."
I agree with that but the thing is if you're traveling. It's only five cities, so there are a lot of people that have to travel, and then you travel for a freaking hour.
Here's my thought on that. I don't think they want you to travel.
No, they don't.
They want this to be a local thing. For an hour, I wouldn't consider traveling to come to an event like this. You don't need a hotel room or a flight or something like that.
I was saying, people who are traveling five hours for an hour's worth of time.
I don't think they want you to. That's why you have these narrow windows between when it's announced and when it happens. They do not want this to turn into Homecoming 2.0. They want it to be very run and gone. You don't have an opportunity to make big plans from it.
People need to pivot their thinking. Homecoming was all about us all coming together. This is about them putting on a show for you, and you paying for that show. It's different. I don't even mean that as a criticism. I'm just saying that's the world that we're in right now. There are all kinds of podcasts that go on the road and they charge people for events, for example. That's more of what we're doing here. You're paying to do a meet and greet with the instructors, or you're paying to film a class with the instructor.
You are not just hanging out with them. It used to be that you were hanging out with them and taking a class. It's different. However, the instructors are going to also be different for each city. For LA, you're going to have Adrian Williams, Ben Alldis, Camila Ramón, Katie Wang, and Kendall Toole. Lots of people are question marking why isn't Denis going to be there because he's so into California. I think he's more into Florida than California.
Maybe it doesn't fit his schedule. You don't know what's going on in his life.
Not only do you not know what's going on in his life, they had to put somebody in there from Europe. For each of these cities, they have to bring somebody over there, and then vice versa. At least an instructor from the US is going to go over to Europe. This is going to be different for each one.
Also, just because there are five in LA does not mean there will only be five in other cities. We don't know. There are all these different events. You have the instructor experience, which is basically a meet and greet. You have the walk and talk where you hang out and walk with the instructors. You then have the high-five crew. Out of all of these, I am most annoyed by the high-five crew.
Why is that?
Because you stand outside with a sign like you're at the Today Show. I don't like it. Let's involve as many people as possible, I'm cool with that. I like the fact that they're trying to bring as many people into it as possible but stand there with a sign for a chance to see an instructor, I don't know.
On the flip side, there are people who would do that. If they didn't make this a thing, there would be people doing that anyway. If you don't want to do it, don't do it.
Another interesting thing is they're going to have an attendee-exclusive online apparel warehouse sale. They've never done this before. In the past, whenever it was in person, they had an apparel sale that you could only access because you were in person. Since it went virtual or some combination thereof, they had an online sale that was available to everybody. It's no more.
Now, it's going to be if you are a person who is attending, then you get one single-use discount code that's going to be emailed to you on Monday, July 10th. It is 50% off. It will only be good for July 17th through Wednesday, July 19th. Exclusions may apply because you got to add that star there. To your point, Tom, that they only want people from the city, why would you keep the Leaderboard Awards only for the LA area?
If the plan is to do this at each stop, it almost has to be local because then you would give the award to the same people at every stop.
If you are traveling, you couldn't nominate people. It has to be somebody who lives in the LA metro area. That's very limiting. This all makes sense to me if next year they do this, we have different cities, or if it's not next year and they do this every few months or something like that. There are things we don't know and they may not know because they might be like, "How well is this going to go over? What things do we need to change?"
As they're lessening the number of stores, at some point, they're going to run out of stores with the way that they're doing this. My question becomes, does this end up happening at Dick's? Do they start doing pop-up locations where they rent a facility somewhere or an empty store front of the mall like Spirit Halloween, and try to replicate it in other cities that don't have Peloton stores?
That's a great point too. For example, there isn't a showroom in St. Louis anymore. I don't know if there's one in Kansas City, but that would be the only place. You might as well take the entire state of Missouri off of that. We're not alone. There are a lot of states like that. If you're going to vary it, how are you going to address that? Also, there are a lot of people that haven't read this very well and they're assuming that Peloton is renting a room, and you get to ride a bike with your instructor. It's not what's happening here.
People who tune in to this show already know that because we are the ones that pay attention. The people who are listening care enough about Peloton. They're reading every little detail that comes out. There are a lot of people that don't get that and they're super confused. It will be interesting to see what the future brings. Peloton has always been very focused on data and very focused on feedback. When they get the feedback from this event, it will be very interesting to see what changes from event to event.
We know that each event is going to be slightly different anyway. In what way will this evolve over time? Will we have those pop-ups? Will we have them renting space? Will they bring different instructors to different cities? There are many questions that we don't know the answer to. Part of it is they're holding it close to their vest. I also think that part of it is they don't know.
There is an element of "We're going to make some adjustments on the fly," in the same way that they do with everything like how they changed the app. They've always made adjustments on the fly. It used to be beyond the ride. That's part and parcel of what they do.
It's like Disney World. They're always adding on. It's never the same experience twice.
They will never be done building it. It will be interesting to see how the next city plays out and if there are any differences.
Stay tuned because we will keep you completely up to date with all of that as it occurs.
That's what we do.
We do have a listener who is going to be attending. They did get their ticket. They are shocked that they got a ticket. We will be having full coverage of the event that weekend.
Our boots on the ground. Peloton was having some streaming issues and some performance issues.
This occurred while we were in Disney. I was hearing all about it from Darcy, Nikki, and Tina. They had things happening. This had been going on for days in the OPP. People had been saying, "My internet connection is fine but Peloton says that I don't have an internet connection. Nothing is working. It's just buffering and cycling." They've posted about it on the OPP. Of course, everybody at the OPP was like, "You're stupid and don't know how to use the internet."
Finally, Peloton was like, "This is an issue, by the way." They posted that on Wednesday, June 7th, then on June 9th, they were like, "We're good now." Some people are still saying they have issues, but overall, the complaints have died down considerably. Whatever they did, they did improve it.
From what I heard, they turned Peloton off and turned it back on again.
They reset it. I know you're joking, but the second thing that got added right after this got added was that some members couldn't log into their accounts. I think that you're actually right. They did some resetting of servers. That's why people were not recognized. When I got home this morning, I turned on my tread for the first time since I've been here. It was like, "Who are you?" I was like, "You know who I am." I had to log in all over again. I think they reset everything.
I'm glad it's working. MarketBeat had an interesting article. It starts off negatively, "As Peloton shares fall over 90%, a comeback strategy surges." They actually have a relatively positive take on what's going on. They seem to think that Peloton is turning a corner. Their efforts are starting to pay off, and there's daylight.
They must be listening to the podcast. I've been saying this. It is happening. People want to sh*t all over it still. I don't know that we'll ever be back to $171 per share.
That was a fluke to the people that got out when they did. It says here, "There has been significant progress in pivoting. Revenue mixes have brought Peloton close to positive free cashflow, which they've been saying for a while. A milestone that could likely stop share dilution and even bump analyst ratings."
Those are all good points. I'm glad people are starting to see it. I'm glad the financial sector is starting to see.
Speaking of the financial sector, here's one that has not seen it. INC.com has an article about Peloton telling customers to stop using their bikes, then it told them they had to keep paying for their subscriptions. It's like, but you can pause your subscription.
If you're going to use it for other things, then you need to keep your subscription. It's called obvious. Come on, people.
It does have one line like, "You can pause it, but what if you use it for other things?" That's called using it.
First of all, let's recap the actual facts here. We know that the company recalled 2 million bikes, but we also know that they didn't actually recall the bikes. They recalled the seat-post. They also said, "People who are over 250 pounds and over 5'11" are the ones who we need to be focused on. Everybody can get a new seat-post that has the original bike. That's fine.
They were prioritizing.
If you're not in that demographic, what are you even worried about? It's 13 injuries and 35 reports at 2 million bikes years old. You don't need it. You don't need to have more money given to you for doing nothing. Stop it. Put your hand down. That's my two cents.
Psychology Today has an interesting article. It's not Peloton-specific. Although the author, Art Markman PhD, does say that he has a Peloton and is affected by this. It talks about how a broken streak will sap someone's motivation.
We talk about this with Dr. Jenn all the time.
The importance of the blue check mark.
She will do whatever she has to do to get that blue dot. It is super important to her. I feel like a lot of people are like that. I will not lose my weekly streak. I'm fine with missing a day because I do other things that are not Peloton, but a week, no. I am on 232 weeks or something like that.
I just hit my two-year streak on Tonal.
That's very impressive. It would be three years.
It would be a three-year streak. Except when we went to Disney two years ago, I missed it because at the time I didn't have the app. I was like, "Whatever." Now I'm like, "It would be a three," but it's fine.
It is motivating. I totally agree with this guy. This is true. It's not the end of the world. It's so subjective. If it keeps you going, who cares if it makes you want to do more things?
There's a study they did. It says that in one study, participants were given an exercise app designed along the lines of many popular fitness apps. Participants did a series of three bodyweight strength exercises and got a checkmark on a streak for each one. After doing a fourth strength exercise, some participants received a fourth check mark. While others were told there was a temporary glitch in the system and their exercise was not logged, so they received an X rather than a check mark indicating a broken streak." Crystal is breaking into a cold sweat just hearing this.
Dr. Jenn would fall down.
All participants were then given a chance to do another strength exercise or to shift to a stretching exercise. About 66% of participants chose to do another strength exercise when their streak remained intact. Only 58% did another strength exercise when the streak was broken.
This makes perfect sense to me. You feel so bummed like whatever.
This isn't a one-off. They've done other similar studies. They've replicated this multiple times. You do have to be cautious about these big headlines and articles like this when it's based on one story with three data points. They're saying they have replicated this. Anyway, I thought that was interesting, and we would share it. We have a couple of new reviews on the website for our programs. You alluded to this in the opening of the show. The first is from helper bee Nikki Smith. She says, "I tried Anna Greenberg's new self-care retreat program. I think you should try it too." She was a fan.
She absolutely loved it. When she talks about her long military-directed move, I feel this so much because she has told me so many details about this. I'm stressed just hearing about her move. She needs this self-care retreat, and she has genuinely loved it. She has also been separated from her Peloton this week. It coincided nicely with that because it has given her the ability to direct that motivation and keep her streak. There are a lot of things coming together here. Either way, she enjoyed that. I thought it was interesting she noted that one of the classes here does feature inversions, the handstand hops.
No, thank you.
Just like everything with Peloton, they tell you, "If this isn't for you, that is okay. You don't need to do it." It's nice that they do have some ability to challenge those users who are more advanced in their yoga-using ways.
Anna reached full handstand and I hadn't reached for my phone to make notes. We also have a review from helper bee Tina Fryling. She says, "Peloton's density training collection is fun and rewarding even if you don't love strength training."
I love hearing this. Tina has had so many good things about this particular collection. I want to point out that it is a collection. It's not a program. Andy did that on purpose because he wanted people to be able to take these classes one-off, even when you're done with them. With the programs, you can't do that. It is important to note that you will find it under collections, not programs, but it is put together as a program. The point is she absolutely loved it. She said that there are three classes a week, and they are different lengths. Each class has the same moves, but they do the exact same recording.
This particular collection has twelve distinct classes. You get a new playlist and you get fresh commentary for each class. They're not just like, "Here's a week's worth of classes. Do it four weeks in a row." A lot of people don't like that, but a lot of people do. In this particular one, we're choosing to make it up, shake it up, and do it differently.
If you want to read those full articles, they are over at theclipout.com. Now, a review that's not from us but from Bustle, "I tried Peloton's hiking bootcamp for two weeks, and here's my honest review."
She loved it because of course. Hiking is perfect because it does combine your strength and cardio. You get a good calorie burn, but you don't burn out all of your joints, and that's important. It's a good mix.
It's probably a good mix if you're not ready for running, but you feel walking is not intense enough.
Also, if you need a break from running. If you are a person who's running 3 to 4 days a week, 5 and 6 may not be a good idea for most people. Hiking can still get you to that next plateau because you're still pushing yourself, and you're getting a lot of benefits from it without hurting your joints.
PC Mag has a list of the best rowing machines for 2023 and Peloton Row has made the list.
Similar to other of these that we have said, they list them all.
They are on there. It's good that they're in the mix, I supposed.
"I never learned anything with my mouth open." – Larry King
Click To Tweet
They get best for form feedback, which is amazing.
—
If you are wanting to work at Peloton, this could be your big moment. They are currently looking for a Health and Wellness Editor for Peloton Interactive.
Specifically to put together articles for the output, which is their own little blog that they do. They're going to be doing a lot of things like focusing on SEO and stuff like that. I felt that this was worth putting out there because it's fascinating to me that it's called a Health and Wellness Manager, when really what they're doing is they're making a content magazine. There's nothing wrong with that. I find it fascinating.
—
To the shock of absolutely no one, there is a law firm looking to put together a class action lawsuit because of the seat-post recall. I don't know that we have much to say about this.
I do have a couple of things to say. I thought it was interesting because it's not the seat-post recall. It's about the fact that the stock went down in response. Therefore, Peloton knew that they were going to put that out there. Shame on them because that means that they actually caused people's withholdings to be smaller, and they did it on purpose. They're messing with people's money. They did it all knowingly. It's like any bad news, you get to sue Peloton now.
It's funny because they got sued over Tread+ because they were like, "You handled it so poorly and you tried to hide it, and you tried to fight with the government." Here, they do the exact opposite and they still get sued. This is like being married to my ex-wife again.
The other interesting thing about this is Peloton has that thing in place now where you can't file a class action lawsuit.
It's like a class action arbitration.
It does not say that. It says lawsuit. It also says it hasn't been certified.
Here's why I think. I'm not a lawyer, but here's my guess. It is because that thing they put in was for members. This is for stockholders. Your relationship with Peloton isn't as a user. It's as a partial owner.
Are you saying that because I am a member and a stockholder, when I sign that as a user, I could still sue them as a stockholder?
I think so. If it gets anywhere, they will maybe try to make the argument that if you're a stockholder and a member, you agree not to do this or throw all those people out. At the end of the day, I don't know that it benefits them a whole lot because the settlement would be the same. It would be divvied up among fewer people. That's my guess as to why this is a lawsuit and not a class-action arbitration that we've been seeing lately. If there are any attorneys out there that know if I'm right or wrong, we would love to hear you, especially if the answer is I'm right.
OB, we're talking to you.
Coming right up after this, we're going to talk to Dr. Jenn. She has tips for how to prioritize sleeping.
—
Joining us once again is Dr. Jenn Mann, licensed marriage, family, and child therapist, and sports psychology consultant. You may know her from VH1's Couples Therapy with Dr. Jenn or VH1's Family Therapy with Dr. Jenn or her long-running radio show, The Dr. Jenn Show. She has written four bestselling books including The Relationship Fix: Dr. Jenn's 6-Step Guide to Improving Communication, Connection, and Intimacy. It's Dr. Jenn.
Hello.
One of our listeners, Karen Marquez, is having a struggle with sleep. She struggles to prioritize it. I know we've had this talk before. This is something you can relate to.
I can totally relate to this. It is challenging to prioritize sleep, especially if you're someone like me who can operate on 3 or 4 hours of sleep for very long periods of time. From everything I've read and been told, the masterclass I took on sleep, and my partner Eric, who constantly sends me articles to try to encourage me to sleep, apparently, sleep is very important. It's very important not only because of waking up feeling more rested, which can or cannot happen, but also because your brain needs that time to flush out some chemicals according to the masterclass I took with Matthew, and I'm forgetting his last name.
If you slept more, you would remember his name.
For sure. Apparently, I didn't make that seven-hour cut-off, so I don't remember his last name. You are more likely to get Alzheimer's, Parkinson's, and all kinds of diseases that are inflammatory in nature in terms of the brain. In order to prioritize sleep, there are a few things to do. One is to let other people in your household know that you're doing this.
If you're changing your habits, and let's say you are tucking your kids in, or if you have teenagers like me who err on the side of wanting to stay up late or have so much homework, and you want to say goodnight to them before they go to sleep, you need to let them know what your cutoff time is. "If you want a tuck-in, this is my cutoff time."
You also want to let your partner know what your plan is because then you're more accountable and you can get that person's support. You want to make sure that you have all the things in place that you need in order to get yourself in bed at that time. Let's say you're someone who wears pajamas. Put out your pajamas and whatever your nighttime clothes are. If you are struggling to fall asleep and you use sleepy time tea or melatonin or anything like that, make sure that you have it available and in the place where you will use it, so you're not searching around the house and getting yourself worked up.
Also, we all know we're not supposed to have screen time for at least an hour before we go to bed, whether it's TV, phones, or iPad. Get some good old-fashioned books if you like to read instead of being on your Kindle. Also, come up with some things that help you to fall asleep so that you're not sitting in bed shifting back and forth. I am a huge fan as we all know of both Ross Rayburn's meditation and also Mariana's meditation in Spanish.
If you're someone who has a brain that's constantly going like me, I find that even if you don't follow it to a T, it's distracting enough for your brain to stop talking to you. I like the Spanish one because Spanish isn't my first language, but I speak enough Spanish to understand. If my brain is super busy, I will listen to the Spanish one so that I have to listen and be like okay and tune in a little bit more. Those are a few of the dos that I recommend.
I would think that could work even if you don't speak any Spanish, now that you say that. It's because you can't understand any of it, so you just get into the cadence and rhythm of it, and not start letting keywords take your brain off on weird paths.
I learned to speak Spanish when I was very young. When I do speak Spanish, even though my Spanish isn't fluent anymore, I think in Spanish. When I hear her speaking Spanish, it uses a different part of my brain and flips over to that.
I love that.
Those are good starting points. I do recommend checking out some books on sleep. There are some very good books. That Matthew guy whose last name I don't remember has a good one. He's one of the foremost experts. I recommend his masterclass. It scared me enough to make some changes in my sleeping habits, which says a lot.
That does say a lot.
It's got to be rough. If you're used to not sleeping, it's because you physically don't feel the need for it. It's got to be rough to force yourself to be like, "It's time to sleep now."
I am a night owl by nature. When I had kids it meant I had to get up early. The night owl part wasn't a problem until the get-up early part was. When I get in bed, I'm able to fall asleep. Thank you, Ross and Mariana. It's within ten minutes for the most part. It's a matter of doing that thing that a lot of us women do, especially moms. There are so many things that I have to do that it's very easy to get caught up in the to-do list as opposed to, "This is my cutoff time. Even if I haven't completed all the things I need to do for my family, myself, or whoever, I am going to get in bed."
Also, there's this whole thing about what they call procrastination bedtime. A lot of women, moms in particular, we find, "Everyone is asleep. This is now our silence time." It's a part of self-care to be like, "Everyone is sleeping so no one has any demands on me. Now, I get to do what I want to do. I can watch that show or listen to that podcast like The Clip Out, or organize my closet or whatever it is." We need to prioritize sleep so that we can get that seven hours that is apparently quite magical.
Thank you so much for all that. Until next time, where can people find you?
On all my social media, @DrJennMann. I post all of my Peloton workouts on my Story so people can see what classes I'm enjoying and check them out.
Thank you.
—
Jess King got to throw out the first pitch at a Red Sox game to celebrate Pride.
I guess this is something that Boston is going to do with different instructors all through the season now.
If it boosts their sales, then they are probably going to do it. I don't know if Red Sox needs to boost sales. That seems like a team that is perennially always drawing fans well.
I would agree. I can't imagine that they have any issues. Jess King did and said she enjoyed it. People seemed happy about it. All good.
Ally Love made an appearance on the Today Show. I guess this isn't her first appearance on the Today Show, but maybe her first as an official correspondent.
I think so.
She had tips for hydration. Tip number one, drink water. Now, we're just going to say water for five minutes.
There are a lot of good things to say about this. I have my hydrate bottle that reminds me to drink, keep a bottle of water with you all the time, and things like that. There are a lot of good things to remember about hydration.
Does that mean we're going to have one of these every week now?
I don't know. We shall see. I might lose interest very quickly.
Speaking of Ally, she talked to Well + Good. They talked to her about decoding her color selection on her outfits. They have meanings for the intensity level of the class you can expect.
It feels like she's trying to take a page from Robin's book.
I was like, "Isn't that already somebody's jam?"
As I have said before, Ally very closely follows Robin's playbook. I guess it makes sense when you look at it like that. Also, purple has always been Ally's thing because when she does that Sunday With Love, it was all purple. You were supposed to wear purple every week. I feel like we already knew that too. Ultimately, everybody is trying to come up with content.
While we're looking at Well + Good, they also spoke to Emma Lovewell and she had tips for motivating yourself to get moving when you feel blah.
This speaks to me. Coming back from vacation, I don't want to do a darn thing.
You could create enough content. Something will hit you in the right spot eventually.
That's why they have to do so many things.
While we were speaking about Emma, she sat down with People Magazine to talk about her parents' interracial marriage.
Sometimes I feel like I'm the dumbest person on the internet because it was in response to Loving Day. I didn't even know that was a thing.
It celebrates the Supreme Court case that overturned laws outlawing interracial marriage, and the couple's last name coincidentally was Loving.
I think it's an awesome thing. I was just surprised. I had never heard anybody celebrate Loving Day. I think it's great that she's speaking up about it and bringing light to it.
While we're speaking of Emma Lovewell, she was on the Freckled Foodie podcast talking about food and freckles I assume. That's out there, episode 196, if you want to go check that out. Cody Rigsby is hosting an event at Stonewall Inn for Pride. It's to raise money for Glenn Close's Bring Change to Mind. I think it will have already happened by the time this airs.
I didn't have it on the list because we talked about it several weeks ago. Matty was also doing his brunch out in LA for Pride. I just want to make sure that we mention that as well.
Coming up after this, we're going to talk to Angelo from MetPro. People talk a lot about intermittent fasting. He's going to give you the pros and cons, and let you know whether or not it works. Stick around.
—
Joining us once again is Angelo from MetPro, here to answer all of your fitness and nutrition questions.
Thanks for having me back.
We are happy you're here. I have another tricky question for you. This has been a month of tricky questions. Susan Dunton Burton says that she feels like there are too many cooks in the kitchen all contradicting each other. Dr. Stacey Sims says women should not do intermittent fasting and should only workout fasted. Dr. Mary Claire Haver and others say women should fast for at least sixteen hours a day, don't eat anything until noon, and workout fasted. All of the experts and doctors do seem to agree on one thing for women, strength training and HIIT are where it's at. Help.
Susan, that's very discerning, which is why my standby philosophy in all things is it depends. Let me explain it. At MetPro, this is essentially what we do. We're not inventing new science. There has been plenty of science already invented out there. That's essentially what we do. People come to us and say, "I've heard these 50 different things. Which one applies to me?" It depends. Be wary of anyone who says, "This is the one path and the only way, and all women should do this, or all men should do this in every case," because that's simply not true.
There is an argument for nearly every strategy, depending on the scenario. I think your question mostly revolves around meal timing and frequency, and intermittent fasting's pros and cons. You can google my name. You could probably google even The Clip Out intermittent fasting because we have done bits and pieces on this multiple times. It's a frequent question. Here is the abbreviated intermittent fasting. There is science behind it. Most of the science is presented as somehow eating with a time-gate speed that alters your metabolism. That is substantially false.
There is an element, but not to the degree that it is suggested by people promoting it with the broad science method. That said, it is indeed effective for some means of caloric restriction. However, there are some negative consequences to it, which can end up doing more harm than good. Generally speaking, people who see good results with intermittent fasting are typically people who were not previously eating clean or dieting. Rather, they're people who are unable to change eating habits by time gating.
What's happening is they are removing a third of the calories consumed. In other words, instead of eating McDonald's for breakfast, lunch, and dinner, now they're only eating McDonald's for lunch and dinner. That is a net win. Most people that ask me the question, that does not apply to them. Most people that ask me are like, "I've done this diet. I've done that diet. I eat clean. I exercise. I'm doing everything right. How do I lose these last 15 pounds?" For you, it's likely intermittent fasting.
Statistically, this is our observations. It's 20,000 people in MetPro, so we have some good observations. It is that intermittent fasting will be the fastest route to 5 pounds lost and the fastest route to 10 gained back. If you do it the right way, which is by focusing on your metabolic pace, you will indeed lose weight a little slower. The likelihood of that weight staying off and losing more total weight is significantly greater. Does intermittent fasting apply to you? It depends.
I feel like with a lot of the different diets you hear out there, especially the mainstream ones, not just the crackpottery, a lot of it comes down to which one you are going to do. Some are easy for some people and hard for others. If there's one that sounds like it fits your lifestyle better and you're more apt to stick with it, then that's the one that's going to work.
I agree with that. I have a MetPro client that does intermittent fasting, but they do it from 4:30 PM until 8:00 AM. It's not substantially changing their workout or changing anything else. It's like you eat, but you eat your dinner a little earlier. That's not a crazy change, and you're being consistent with it.
There's actually a lot of optimization in that. That works well, but I would wager the average person would find that strategy very difficult. We have over 650 meal plants in our CRM that had been added one at a time, "There's a use case. This client needs this. That client needs that." What we have is an adherent score. We have a rating to see how adherent is someone to this meal plan. A lot of people think, "Put me on the best meal plan." The best meal plan is highly influenced by exactly what Tom said, "What will you adhere to?"
That's what our coaches focus on with a client, "I had you on that approach before and it worked for 48 hours, but then your adherence dropped off below 70%. Therefore, the net result was this meal plan is more effective." Those are all the little nuances people don't think about when selecting a meal plan that's optimized for them. That's where it is a combination of science and art.
I won't geek out on that too much longer, but these were great questions. Hopefully, that helps a little bit, Susan. If your primary objective is performance, generally speaking, you're going to find most of the top-end athletes are going to air more on the side of frequent fueling. If your primary objective is weight loss, then it's a matter of application how you want to approach it as there are multiple ways to be effective.
Thank you. If people would like something like that tailored for them since we were talking specifically about tailoring for them, where can they find you, and of course, Crystal?
Thank you.
—
Pink is getting ready to go out on tour this summer, and it is a stadium tour, not an arena tour. You, Crystal, have tickets to see an arena show.
We don't do stadium if we can help it.
She's not coming to St. Louis so we had to travel no matter what. There's an arena show in Kansas City, which is merely four hours from here. As a dutiful husband, I squired you some sweet tickets. I did not do this segment just to brag. It's just a happy coincidence.
I am so excited about going to that show. I love Pink shows. They're so fun.
They are great shows. PopSugar talked to Pink about the workout routines that she uses to get ready for her tours and she mentions her Peloton.
She uses Peloton to stay in shape. That's one of the many things she does. If you've never seen one of her shows, they are not just dancing around the stage, not to take away from people who dance around the stage. It takes the fitness to a whole new level because of all of her aerial stunts. They are intense. She has to be in amazing shape. She always kills it and I can't wait to see it.
It makes me wonder what a Pink show is going to look like in 15 or 20 years. She can't do that forever. I don't know how old she is, but she has been around for 25 or 30 years.
I think she's a little bit younger than I am.
You got to think the clock is ticking on how long she can keep doing things like this. I'm not trying to disparage her but time is linear. It works the same way for all of us. I do wonder what the pivot will look like whenever that day comes.
Me too. I definitely wonder, which is why I want to see her as many times as I can now because who knows what the future will bring. Sometimes artists are like, "I can't do it the way I used to, so I don't want to do it." That can happen. It's not like she doesn't have money.
That's also true. I think about the last twenty years or so in Liza Minnelli tours. It's all she's doing, cabaret singing, but she was an amazing dancer. I was fortunate enough to see her as a kid when she could still dance, not fully recognizing the importance of it. It was a very dance-intensive show. Now I'm very lucky that I see that.
I thought that was going to be a Monkees story when you started that. That's why I laughed. I was not expecting Liza Minnelli.
—
The latest artist series is out and it features Lil' Kim. I always feel so dumb saying Lil'.
You can call her Queen Bee. That works too.
I bike for stress relief and music.
Click To Tweet
You can?
That's one of her names.
I thought that was a Beyonce thing.
I don't know. I'm just telling you what the internet says.
The internet is never wrong.
They never get anything wrong. There's going to be a bootcamp. There's going to be a run and there's going to be a ride, so lots of fun stuff. All of those are taking place on June 15th. By the time you hear this, they will have already occurred. Hopefully, you got to check it out. If you didn't, go back and take them on demand.
They're still out there.
—
Tonal is going to do one of their infamous Tonal talks, which once featured me, but this one is a little bit more important. It will feature the first big appearance from their brand new CEO.
Not just an appearance. She's going to answer questions. There have been so many people that are like, "What is happening with Tonal? How is this going to go? How is that going to go?"
That's a big deal. I wonder who would they get with enough stature to interview her in her first big public appearance. That would have to be someone fairly significant. Don't you think?
I don't know. I think they're trying to keep it organic and in their own backyard. They're trying to tone it down.
Is it Oprah? Is that who they're going to get? Is it Oprah's bestie, Gayle, or something like that? Katie Couric maybe?
You have to go down the list a little bit. A Tonal user.
Does Katie Couric have a Tonal? Who could it be?
It's just me.
What? It was you the whole time?
Yeah. If you are curious about what is going on over at Tonal, because they have had so many changes in the last year, and you want to hear from the brand new CEO, her name is Krystal Zell, she will be interviewed by me on June 21st. It will be taking place live in the official Tonal community. You get a chance to listen. As long as I don't screw it up, it will live out there on the internet forever.
Do you know how you can tell they're taking this seriously?
They didn't ask you.
Right.
They weren't like Crystal and Tom.
They were like, "What happened with John Foley?" "He had Crystal and Tom interviewed him." They're like, "No, absolutely not. Hard pass."
I don't know why they made the choices that they did.
I think we know exactly why.
I am very honored to be asked and I'm very excited to have the opportunity and to get to know Krystal Zell. I like to ask questions. I like to find out the why.
I know. I've been questioned by you on more than one occasion.
That's true.
—
Pump Up The Volume 7 is now available on all platforms.
That means if you had a Guide, you could have access to it only for the first six weeks and now, it's seven or whatever it is. Now, everybody can get it.
If you want to check it out, go get it. It's there and waiting for you.
It's all upper-body focused.
Also, Country Happy Hour Season 4 is now out there for you to check out.
Hannah Corbin is teaching that. Lots of country music stars will be featured.
Peloton also dropped three German language classes featuring the work of Tupac.
We might have mentioned this last week. I don't know, but I thought it was interesting that several of these dropped back in April. Now, they're following up with that in June. This time, we're getting the German editions.
There are also three Spanish language classes for people to check out.
This is a new series called Para Los Padres. There are going to be multiple classes that'll all be performed in Spanish.
This is for Father's Day, presumably.
For the Fathers. That's right.
My Spanish finally paid off.
It only took 25 years.
I should tell the story of how I almost flunked Spanish. Maybe we'll save that for Patreon. If you want to hear the story about how I forgot to show up for my Spanish final. It's pretty funny. I will share that on the next Patreon if Crystal remembers to nudge me.
I will try.
Peloton Apparel has a new collaboration with Varley.
Think of country club tennis clothes, so a bunch of Peloton stuff. It's totally not my thing, but there's a whole bunch of people this is perfect for. It's a little capsule collection if you got all your little summer stuff going on. You can check that out. If you get our newsletter, we'll take you straight to it.
Selena Samuela has celebrated five years with Peloton.
She told her story on Peloton Studios as all of the instructors have been doing on their anniversaries. They have 30 seconds to tell how they got here. I love hearing these little stories.
Did they ever cut them off mid-sentence?
They take a whole bunch of sentences and splice them together.
It would be funny if they're like, "One take, 30 seconds, go."
Happy anniversary to Selena.
Some people are probably like, "You should do that with the show." Our last two stories in In Case You Missed It aren't Peloton-specific, but we thought you might have an interest in them. The first is from Women's Health and it talks about runner imposter syndrome, which you fight.
After reading this article, apparently, everybody does. I thought it was super fascinating. I feel like somebody sent this to me. I like it was Darcy or Nikki that sent this to me. I was interested in this because it talks about this running retreat that Nike did. It was a whole bunch of different Nike people that are runners. They're runners. They've run all kinds of things.
They got invited there by Nike. Presumably, they're running at a pretty high level.
It's a multi-day camp. They're driving out there. They're introducing them. He's like, "Share your name and a little bit about your relationship with running." Every single person was like, "I did a half marathon, but I'm definitely not a real runner. I'm honestly bad at running. I'll probably be behind you guys on this trip walking a lot. I signed up for a race a few months ago, but I'm definitely not a runner." I have said all of those things. I was like, "This resonated with me."
I thought it was interesting that almost every single person, despite the fact that they were all joggers, marathoners, walk runners, and 5K participants, every single one of them did not believe they were runners. This whole article was about let's change our vocabulary. Let's stop saying that. I'm going to be the first one. I am a runner.
I am not. If I said I was a runner, that would be the imposter syndrome.
It would be.
The other article is about the best exercises for digestion.
This is Peloton-related because this quotes Kristin McGee.
They didn't identify her as Peloton because I did a control-F for Peloton and nothing came up.
I think it says fitness instructor Kristin McGee, who's been a yogi for many years.
That's what we think of that, Health Central. We used to have this complaint when we were in radio all the time. If they would do a positive news story on you like if your radio station did some sort of fundraiser and they would choose to cover it, it would be like, "A local radio station." If your weekend overnight guy gets a DUI, it's like, "KPNT 105.7's point jock gets a DUI."
It's true. I will say, for most instructor conversations that are out there, they do mention Peloton. For all we know, they could have had this conversation outside of Peloton.
They might not have gone through Peloton press. It was like, "You can't identify me as Peloton, but you can use my name."
Anyway, great tips in here overall about digestion. Also, I love getting advice from our Peloton instructors.
What exercise should I do to keep my pooping and keep my brown check mark?
That's gross, Tom. Honestly, I know you're not going to want to hear this, but cardio is good. You don't want to go too extreme on the cardio all the time.
You get a watery blue check mark.
—
We have one birthday. It's Selena Samuela. She's not just celebrating five years with Peloton, but she's also celebrating her birthday on June 22nd.
Happy birthday, Selena.
Our interview of the week is Mitch Slater who is a huge Bruce Springsteen fan. He's actually attending some concerts with Jenn Sherman. He run in her shows. He's a big Peloton user and he's got some great stories about the early days of Howard Stern. He worked with him back in the day, Larry King, and stuff like that.
I enjoyed this interview so much. We had a hard time turning off the equipment. Even after we turned off the equipment, we went on for another half hour.
The only reason we're probably not still talking to him is because I had to pee. If I look fidgety in the YouTube video, that's why. It's because about three seconds in, I'm like, "I think I got to pee." You definitely want to stick around and check that out.
—
Joining us via the magic of a Zoom tube is Mitch Slater. Mitch, how's it going?
It's great to be with you guys.
Crystal always starts by asking where you found Peloton, but I'm going to completely side rail.
I don't even know that I need to be here because I think Tom is about to take over.
Before we started the show, I was killing time while Crystal was getting the tech stuff set up. You had mentioned you worked in radio. You worked at DC101. I was like, "When were you there?" For people that aren't radio nerds, DC101 is where Howard Stern started as the Howard Stern that you know today with Morning Shock Jock Radio. You were there the day he signed on. You started telling me that story and we were like, "Shut up. We're not recording."
As I have said, all roads in my life seem to lead down Springsteen's path. I had the opportunity not that long ago at a show standing next to Baba Booey. I had met him before and talked. I could have been him in many ways. I'm glad I'm not, except for the financial part. Howard started at DC101. I was in college in DC at George Washington University doing all of the internship stuff. I was a program manager of our college radio station, where we discovered The Clash. That's a separate story. I don't know if it's true, but I still claim it.
I was told that they fired the morning guy, Dave Brown. They were bringing in this crazy guy from Detroit. That's all I knew. I didn't even know his name. I got there at 5:30 in the morning and in walks this lanky guy. He's one of the freakiest-looking dudes I've ever seen in my life. I'm twenty, so what the hell do I know? He goes, "Who are you?" I go, "I'm your intern. I'm Mitch." He goes, "You're now Boy Mitch." I said, "Okay." He said, "Go put the cans on. Go in the other studio."
I go, "Mr. Stern, I was told that I'm not allowed to be on the air." "Get in the other studio." I was like, "Yes, sir." I go into the other studio and he goes on the air. I'm wearing these headphones and a giant mic down on the radio station. He talks a little bit crazy if you heard some of his earlier stuff. He goes, "There's a lot of traffic out there this morning. Boy Mitch is out on the beltway. What's going on, Boy Mitch?" I just winged it. I said, "It's as bad as you can get in DC. I don't think you're going to get there from the beltway." All of a sudden, I hear the sounds of dinosaurs and all of these crazy animal sounds.
I played along. I winged it with him and had fun. He went into his shtick and we played music and talked about a lot of crazy things. This is all in the movie. A lot of it is in the movie Private Parts. Later that morning, Denise Oliver blasted him. She brought me in and said, "I heard you on here this morning. We told you." I said, "What was I supposed to do?" She said, "I should fire you, but since I'm not paying you, I won't fire you." I said, "Okay." I think I was there for maybe 4 or 5 months. After about two months, he was frustrated that he didn't have the people he wanted, which was Fred. That's all he had. He finally got the approval to bring in Fred.
One morning they said they'd hired a newscaster for him. I'm like, "This is going to be interesting." In walks the opposite of Howard Stern. I knew she had been a nurse. I knew she'd done some radio in Baltimore. I forgot that she looked very different. I was like, "This poor woman. I can't imagine what's going to happen." He put her in the studio and the rest is rock and roll history. They connected. They clicked. It was fun. For the six months I was there before I went on to do my next internship with Charlie Rose, which led to meeting Larry King who hired me for my first job out of college as my producer.
We circle back now. Years later, we're in the '90s. Larry used to blast Howard Stern. Howard Stern used to blast Larry King. He would play the sound of a ventilator. Larry was probably in his 60s. He had a heart attack and he mock him up. One morning, I got Gary's private number because I had called once to talk to Gary to tell him the story. I thought it would be interesting. He thought it was interesting but I didn't go on the air. That morning I called and said, "I think I'm the only person in the world that worked both for Howard Stern and Larry King." Within two seconds, I'm on the air and I hear Robin say, "Who are you?"
I'm like, "I was Boy Mitch then. Right when you started, I was there." Howard goes, "Yeah, the college kid." I go, "Yeah, I was there the first few weeks," and we reminisced for a little bit. I said, "You're killing my old boss, Larry King." He said, "What was it like working for him? It must have been terrible." Honestly, I told some interesting Larry King stories, which I think made that part of the episode fun. An old girlfriend who I hadn't talked to for probably ten years at that point was listening somewhere in the city at Long Island and called me afterward because I had mentioned her. She was part of one of the stories about having to do with Larry King when he came to my Super Bowl party with all these other college students.
He's looking for a wife.
He was in his 50s. Larry had a look. If you were a tall blonde, you were a possible wife of Larry. I danced around that topic with him for many years and I interviewed him on my radio show. I eventually interviewed him on my podcast. In one of the last interviews I did with him out at his home in Beverly Hills, I decided to ask the question because I had asked listeners, "What would you want to ask Larry?" I think 90% asked me that question.
I said, "Larry, I'm going to go there." He goes, "Mitch, as I told you before, you're the host. This is your show. You go wherever you want." I said, "Larry, nine wives." He goes, "It's real simple. I'm from Brooklyn. You fall in love, you get married." I said, "Maybe after the first seven, you didn't think maybe there was another strategy." He goes, "No. This one isn't going so well either." She was upstairs
There's a lot to that story and a lot of irony. Also, I wound up getting to know their twin boys pretty well, especially toward the end of his life. He died of COVID during COVID, I wasn't able to be there for any ceremony. I was interviewed all over the country because people found my name with Larry King on a lot of things that I had done over the years. I was able to tell some wonderful stories about him. I learned a lot when it comes to podcasting. The two things that I learned, which you guys are good at on your show and you've done this already, is number one, you're a good listener. Larry said to me, "I never learned anything with my mouth open." It's true.
I never could understand how we would have guests like James Michener or a lot of people from Watergate, Reagan and Carter, and they had written books. Larry never would read the book. He said, "My job is to be curious. If the listener hasn't read it, I haven't read it." Larry loved to read. It was not that he was lazy. He felt being curious was the most important thing. Honestly, throughout my life and about everything I've done, those two things helped me a lot. That's a long winding road back to Howard Stern.
Thank you for sharing that.
It is funny we're talking about interviews. When we first started doing this, this was something Crystal would get mad at me about. We'll have a list of questions that we'll send to people. Sometimes we follow them, but I'm bad about completely ignoring the questions and asking whatever I want based on whatever somebody said. I tease her because she's a project manager, which is also part of why the show is so put together so well. She's like, "We've got to ask this fifth question." I was like, "What they're saying is so much more interesting than the fifth question. The fifth question can go f*ck itself. Who cares?"
For the first ride, you better get the hits in there.
Click To Tweet
You're so dead on. When I started doing the podcast, I realized was uniquely different than the radio show, which was a financial radio show and more on that topic. Even though my podcast is called Financially Speaking with Mitch Slater, I interviewed everybody from Larry King to entertainers to musicians, as well as the business or financial side, every little bit here and there. I also wrote scripts. If I got to maybe 3 or 4 out of the 8 to 10 questions that I would write, it's all because they would lead me in another direction.
I always had the same last question, which I ripped off from Tim Ferris from Tribe of Mentors, which was the billboard question, "What would you do if you were granted a giant billboard? If a magic genie gave you a billboard with a good message to the world, what would it be?" I did steal that, but some of the best ideas out there, we borrowed.
Some of Letterman's best bits were Steve Allen's.
You hit a home run on Steve Allen. My aunt was Steve Allen's writer. She was one of Steve Allen's many writers. I got to meet him also working for Larry King. Even better than that, I got to meet Sid Caesar. I was a child of the '60s, and his big popularity was the '50s and '60s. I only watched the reruns in black and white, especially. I appreciated his comedy and getting to meet him and a number of others like Don Rickles, these classic comedians. This was every single night. As my kids have said many times, I've peaked in my early twenties, but the more I've taken them to Bruce concerts and they've met Steve Van Zandt and they've gotten to do some other pretty cool things. I used to work with Taylor Swift's dad. There were certain things that made me a little cooler later on.
Kids never think their parents are cool. It's all they've ever known. They're like, "Of course, you do that. Whatever." Their friends come over and their friends are like, "What is all this autograph stuff?"
My daughter thinks you're cool. My daughter is a writer for People Magazine, and Peloton is one of her beats. She has done pretty much most of the interviews with all of the coaches, and a lot with Ally Love. I forget the one who had another baby.
Robin is pregnant again.
Yeah. She has done three interviews with Robin. In fact, Robin brought her in for a ride and she got the hot seat. She's all in Robin's ride. She also got into a workout session with the tall blonde woman.
Becs Gentry.
They're all tall to me.
She was very tall, which is fun being on the bike. I wish Jenn had somehow got me in for the Bruce ride, but it was pretty cool watching my daughter on these rides while I was doing them.
That's so cool. I had no idea that your daughter wrote for People. We cover those stories all the time. We probably cover her stories.
Shout out to Georgia Slater. I'm very proud of her and following in her mom's footsteps, who has been at Time Magazine for many years.
You guys have all kinds of fun stories, I'm sure. How did you end up in the Peloton world? I want to hear how your love of Bruce Springsteen and Peloton all came together.
It's Jenn Sherman. It's that simple. I've been to 300 shows in 45 years. You get to meet a lot of different people when you're in the pit, especially. I had met her a number of times. I'm not saying we're friends or anything like that, but we knew each other. Peloton had first come out and they opened a store in Short Hills, New Jersey, which was their first store.
I heard that Jenn Sherman was going to be out at the store. I said to my wife, "We both love the bike. We both are cyclists. We've taken a lot of bike trips." My wife is a much better biker than I am. I bike for stress relief and music. We've done some cool trips to Napa and fun places like the Bourbon Trail in Kentucky and stuff like that. I'm always listening to music in one ear. Let's be fair to folks wearing a helmet.
Mono is underrated. If they mix it properly, it can be better than stereo.
I love listening to old Beatles songs.
I bought The Beatles in mono by accident. It was on sale cheap like that ten-disc collection. It was on sale for $40. I was like, "I'll buy that." It shows up and it's in mono. I was like, "What? Son of a bitch." I kept it for a year and I finally threw it in a player and it was like rediscovering the Beatles. It sounds so much better.
I learned a lot about finding mono records from my friend Rich Russo, who has a show called Anything, Anything, and he's on Little Steven's Underground Garage. He's a great guy. A lot of shows, when we'd gone to Bruce Springsteen around the country, we always wound up in record stores. I started buying a number of mono records. My dad, most of his records were mono. They're beautiful to listen to.
People lose sight of the fact that until the early '70s, nobody had a stereo. All the attention was focused on mastering it for a mono record, and stereo was an afterthought.
When you realize how horrible when you listen to music, you think about our kids' generation, they think about how great music sounds on their AirPods or everything else. You put on a record. I remember doing this with Taylor Swift with my daughter. I said, "Let's listen to this record." She remixed this herself and redid it. We put it on. I said, "You keep this record." She was like, "It sounds so much better." I'm like, "These big speakers. This is sound. This is what I grew up with. This is Phil Spector's Wall of Sound. This is what we want to hear."
Back to Peloton. I knew Jenn was going to be there. I said to my wife, "My birthday is coming up." It's a nice birthday present, but I would like to bike in the house. I'm not a treadmill person. I don't like running. I'm trying to stay in shape. This might be great." She did indoor spinning with one of those things where you bring your bike in and connect it to some wheels and stuff. I tried it once and I felt like an idiot. I did not do it.
We went into the store and Jenn was there. She gets me on the bike and said, "I know how I'm going to sell you this bike, Mitch." I go, "I have a feeling." She had done a ride. I think it was called The Thunder Road Ride. This is when they only had maybe 2 to 3 songs of Bruce. I'm sitting there in the store and I'm riding with Jenn standing next to me, listening to Thunder Road, one of my favorite songs. I look at my wife and I'm like, "This is my life."
I bought the Peloton and started riding. Sadly, Springsteen was probably the least amount played of any artist for the last several years. It was very difficult to get the rights and everything that went on. John Landau and his whole world could look at the ticket debacle that happened on his tour. It's no wonder that happened, but it did happen.
Jenn is definitely my go-to 30 minutes, 45 minutes. I love the rides with her. She's younger than me by 7 or 8 years, but she's more my generation and my music. She is not about Jenn. Some say she is because she tells stories and all this, but if you watch some of the others, and I will name names there, definitely more about their looks and being an influencer and everything else that they do, with some exceptions.
I love Hannah Corbin. I think she's terrific. I love her vinyl rides and I like fun stuff. I like the Done and Dusted Women from England all the time. I had fun with it. Jenn Sherman and Bruce Springsteen, my worlds were colliding. It made sense that I was going to get this bike. We love it. My daughter has one in her apartment. My son lived in the building in New York next to Peloton Studios.
A lot of the riders lived in his building. He had an experience, I think it was Cody, where he was on the Peloton bike in the gym in his building. This is towards the middle of COVID. He got a great COVID deal on an apartment that he would never have afforded. He's riding and Cody's leading the ride. All of a sudden, he looks back on his shoulders, and there's Cody. He almost went flying off the bike. It made sense to him because I think he might have known he lived in a building, but it was crazy how that happened.
With Jenn Sherman's Bruce Springsteen ride, you did a live stream. You got to go to the class where she was playing it, right?
No. I did the livestream from my home here in Westfield, New Jersey. I did not get to go to the class. You may want to get me off the show now, but I was not.
Thanks for joining us.
No, not at all.
You got the wrong guy. No, I did not get invited. Thank you very much, Jenn. They have a whole system in place that's very fair. That's fine. I've never gone in inside there. I like being on my own doing it. I'm sure it's fun. My daughters love being in the studio. I have this weird Springsteen following because I've been very fortunate to be in the right place at the right time and in great locations. I've had a lot of shows and special events where Bruce has played or Stevie played. I do have a relationship and a friendship with Steve Van Zandt.
I'm like, "What am I going to do special here?" I feel like the fans in Europe and Amsterdam and the 31 countries that I'm followed with on my podcast, which when I first saw that, I'm like, "Why is that happening?" I realized they're Bruce fans and they know I'm interviewing members of the band and stuff. I could not wait. I was so pumped up. I said, "I got to live stream this." This is me. I am a kid that wanted to be an actor and obviously be on the air. I may be Jewish, but I'm a ham. That's the way it is.
Don't eat yourself.
Although I do like my ham. My mom used to do great ham, believe it or not. She's 96 and I kid her about that. She's the only Jew I know that made an amazing ham. I said, "Why not? Let's livestream it a little bit." I was thinking a couple of people will watch. I was so happy that it took off a little bit. I got interviewed by a reporter here in Asbury Park who writes, and a New Jersey reporter and stuff that I always give stories to. It was so much fun. I knew the setlist was going to be perfect. It's funny because, in my head, I've made probably 50 set lists that I would use because I have a lot of setlists that I put on Spotify or made myself for my own biking outdoors.
Jenn was pretty dead on. I think she knew that for the first ride, you better get the hits in there. She threw in the thirteen-minute live Jungleland, which is for the real diehard fans. Biking to Clarence's solo is a very emotional thing for all of us that love the big man. She tells her stories. She has a great story of when she first met Bruce at a restaurant in Italy and he came over. She was with a bunch of her girlfriends and this is a story that so many people have told.
He sat down. He brought all the girls tequila and they did shots. This is Bruce. He does this. He got arrested for it once, but that was a misunderstanding in New Jersey. Those are the things that led me to do this. She totally crushed it. She crushed that ride. I'm so excited that now, the music of Bruce Springsteen has added other great music that's on there too, which is cool. Another sidebar to that is my neighbor two houses down is Johnny Rzeznik of the Goo Goo Dolls.
He also has a Peloton.
Yes, he does. The first time I went to his house a couple of years ago, I saw it. I said to him, "John, what's that like when your music is played?" He goes, "Mitch, I try so hard to get rides that don't have my songs on. You have no idea. I don't want to do this." Honestly, I might even be able to get you him for your show or something. John is the nicest guy.
I book a concert venue in town. That's what I do for a living. John Rzeznik was there for a radio show as a solo act. We were totally caught off guard by how funny and kind he is.
He is so funny. He told such great stories during the whole show. We were dying.
It was him and a guitar, but he was funny up there. I was not anticipating it.
That would be amazing.
I'll definitely ask John. He moved here from LA. He married a local girl and has a daughter. He's on tour a lot. He's not around, but we've hung out. We've been sober probably for fifteen years and a big part of his life. He likes to make drinks for his friends. He likes to make his martinis. He did my podcast. He did a big event for the company I worked for. It was a Christmas time thing. I worked for UBS Arena. We did a show called Advice on Ice that I hosted. I brought John in to sing two songs, Better Days and a love song.
Better Days should be a Christmas radio staple. It is such a good song.
He was like, "I can't believe you're not asking me to play Iris." I said, "John, I'm not that guy. To me, the fact that you offered to do this is beyond approach because I know what you could get to do this financially, and I'm going to ask you to do the song with a billion downloads. People know Iris, but Better Days fits the topic of the show. It fits the time of year. Honestly, we didn't have a keyboard but I could accompany you if you want."
The truth comes out. "I don't know how to play Iris, John. That's the problem."
I got Better Days down. He did it acoustically. In the middle of the take his guitar string broke and he just played through it. He says, "This is happening on stage. I know how to play every one of my songs with every string possibly breaking." It wasn't electric, so it was fine. It's fun for me when I have a Goo Goo Dolls song come on the rides. John loves his Peloton and he has it in the same position in his house as I do. I think it was COVID that got my wife to agree. I think my kids were home for a while. It took a lot to bring it from the basement and have it right by the living room window so I could look outside. Honestly, I've used the bike so much more in that location than down in the dungeon in the basement. His is in the same position in his house.
When it comes to Bruce Springsteen, you said that you're obsessed with him. Is he your band? Tom is obsessed with The Monkees.
My band is The Monkees. In fact, when you said Steven Van Zandt, the first thing I thought was, "Tell him I said thank you." He's such a supporter of The Monkees on Underground Garage. That's a band that people have sh*t on for 55 years and they don't deserve it. For someone of his musical stature to recognize the importance and quality of The Monkees is very heartening.
Steven, besides the Underground Garage, has a nonprofit that I've been on the board to teach rock. He includes The Monkees in the actual curriculum that is being used in schools around the country. I did get to see right before COVID or maybe a year before, Mickey and Mike show, which was great to see together. I had seen them together on a Merrill Lynch trip years ago. They had Herman's Hermit and The Monkees play in San Francisco at some event.
I had so much fun at that show. I saw a lot of videos of that night at the camp base here in New Jersey. It was right after Peter Tork died. It was maybe within a month and that little video about him. They're part of history. They were formed on television. I realized that. Neil Diamond wrote I'm A Believer and Pleasant Valley Sunday.
That's Carole King and Gerry Goffin. He wrote A Little Bit Me, A Little Bit You and I'm A Believer.
These guys are decent good musicians.
They were good songwriters.
Had Nesmith maybe taken it even further, he could have written songs for just about any band in America. Absolutely, a hitmaker. He's really talented. It was nice to see him smiling and having fun, at least on this tour, because he pulled away for many years. They're The Monkees. We got to love it. We went from Bruce to your band The Monkees.
I was asking are they your band, like the guy?
It's all the Jersey guy. It is a law here that you either choose Bruce or Bon Jovi. You make a choice.
Your parents can choose Frank Sinatra.
They did.
Nobody chooses John Cafferty & The Beaver Brown Band.
I have a story about everything. Sometimes I think I should write a book. We're going to digress and I'll tell you my Cafferty. This is back to DC101. I'm at DC101. I went home for the weekend. I have seen Cafferty and The Beaver Brown Band play at a couple of clubs. They played at the Stone Pony. I went up to Cafferty after because he would hang out at the bar. I said, "I'm working at this radio station in DC and you played this song Wild Summer Nights. I would love to play this at the station." I didn't tell him I was an intern or whatever. He said, "Hang on." He brought me the single.
I go down to the station the next week and I don't say anything. I gave it to one of the jocks, Chris Montgomery was the DJ's name. I said, "Don't even look at the label. Play this and tell me what you think." He would have a progressive show where he would do that. He goes, "I haven't looked at the label folks, but one of our interns, Mitch, who usually is getting tickets out in the Model T at Tyson's Corner or wherever the hell he is. They play Wild Summer Nights." I'm listening and he's like, "I can't believe he handed me Bruce Springsteen's new single Off The River."
I'm dying. Obviously, there are resentments there, but Cafferty's almost the same age and got his start up in Rhode Island and became a real bar band. About 2 years later or maybe 3 years, when I was living in LA is when Eddie and the Cruisers came out. I could not believe it when I went to see that movie and realized the soundtrack was all Beaver Brown.
Coming out of Michael Paré's mouth.
Now, there's an event every year called Light of Day Foundation. It's tied to Michael J. Fox. It's a Parkinson's thing. It started because a guy that was involved in the ticketing world for Bruce for many years, Bob Benjamin, had Parkinson's. They would have celebrated his birthday and they'd have this event. Bruce has played at it. They've done 25 and he's probably shown up 15 times. I've been at most of them and including playing two-and-a-half to three-hour sets with the backup band, which usually is Joe Grushecky's band, which is a band out of Pittsburgh. That's a big part of this. Cafferty is probably there. He always plays with that. Steve Burke lives in Jersey now too.
I have a buddy who's a big Bruce Springsteen fan. When I was in radio, I used to always tease him by saying, "Bruce Springsteen is okay. He's just a poor man's John Cafferty."
I think Bruce would love that. Even in DC101 at the time, Bruce's The River had just come out. They were more kick-ass rock and roll. I was able to pull off these crazy things. Bruce had a show in Hampton, Virginia, which was about two hours away. I said, "Can I cover the show for the station?" They had me call in during intermission because Bruce used to do two sets. I went to the payphone back in 1981 and I called in on the air and talked about that show.
It was an incredible show. It was the second leg of The River tour. It was the first night he did This Land Is Your Land. Also, the first time he had done the War song on stage. Fast forward to probably 21 years later, there's another event that involved a foundation, Dave Marsh and his wife Barbara Carr, who's been a producer for all of the tours over the years, put on this private event. It's a fun little event. I went to a few that were concerts, and then Max Weinberg's New Jersey hockey tickets were near mine. My son was there and his son Jay, who's now a great drummer with a heavy metal band, Slayer.
He is out on the ice skating in this event and Jay comes off. I'm standing with Max. I'm just BS-ing. I had met Max a number of times. I had him speak at a local JCC. He does a lot of stuff like that. He grew up two towns away from here. My son, Harrison, says to Max Weinberg, "My dad wants to meet your boss." He's eight years old. Max says, "Mitch, you got $10,000. You come to this event. You come in the VIP room."
This was a very different time in my industry, let's put it that way, in the financial services industry where I used to be an advisor. I'm not anymore. I'm just saying that for compliance reasons. At Merrill Lynch, I told them, "There's an opportunity to bring three clients and myself to this event to meet Bruce Springsteen." "Would you like a limo?" I was like, "Okay." This was in the 2000s, so it was a very different time in this industry. This would never happen today.
Of course, the three clients I brought were good friends that I see Bruce with. That night, I walk in and we're in this private little room first. I saw Bruce talking with Clarence, and he was off with Steven. He comes over to Max and he introduces me to him. Patty, his wife, is there. A real wise guy. He goes, "Bruce, this is my friend, Mitch." Patty says, "Bruce, you were hoping to meet Mitch tonight."
This is going to be fun. Bruce held court and then I was able to go over. What did I talk to him about? What do you say to someone that many people call your obsession? I call it a passion. I think my wife downstairs would definitely go on the obsession part. The first thing out of my mouth was, "Hampton Coliseum, 1981," and he said to me, "A lot of people talk about that show. It was a great show." He remembered. He remembered the first night he did that. He remembered certain things that I knew he wasn't blowing smoke at us. He was real about it. He was great. Every other time that I've met him casually has been incredible.
My best Bruce Springsteen story involves my 96-year-old mom when she was 90. Steven Van Zandt thought it would be cool to have my mom open up a concert for his band, Little Steven and the Disciples of Soul in 2017 at this big theater. He sends me an email with the script and I go to my mom and my siblings would go, "She'll never do it." I know my mom. She's going to do this. We go out to the theater and it's a beautiful old theater in Staten Island that I've never been to. I've never been to Staten Island other than drive through it.
The rehearsal was hysterical. She got up and she introduced it and the place went crazy. People took pictures with her and selfies. Suddenly, this band shit began of hers. It led to me getting a call from a talent agency that represented JD that was doing a campaign where they wanted a bunch of old Jewish women to be yentas to talk about how they were coding in the middle of the night to get the right Jewish for their grandchildren.
I brought my mom in. My brother said, "She'll never do this." I brought my mom in. She was with my daughter, and it was a Woody Allen movie. All these Jewish women were walking around reading their script. You can't make this up. My mom puts a script down and says, "I'm just going to go in and tell a joke." She went in and told some silly joke. She was in the room for 35 to 40 minutes. She got the role of Lead Yenta, which meant she got $2,500 and the others got $500.
It was a print campaign done by a great photographer, Randall Ford, who's done magazine covers and all kinds of things in Brooklyn. She was at subway stops, charging stations, giant billboards on Times Square, and Judy's Cheesecake. Suddenly, she's a celebrity and she's getting all these articles and TV stations. Stevie's like, "I made her." He called her Queen Bea. He started a Twitter for her, @MOMaGoGo90.
Suddenly, she's got this huge following. Some people thought she was Bruce's mom, who's the same age. To top it off, when she's 92, Steven is finishing his last tour at the Paramount in Asbury Park. I knew Bruce was going, but I don't want to say anything to her. Maureen, who I'm close with, Steven's wife, who has a theater company that I'm involved with, she and Steven called me and said, "Would Bea come on stage and dance during this final song, which is Soul Twisting, and we're making a video of the whole thing." I'm like, "Sure." I went over and my family's like, "She's not going to do it." She did it and she got up there. I'm sitting there in the third row. I knew that she might meet Bruce that night, but you never know.
My friend Rich was involved with the show. I said, "Don't even tell me. Surprise me." I'm sitting there and she comes out with her boa and everything. I can send you the link and everything if you want to. She was on stage. It was incredible. Who comes out to take her off stage and sit down with her? It's Bruce Springsteen because he played, as a surprise at the end of the show, I Don't Want to Go Home/ Tenth Avenue Freeze-Out. It's been a long time with Stevie and the band. The show ends. My mom comes out. People are taking selfies with her and then she's all excited. My friend Rich was holding up his phone and took this amazing picture of Bruce and my mom. She's in shock.
She had taken her hearing aids out, so she hardly remembers what the conversation was. She says, "I was babbling on about you." It was a sweet moment. My worlds have collided in a lot of ways. In some ways, if I ever was going to write a book, it would be called This Close or So Close because I interned for Howard Stern before he got big. I interned for Charlie Rose before he got big. I worked for Larry King before the CNN show. I went to college with Alec Baldwin when he was Alex Baldwin, who could care less about acting. He ran for class president and lost. He said, "Fuck it," and went to New York and got discovered walking in the streets of Soho to be on a soap opera. Obviously, the rest is history with him. I've seen him a number of times over the years.
It sounds like you've carved out a pretty nice existence for yourself though.
I'm very blessed these things have happened and the worlds collide. Getting back to Peloton, having Bruce because that is your show. I see in front of me The Clip Out. We got to get back unless this is going to be a show about haircuts. We're not doing a show about haircuts. You have lovely hair, Crystal.
Thanks.
You're the only one here with any.
I've been blessed with all of that, combining it all and being able to do these rides. I'm so happy that Springsteen's music is on Peloton and it was way overdue.
It's hard to wrangle. He's very protective, which I get. That's why he is where he is. He knows the value of his work and there's no shame in that.
My guess is his daughter, Jessica, probably has a Peloton or probably was in his ear about it. It's the way these things happen.
That's great to think about though.
Mitch, thank you so much. This has been an absolute blast. I'm sure we could do this all day. I know I could. Before we let you go, let everybody know your leaderboard name, where they can find you, where they can find your show, and things like that.
I have a very clever leaderboard name, @MPSlater. I spent many years working on that. I need to change that name, but I'm Mitchell Paul Slater. The reason I did MP Slater is that there's a rock promoter who's very famous named Mitch Slater, who worked with Ron Delzner, who coincidentally was my bunkmate at Camp Winadu in the Berkshires in Massachusetts when I was seven years old.
We were two Mitch Slaters in one bunk. We used to get each other's laundry. It was the kind of camp that was a little spoiled where this camp was set up. It's still out there, Camp Winadu. Years later, I interviewed the other Mitch on my radio show. I wanted to talk to him on my podcast. @MPSlater is my Peloton name and I appreciate the high-fives.
I don't do a lot of that. I get so into making sure I get a good workout, which is important to me. I let the music take me away and I'm singing, but I love it all. I'm singing to Hamilton. It's not just rock music. I do country and Hannah has introduced me to some interesting country artists that I never would've discovered. Shout out to everybody at Peloton and John Foley. There's a whole other thing there about the story of that company, which I'm sure you've covered. It's quite interesting. Guy Ross, who I had on my podcast, did one called How I Built This. He did a great interview with Foley years ago, and the whole story is quite interesting.
We teased John Foley about that because he let us interview him a few months before he did that interview with Guy Ross. We were like, "He podcast cheated on us."
Every time I see Rzeznik on another podcast, I'm like, "John, I feel abused." I realize he has a song that has over a billion downloads. I think he can do whatever he wants. This has been a lot of fun. My podcast, Financially Speaking With Mitch Slater is on Apple and Spotify. You can Google it. If you are a Bruce Springsteen fan, go to my YouTube page and you'll see incredible videos, especially the tour where I am right up front. I've had one video from the last night in New Jersey where there was a young girl in front of me and it was her 21st birthday and she had a sign, "Do a drink with me, Bruce."
Bruce used to bring everyone on stage, but he's not doing it on this tour. Bruce sees that, comes over, puts his hand out, wanting the little bottle of tequila that she has, and she jumps on stage. Bruce is like, "No. Get down." Bruce has done this for years since the Courtney Cox thing. This tour has COVID protocols. They weren't doing that. I had the whole thing on video and her dad was so happy I got it. It's had likes of its own, 7 or 8 million. I've got great videos of concert footage, especially with Bruce. Thank you. This has been a lot of fun talking with both of you. I love your show. I'm honored that you reached out to me.
Bruce Springsteen is okay; he's just a poor man's John Cafferty.
Click To Tweet
We're honored that you took the time. Thank you so much. This has been so amazing. Thank you.
—
I guess that brings this episode to a close. Until next time, where can people find you?
People can find me on Facebook at Facebook.com/crystaldokeefe. They can find me on Instagram, Twitter, and the Peloton leaderboard @ClipOutCrystal.
You can find me on Twitter @RogerQBert or on Facebook at Facebook.com/tomokeefe. You can find the show online on Facebook.com/TheClipOut. While you're there, like the page and join the group. Crystal is eager to go. She already turns off the lights and I'm still talking. We're lucky she's still on the Zoom call.
We got a movie to go to. Let's go.
We're going to go see Elemental. I'm seeing three movies in two days. It's going to be pretty crazy. I'm seeing Elemental, Flash, and Indiana Jones and the Dial of Destiny. That's a lot of cool nerd stuff packed into a short period of time. I'm going to be tired. Anyway, that's it for this one. Thanks for tuning in. Until next time, keep pedaling and rowing and running.
Important Links
Love the show? Subscribe, rate, review, and share! https://theclipout.com/