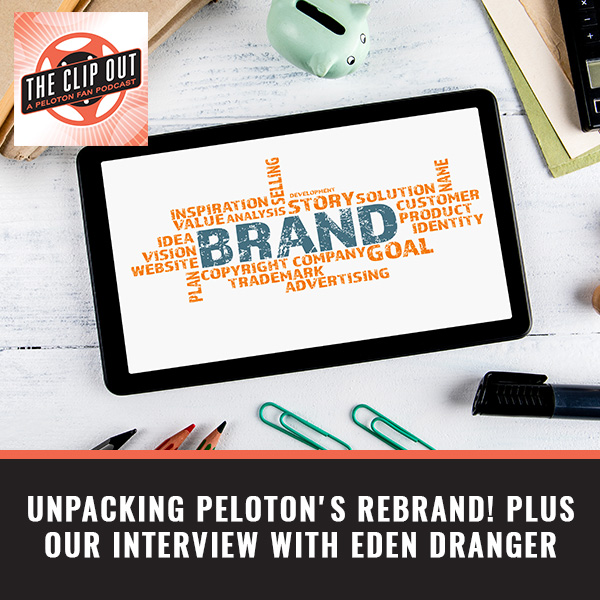 311. Unpacking Peloton's Rebrand! Plus Our Interview With Eden Dranger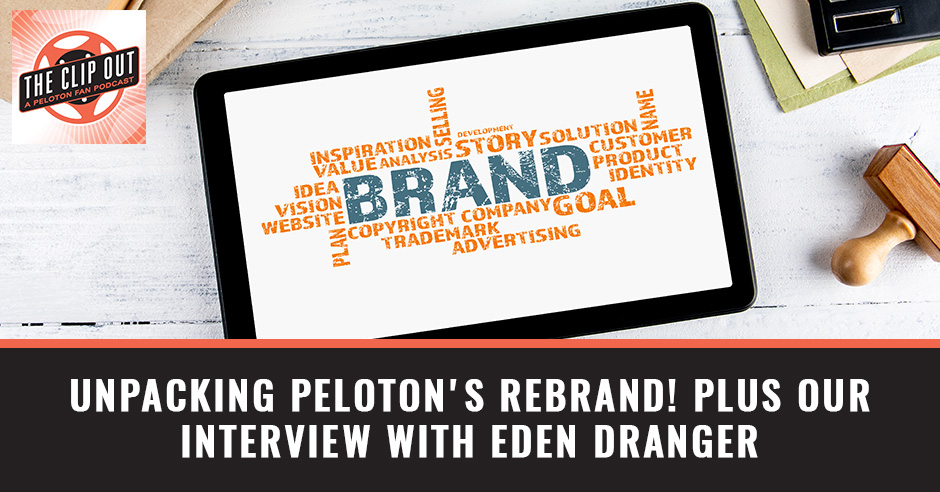 Peloton launches major rebrand.
Peloton releases new TV spot as part of the rebrand.
Peloton announces new app membership tiers.
Row classes coming to the app.
Peloton Gym is here.
Peloton is rationing recall replacement part.
Tread+ rear guard fix announced.
Dr. Jenn: Why do I keep losing and regaining weight?
Ally Love joins The Today Show.
Cody gears up for his book launch by chatting with People Magazine.
Puma released its Olivia Amato Collection.
Rebecca Kennedy spoke to Bustle about the benefits of hiking.
Jess King is now a professional DJ.
Kendall Toole was on the Chicks In The Office podcast.
Emma Lovewell was on the Sports Business Radio Podcast.
Jenn Sherman was on the Dear FoundHer podcast.
Cheddar.com talked to Robin Arzon.
Matty Maggiacomo's dog Luther passes away.
Matty will be on the panel for Los Angeles magazine's Pride Cocktail Brunch.
Angelo/MetPro –  How to lift heavy when you don't have a spotter.
The latest artist series features the Jonas Brothers.
There are two new classes featuring Lewis Capaldi. And gets an extra strong warning for language.
Lewis Capaldi hurt his junk on a Peloton bike.
Steven Little has a new venture
This week at Peloton.
Adrian Williams celebrated 3-years at Peloton.
Birthdays: Jess King (5/29)
All this plus our interview with Eden Dranger.
—
Watch the episode here
Listen to the podcast here
Unpacking Peloton's Rebrand! Plus Our Interview With Eden Dranger
We are two weeks out from our trip to Disney, which means we're three weeks out from our meet-up in Orlando on June 9th at Splitsville, which always makes me think of my ex-wife because I'm like, "Welcome to Splitsville. Population, you."
Your ex-wife will not be there.
No, thankfully. We are going to be at Splitsville, which is the bowling alley there, but it's a hip trendy bowling alley because it's Disney. 
It starts at 6:00 PM local time.
We hope you come out and hang out with us.
We'd love to meet you.
We'll finally tell you which poster had the pot leaf on it in our house.
If we can find it. If we remember that long because after we record this, it's a bit exhausting.
Our memory is bad because of all the pot.
Also, my brain injury. I know you love hearing that. It's not that bad. I'm way better than I was.
You've been doing great. We hope you come and hang out. I won't be high on pot. I'll be high on Disney.
You will, and sugar.
Five days in at that point, I will be on a non-MetPro binge.
We'll probably be like stretchy pants.
Angelo will be somewhere curled up in the fetal position, knowing the damage I'm doing.
When we recorded with Angelo, he had gone to Disneyland with his wife. He was like, "I didn't experiment with Ashley and we ate at these two places and we didn't gain weight, so it's possible."
I'm like, "Slow down, old buddy. You were there for 36 hours."
Angelo, that's cute.
What pray tell do you have in store for people? Anything big happened?
I don't think so. It was a boring week. There's a major rebrand. I have been dying to talk about this. I'm glad we finally get to announce it.
You know it was coming for a little bit. They talked to you about a good portion of it.
I am so excited about this. We'll get into it.
There are other things.
Along with the relaunch, the Row is now on the app. That's huge. We're going to talk about that. We're going to talk about this new Peloton gym thing, which I also got to test. I'm going to tell you all about that. We're going to talk about the recall and what's going on with it because there are updates, not to mention the Tread+ recall.
We have a visit from Dr. Jenn. We are going to discuss a specific person and why they keep losing and regaining weight. Dr. Jenn had a lot to say about that. A whole bunch of In The News from the instructors. Not to mention, we have a visit from Angelo. We talked about how to lift heavy when you don't have a spotter. We're going to talk about all the things Peloton related, including a past guest update and a bunch of In Case You Missed It.
Before we get to all that, shameless plugs. Don't forget, we're available on Apple Podcasts, Spotify, Google, iHeart, TuneIn. Wherever you find a podcast, you can find us. While you're there, be sure and follow us so you never miss an episode. Maybe leave us a review. That's super helpful as well. You can also find us on Facebook at Facebook.com/TheClipOut. While you're there, like the page and join the group. We're always posting different things in there throughout the week to keep you up to date in between episodes. If you see stuff you like that you think your friends should know, maybe click share on it. That's super helpful as well, whether it's a news article or an episode.
Don't forget that we have the Submit A Tip function over on the website theclipout.com. Go to Submit A Tip. We have a lot of good stuff coming in there.
You can also find us on Patreon, Patreon.com/TheClipOut. For a little bit of money, you can get bonus content. You can get the episodes early. When we get them early, you get them early. You can also get them entirely ad-free. People seem to dig that. You can also find us on YouTube at YouTube.com/TheClipOut where you can watch these episodes. Finally, don't forget our newsletter at theclipout.com. Let's dig in. Shall we?
We shall.
—
As you have probably heard, Peloton has announced a complete rebrand and change in the pricing structure for app users only. I'm down, equipment owners.
Good point. Where do you want to start with this? There's so much going on with this rebrand.
Let's treat it like dating. Let's start with how it looks.
Swipe left. What a great point. First of all, Peloton has released a brand new 90-second commercial. When I first saw this, I was so smitten with it and I was gushing about it at the time. I was like, "This is amazing." I love that you see movement everywhere. You see real people everywhere. I love that you can see what the app looks like in the commercial. I love that you see real people using the equipment at home outside in their dirty garages. I have a dirty garage. Anywhere you have room, it's great. My favorite part is how they show all of these people doing the moves on their screen, and then how it relates to the moves in real life.
For example, lifting a weight over your head translates to a person lifting their baby over their head. I love that. I also love the guy in the locker room meditating because that's real life. This chick shadowboxing, I adore her. She looks like such a badass. I can't say enough good things about it, but the things that you want to hear are what this means for Peloton. To me, this means that now Peloton is finally getting to show the inclusivity that we have felt as members for years. We have felt like it's a place for everyone. Peloton can meet you wherever you are. This commercial shows that.
People have said for years, "Why don't you see more real people in the commercials instead of either instructors or models?" That's not to say that regular people can't be models, but you know what I mean, don't turn it into that. I do like that aspect, and you certainly see people of what would appear to be all different socioeconomic statuses as well, based on the environments in which you're seeing them. That's a smart move because people like to make fun of Peloton as being for rich White ladies, and it really hasn't been for a long time. If you go on Twitter, which I don't know if I'd advise, it's a lot of snarky BS about that like, "They're so dumb."
I think the thought process is we've scooped up all the rich White ladies. We've maxed out. When it comes to what their original goal was, regardless of the stock price, they have exceeded anyone's expectations. Now the path to growth is to become more mass appeal. The thing that I wonder about long term is the idea of I like including real people, but I hope that this isn't a permanent pivot away from focusing on instructors. Ultimately, that's the brand and that's what differentiates them from something like Apple Fitness. Peloton has honest to god celebrity instructors and nobody else has that.
I don't think it will because as recently as the last earnings call, Barry said that the instructors are the crown jewel of the company. I don't think they're losing sight of that. They want to make it known that it's not just for rich White people. They also want it to be known that it's not just a bike either. They want to highlight that there's the rower and there's the tread that you can use weights on. You can do yoga and barre and all of those things. You can also do it anywhere. You can be part of Peloton without having the equipment. For a long time, even the community was like, "If you don't have a bike, you're not part of Peloton." There was a time it was like that.
I remember when they first started doing the app, there was this real divide of, "You're just an app user."
I feel like the community has come past that.
It's twofold. One, a good chunk of people realize that maybe they sounded like a douche but also, as there are more people who have the app, there are more people to push back. It's like anything. The more people that you have in your life that are doing that thing, the more you tend to be open to it. People probably were like, "I have the bike but Cheryl at the office uses the app." They stopped saying things like, "Just uses the app," and started saying, "Uses the app." That has played a role. Originally, the app sucked.
It was plain. It has come so far, and so has the whole company. It was just a bike back in the day. Now it's so much more. I'm glad there are finally ads and commercials that show it's so much more. That gets that point across.
For years, the app was a legit afterthought. Apps are difficult to build and have them be robust. It took them a long time to get it up to speed. I think this is part of the Netflixification of Peloton.
They've said that on earnings calls too, "We're going to go after this segment of the population because we have said we're going to reach 100 billion users or whatever that amount is. This is a huge way of how they're going to do that. more to come on the pricing of that. That is why they're going after the app users.
Let's dig into the pricing thing because I think that the pricing adjustment was a bit aggressive.
Yes and no.
Also, I think the pricing of the app has been underpriced for a long time. I get that they want to bring it back in line. I also get that they don't want to pepper people with price increases where it feels like they're upping the price every six months or every year. I think what's going on was there was a certain amount of like, "Let's rip off the BandAid, and get to where we want to be and then we can leave it alone for a while." With all the complaining that you've seen about the price hike going from $12.99 to $24.99, people are losing sight of two things. One, if you pay upfront for a year, it works out to $20 a month. That's not doubling it like people keep saying. Two, it wasn't that long ago that it was $19 a month.
That's what I wanted to talk about. It used to be $19 a month. It is only a $5 increase for people who've been around for a while. Not to mention another key difference that people need to think about is when you have an all-access membership, you can have several members on your membership. If you have the app only and you're paying for that, you have one member. In other words, if you have several people in your household, you might be better off getting the all-access membership because you can have more people.
That's a good point. I didn't realize that. If you've got a husband and wife on it or a husband and husband or wife and wife or whatever, you could share that cost, and might actually be a net gain for you. I also can't help but think, as people love to share Netflix passwords, maybe people will figure that out.
I don't think you should.
I didn't invent that. I don't think I'm blowing anybody's mind with that.
It's a lot harder to do now. Since you don't use the equipment, I don't know that you realize if you want to do that, you have to activate the bike every time you do it. Let's say we had two different bikes in two different locations and I wanted to use it, I would have to then activate the bike then you would have to activate it.
I didn't mean the bike. I meant you could have multiple people on an app membership.
You can't. That's the thing. The all-access is tied to owning a piece of equipment.
I thought that was the name. Sorry.
Let's start at the beginning because you jumped way ahead there. I'm irritated. We got to stop back at the beginning. First of all, there is the App Free. That's $0 and everyone is annoyed about this because it "only" has 50 classes curated around 12 modalities. This is perfect for people who are just trying the Peloton app.
I don't even understand what's the free thing now.
There isn't one. You get a very small amount of classes.
It sounds like the goal here is it's not going to be like, "Here are 50 classes," and they never change that. The idea is that if you were utilizing the Peloton App Free, at least the content is going to cycle.
That's exactly right. They said it will have a rotating set of featured classes that will be refreshed on an ongoing basis. They didn't say how often, but it is going to rotate. If you take all 50 classes and you want to stick around, you can. That's an option for you. This is also good for people who don't have a place in their homes. Maybe a student living in an apartment or a dorm where they can't bring a Peloton into. This would be a good way to add on to maybe the student gym. This would be a good way to do that. You then have the Peloton App One. This is for people who don't have a piece of equipment and don't necessarily want one.
You got strength, meditation, outdoor walking, yoga, and everything that's included in the free app or the free tier. Plus, you can take up to three hardware base classes per month on cycling, tread, and row. This is the part that people are losing their minds over. This goes to $12.99 a month, $129 a year. It is also important to note that you can also have access to challenges, programs, and collections. If you're a person that likes to do Andy Speer's Total Strength 60, that's a good deal. You are then focused on taking this program or this collection of classes. That's amazing.
Let's say that you want to go up from there. We now talk about the most expensive tier, which is what you were talking about. This is the Peloton app, plus this is everything on the app. No Lanebreak and no scenic classes, but you get everything from the free app, everything from App One, and you get access to thousands of equipment-based classes for any indoor bike, treadmill, and rower. It also gives you exclusive access to classes featuring the latest specialty content. Let's say, offer-one class, you'd be included in that. Even though you don't necessarily have any equipment, you'd still be getting that.
Back to your point, $24 a month or $240 a year, this is the one that I think is the best value for a single person on the app. If you have multiple people in your household using it and you want all these things, it could make more sense for you to get a piece of equipment and pay the monthly fee. That's what I was trying to say.
I see what you're saying. Especially now that there's so much equipment on the secondary market or you can get a refurbished bike or rent one. It's not like bikes are $2,500 like they used to be. If you want to buy a brand new bike and have the warranty and all that, for sure, or for a Bike+ at least. If you have multiple people in your household, that is a very good solution.
Also, people need to remember that not only is it not doubling it because it used to be $20 a month, but people have been screaming that they want rower content. You got it now. You have to pay more. They have to pay for all these instructors. Don't forget, those of us who have the equipment have been paying $40 for a long time.
On the flip side, that's a complaint people have had for a long time, "I bought a piece of equipment and I have to pay more. I should pay less because I gave you all this money upfront." People have had that complaint for a long time as well. I get that it's sticker shock. Here's my question for you. Can you just buy a Guide and do an all-access?
You can. That's a great question.
If your goal is to split memberships with people in your household, you could just buy a Guide.
Why would you not do that? That is an excellent point, Tom, because it's considered equipment, and then you could get the all-access and then you could have everybody in your home. I know that there are people that are upset about this. Anytime there are changes, people are upset. I don't care if it's the best change in the world, but if you look at it as a whole, I do think that you can find a good solution that fits your household and the number of people that are using it. It would make more sense for me to have the app from a pricing standpoint because no one else in the household uses any of this stuff. That's never going to happen because I like having all this stuff.
You want the metrics to go along with the bike and things like that.
That is something important to me that I put a priority in our budget, so that's not a problem for me. If it was a problem, then I wouldn't do that. I would go to the app. I'm not saying people have to do that or they should do that. I'm saying there are a lot of different ways to look at this. When people calm down and they get past the newness of it, a lot of people are going to end up staying with what they have, and they have until December. They don't have to do a thing until December.
These prices don't go into effect until December 5th. If you have already purchased the annual pricing under the current model, that lasts until your cycle comes to a conclusion.
Those are important things.
Nobody is getting booted off of the deal that they already signed up for, which is good.
There are a lot of upset people on both sides of this. People who've had equipment forever are tired of hearing people complain about it. They're like, "Why my price went up?" The people who were paying $12.99 per month are upset that it doubled. I can understand when you say doubled without taking all the things into consideration that we just talked about, it does sound whiny. Once you take all those things into consideration, it's like, "I get it and now I'm better educated about it." Hopefully, a lot of people will feel good about it. Based on what I've seen in the past from Peloton users, they get upset and loud, and then they end up doing it anyway.
That's what they're banking on. It's part of the Nerflixification of Peloton. Netflix raises their membership fees, everybody screams bloody murder, and then most of them stick around. Netflix has had multiple price increases and they're starting to exhaust people and they are starting to see their numbers decline because of that. I don't think that they necessarily see that on the first one. I saw an article the other day about when Netflix raises prices at least for the first few years when they were doing that, 70% to 75% of the people who dropped the membership had had it for less than a year.
They were new.
It was also people that weren't as baked into the system and hadn't enjoyed the content long enough to be like, "I need this to stay in my life." It'll be interesting to see if Peloton sees a similar number. My guess is Barry thinks they will because at the end of the day, would you rather have 100 people giving you $13 a month, or 75 people giving you $25 a month?
Here's the deal. Barry has flat-out said this on earnings calls. You want to have members that are going to make sense financially for you. If you can't afford this, that's fine. No one is knocking that. If you can't afford these new numbers, none of them, then you probably aren't a good fit for Peloton.
The flip side of that equation that is a bad look is they launched a campaign about how inclusive they are.
That's fair. There's a free tier. Not everything is for free, but it's there. If you don't have the hardware to be able to take any hardware classes at $12.99 a month, it is still a good deal. All of the instructors are always saying things like, "Make sure you know you're worth." Peloton is saying, "Here's our worth."
Their content is way better than anyone else's.
Other people were saying, "I'm going to go to NordicTrack." You go to NordicTrack. That is not as good of content.
It's not as good of content and they don't have as much. I bet you their full membership probably looks a lot like App One. You are going to get very frustrated. The thing I always say when somebody mentions another platform is, "Name an instructor."
There are people that have favorite instructors in other places, but they're not on the same level as Peloton. They just aren't. In some ways, to be honest, that's too bad because I miss the days when the Peloton instructors weren't all up there. It was a different time. I get that and I miss it.
At the end of the day, I get what they're trying to accomplish. I get that they need to adjust their revenue. I think the thought process is they don't make that much money off the equipment purchases. Certainly, they get people to do the more expensive membership when they do that, but selling equipment was never much of a profit point for them. They'd rather drive people to the app. Also, they know that if they can get people into the app, whenever it comes time to buy a piece of equipment, they'll eventually capture them. If you've been using the Peloton app for years and you decide, "I'm going to get a bike for Christmas," or a rower or whatever, I can't imagine that person wouldn't make the leap and actually get the Peloton branded equipment.
For the most part, if it's a financial thing, then you're never going to. You can't do it.
People's circumstances change. You get out of school and you get your first grown-up job.
Either way, I still think if you take that out of the equation, there are still more people that are going to join the app by doing it this way. There are a lot of people who are predicting this is going to mean we're going to see a lot of people leaving. I disagree. I think you're going to see more people added. We're going to see a churn. That's for sure. There will be people that will leave but long term, you're going to see more people added overall. That's my take.
It will be interesting to see. I see a lot of people screaming bloody murder. The next thing you'll see people scream bloody murder about is when the discounts for first responders, nurses, and teachers only apply to App One.
I did not know that.
At least that's the way it appears on the website as we heard in the earlier part of this conversation, but that's the way I understood it. When people figure that out, you'll have more upsetness. The thing people are digging into is the fact that Row classes are now on the app.
Many people were excited about this. From what I can tell, this is pretty much the first thing that hit people's apps. Peloton must have known that it was out because the banner started appearing everywhere on everyone's app saying, "Peloton Row is now on the app." It was so exciting to see the rowing instructors. They were like, "I get to teach my first class on the app." They were so jazzed about it. Everybody in the community that has been wanting to take classes with these instructors that have different brands of rowers was so excited. Everyone agrees on that. That's something everyone is happy about. I'm glad to hear that.
Finally, for the rebrand stuff, they have also a new feature called Peloton Gym.
What Peloton Gym is basically you can take strength classes that don't have any audio or video component to them. It does have an instructional video if you don't know how to do the move, but that's it. It's not like you have Andy Speer leading you through the moves. You have a set of moves that you can do. The brilliant part about this is now, you can do it on any piece of equipment. If you go to a gym like 24 Hour Fitness, you can do the classes there. If you go to a hotel and they have strength equipment like dumbbells, you can do it there.
You could do bodyweight stuff in your hotel room. It doesn't even require as much data like a lot of the classes that have all the video and audio. Sometimes if you're traveling, it's tough to get those to play, especially if you didn't remember to preload. Not everyone can preload. You're sitting there like, "I can't take the class." Now you can because it takes very little data because there's no audio and video.
This is cool. You basically start the class. You start going through the moves and then whenever you're done with the block, you swipe to go to the next one when you're ready. That means you can build in your own rest. They'll tell you, "This is a 15-minute, 20-minute, or 30-minute." That's only that length of time. If you follow the rest intervals, they indicate the number of rep counts. Since it's you versus your machine, you can move past it faster. Maybe it's not timed and you do ten reps of something really fast or you don't want to take the rest. Keep going. You can make it faster.
I love that about it too. It's very versatile. Not to mention the fact that since you can use this anywhere and you have certain goals that you're trying to reach, this is a great way to add in strength without trying to search for classes. Sometimes that can be tough to be like, "I want to take an upper body class, but I want to work on the chest and shoulders today." Try finding a class like that really fast. It can take a while.
This is a great idea because you're hearing so much about people who are going back to the gym and this is a way to capture those people, and still keep them in the world of Peloton, and maybe get them to pay for an app membership that they can use on gym equipment. A lot of people like to go back and forth. It's not either/or. They might have a bike at home, but they still want to go to the gym for the pool or the Nautilus machine or what have you. This is a good idea to make it something you take outside of your home.
I totally agree. It's a great addition to what has already been a great app.
You had to play with this for a couple of weeks before it got announced.
I did. This was around the same time that we started talking to the marketing team, Leslie Berland's team, about the new commercial. When people talk about how long this stuff has been in the works. It was long before they started talking to me about it. They've been working on it for months and months. I think it's exciting. They've put so much attention and thoughtfulness into it.
I know that they can't necessarily come out and say things, but hearing the excitement from the marketing team and how excited they are about it makes me even more excited. To hear the pride in their voice about capturing what they feel users want, and I agree, by the way, it's nice to see. It got me back to the old Peloton day levels of like, "This is so exciting." It's fun to see all that. It's the same thing with the Peloton Gym. People have been excited about it.
I guess it was two weeks ago at this point that they announced the recall for the Peloton bike seat post. Previously, we noticed that they were starting to ration or prioritize who was getting those seats. Some people were upset about that because it's the internet. They're prioritizing it. As we saw with the Canadian recall, which we talked about previously. In Canada, they were allowed to acknowledge that this was primarily affecting people who were over a certain height and over a certain weight.
Because of that, they were inundated with people wanting the replacement part, which is good, but in the short term, they're prioritizing who gets it based on their height and weight and their user profile. The people who are most in danger of the seat not working get it first, which makes perfect sense. When the plane is going down, you put the mask over your own face, and then your kids.
What I love about this is that some people feel a little entitled to be first. There are people that went into their profile and started changing their height and weight so that they could be first.
They get to the front of the line. In a rare instance of Peloton seen around corners in terms of how their members would react, they had said in their announcement, "We're using it based on your height, weight, and profile from yesterday."
All those people doing that wasted their time.
Yes and good.
It cracked me up.
You don't need it as much as the other people, so let them have it. After we got done recording or the next day, they announced that for Tread+, the CPSC has finally approved a fix that they could take to market, which is a rear-guard cover. That is coming out for people.
You can order it now. It's probably going to be available in November if you still have a Tread+, which it doesn't seem like a lot of people do because they've all returned it to get their money back, and now they're complaining because they want the first. They will come out and fix it for you for free. That is cool. You should have gotten an email. If you didn't get an email and you have a Tread+, I recommend that you reach out to customer service and ask them about it.
I also would like to point out that the pictures that Peloton used show a slap belt that is offset from the end of the Tread+. That is not the way the rest of us look that we have at home. I would ask everyone to remember that these were probably mocked-up pictures. They might even be mocked up on the new Tread+ that hopefully is coming to market after the recall is done. I suspect that we will see that. I know it's coming to market because Barry said it was going to be back. I think it's going to happen after the recall period closes. I'm hoping we're going to hear about that in December.
It would almost have to because if they announced the sale of the new Tread, people would just return it and buy a brand-new one.
I have said that since day one.
It would make no sense for them to do that. The only way that could conceivably make sense, and this will probably be the case, is that the new Tread+ is going to cost more.
I'm guessing $5,000 to $6,000.
It might be worth getting a newer tread for $1,000 or $1,500 or whatever it works out to be. I don't see them doing that. I feel like they're going to let that return period expire and then they'll announce the new and improved Tread+ because they're going to get the last few sent back for no reason.
I agree. There's no incentive to do so. Either way, it's great that it's being fixed.
Coming up after this, we're going to talk to Dr. Jenn. We have a listener who wants to know why they keep losing and regaining the same weight. Stick around.
—
Joining us once again is Dr. Jenn Mann, licensed marriage, family, and child therapist, and sports psychology consultant. You may know her from VH1's Couples Therapy with Dr. Jenn or VH1's Family Therapy with Dr. Jenn or her long-running radio show, The Dr. Jenn Show. She has written four bestselling books, including The Relationship Fix: Dr. Jenn's 6-Step Guide to Improving Communication, Connection and Intimacy. It's Dr. Jenn.
Hello.
I have a tough question. This is a person who wishes to remain anonymous. It is a she, I will tell you that much. I'll read the letter the way she wrote it. "Dear Dr. Jenn, I'm hoping you can help me with something that has been an issue for several years. I'm fabulous at losing weight. I have lost weight between 60 and 80 pounds four times. I am terrible at maintaining it. I go 4 to 6 months strong, then sometime in there, I stop and throw it all in and regain all or most of the weight until I can't stand it anymore, then I start the process all over. I don't understand why I do this. I feel so good and I feel so much better, especially because I have two autoimmune diseases when I am eating healthy and getting in my exercise. Do you have any insight into why anyone would self-sabotage like that, and how to break the cycle so I don't do it this time?
How many hours do you have? This is very relatable. Many people go through this. It's very identifiable. I want to normalize what Jane Doe is going through because so many people go through this. To me, this is indicative of a few things. One is that it sounds like whatever she's doing is too extreme. It's not something that she can maintain. What it's doing is it is creating this deprivation rebound effect. That happens a lot of the time when people go on a diet to lose weight and then they make changes.
You know me. I am vegan. I love fruits and vegetables. I'm all about the microbiome. At the same time, I'm also a huge fan of intuitive eating. Part of the whole thing about intuitive eating is that all the studies showed that if you deprive yourself too much, then you tend to lose control of those foods when you are exposed to them at a later date.
What's happening is that it sounds like she's being so restrictive. When she has gotten to her goal and is starting to relax a bit, it's that very normal experience of we all want what we can't have. All of a sudden, these foods have more energy on them and it's harder to be in control around them. You're more likely to overeat with them. Also, if you have been too severe in your diet in your attempt to lose weight, you may have slowed down your metabolism. The weight is going to come back on even faster because you may have been under-eating and over-exercising to get where you were going.
If writers don't go into production, actors and crews will be out of work. It trickles down to the rest of the community.
Click To Tweet
It's important to do a re-evaluation of what allowed you to get that weight loss to look at it. Ideally with a professional someone who not only has an understanding like a registered dietitian of weight loss but who also understands yo-yo dieting and that deprivation rebound effect. Ideally someone with some understanding of intuitive eating who can help you to find a more moderate place to come from. Also, to help you with the psychology behind it.
The other issue is that I don't know if this is someone who was overeating and that's how she put on the weight, or if she's someone who has a slower metabolism or some health issues that have made it so that her natural set point weight is higher than what she would like. Let's say she is someone who was using food to calm her emotions or using food as an emotional resource or to soothe herself. What happens when you take that away? If you don't learn new skills to replace that with, then you're going to go back to using food for those things.
It's important that she may want to work with a therapist who has an understanding of eating issues/eating disorders in order to develop new tools in her arsenal. If you're not using food to calm yourself and soothe yourself, what are you going to use that's healthy and not destructive? It's very common and I see it a lot in my practice that when someone takes that away, then they start drinking or they start using weed or they start acting out sexually or they start gambling or they start shopping. It's like that whack-a-mole. You solve one problem and a new one comes up if you haven't addressed the underlying issue. We want to make sure that if there are any underlying issues where she's turning to food, those get addressed.
I was thinking when you started talking about it from that prism, it does sound a lot like someone who maybe has some sort of addiction issue, and they're white-knuckling it like, "I won't drink for six months," and then the six months is up and they're off to the races.
I'm totally like that with food. If I have chocolate, it's not like I have a piece. It's really hard.
I get that. I was once like that. I've talked very openly about that. I had an eating disorder for ten years. The first part of it was overly restrictive and then it was a lot of yo-yo back and forth, over-eating, binge eating, under-eating, all that sort of stuff. I get it. It's very common. I wrote my doctoral dissertation on this. Also, she may want to check out my app that's based on that doctoral dissertation called No More Diets. That's all about using the hunger scale, tuning in, and checking in with your body so that you are feeding it and also not using food to feed your emotions.
She does sound like she could benefit from that. Thank you so much for all that. Until next time, where can people find you?
On all social media @DrJennMann.
Thank you.
—
It was announced that Ally Love is joining The Today Show.
She is going to be doing Mornings With Love.
What would happen if her last name had been Smith?
She would be in big trouble. The Mornings With Love is going to talk about things like mindfulness and meditation, and then she's also going to be in the 3rd Hour with Hoda and Jenna. I love the headline, "I'm proud of myself for this." I guess she'd been wanting to do this for a long time. It's been a big dream of hers for a long time.
With the other things that she does in her life like hosting Dance 100 and being the spokesperson or the endgame host for the WNBA, she clearly wants to do this sort of stuff. That's a good place to land.
It was a weird quote to pull and put right in the title.
I don't disagree.
It's a strange one.
It's interesting the Peloton instructors' career paths because so many of them have this sort of media background and they fell into being coaches, and now how many of them are pivoting back in some capacity or attempting to pivot back?
I think it's funny that Jess Sims is also on there. What's that going to look like? What if one rating tanks and the other doesn't or vice versa? That could get ugly.
Cody Rigsby was featured in People Magazine.
He talks about his single life or his single era, because everybody's on eras now, after his failed relationships. Part of that is what he's going to be talking about in his upcoming book, XOXO Cody. They got into a little bit on that in the People interview. You can check that out in our newsletter,.
Puma launched a capsule collection featuring Olivia Amato.
We had talked about this coming and that it was going to be coming soon. I just wanted to point out that it has launched. If you haven't already gotten your Puma gear and you want to make sure you get it, then you should. Also, it has OA on all of the clothing so you can make sure and be branded with Olivia if you want to show your support.
I thought it was for the planet that Green Lantern was from.
That's a different thing.
There's one nerd out there that's like, "Yes, that makes sense." Bustle.com talked to Rebecca Kennedy about the benefits of hiking.
Rebecca Kennedy does a lot of hikes on the tread, but you may not know that she also does a lot of hiking in real life.
Can you hike in real life now?
You could do that before you had a treadmill.
It's getting popular that people are doing it in the real world like Pokemon.
It's crazy. I think they can even catch Pokemon while they're hiking.
What? The future is now, Crystal.
What have you been looking at on your internet browser, Tom? What smut is that?
It's Calzedonia Italian legwear and beachwear.
I'm kidding. What is happening with the straps on that? I don't understand. Is there one in her arm to keep it attached?
This is from their new hostage collection.
It keeps her connected to that cactus. Everyone likes to walk on the beach in a bikini next to a cactus. Anyway, back to Rebecca Kennedy.
Not all sand is at the beach.
Rebecca Kennedy talks about how great hiking is for your mental well-being as well because walking is healthy physically, but walking on an incline is also, and so is getting out in the outdoors. She talks a lot about all the physical benefits and the mental benefits of it. Good little article.
Jess King is now officially a professional DJ according to EDM.com.
I don't even know what to say about it. She announced that she was doing it a couple of months ago, and now there's a whole article about it. I didn't read this. That's why I don't have a whole lot to say.
She's now available for weddings in Bar Mitzvahs if you're looking for one.
I doubt it.
It depends on how much you want to spend on that wedding and/or Bar Mitzvah.
I'm pretty sure she's doing things like what all the festivals are called. That's what she'll be doing.
Kendall Toole was on the Chicks in the Office podcast, which is part of Bar Stool Sports. It's about sports.
If you can't tell, we don't care.
We love sports around here. Emma Lovewell was on the Sports Business Radio podcast.
She was talking about sports and business on the radio. We don't have a lot to say about sports. Sorry, guys. Listen if you want to know what Emma has to say.
If any Kendall Toole fans were mad at us thinking we were sliding her, now you can hear we don't know sh*t about sports and we don't care.
It's just not my thing. We told you it happens so you can go listen.
While we're making the podcast rounds, Jenn Sherman was on a recent episode of Dear FoundHer with Lindsay Pinchuk.
I've read a little bit of the transcript. She's specifically talking about how she's been on Instagram lately and her learning process and her learning curve of Instagram because she does not like Instagram. She didn't use it at all. Lately, she's been using a ton of it. She talks through that process and she talks about some things that she found comical that she was surprised at. If you are a person who posts a lot on Instagram, I think you will relate to what she had to say. I will leave it at that.
Now I'm intrigued. She doesn't talk about sports. Does she?
No sports. Why do you think I read the transcripts?
Maybe I'll listen. You read it but you didn't listen so I'm trying to figure it out.
I found this one today so I probably would've listened if I had had more time, but we had a deadline, Tom.
It's like Saturday Night Live. They don't go on because they're ready. They go on because it's 11:30. Cheddar talked to Robin Arzon. Just more roundups of all the different places the instructors are at.
This one was like a walk and talk. They did some general overview of information. It was pretty short. I didn't read this one either. She's been everywhere lately. Give me a break.
She is definitely getting her money's worth out of her publicist. Some sad news from the world of Matty Maggiacomo. His dog Luther passed away.
Some of you may not know this, depending on when you joined Peloton, but Matty was in a relationship with Aaron Aanenson. They had adopted Luther together when they were together. When they split up, Matty still had visiting rights to Luther. I thought it was sweet that they made sure they both got to see Luther. Matty posted that he had passed away. I'm sad about that because Luther had his own Instagram account that I loved. I always would show Tom, "Look at Luther. Look what he's doing." That dog had such a personality. It was so funny. This makes me sad.
I liked Matty's last line of his Instagram post. He says, "Sleep well. It was your favorite thing to do anyway."
I love Matty's sense of humor.
On a more upbeat note for Matty Maggiacomo, he will be taking part in Los Angeles Magazine's Pride Cocktail Brunch.
That takes place on Thursday, June 15th at 11:00 AM Local time in the Abbey and West Hollywood.
He'll be on there with George Takei, a name I know because I am a nerd.
Also, Trixie Mattel, who we often see over in the Peloton world. I believe Cody had her on his Laugh Out Loud show. I'm not familiar with Derek Warburton and Luciana, but there are some people that will be there as well. It's a panel discussion, so congrats to Matty.
—
Joining us once again is Angelo for MetPro. He was telling me the interrupting cow knock, knock joke.
We never forget. We're going with it.
Let's do it. Angelo, we have a question here that I can't wait to hear your answer to it. It is from Kathy Nash. She says that she is looking for safe heavier-weight workouts to do alone at her age. She's 60. She does not want to get injured, but she lifts heavier weights. For a chest press, she's doing 125, but she can no longer start that move by herself, and she doesn't always have a spotter because she's at the home gym. What should she do?
That's my girl, Kathy. I love hearing that. Tonal is great for that because you get the self-spotting feature.
She doesn't have room for a Tonal because somebody suggested that in the comments and she added info.
There is some benefit to the free-weight experience, which sounds like she's using and you're accustomed to it. It's likely, Kathy, that you're an advanced lifter. You continue doing that with the free weights. That's great for you. Even as you reach your mature years, it's still a great way to stay healthy and strong.
This is actually a question I get asked often and I do have some simple recommendations. The first one is to apply common sense, and you don't need to be maxing out all the time to get a lot of the benefits. Simply adding a couple of reps to your working rep range will usually make the difference between that, "I can't quite get it off the bar myself," and being able to handle it yourself. That's one strategy.
Another strategy that I like even better is to utilize tempo work. There are a few ways to increase intensity. You can lift a heavier weight. That's the most common way. I'm going to add intensity by lifting a bigger weight and more load. There are other ways to add intensity. You can also increase the number of reps you're d doing. That does impact your physiology a little differently if the rep range changes dramatically, but it does create intensity.
The third way to increase intensity is to work in a different range of motion than your muscles are accustomed to. Usually, that's accessory work where you're not doing the big ticket squat, deadlift, and bench press-type movements, but you're doing more auxiliary movements. That could be like a fly or a bicep curl or things along those lines. You can use a little bit lighter weights for those. The fourth way to increase intensity is to decrease your rest.
You do have to be cautious of that still without a spotter. By decreasing your rest, you can still keep the intensity of your workout. You'll get a little bit more cardiovascular effect, but you won't have to use quite as much load because, with decreased recovery, you're not going to be able to lift as much weight.
A fifth way you can increase intensity is by using tempo. A real classic tempo is three seconds up, three seconds down. You can apply that to squats. You can apply that to the bench press. In fact, in most lifts that you perform, you can apply that. What it will do is it will enable you to maximally fatigue those muscles through the complete range of motion with a much lighter load.
For things like bench press, Kathy, if you're used to doing sets of 10 or sets of 8, I would highly recommend using a lighter weight and doing a three-second countdown, three-second count up. You'll be amazed at how that will challenge you, and then save the heavier loads for those occasions when you do have someone that can give you a spot.
Also, if you want to show off.
This list isn't exhaustive but there are a few quick ideas on ways that you can increase intensity. One last one came to me. If you have a squat rack, Kathy, rearrange your workout so that way, some of the lower body accessory work is actually the heavier load work. For example, a step up, not a high step up, not something where you're stepping up into something high where you can lose your balance, but a very modest step up, like maybe an aerobic step or something like that. It's a very functional lower-body workout. Add some weight to that. It's a movement. You can challenge your lower body without having to use a weight that you would require a spotter for.
After you do that, you could go over and do your squats and your traditional barbell work with lighter loads because you've already pre-fatigued those muscles, and you're going to get a very similar beneficial effect. Those are a few little quick tips that you can apply, Kathy. I hope that helps.
Those are great ideas. Thank you.
Those are all very actionable. I have a quick follow-up question. Maybe you addressed this and I missed it, but when you were talking about having less rest time, did you mean during the workout like get back to your next step faster? Did you mean to have shorter rest days in between actual workouts?
I meant during the workout. Instead of maybe two minutes of rest between exercises, reduce it to one minute. Reduce it to 45 seconds. If you want to get cardiovascular burn, you could reduce it to 30 seconds. You're going to have to dramatically lighten the loads, but you're going to get a cardiovascular effect while you're doing your strength and conditioning.
That is good to know. Thank you for all of that. If people would like this sort of advice tailored to their own fitness journeys, where can they find you?
That's also a wonderful reminder that MetPro is more than just food. We talk about food a lot, but there's a lot of expertise there that's not just food and nutrition based.
Very good points.
Thanks so much, guys.
Thank you.
—
The latest artist series features The Jonas Brothers.
This is another band I don't know much about.
They had that one song that was all over the radio that I actually was like, "I don't care about the Jonas Brothers but I like that." I don't remember what it was called. I remember it was on the radio all the time and I liked it.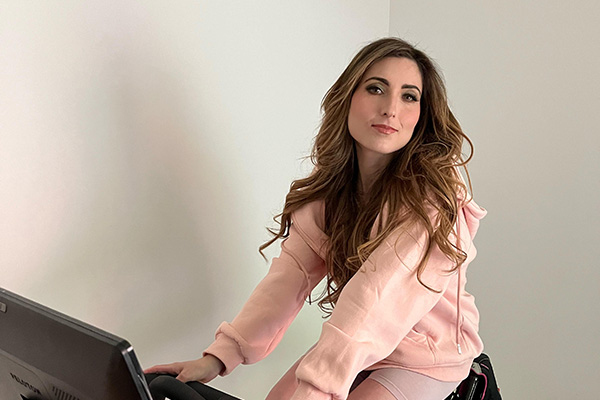 That one song.
It was relatively recent, like when they did their big comeback thing.
I know a lot of people love them. This is another band that is huge. I know there's a lot of stuff that people love. I'm just not familiar with it. As I always say, I'm glad that they have a wide variety to have music for everyone.
It's not an official artist series, but they have a couple of classes centered around Lewis Capaldi.
Did you do any research about this?
He's a singer and does lots of silly things on TikTok. I think he's known because he does not sound like you would expect him to sound when he sings. He was a startlingly good singer.
He's one of the people that they walk up and they look all like, "How is that voice coming out of you?" It's like if I had a good voice, that's what would happen.
If I had a good voice. The little bit I saw, I was like, "This is good. I was not anticipating that." I was not familiar with him. I don't know if it's a thing because I'm more of a rock guy and it's something that the kids are into, or if it's a British thing and maybe he's bigger there than here. I had never heard this name before, but people are going crazy for it. They've got two classes coming up with Ben Alldis, and there's a stretch. He makes fun of the fact that if you see the guy, he's not the sort of guy that you would think of as fit. He's making fun of it himself.
He's not a hard body is what Tom is saying. He's not saying he's not fit. He's a regular person.
I get the feeling that he doesn't do Peloton normally. He went and took a class, and I watched a little bit of the video. He seemed like, "I can't believe I'm in here doing this." I got the vibe that he's not a regular Pelotoner.
I also have heard that some of his songs are incredibly touching. That's based on what people have posted over in The Clip Out group, that it's amazing and he's awesome.
From the little bit of the video I watched, he seems like an insanely likable dude.
—
Going from one Lewis Capaldi story to another, he might not be going back to Peloton usage because apparently, he hurt his junk on the bike.
Whoopsies. You got to protect the junk.
You do have to protect the junk.
I love that he said, "My goods are sore. I had a bruised gooch."
I don't know if that's something he says or if that's a British thing.
I feel like it's a British thing. I'm going to need our British listeners to reach out to me. You guys know who you are. You always Instagram me. I would love to hear what you have to say about this.
That needs to be translated into American for us.
I don't think I need a translation. I think I got it.
Can it be or is that just a thing he likes to say? Is that something that collectively as a culture, you've decided to call your nuts?
You do know. You don't need a translation. It was funny the way you said it.
I can read between the cheeks as to what's going on there because people always complain about the bike seat.
I thought that was your butt though.
I think he's probably exaggerating a little bit. It's probably not as bad as he's bringing it out to be, but I don't know. He seems like he likes to be silly. That's what my guts tell me. I feel that all the way down in my gooch.
Good for you, Tom.
—
We have a past guest update from Steven Little, who's also a former Peloton instructor. He has a new business venture out there.
He met a new girl and so I had a feeling this would happen and it did. They have started Range Performance. You can get one-on-one coaching and you can figure out all the things that you need. Steven Little is definitely good at helping people reach their goals. If that's something you want to do, like the one-on-one coaching, then he's a good person for that.
It's been a while since he left. It was quite a few years ago at this point. When he was in the world of Peloton, I feel like he was maybe their first big rockstar for the community. People loved Steven Little. They were super upset when he left. If you've heard about Steven Little and you've never gotten to take a class because they've all been purged at this point, this is a way for you to go out there and interact with him. We also saw him selling his Peloton.
That's another one because he sold this first one way back when. Now, he's selling another one. It was funny.
—
Peloton Studios has put out this week In Peloton Post, and Crystal will now walk you through it.
The Lewis Capaldi classes are out this week. We also have the Asian Pacific Islander History Month. I always say it wrong. We have those classes. We also have dance classes, and the In The Club classes with Jon Hosking. I'm not sure what the CRO series is. What is CRO? I don't know what that is.
Maybe they're German because it's got a de after it.
It's a CRO artist series. I have to say I'm not familiar with that. They're all German instructors though. Now that you say that.
It's a CRO artist series in the German language. There we go.
That's fascinating.
Adrian Williams is celebrating three years at Peloton.
Happy anniversary, Adrian. I can't believe it's been three years.
Where does the time go?
—
We got one birthday. It's from Jess King and she will be celebrating her birthday on May 29th.
Happy birthday to Jess King. Make sure you send her all the notes.
She hired herself to DJ her own party.
She can afford herself.
I don't know. She's pretty pricey. Coming up next we're going to talk to Eden Dranger. She is a big-time writer in Hollywood. She wrote on The Unicorn for CBS. I think she wrote for Beavis and Butthead. She's currently not writing for anybody because they're on strike because the man is trying to keep them down. We're going to talk to her next. Stick around.
—
Joining us is Eden Dranger. Eden, how is it going?
It has been a weird week for me and a lot of other people, but it has been okay. I'm fine.
We will dive right in that you are a professional writer and the writers are on strike.
I'm a television and screenwriter. We called a strike Tuesday at 12:00 AM. I have been picketing most days of the week and I'm tired. I did a running class in the morning before I went out to picket. I'm sunburnt. I was not getting up until 5:00, and I could not move this morning.
No need to use your Peloton anymore, but thanks for joining us.
The Peloton did not prepare me to carry a sign for four hours at a time.
You got to do Tunde's Arm classes.
I do them almost daily, but it does not prepare me for doing it with headwinds and with honks and while talking to people in this direct sunlight. It doesn't prepare you and it's only ten minutes.
I will also say in fairness, carrying the sign is not a natural arm movement.
You have to keep it a lot.
It's not. I lean it on my shoulder, which now my shoulder hurts. I have gotten used to doing it. I have met some people out there on the picket lines and it's there. For some of them, it's their third writer's strike. There was one in 2007, which gave us wonderful shows like The Apprentice because of it, and all this reality TV, not to scare anybody. There was another one in 1988.
I remember that one. I'm old enough to remember that writer's strike because I'm 100. One of the things I remember about that writer's strike because reality TV didn't exist back then. What they started doing was they would take old TV shows and refilm them. You had a new version of the Odd Couple that came out and they recycled old scripts. They brought back Mission Impossible as a TV show and they used old scripts. It was fascinating.
What are they going to do this time? Did we know yet?
The things we are fighting for are the reason why they are not freaking out because now, there is so much TV. I have so many shows I need to catch up on that I have not even seen yet. There's not going to be a shortage of TV anytime soon for a very long time. That's not what's important.
The important thing is that if we don't go into production, not only do writers, actors, and production crew go out of work, all the catering companies are out of work. It trickles down to the rest of the economy, and that's bad. People are not spending as much money, which is also not good either. We don't want that to happen. Part of it too is because there are so many streaming things that you can watch now. We don't get any of it. We don't get any profits from it.
It's not like in 1988 when if you had a rerun on a network with inflation, you got something like $8,000 per rerun. That could sustain you if you are not working if they rerun your show, but residuals for Netflix are terrible. I wrote on a show that was on CBS. I got a hefty residual when we had a rerun. When Netflix took it over and started streaming it on their platform, I got $200 for it for who knows how many streams.
They don't tell anybody. There's no external metric to gauge for Netflix. You just got to take their word for it.
That's what we are fighting for, and it's the same thing for actors too. They used to live off the residuals, and now we are not getting any of that. Amongst other, there are so many other issues. It used to be a career and now it's hard to make it a career. I was doing two jobs during most of my writing career.
We are fighting for stuff like that. It has been very interesting to go to these studios where I used to work and we have a lot of support. A lot of people don't realize that a lot of actors are also writers. It has been fun to see everybody come out and support us. I am very hopeful we will get what we want and people will get paid fairly. It will just take a while. I think all the writers are going to come out of this very tan with beautiful calves.
Also, slimmed down because they can't afford to eat.
People have been very generous. People have been coming up and bringing us donuts and stuff to try to help. I'm like, "Bring us granola bars or apples." I'm going to get a sugar crash if they keep giving me junk food all the time. It's not sustainable. Someone randomly came up and dropped off a thing of Starbucks, like one of those big tubs and pizza. I want those moleskin blister pads. I need those. If anybody wants to help, we want those. We want healthier snacks. It would be great if Peloton give us a discount during this time too. There have some local places that have been giving us discounts. It's mainly bars.
It's because you are writers. It makes sense.
It's just funny. We are like, "Who else? We have nothing to do. We are not working." It's like, "We might as well get trashed and pick it." It has been interesting, to say the least. Most of my friends know that I have a Peloton because everybody that has a Peloton won't shut up about it.
That's the origin story of this show.
When I'm complaining about, "I have to walk for another hour," and they are like, "You do 60-minute Power Zone. What are you complaining about? Stop it." I did a 90-minute endurance run, the only one they have on the platform, and they are yelling at me for walking for an hour.  To be fair, with a sign and headwind, it's difficult.
Also, a belly full of donuts from Starbucks.
That's another thing too, It's that no one is feeding. I think only Matt Wilpers will go eat a banana while he is on a bike. They also have to do it for twenty minutes. Our shifts are from 9:00 to 1:00 or 1:00 to 5:00. That's a long shift.
All I can think is what a great middle school Matt Wilpers must have gone to that he's not scarred for life about eating bananas in front of people.
I'm a runner mainly. I got a Peloton because I got injured running and I was told I could cycle, and I had Peloton before. I was a runner on a Peloton. I had a great treadmill and I would do all the running classes, the strength and yoga classes. When I got injured, I got the bike. When I was a kid I got salmonella, which I recommend nobody get.
When I had salmonella, I was so dehydrated from throwing up all the time. All they would give me was Gatorade and bananas. To this day, every time I smell a banana, I get PTSD from being a kid and being very sick. I don't like bananas. I usually fuel up for my runs in other ways. I get triggered when Matt pulls up a banana for sure.
I had mono when I was a kid and no bananas but Gatorade. It was nothing but Gatorade for three weeks, and this is emblematic of my life as a whole. True story. The first girl I ever kissed gave me mono. You can imagine how scared I was to have sex with her.
That will scar you for life.
Lots of Gatorade. Do you know how you got the salmonella?
I still did it afterward, oddly enough. I was just way more cautious. I would help my mom cook all the time. I was four and I was probably playing with chicken and putting my hands in my mouth, as kids do.
Please don't say cookie dough because everybody is always like, "Cookie dough will give you salmonella." Please don't say cookie dough.
No. However, I became such a hypochondriac kid after that happened. I never ate cookie dough after that just to be extra safe. I remember once going to a birthday party and eating a brownie that felt a little raw and sashimi-ish. I was like, "I'm not going to eat this."
"I'm good. No salmonella for me." I don't blame you. You said you have been a runner. When did you get attached to Peloton classes then? How did you get into the Peloton world?
I want to say it like a smidgen of a pandemic crossover. I was working on my first big network show. It was called The Unicorn on CBS, and our hours were very brutal. They were from 10:00 AM to 10:00 PM every day for twelve hours. I know nurses worked twelve hours, but they don't work five days a week usually when they have those hours.
Sometimes it would be even longer. We would be on set at 2:00 in the morning. It depended. For my fitness, I would still make a point to workout every morning. I went to a normal gym at the time, and I realized that so much time was wasted from me going to the gym, being there showering, getting ready for work, driving to work, getting to work, and all that stuff. I wished there was something I could do at home very quickly.
There was so much dead time on set. We would have sometimes hour lunches. I don't know why, but I felt like let us go early. My friend told me she had the Peloton and I was like, "I don't want the bike or anything." I'm not a cyclist. I hated spin classes. Every time I took a spin class, I wanted to leave. I couldn't stand it.
I live in Los Angeles. We have the Soul Cycle and all of the cycles. I was like, "I don't want to do this." She's like, "No, but you could have the app. Just download the app. It's less money and you could do these classes in between your work." I was like, "Okay." I did it for that at first, and I would do a lot of the arms toning classes and things like that. I didn't use it as a main workout like a side thing I could do.
When the show wrapped, that was February of 2020 and we know what happened in March of 2020. I was like, "Oh, no." I immediately bought a treadmill and it wasn't the Peloton tread. It was a good one that I love and a lot of marathoners used it. It's slightly more expensive than the Peloton tread, but I remember my parents had one. It had a lifetime warranty, which sold me. A lot of marathoners use it and it's got orthopedic cushioning and everything. I got that when it happened and I invested in that. I was like, "I'm going to prop my iPad and do running classes."
Let's see if Crystal can guess the treadmill.
Is it a slotted tread or not?
No.
Soul.
No. It's called the Landice.
I don't know that one.
They are very small and niche. It's like a little mom-and-pop place. They make two kinds. They make the L7 and the L8. The L8 is slightly bigger. That's it.
Peloton saves you the time from going to a normal gym, getting wasted there, taking a shower, driving to work, and getting to work.
Click To Tweet
I'm going to have that song Pretend We're Dead stuck in my head because of L7. Sorry, that's '90s old rock.
I was born in the '80s. I get it. I love it so much. It's not cheap and I tell people, "If you are not a big runner. Don't invest in it." It's almost $5,000, but if you love running and I love running, it was a good investment. Hands down. I did the classes and then I got injured. Oddly enough, I got injured not running. I got injured wearing flip-flops and walking upstairs one day. I tore something and I had to wear a boot for six weeks. When I was out of the boot I was like, "I need to do cardio. I'm so desperate, please." They are like, "You could ride a bike." All these people love the Pelt. I try the bike. If you have the home trial for 30 days, you bought the bike. I would love to know who rides the bike and just like, "No."
"Day 29. I'm good. I'm sending it back."
I had my fill. I'm good.
People in a vacation home, they do it. "I'm sorry. My house is in the Hamptons. I decided I don't like this bike. Please come retrieve it."
At the very least, it's a wonderful place to hang your laundry. Lots of places to put it, more than a normal bike, I have to say.
The screen swivels, if you get the Bike+. It's like a little rotator for the clothes.
If you put it on the bike on the weight rack thing on the back.
I would be so upset if somebody hung clothes on my bike. I would be mad.
I'm going to start hanging clothes on it.
I don't hang clothes, but my setup is I have a room which is my gym and I have a treadmill and then a mat where I can do yoga and weight stuff. A little further down, I have my treadmill. If I'm on the bike or if I'm on the treadmill and I wear a jacket and I get hot, I put it on the bike. That's the only way. Vice versa.
The item and it's while you are working out. That is totally acceptable.
To be honest, I have tried taking some of the scenic classes and even the Lanebreak games. I don't like spinning. I don't like cycling. I like cycling outside, but on a stationary bike that goes nowhere, I need an instructor and music to tell me what to do.
I would think the scenic part would maybe help since you like to be outside for it.
I'm in the hills in LA. Not like Hollywood Hills or anything bougie. People come to my area to hike. It's very scenic and pretty. There are plenty of areas. I'm spoiled. When I go on the bike, I'm like, "No."
"I got enough of this ride."
I did the real thing. When you've done the real thing, and then you do it on a screen, it feels like gas station coffee and getting French bread.
I feel the same way about porn.
We live in St. Louis, Missouri. There is one scenic ride on the Peloton for St. Louis and it's just a bridge. It's the saddest thing you have ever seen.
In the end, it gets mugged.
I joke with my Pelo friends. It's funny because I have friends in real life. I'm also part of this. I'm part of a sub-Reddit of Peloton users and I can explain why that's a sub. They are my Peloton friends that I usually will take a class with and hold me accountable, but then I have what I call my real-life Peloton friends who are people in real life who also have a Peloton. I joked with them that we need a scenic route of Cody Rigsby in Disneyland or Disney World. Not necessarily a Disney ride but a scenic route where he tells you what's going on.
We used to have this game for the Xbox that took place at Disneyland and I would literally go in and walk around as a character. They mapped out the park so you could walk around and look at Disneyland. It was fun.
I also think it would be funny if Cody did that because I don't know if you saw the video he did at Upcott. He went to each place and he was doing a tour of his drinks. That could be a game. That could be a thing. That would be fun. That would be a good Peloton ride. That would be a great scenic ride.
I have friends that don't like cycling at all. All they do is Cody Rigsby's classes because it's all they can handle and grown-ass straight macho man. They hate cardio but they love Cody Rigsby, and they love that. They don't even necessarily like the music. I like Cody that much, but he's very entertaining. I have been wondering too if he has writers.
The Peloton instructors do have people that help them write. That's a thing.
I hope they are. They are probably not in the union.
She's like, "I hope they are on strike too."
They are a lot of groups that are not unionized.
I don't know the behind-the-scenes of that well, so I don't know.
I don't care. I have so many questions about that.
My guess is that they are not though because if they were unionized, wouldn't they have to get a credit?
That's a good point.
If they were unionized, they have to get health insurance too. It would be a minimum that they have to get paid. It would be a whole thing. Peloton is a very weird space. It's like Netflix for fitness in a sense
They got the same CEO now, or this guy that used to be.
That's true. Barry McCarthy.
It's interesting. If you work at Peloton, are you considered a screen actor? I don't know.
They have invented a new medium in some ways.
People haven't figured those details out yet. Whenever you started working out on Peloton and you got your bike, did you find that you were having to balance the two once you were over your injury? Did you want to get back on the bike or do you still have to make yourself get on the bike and always pick the treadmill?
I will not run every day. I would love to run every day but my knees don't love to run every day. My body should not run every day. Nobody should run every day. It's not healthy. I use it as a cross-training tool. I used to do like two days of tread stuff and then one day bike. It has been more like a little bike a little tread.
If I have a big bike day, if I do anything on the tread, it will be like a walking class. It has been a lot of like, "I will do this 30-minute." It has been hard to find the motivation to even get on. I blame that on I'm a little depressed with everything going on with the writer's strike and this other stuff. Getting myself on the bike has been a process. I try to take live classes.
They are more fun and engaging,
Live classes are not always the length for the class you want to necessarily take. I will take a 20 or 30-minute class and then I will supplement that with a 30-minute hike or a walk and run. I usually don't do a run and a ride unless the ride is super short, but I balance the two. I have a rule though that if I'm doing any bike ride, I have to do arms and light weights because it's right there. It's ten minutes. No excuse. It's almost like I have to go.
I have been trying to do more yoga. I was bad at it, but now if I have the time, I will do it. I balance it and I go through bouts where I like to run a little more. It also periods where I bike a lot more. There have been times when I haven't been fully injured but I could feel one coming on. I will be like, "I'm going to lay off running, and do more bike stuff this week."
You have this super fancy secret tread. Do you come from a family of runners I suppose?
Not really. Honestly, I did not like running in school. I'm short. I have short legs. When I was a kid in elementary school, I went to a tiny private reform Jewish school in LA and we didn't even have a gym. We would play handball on the side of a building and we would run laps around our school.
I thought private schools had all the fancy stuff.
Not this private school. We were not that well-funded, but then when I got to high school, we had a real gym. Also, a private Jewish school, but we had a real gym. It was weird. We have a football team. It was very bizarre, but I also was not very athletic. I loved playing basketball but I was not very good at it because I was so short.
I didn't make it to the basketball. I wasn't able to become athletic. I liked to be active and I was always in dance. I was a big dancer and I liked doing ballet and jazz and everything. I like actual fitness sports stuff. I didn't call myself an athlete until much later in life. I always tried to get to run in my 30s. When I turned 30, I was like, "Maybe I should start running."
It's interesting that you love it that much though.
Yeah, and I'm inspired. A lot of the instructors like Susie Chan is an ultra-marathoner and only started in their late-30s. I'm like, "That's amazing. It gives me hope." Now, I'm 35 and I have done already two half marathons. I don't think I will ever do a marathon because that's a lot. I got a couple of science experiments.
It seems like they suck you in, then you do a couple of the halves and you are like, "Maybe."
You know all those Peloton friends you talked about both online and in real life. You will be doing one before you know it. They are.
I don't think so. They think I'm a serious athlete because I smoke them on the bike and everything. I know I have pretty good output numbers and I know my bike is tough. I think it's because of my dance training days, I have very strong legs. Also, now that I'm walking every day on the picket line, my calves are locked. I was athletic before so my endurance was always up, but I am more athletic than any of my friends. I'm the one who's pushing them to do stuff, "Would you do this half marathon with me? It's not that hard. I promise." They are like, "It's 13 miles." I'm like, "13.1, but that's not a big deal."
13.1 means nothing after you have done the 13.
It takes a lot. I do 60-minute classes at least once a week on the bike and it takes a lot. I want to do it with people and with my friend. It takes a lot of energy and convincing to get them on it, but they never regret it.
When she runs her marathon, that's the only time where I'm like, "Can I hold your purse?" That's good.
He's a good athletic supporter.
That's a thing. I don't have any support.
How did you embark on a career as a writer? That's not an easy way to make a living.
It's still not. It's not easy now. That's why we are striking because it's so hard. I tell people it's hard to get your foot in the door and it's even harder to stay like that, keep your foot in the door. When I was a kid, I wanted to be an actor and I lived in LA. I tried to get my parents to drive me to these auditions and they did not want me to be an actor. They were not very compliant and I never got any part. It didn't matter.
I was involved in theater and I liked it a lot. When I went to college, I started to do improv shows and a little bit of standup. Standup is basically writing your own material. I was trying to get jobs as an actor but I wasn't getting them. I also wasn't liking the material that was available. I didn't like the characters and everything. I thought I could probably write something better than this. There's not a lot of money in being a standup comic unless you are super famous.
Unless you hit and you got to do it for 15 to 20 years in most cases before you are good enough to pop like that.
I honestly don't have the callousness to do that, and it's also very hard when you are a woman because when you go on tour or on the road, that's where the money is. In LA, you have to do it for free, but if you go, people will pay you to come to some town.
Like St. Louis. You can say it. We know.
I don't know, like Bakersfield in California. They will pay you to do that, but then you have to go to an area you don't know. It's unsafe if you're a woman traveling alone and it's a grind. It's hard. I didn't want to stay that way, but I loved writing my own material and I started a Twitter account where I would put one-liners. Stuff I didn't know what to do with.
It got big. A big producer-director followed me on it and sent me an email from my website at the time and wanted to have a general meeting with me. General meetings are pretty common for writers and I had no idea what a general. We call them generals. I had no idea what that even entailed. I dressed up and put on a nice outfit. It's very casual, and he has been one of my heroes. He directed Bridesmaids.
Paul Feig. He liked one of my tweets. We have been watching the new WKRP in Cincinnati like the sequel series that they did in the '90s and he's on it. He's starting out as an actor and I'm watching. I'm like, "Why do I know that guy?" With the credits, I'm like, "That's Paul Feig. How about that?"
He was an early adopter of mine. My first meeting was with him. I came in with ideas of movies he could write. He was like, "I want you to write about yourself and what you have gone through in your life and stuff." I think all it takes is someone you admire to tell you can do something for you to even try. I never ended up writing for him or working directly with him.
He follows me on Twitter and still supports me but it took him telling me that to try. Eventually, an exec who also followed me on Twitter asked me if I have any samples of work that I had written and I sent him a script I wrote. He sent it to his friend who was an agent, and then that was how I got my first agent. That snowballed into my first job.
Once you get your feet wet, it's a little easier but again it's hard. After that first job, I made more connections and I got my second job, and so on and so forth. I don't even know where it came from exactly, but it's not a normal trajectory. I tell everybody who wants to be a television or screenwriter that it's like breaking out of jail. There's a way to do it but once you do it, they will make sure no one can get n that way again. It's very difficult, weird, and hard. Some people become writer's assistants on shows. I know people that have been writer's assistants for like 10 to 15 years, but mostly because they are good at it, and it's hard to get a good assistant.
You are so good at the mid-level thing. No one wants to move you up.
I tell a lot of aspiring writers who are assistants not to be too good.
Yeah, because you get trapped.
I feel bad. I never was an assistant. I would have been a terrible assistant because I'm a very slow typer. When you work on a TV show, when you go off and write your script, you type that. Once your script is turned in, it gets rewritten to death by the writer's room. We all sit around a table and it's projected onto a TV or a screen of some sort. There's an assistant who's at the computer typing everything that we are talking and saying and putting it in the script. Actual writing on a show does not involve a lot of typing if you are a writer at least.
It's like Mystery Science Theater, you are just yelling at a screen.
We laid back and talked to each other. There are two people. There's a script coordinator, they do script stuff, and then there's an assistant who takes notes of everything we have done that day, and what people said and jokes that were good and jokes that worked. I always joke I would have been such a terrible assistant because whenever I write a script, I write it and then I go back and I'm like, "It's so many mistakes. I'm so bad at this."
That would have been a good career move you realize now though because you have been too bad to keep in that position so they're like, "Just have the right thing."
No, I feel so bad for assistants. They get paid so little and they have to work twice as long as we do and we work a long time. They have a union but not really. Part of what we are fighting for even is to make it easier for assistants too. If anybody wants to help out, people are asking, "Can we donate to the Writer's Guild?" No. We have plenty of money. The Writer's Guild is very organized and has a lot of funds to help writers if they need loans. There is a foundation for the support staff, assistants, and writing coordinators. They are the ones that need help. I'm impressed that the Writer's Guild has $3 million in resources to help writers that need loans so they won't lose their houses.
That's the advantage of a union.
That's why it's good to be in a union. They will take care of you. I'm worried about the support people. That's how I fell into writing and honestly, I'm scared I won't be able to stay in it because I don't know what else I could do. If that's in my Peloton, I would love to be a Peloton instructor. I don't know what I would teach. I have to teach a running class, but I hate talking while running.
It's going to be a problem.
That might be bad. It's funny because I always fantasize. I was like, "I would do this class differently."
Maybe walk and run classes would be good for you.
I could do that.
Punch up a scenic run.
I know they need it. Some other rides need some punch-up like actual rides.
She's throwing down.
Do you have a favorite instructor?
It's hard. It's like choosing your favorite child.
I know which one it is for me. It's easy for children. They all know.
For the platform as a whole or each modality?
You can do each one.
For cycling, I like Hannah F. She's probably my favorite. For running, I like Matt. I love Matt for running. His music playlists are very chaotic but he's a good running instructor and I feel amazing. I feel very energized after his runs.
Peloton may be a pricey investment, but it is a good investment especially for those who love running. It's almost $5,000, but if you love running and I love running. It was a good investment, hands down.
Click To Tweet
What is your leaderboard name?
It's my name. It's Eden_Eats.
It's okay to share with people like you are okay with people following you. Just making sure.
Thank you so much for taking time out of your day and your picket line to join us. Before we let you go, let everybody know where they can find you and all your things.
You can find me on Twitter, which is usually a lot of jokes. It's the same name as my leaderboard name, but it has been depressing. Very inside baseball strike content, but maybe it's funny for you. I don't know. It's funny. I try to make it funny and relatable to other people. Occasionally, there's a Peloton thought. I will sneak in a Peloton frustration in there. You can find me there. You find me on Instagram. Same handle. Come follow.
Thank you so much for talking to us. We appreciate it.
Thank you for having me. It's so good talking to you, guys.
It has been a blast and good luck with everything. I hope all the strikes go well and in your favor. Thank you. You have a good rest of your day.
Thanks so much.
Talk to you later.
Bye.
—
I guess that brings this episode to a close. Until next time, where can people find you?
They can find me on Facebook at Facebook.com/crystaldokeefe. They can find me on Instagram, Twitter, and the Peloton leaderboard @ClipOutCrystal.
You can find me on Twitter @RogerQBert or on Facebook at Facebook.com/tomokeefe. You can find the show online on Facebook.com/TheClipOut. While you're there, like the page and join the group. Don't forget our YouTube channel at YouTube.com/TheClipOut. That's it for this one. Thanks for tuning in. Until next time, keep pedaling and running and rowing.
Important Links
Love the show? Subscribe, rate, review, and share! https://theclipout.com/